Thank you Klaviyo for sponsoring Starter Story ❤️
Turn one-time buyers into repeat customers. Try the platform loved by 265,000 brands
How We Grew Our Partnership Network And Scaled The Business To $50K/Month
Start A Social Media Marketing Service
This is a follow up story for Vital Traffic Labs. If you're interested in reading how they got started, published almost 3 years ago, check it out here.
---
Hello again! Remind us who you are and what business you started.
Hey Starter Story! Thanks for having me back! I am the founder of Vital Traffic Labs, an agency that uses social media to help clients grow their businesses! I am also passionate about helping other aspiring entrepreneurs leave their 9-5 jobs and start businesses that they can run from anywhere in the world.
We have helped hundreds of entrepreneurs achieve this through our program, TheSMMABlueprint.com! We have been able to scale our business to over USD 50,000 per month and have helped countless others achieve a 6-figure, location independent/laptop lifestyle.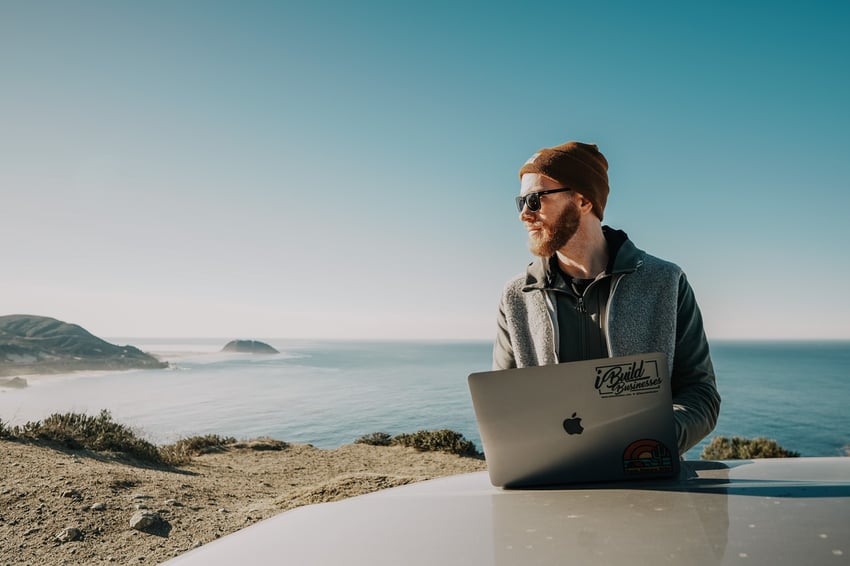 Tell us about what you've been up to! Has the business been growing?
Since we last spoke we have been able to dramatically grow our business by adding more headcount and also growing our partnership network. Our past clients have gone on to start new things, consult with other organizations, and have had a great experience with our agency so have brought us along. We have 5 partners at this point that bring us a lot of leads. We have also been able to invest in building out a strong internal team to fulfill services so that business has become much more passive and mature for us which is nice.
Some of our biggest breakthroughs looked to not be working at first until all of a sudden they helped us level up in a big way.
We have always focused on delivering amazing services and experiences for our clients so it has been nice to start getting a healthy amount of referrals and inbound traffic from that.
Also, it has been awesome to see the success of the students in our course The SMMA Blueprint. This has honestly been the most rewarding part of our whole entrepreneurship journey - being able to help others save a lot of time and heartache avoiding the challenges that we encountered when we were getting started.
What have been your biggest lessons learned in the last year?
This year has definitely been a whirlwind, and lucky for us we spent a lot of the past 4 years building our business to be recession-proof. Call it learning from the 2008 downturn and personally seeing entire fortunes wiped out - we were overly paranoid about reducing our risk to something like that happening. This meant that we didn't focus on one single niche, region, or type of client.
If we had, we may have been out of business overnight when the pandemic hit. Instead, we only had one client panic and move on from our agency. The rest stayed with us and are still clients today and have seen insane growth in their business. We literally had a recession playbook ready that we just needed to deploy for them and see their businesses grow as a result.
What's in the plans for the upcoming year, and the next 5 years?
Our plans for the next 5 years centers around giving back, to be completely honest. There is an abundance of need in the market right now for more help from strong marketers - and we want to help as many entrepreneurs as possible achieve their dream life through entrepreneurship. My worst day as an entrepreneur is better than the best day ever working my 9-5 job, and I want to help others achieve that.
We are going to continue to focus on running our agency and loving that, while also continuing to invest in The SMMA Blueprint and the community there to help our students find the same success that we have had.
Have you read any good books in the last year?
Two books that I have read this past year that have been massively awesome for me are Atomic Habits and Can't Hurt Me.
Atomic Habits made me change my entire life, to be honest with you. It helped me reflect and optimize the decisions that I make every day and how they all add up to the type of person that I really want to be. This was a huge shift and has really helped me live a better life.
Can't Hurt Me was an amazing book that I couldn't put down. In a completely different way, it motivated me to check some boxes on things that I have always wanted to do, like running an Ultramarathon this coming May.
Advice for other entrepreneurs who might be struggling to grow their business?
You absolutely need to stick with it and be consistent. Our success is entirely tied to how consistent we have been over the past 4 years of running our business.
The biggest mistake that I see others make is shiny object syndrome or constantly changing things up before they give their current strategy time to mature. This is something that I am often coaching clients on as well - you need to give things time to run their course to see whether they will work or not. Some of our biggest breakthroughs looked to not be working at first until all of a sudden they helped us level up in a big way.
Where can we go to learn more?
Check out my Instagram where I am constantly posting about what I am up to at
We are posting all the time on our YouTube channel @2GuysBuildABiz which you can view here
If you have any questions or comments, drop a comment below!
-
David Schlais, Founder of Vital Traffic Labs
Want to start your own business?
Hey! 👋I'm Pat Walls, the founder of Starter Story.
We interview successful business owners and share the stories behind their business. By sharing these stories, we want to help you get started.
Interested in starting your own business? Join Starter Story Premium to get the greatest companion to starting and growing your business:
Connect + get advice from successful entrepreneurs
Step by step guides on how to start and grow
Exclusive and early access to the best case studies on the web
And much more!
PROMOTED
Did you know that brands using Klaviyo average a 95x ROI?
Email, SMS, and more — Klaviyo brings your marketing all together, fueling growth without burning through time and resources.
Deliver more relevant email and text messages — powered by your data. Klaviyo helps you turn one-time buyers into repeat customers with all the power of an enterprise solution and none of the complexity.
Join Brumate, Beardbrand, and the 265,000 other businesses using Klaviyo to grow their online sales.
Starter Story
Wanna see 52 business ideas you can start with less than $1,000?
Join our free weekly newsletter and get them right now.