How We Focused On Quality And Grew Revenue By 25%
•
Published: April 11th, 2021
Start A Freelance Writing Business
This is a follow up story for Thornton & Lowe. If you're interested in reading how they got started, published almost 3 years ago, check it out here.
---
Hello again! Remind us who you are and what business you started.
Hi, I'm Dave Thornton and I'm a Director at Thornton & Lowe, which is a business I founded over 11 years ago aged 23.
We provide a 'business winning' service through the provision of advice, consultancy, training, and bid writing services. This starts at opportunity identification and goes through selection, proposal development, submission, debrief, and lessons learned to ensure continuous improvement. We guide and support our clients to win more business through bidding for formal contracts, often UK public sector opportunities.
Our customers range from SMEs to sector-leading blue-chip companies. They are defined more by their need than any specific size or sector. They may be:
Regularly bidding for new business into public sector organizations, such as Councils, NHS, Universities, Network Rail, Highways England or into large corporate businesses with formal procurement procedures, and struggle with bid writing and management capacity or win rate or both
Or, they would like to start bidding and want to approach it in a strategic way to maximize their return of investment
Or, they may have a key contract they want to retain or simply a 'must win' opportunity.
11 years in and we are more excited than ever about the opportunities available. We are:
Growing faster than ever!
Currently working on £9bn of live tenders
Increasing our income to over $165,000 per month.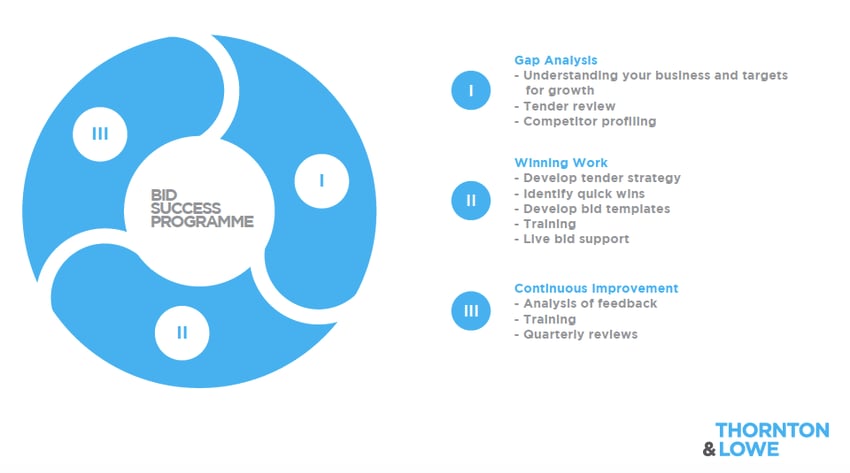 Tell us about what you've been up to! Has the business been growing?
After a good year, there is always a little added pressure to make the next even better, to keep that upward spike. I'm pleased to say despite a few hard months, especially with the impact of Covid during March, April, and May 2020, we have still managed to grow and at a good rate! Since Covid, we have balanced our poor performing months and have still managed to grow by over 25%.
The key to this has been our relentless focus on quality, which means we rarely lose clients. Despite working on more tenders, more complex opportunities, delivering more training (now via Zoom rather than face to face) we are still ensuring our service improves each time, wherever possible. We don't always get it right but we certainly strive for it and invest it in more than anything else. Investment in being able to produce the highest quality of service, which for us is our team, often means we have to invest less than our competition in sales and marketing.
We have also introduced a new service, Tender Search & Selection, which is essentially a bid administration offering. Many clients find it fairly easy to find new tenders, however, accessing the documents, expressing an interest, understanding the key risks and opportunities, likely win rates, managing the portal logins and alerts, saps up senior management time. Our new service solves this: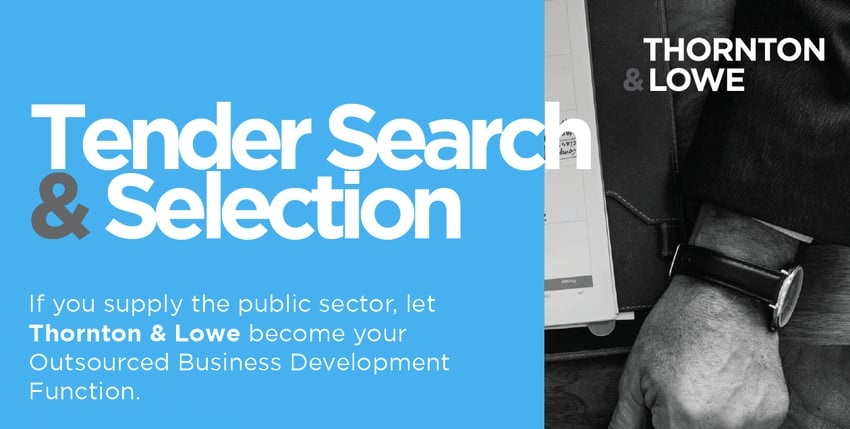 Our other key route for future growth is our FREE offering, Tender Pipeline, which is tender alert and competitor intelligence software. We have also received ERDF funding to work in partnership with a University to further develop this product over the next 2 years - so watch this space!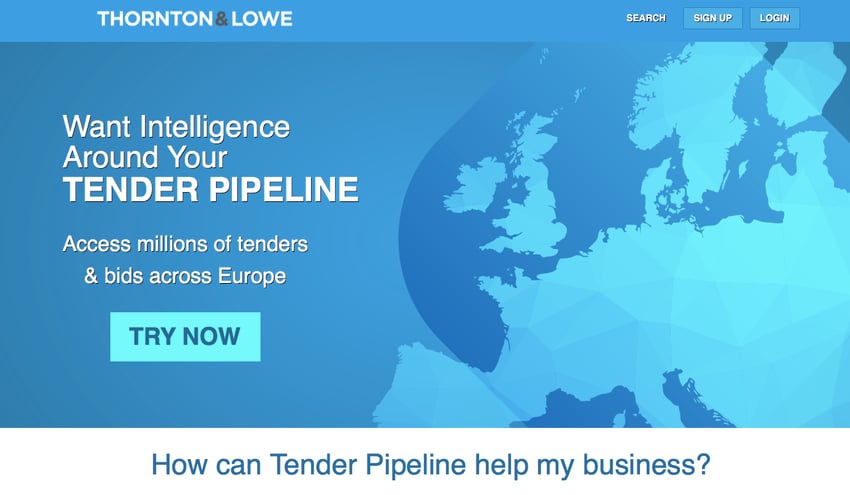 What have been your biggest lessons learned in the last year?
It has certainly been a year for learning, developing, and adapting. The single biggest lesson we have learned is to always promote from within wherever possible. Experience can be picked up, skills can be developed, training provided but the most important thing is that you trust them, you already know how they work and how reliable they are. For us, anyway, this is more important and we have accepted this now. It of course also allows you to retain your best staff who can see quicker progression opportunities and who can share in the excitement of a fast-paced environment.
Personally, I want my role over the next 12 months to focus more and more on staff recruitment and retention. Certainly in small businesses, such as ours, I think it is overlooked and we have certainly felt the effects of this in the past. Ensuring every point of recruitment, induction, training, supervision, and ongoing management is designed to make the team feel as fulfilled and rewarded as possible. Allowing them to perform, allowing the company to grow. We have made significant progress in this area but of course, lots more work to be done.
What's in the plans for the upcoming year, and the next 5 years?
Over the next 5 years and with regards to our core business, the most exciting thing is going to be seeing how the team develops and grows, how more junior members develop and become instrumental in the management of the company. 25% year-on-year growth is something we are happy with and is achievable and sustainable.
On the software side of our business, it is harder to tell. We have grand plans and funding in place to create something really special, which could easily overtake our consultancy offer with regards to new business and 'value'. We are, however, at the start of this journey.
In addition to this, I see our already successful bid training and recruitment services building substantially over the next 2 years. We have put in the groundwork, have a great service offering training organizations to 'bid better' and helping them recruit the best bid professionals in the market - we now just have to scale these!
Have you read any good books in the last year?
With the kids homeschooling during the pandemic, business being very busy I really have not had the chance. It is usually holidays when I get the chance to indulge and these have not happened this year. I monitor business news, case studies, entrepreneur stories online, and what friends share but I'm afraid no 'business books' or similar read this year.
Experience can be picked up, skills can be developed, training provided but the most important thing is that you trust them, you already know how they work and how reliable they are.
Advice for other entrepreneurs who might be struggling to grow their business?
My single tops tip for growing your business:
Focus on the clients you have now! What is your client retention like? Are they getting the best service possible? How satisfied are they? Are there any other services that could help them? I think the constant focus for new business is fine and needed but not to the detriment of your existing clients.

Are you looking to hire for certain positions right now?
We are recruiting for Bid Writers, Admin Support, and a Marketing Apprentice.
Where can we go to learn more?
-
Dave Thornton, Founder of Thornton & Lowe
Want to find more ideas that make money?
Hey! 👋 I'm Pat Walls, the founder of Starter Story.
Get our 5-minute email newsletter packed with business ideas and money-making opportunities, backed by real-life case studies.