Thank you Klaviyo for sponsoring Starter Story ❤️
Turn one-time buyers into repeat customers. Try the platform loved by 265,000 brands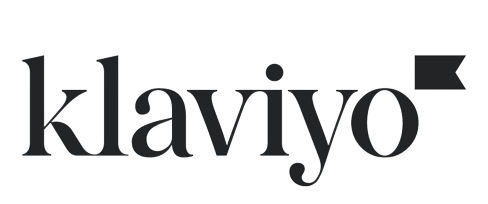 How Referrals Grew Revenue From $2.5K To $7.2K/Month
Create A Landing Page Builder
This is a follow up story for Unicorn Platform. If you're interested in reading how they got started, published about 2 years ago, check it out here.
---
Hello again! Remind us who you are and what business you started.
Hello everyone! Thanks for having me again.
My name is Alexander Isora. I'm the founder and CEO of the SaaS company - Unicorn Platform. It is an online landing page builder tool. It helps busy entrepreneurs to get a pretty website quickly.
Unicorn Platform is a bootstrapped company that is owned and run by a single person ⁓ me. Our users are located in the US, Europe, Canada, Oceania, and Asia.
Since my previous interview here on Starter Story, we have grown from $2.5K/month to $7.2K/month. Let me transparently tell you the actions that led to the growth.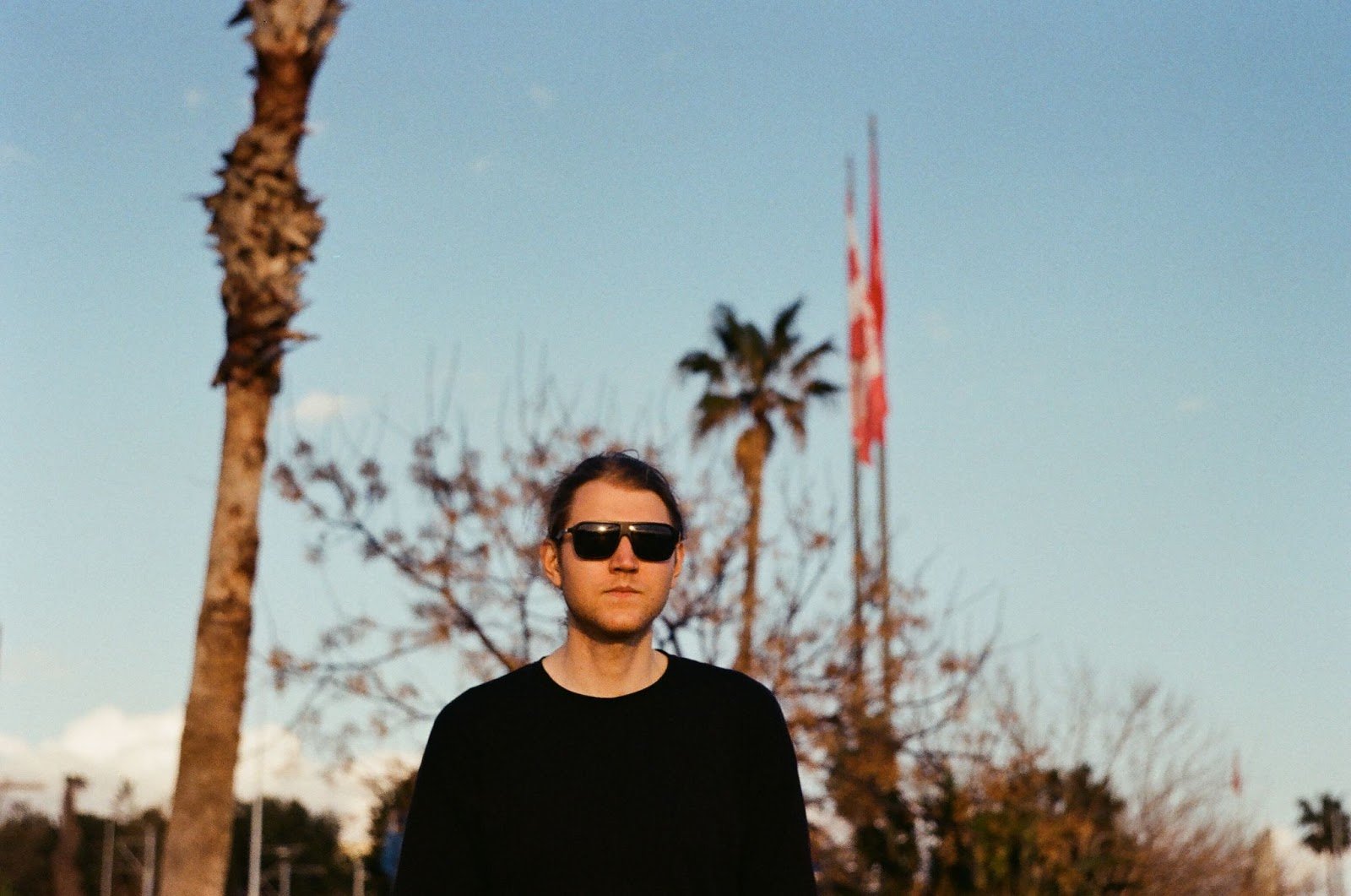 Tell us about what you've been up to! Has the business been growing?
As I said above, our MRR has been multiplied x2.88 times for the last year.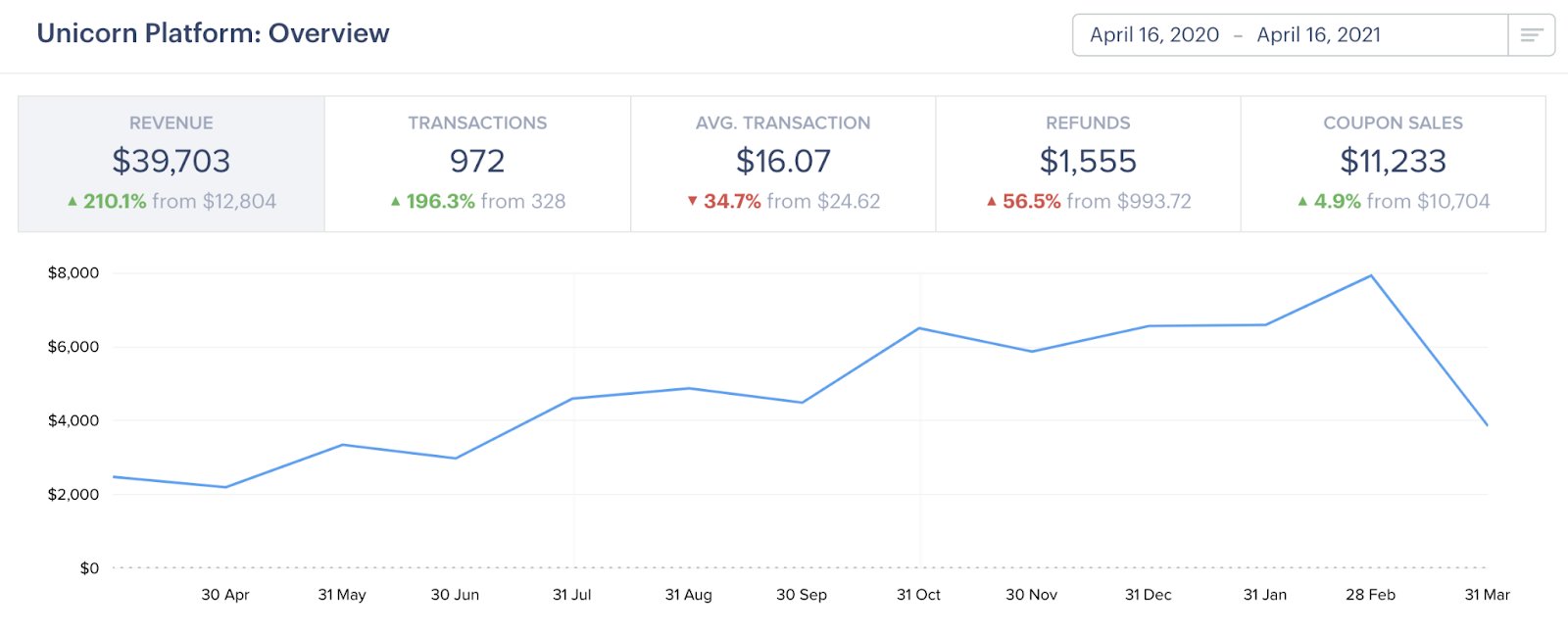 We do not do any marketing activities. Thus, the growth was possible only by getting mentions of our existing users.
People talk about us, recommend to their friends on Twitter, discuss on personal blogs and share Unicorn Platform in private chats.

Data from Ahrefs. 89% of the backlinks are not recommendations, but the websites of our free-plan users. A free tier requires a backlink to Unicorn Platform
The recommendations alone give us 3,000+ visits ≈ 300 sign-ups ≈ +$200 MRR each month.
There is only one single thing that we keep doing every single day to continue getting loyal customers: improving the product. The product contains 2 parts: the software and the customer support.
If you are struggling to find a solution, simply start explaining the problem to someone else. It is OK if the person does not know anything about your business. Explain the context in detail.
We keep improving our landing page builder every day, trying to implement each little feature suggestion of our users. We have a public roadmap where users can vote for features or suggest new updates.
Our customer support engineers are truly interested in helping you to succeed. We do not only inform, we take each inquiry as a challenge. Each ticket is a possibility to each loyalty by providing A+ support. We create custom code if a client needs an advanced change, search info in Google, research 3rd party tools to give a good recommendation. We act like partners, not company representatives.
I personally spend 1-2 hours supporting our clients to make sure everybody is 120% satisfied.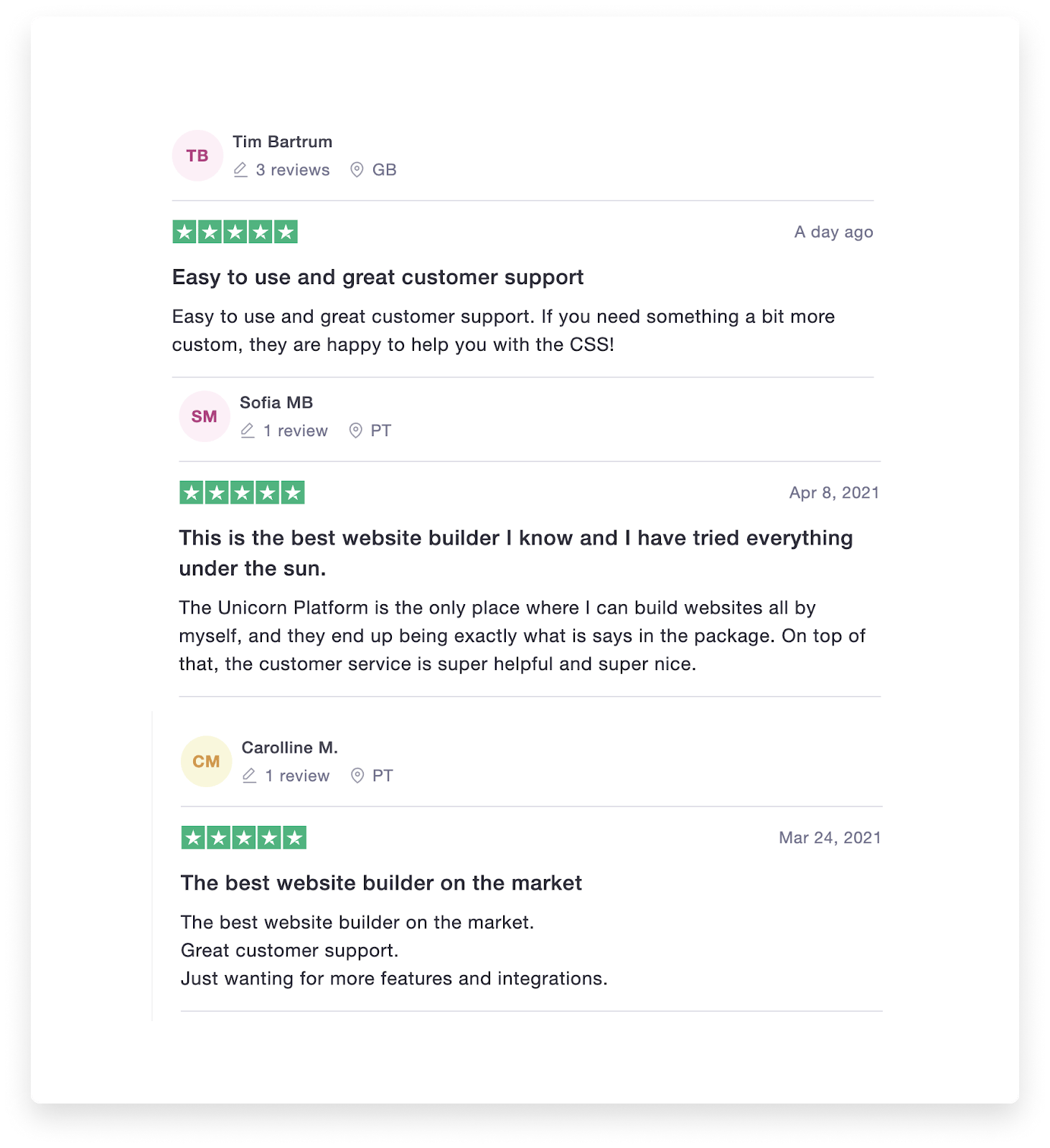 Source
Some may say the growth is too slow and insignificant. Well, it is slow and insignificant. But is it that bad?
There is a widely accepted opinion that a startup must grow exponentially. Once you find the product-market fit, you must start skyrocketing.
Hockey stick growth is something each founder is dreaming about.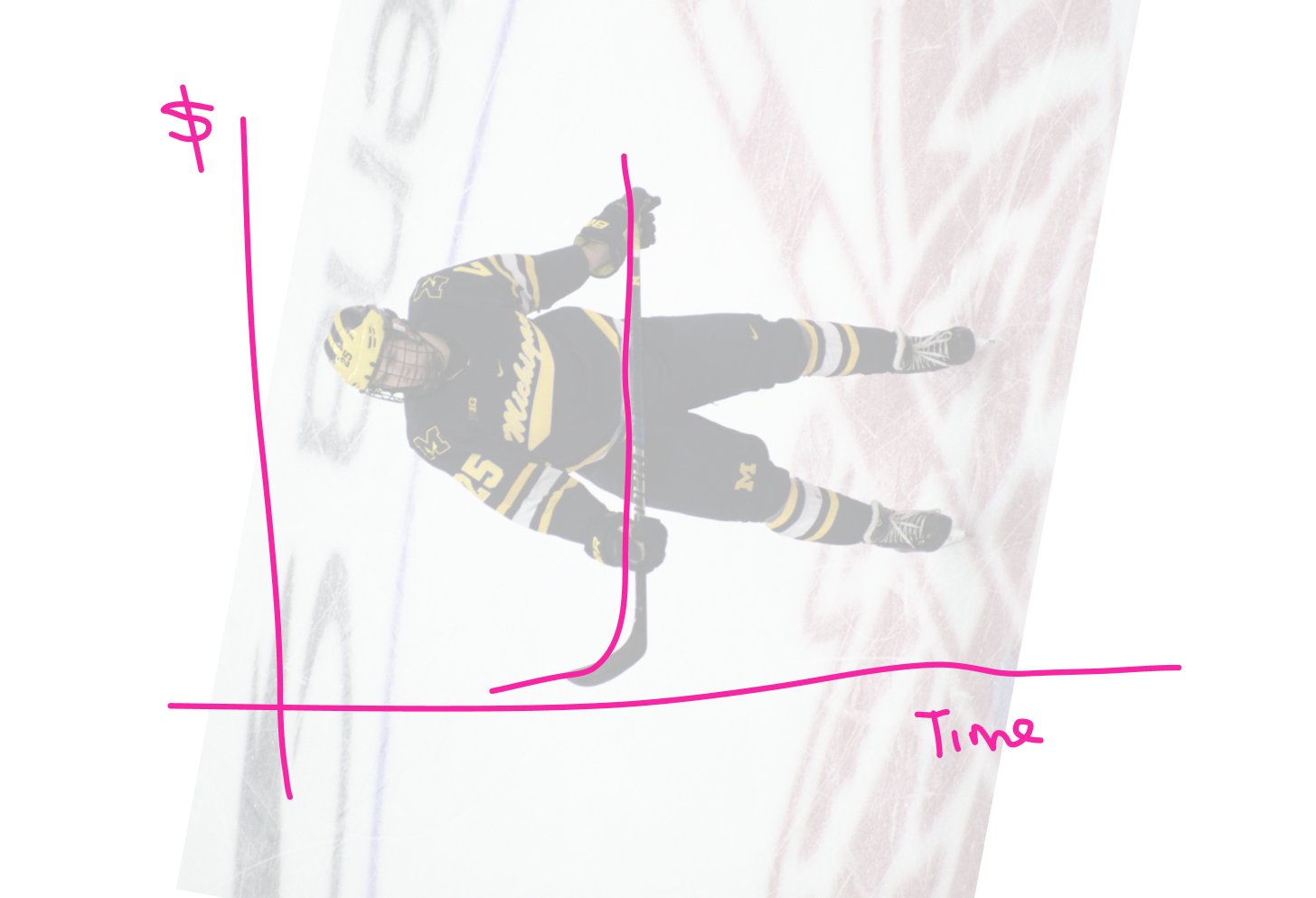 The "Hockey stick growth" effect illustrated by a professional illustrator
The Hockey stick growth is what each VC wants to happen to your startup. VCs invest in 100 different startups. 99 of them will die. Thus VCs need at least one to make x1000 ROI. To make x1000, you need to work really hard and sacrifice a lot. Are you ready to live like this?
Another factor is media. Media love big number stories because their audience wants to get wowed.
"Company X raised $100M."
"Startup Y is valued at $10B."
"Project Z user base increased by 500% in the last month."
Sounds breathtaking! Much more exciting than "Unicorn Platform reached $8K MRR in 3 years".
Seeing all these big numbers around we start thinking that the only way to reach true success is to become big.
But in reality, your company does not need to make a $100M ARR be able to make you and your clients happy.
There are thousands of small $1K-$5K-$10K MRR startups that just do a good service for their clients. They focus on bringing real value to real people rather than making growth.
Check out for some inspiration from the Indie Hackers community. Those are people who are making small profitable startups.
What have been your biggest lessons learned in the last year?
Our domain name was banned by Google because of my sluggishness.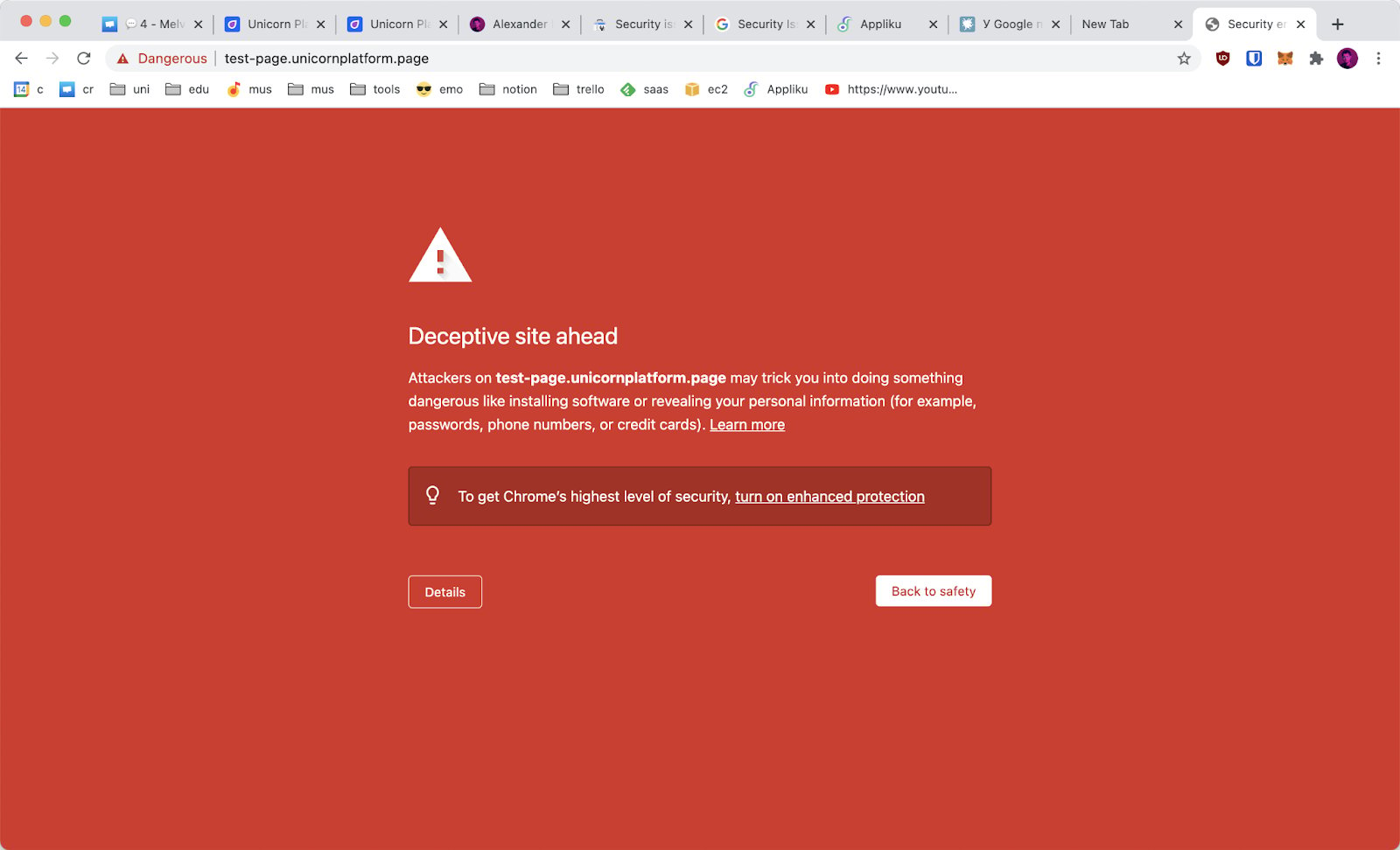 The Unicorn Platform website builder is constantly used by bad actors such as phishers. They create free accounts and build websites to steal people's accounts. This sucks!
Since the first time I met a phishing website, I started to check each created website manually and delete phishing pages. I also began to develop automated protection in parallel.
I knew bad actors sign up and used Unicorn Platform to cause harm. What I did wrong is underestimated the problem. I thought it is OK to wake up in the morning and remove bad websites. But having the bad websites active during the night while I was sleeping was enough to get my domain name blocked by Google.
Phishing is illegal. I should have moved faster and created the automated protection ASAP. We urgently switched to an additional domain but still had downtime for all free websites for a couple of hours.
Today we have a 4 layered self-learning automated protection. Phishing websites are blocked automatically within a few minutes.
Lesson learned: illegal things are extremely bad and should be got rid of ASAP.
What's in the plans for the upcoming year, and the next 5 years?
In the nearest years, I plan to move the business to Canada. It will allow me to migrate to the country by applying for the Canadian Startup Visa program.
It will be a challenge because Canada makes the migration rules more strict every year. But I'm full of enthusiasm to move there because I just love the vibe!
Advice for other entrepreneurs who might be struggling to grow their business?
What always helps me to find a solution to a complex problem is the Rubber duck debugging method. If you are struggling to find a solution, simply start explaining the problem to someone else. It is OK if the person does not know anything about your business. Explain the context in detail.
During the talk, you will find yourself actively thinking about the problem and a solution will suddenly pop out. Pure magic!
Are you looking to hire for certain positions right now?
Yeah! Thanks for asking.
We are seeking a frontend developer with experience in ReactJS to work with us remotely.
Where can we go to learn more?
Thank you everybody for your attention!
If you wish to learn more about Unicorn Platform or get feedback on your project, reach out.
If you have any questions or comments, drop a comment below!
-
Alexander Isora, Founder of Unicorn Platform
Want to start your own business?
Hey! 👋I'm Pat Walls, the founder of Starter Story.
We interview successful business owners and share the stories behind their business. By sharing these stories, we want to help you get started.
Interested in starting your own business? Join Starter Story Premium to get the greatest companion to starting and growing your business:
Connect + get advice from successful entrepreneurs
Step by step guides on how to start and grow
Exclusive and early access to the best case studies on the web
And much more!
PROMOTED
Did you know that brands using Klaviyo average a 95x ROI?
Email, SMS, and more — Klaviyo brings your marketing all together, fueling growth without burning through time and resources.
Deliver more relevant email and text messages — powered by your data. Klaviyo helps you turn one-time buyers into repeat customers with all the power of an enterprise solution and none of the complexity.
Join Brumate, Beardbrand, and the 265,000 other businesses using Klaviyo to grow their online sales.
Starter Story
Wanna see 52 business ideas you can start with less than $1,000?
Join our free weekly newsletter and get them right now.