How I Expanded My CBD Product Line And Became A White Label Manufacturer
•
Published: December 25th, 2020
This is a follow up story for CannaFacturer. If you're interested in reading how they got started, published about 3 years ago, check it out here.
---
Hello again! Remind us who you are and what business you started.
My name's Jack; I first posted on here sharing my success with my personal CBD line, Full Body Zen. An industry connection found my cost of goods sold to trump their current prices by 400%. As we had 0 focus on marketing, producing their product, and their marketing channel being unique, we decided to brand ourselves and push forward as a manufacturer. We still run our personal line and serve our residual clients but have a broader focus reaching people looking to create a CBD/Hemp company, adding new products to existing companies, or beating the prices they currently pay from another manufacturer. In one instance, we cut the cost of a company's tincture price by 50% while increasing the cannabinoid content by 800%. This is the evolution of my business.
We are now focused on Cannafacturer - a cannabinoid manufacturing company. I was able to hire a fantastic Operations Manager, which allowed me to work from home. I then moved to Beverly Hills, California to join an entrepreneur collective. In Los Angeles, the network of new companies creating new brands is much more significant, and I am closer to a few of our large clients, which make up a large part of revenue.
Tell us about what you've been up to! Has the business been growing?
After moving into a warehouse, we were able to expand and create new operating procedures and stations for separate product manufacturing. We expanded the lines into lotions, creams, tinctures, shampoo, concentrates, gummies, prerolls, and more. Our business plan is to bring Cannabinoids to everybody at an affordable rate, margins are being slimmed in hopes of capturing a large section of the CBD market volume.
We are crashing the market to grab larger and larger contracts. We are now offering $5 2000mg tinctures for our clients as a form of leading the charge for manufacturing with this. This is unheard of, today I got an ad from a CBD company that has the cheapest CBD on the internet and it was for $45. The sad part is they are not lying.
This is a scary thing for the companies out there who are paying more for their product from their manufacturing than CBD will start to be sold on the market. As money and supply have chased the demand for CBD products, the market will finally consolidate and become commoditized. Operations are bigger and more automated than ever, and there is no reason why CBD cannot become another Ibuprofen.
For the people who enter the market now, they will not see another consolidation of prices like before. Within the past six months, the price of cannabinoids dropped over 10x. Meaning if you paid for a batch of goods to be manufactured, you may have to sell at cost to even compete with the new market Cannafacturer is bringing to the table. For the new players starting their brand, there does not seem to be a better time. Jack boasted that he has full brand build out capabilities for companies that work with him.
"We have it down to a science, creating logos, 3D rendering of products, website development, lab-testing, scannable QR codes, sticker printing, and custom formulation."
If I was a company selling a $100 tincture, I would be shaking in my boots reading this article. The gold rush for the cannabinoid market really has just begun, with estimates for revenue to quadruple within the next four years. This is likely due to a refined push for effective products, the initial wave of hemp oil (which contain no cannabinoids) obviously deterred some users, but the true fans are continuing to stay vocal about the effects and helping others get effect product into their hands. One charity based startup CBD Auditors plan to regulate the industry as a private third party as the government is taking too long to step in. It is an exciting time as a consumer in the industry. Many people looking to quit regular cannabis have switched to smoking hemp as it is genuinely the medicinal form of the plant. It provides all the medicinal properties without the recreational high, at a cost that's far less than the THC market will ever be able to reach because of taxes and regulation.
What have been your biggest lessons learned in the last year?
Create quality products that work.
Spend the extra money on packaging that stands out.
Many companies are not that good at business.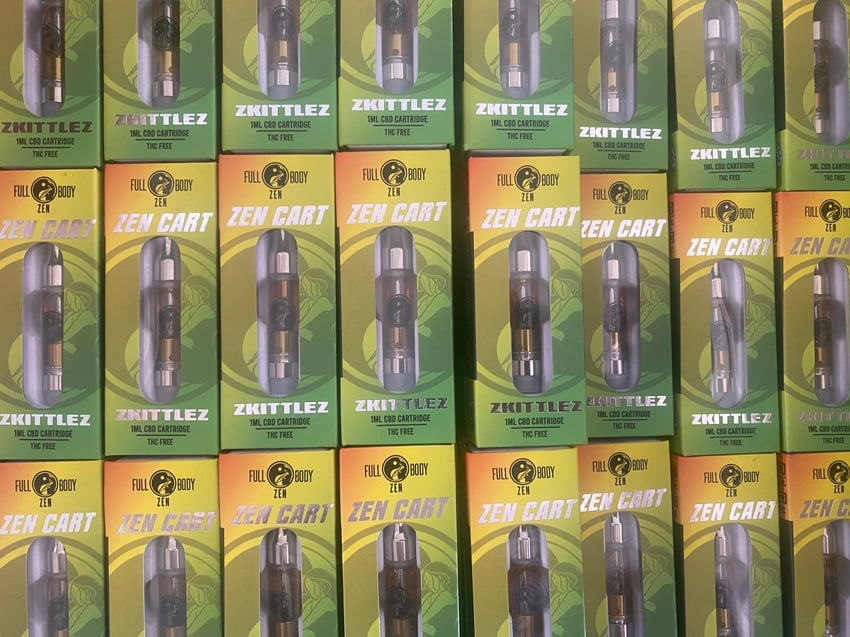 What's in the plans for the upcoming year and the next five years?
Currently, we are in talks with the previous founder of Sassoon Jeans, Paul Guez. A man I met here in Beverly Hills who has also recently invested in a line of Superfoods called Abe's Organics. With a direct connection to TJ-Maxx, we are finalizing a new warehouse space to produce gummies from scratch. At this point, we will be able to produce not only the most affordable CBD gummies on the entire market but many of the vitamin and supplement blends.
Depending on how this deal plays out. We will be looking to do a seed round to hyper-scale the business as we see a large opportunity and would like to claim more ground in the business. What is very rare about our company is the fact that we have been profitable since Day 1. A very rare thing for a company in the cannabis space where money seems to be poured into businesses with no real foundations.
As a market example, Corn Bread Hemp Raised almost half a million at a 4 million dollar evaluation via We Funder. They took a net loss over the past 12 months, do not produce their product, are likely being gouged by their manufacturer, and we did more revenue in the past three months than their entire year. So far, our focus has been building new revenue streams and growing our business with the funds at hand, but with our foundation and market knowledge. A capital infusion like that could help us propel to the 100million dollar evaluation that we are chasing.
Have you read any good books in the last year?
Book - A guide to the good life is a great one on stoic philosophy and having life rules and purpose.
Youtube Channel - "Pursuit of Wonder" provided me insights and perspectives about our existence.
Advice for other entrepreneurs who might be struggling to grow their business?
Quality branding is very important.
Treat customers like friends.
Be reachable and reply fast.
Are you looking to hire for certain positions right now?
Where can we go to learn more?
If you have any questions or comments, drop a comment below!
Want to find more ideas that make money?
Hey! 👋 I'm Pat Walls, the founder of Starter Story.
Get our 5-minute email newsletter packed with business ideas and money-making opportunities, backed by real-life case studies.