How I Launched A Digital Marketing Agency Specialized On Ecommerce And SaaS From Scratch
•
Published: May 9th, 2020
How I Launched A Digital Marketing Agency Specialized On Ecommerce And SaaS From Scratch
Hello! Who are you and what business did you start?
Hello, I am Teodora, the founder, and CEO of Vrotook, a digital marketing agency that helps clients to achieve their full potential in the modern tech society, with using the latest trends in marketing, sales, and advertising.
Vrootok was started as a result of a long-term vision that I had for a while. The goal was to create a marketing agency that would bring value to the clients, no matter what their location was. Marketing has been my passion since a very young age and I am happy to share that my dream has become a reality, thanks to our amazing team and clients. Today, we provide tailor-made digital marketing services and consulting to our clients all around the globe.
Besides marketing, my second passion is education, which is why you can often find me speaking, teaching, or volunteering at tech, marketing, and education-related events. As a Global Shaper with the World Economic Forum and a former Director of Startup Grind, it's very important for me to be contributing to global development by sharing my experience and knowledge which is why I use my free time contributing to such initiatives.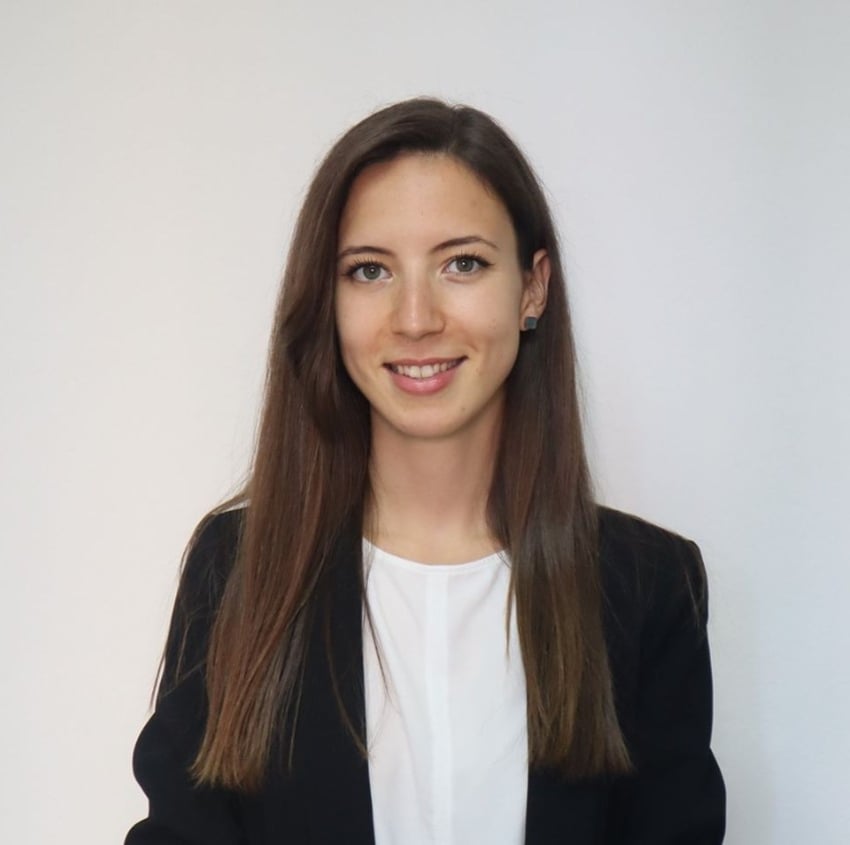 What's your backstory and how did you come up with the idea?
I have always been an energetic and extroverted person. I love being around people and I consider myself creative. Ever since a young age, you could find me organizing quizzes for my friends, selling flowers in front of my house, and even trying to make my parents get me an ice-cream fridge during the summer. During my high school and college days I was actively volunteering in various organizations, mostly in positions related to sales, organizational development and marketing. I always felt I should do something related to marketing, I just wasn't exactly sure what it would be.
After graduating from college and working in corporate for 3 years, the opening of the agency came spontaneously as I got the chance to meet a business person from the USA who needed a team for supporting his clients for development and digital marketing. We decided to start working together and he was the one and only client for Vrootok at the beginning. I quit my job, which I loved, and I decided to go all-in with the opening of the company.
Take us through the process of designing, prototyping, and manufacturing your first product.
Our model at the beginning was very different from what it is today. We started as an outsource and we worked with only one client, as he had enough projects for us which at the time were a total of 15 people. After working for 6 months with this client, one day he sent me an email that he is stopping everything and that in one month from now everybody should be out. It sounds unfortunate, but when I think of it now, it's what took us where we are today.
I spent all of my savings to pay salaries to the team members that I had to let go and I decided to take a radical step. I found a freelance job and decided to move out of my parent's house, with no savings, and no specific plan. What I knew though, was that I will start from scratch and that I would build the company again, this time with a different model that will bring value to our clients and bring us success.
After 3 months of freelancing, I took 3 interns to help me, 2 of which I employed. It may sound cliche, but we did work together in my apartment. After another 3 months, I decided to get an office, a very tiny one, with just enough space for 3 desks. As time went by and we got new clients that were happy with our services, we grew and developed into the company we are today.
It was and still is an exceptional journey for me, which I never thought I would experience. Today, we work as a specialized agency for E-commerce and SaaS companies and we help our clients to grow their business and get new clients with the help of digital marketing. Working with both enterprises and startups, we love every minute of our work.
Describe the process of launching the business.
I will share more here about the re-launch as I think that was the toughest time for me. I remember at the beginning, clients would ask me about our website, or what is our company name or maybe just our portfolio, and we had none prepared. I had zero experience in building websites and even though I was good at copywriting and knew exactly what I wanted, there was no way to handle this on my own. The reasons were mainly that a) I didn't have enough time with all the other tasks I was juggling and b) I didn't have the money to pay for professional website development.
Luckily, a friend decided to help me so step by step we put up a website that could at least present our skills and services. As I mentioned, since I was alone, I had a lot of operational and administrative tasks at the beginning so the production of promotional material was going quite slow. Luckily, we had enough work for the clients so step by step, we managed to provide a budget for a new website and the production of the promotional materials.
As we grew the team, they started helping with our promotional activities. I remember at the beginning, I always was telling my team that our online presence is not important as long as our clients are happy. But I've come to realize that a company's presence is always important, and even on the same level as client satisfaction is.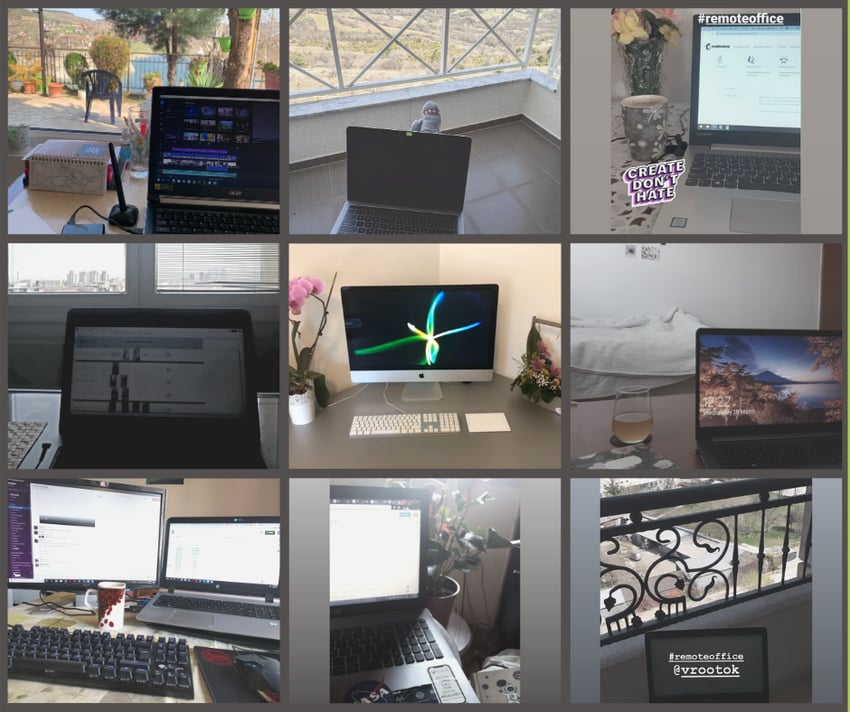 The Vrootok team, working remotely
Since launch, what has worked to attract and retain customers?
Since we are a digital marketing agency, we have to practice what we preach. I am happy to share that most of our clients either come through referrals or through organic search, meaning we are working hard on our SEO strategy.
Retention of customers is very important in our business, especially since our long term vision is to have our clients stay with us not only for a one time project but in the long run. We worked a lot on developing internal working procedures, to make sure that our services and communication with the clients are flawless. We have a set of specific procedures for each part of the job and we make sure we use agile methodologies in the process.
When it comes to sales, our clients are the best promotion for us, if they are happy with our services, they recommend us and that's how we mostly get new clients.
How are you doing today and what does the future look like?
After a few years of struggling, I am happy to share that we have now come to the point where we are reinvesting our profit. Namely, just this year I started my second company, called Galeksia, whose goal is to provide certified and globally recognized courses for digital marketing. We are working with the Digital Marketing Institute from Ireland to make sure that we will provide an exceptional and flawless experience to every professional who wants to upgrade their knowledge about digital marketing.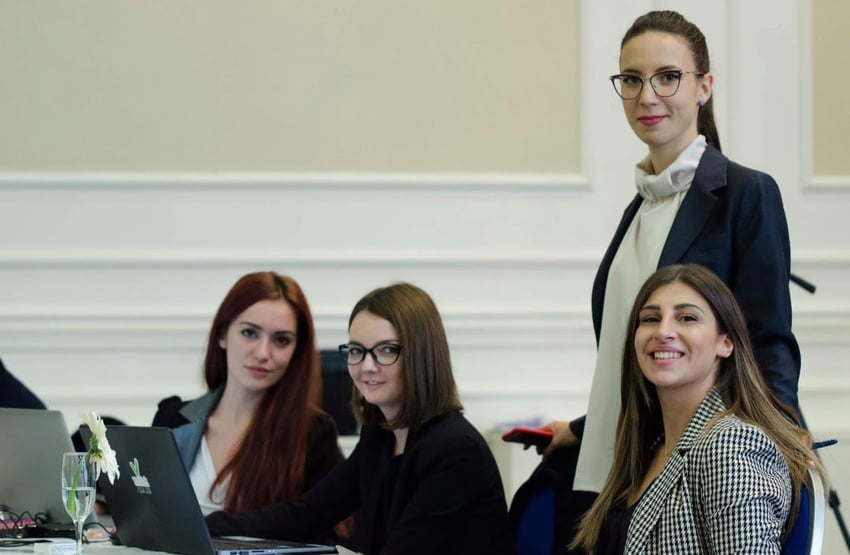 A part of the Vrootok team
Through starting the business, have you learned anything particularly helpful or advantageous?
My biggest lesson in life, in general, is to never give up on your dreams. It sounds generic but it's the essence of every business success. The second one is, you should always have your dream in the main focus, the way you execute it and the way it's presented might change, but the core of it should never change.
We've had and still have challenges along the way. I thought that once we changed the business model everything would be easy, but even then, we had setbacks. For example, we still have a client who owes us a big sum of money. I decided not to pursue that for two main reasons: 1. I would just waste energy and money, as they are on another continent, and I can use my energy for something more productive and 2. It was a valuable lesson for me and I have come out smarter out of that. Once that happened I knew it's time to focus more energy on our financial strategy and we hadn't had a similar problem since.
It always sounds surreal to me whenever I hear myself share the story of Vrootok. It's been only 3 years and we've had so many challenges, ups and downs, and changes. Sometimes it feels it's been 10 years, not 3. But you know what they say "Nobody said it would be easy, but it would definitely be worth it".
What platform/tools do you use for your business?
We use multiple tools for different purposes. I must say I am in love with Google, so we have all of our emails hosted there and we use their GSuite for the purpose of collaborating on documents, not between the team members but also with clients.
For daily communication with the team, we are addicted to Slack :) and we are using email and Skype to coordinate with the clients. Email is used for the majority of occasions with clients, but sometimes we use Skype for fast coordination or updates.
When it comes to task management, the whole team uses Toggl, as it helps us track the progress and plan future projects better. I have noticed that it helps with self-awareness when it comes to productivity.
We often have our team members share that they have become faster in executing a task and improved their quality of execution in the process. Additionally, we use Monday.com to store all of our tasks in one place. Monday.com for me is the perfect blend between Microsoft Excel, Asana, and Trello. However, I do use Trello for my operational tasks outside of those for the clients.
What have been the most influential books, podcasts, or other resources?
Entrepreneurial You by Dorie Clark is in my top 3, along with The Mind of the Strategistfrom Kenichi Ohmae and The Art of Thinking Clearly by Rolf Dobelli. I would say start with The Art of Thinking Clearly, as it will clear your head and help you set priorities.
Entrepreneurial You will give you the head start of how you can start creating content to get yourself out there. Then follows the Mind of the Strategist, that will share some of the Japanese business wisdom and will help you stay grounded. And The Art of Thinking Clearly will provide you with the balanced thinking you need so you can succeed.
When it comes to podcasts, I really like the Marketing Scoop by SEMrush, as it has different interesting topics, related to multiple aspects of the business.
Advice for other entrepreneurs who want to get started or are just starting out?
Go for it, all in, and have faith in yourself! Throughout my journey, when I look back, I can see that the times we failed the most are the times when we had no faith in ourselves. Your loved ones might try to stop you from your goal of starting a business, but don't be mad at them. They love you and they want to protect you. Just make sure you don't transfer their fear onto your own skin.
I started the business with almost nothing, but I knew it would get me somewhere good. It really makes me sad when I see bright people with great ideas that are afraid to take the first step. Just try to turn your fear into fuel and you'll see, great things will happen. And, don't forget to have fun.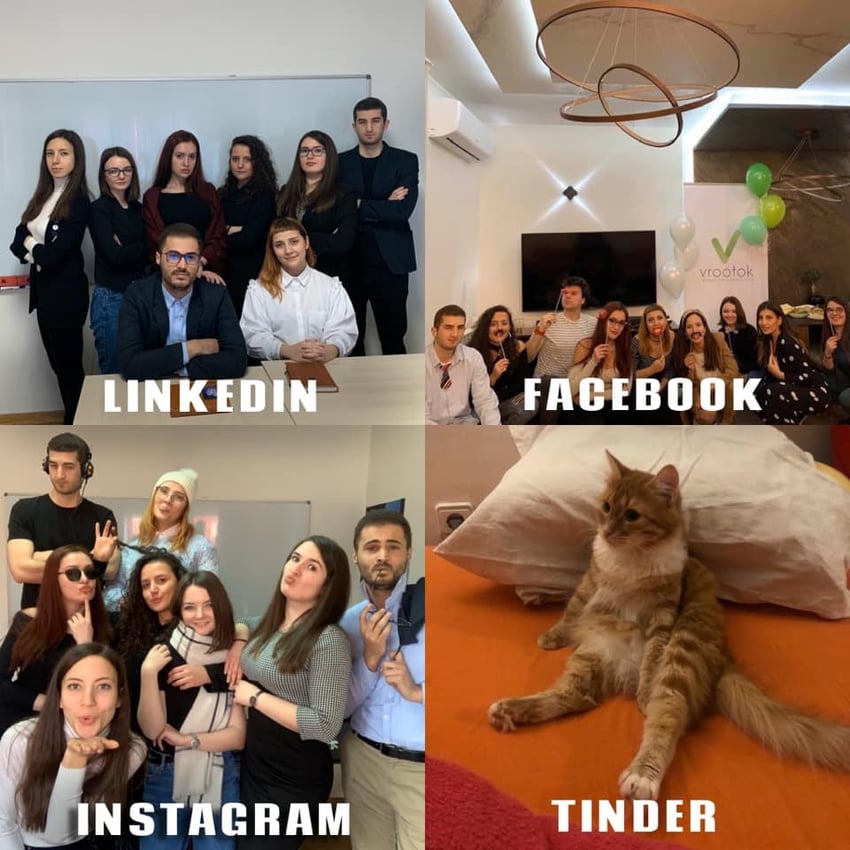 Vrootok's Instagram Challenge
Are you looking to hire for certain positions right now?
We currently have 3 open positions, copywriter, project manager, and Google Ads expert, all part-time. Anyone interested can send their CV at [email protected].
Where can we go to learn more?
If you have any questions or comments, drop a comment below!
-
Teodora Filovska, Founder of Vrootok
Want to find more ideas that make money?
Hey! 👋 I'm Pat Walls, the founder of Starter Story.
Get our 5-minute email newsletter packed with business ideas and money-making opportunities, backed by real-life case studies.