Thank you Klaviyo for sponsoring Starter Story ❤️
Turn one-time buyers into repeat customers. Try the platform loved by 265,000 brands
On Building A White Labeled Social Media Tool For Agencies
On Building A White Labeled Social Media Tool For Agencies
Hi everyone! My name is Mai An, and I am the co-founder of MixBloom, alongside my husband, Pietro.
After getting married in 2015, we decided that we wanted to take time to travel, so I left my job and we spent six months traveling around Asia. During our travels, we founded MixBloom. Since then, our company has gone through several iterations before evolving into what we are today; proudly offering white label social media management services to marketing agencies.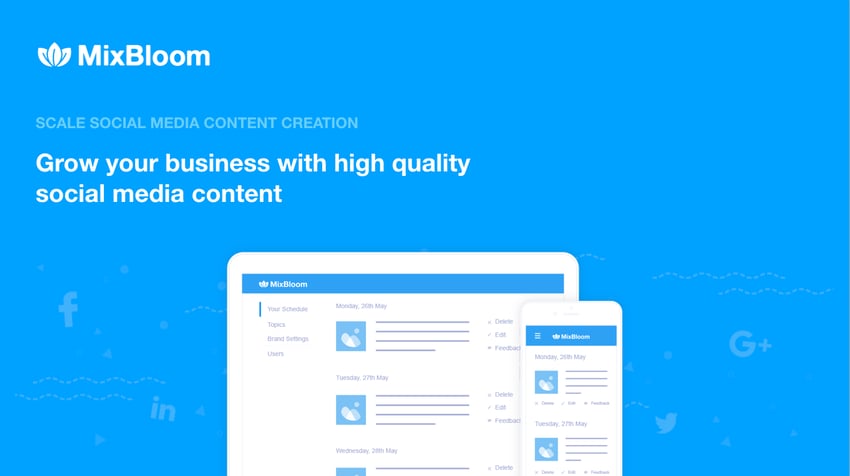 What's your backstory and how did you get into entrepreneurship?
My entrepreneurial journey started when I was 12-years-old, possibly even younger! In the months leading up to summer, I began to realize that many of my neighbors needed help cutting their grass. So, I decided to ask around in the neighborhood to see who would be interested in lawn care services, I would make them a nice offer, then hire other kids in the area to do the work.
Talk to people about your ideas, don't be shy to get feedback and test the viability of your idea fast.
I realized, at that time, that it was important to be able to recognize what I was good at and what other parts of the business I should delegate in order to be more efficient.
I maintained my entrepreneurial spirit throughout my schooling years and when I finished school I went on to university to study fashion, marketing, and advertising. After graduating, I was given the opportunity to work for a few small businesses that knew how to feed my desire for autonomy, creativity and most importantly, they were open to my ideas to improve their business.
During my time working for these small businesses, I took many leaps of faith that took me all over the world from Vancouver, BC where I accepted a sales position all the way to London where I studied branding. During this time, I had the opportunity to meet incredible people, all while exposing myself to a world of new ideas and diverse perspectives.
Fast forward to 2016 and my desire to start a business was becoming harder to resist. Throughout my early career, I had been met with the frustration of not being able to successfully outsource social media management when I had needed to and I quickly realized there was a need for other businesses seeking similar support.
Pietro and I started researching the industry, what needs were present, and what resources were currently available. Existing options for businesses ranged from finding social media freelancers on websites like Upwork, hiring a social media agency, or managing it in-house with the help of scheduling tools. All of which didn't quite meet all of the apparent needs in the industry.
Take us through your entrepreneurial journey. How did you go from day 1 to today?
When we first launched MixBloom, it was created as a software more than a service. It originated as just a library of content where the users would choose topics that interested them or that aligned to their business and were then given access to existing curated content based on their subjects of choice.
As MixBloom grew, clients began asking if it was possible for us to help them create content that was more specific to them, their brand, their tone of voice, and their target audience. The need pushed us to add a plan to our offerings that included branded social media content creation and content writing, which quickly became our most popular service!
Once our offerings became more concrete, there was a lot of trial and error to determine the best pricing for our plans and the best way to onboard clients in a way that was scalable and efficient.
On top of learning the logistics of MixBloom, I also had to quickly learn how to run a business, how to hire and manage people, how to find the right tools to be more efficient, how to create processes and so many other things. Luckily, I had a partner (my husband and business partner) who had experience running his own business and he was able to provide support and guidance along the way.
Today my focus is on improving our processes within MixBloom, increasing our sales, growing the business, finding the best ways to support my team, and giving as much value to our clients as we possibly can.
How are you doing today and what does the future look like?
In terms of growth, we proudly hired our first full-time team member for 2020 and are on track to hire 20-25 more freelancers by the end of this year.
To better serve our client's needs, we also plan to start expanding this year to include more services such as copywriting and ad management.
Currently, we only offer services in English, but we are ambitious to eventually be able to offer services in Spanish, French, and Portuguese in the future.
With the amount of growth we are striving for in the future, this means we will need to refine our processes and have the right resources to support this growth.
Through starting the business, have you learned anything particularly helpful or advantageous?
One of the most difficult lessons I have learned throughout the process of founding MixBloom is that I can't do everything by myself. I've learned that it's important to be able to recognize what my strengths are and also to recognize what tasks I should delegate to others.
Another lesson I have learned throughout this journey is that it is very difficult (but not impossible) to start a business while traveling. I founded MixBloom while I was traveling through Asia over a six month period and each week we were in a different location, making it difficult to focus on the business. Looking back it may have been easier to take on freelance work or tackle side projects instead of starting a business but hey, now I know!
The most recent challenge I have faced throughout this journey is to run a business with a newborn, which I did in 2018. Many women run their businesses as new mothers and I have so much respect for them! The lack of sleep and the constant learning curve, both as a mother and as an entrepreneur, was very difficult at times, but I am so grateful to have had the opportunity to do both without compromising one or the other.
Most importantly, I've learned that having a growth mindset and being resilient is a must. Founding a business is a journey that forces you to really learn your limits and strengths, and works on improving yourself in order to improve your business.
A few things that have helped me massively in the journey are reading, having a coach and getting support from a network of other entrepreneurs, particularly other female entrepreneurs.
What platform/tools do you use for your business?
Here's a list of my favorite tools:
MixBloom App - This is the software we created where the team creates content clients review their social media schedules.
Buffer - Once content is approved inside our MixBloom App, it's sent to Buffer for scheduling to all social media accounts. We love Buffer as a tool but also an inspiration for how to build a remote business and a company we'd all like to work in.
Trello - This is our project management tool. We tried others, but love the simplicity of Trello!
Intercom - This is where we manage communication with clients. It's not cheap, but definitely worth it for us!
Slack - This is where we manage our daily internal conversations.
Linkedin & Sales Navigator - This is great for leads and sales. Something I'm spending more of my time on lately!
Pipedrive - This is what we use as our CRM. It's perfect for a small business.
Zapier - This is wonderful for automation. It helped us streamline our onboarding.
Clarity - I've used clarity to talk to other entrepreneurs, get feedback on our strategy and learn from who I consider mentors of mine.
What have been the most influential books, podcasts, or other resources?
In the last few years, I've been reading many autobiographies, mainly of women like Sheryl Sandberg, Hillary Clinton, Madeleine Albright, Michelle Obama or stories of brands like for Shoe Dog by Phil Knight. They all inspire me because, in adversity, they were able to shine and find their true self. The latest one I really enjoyed reading was Keep Going by Austin Kleon, it's a quick light read and a great reminder on how to stay creative.
A podcast like How I built this is also a great one to hear the story of how big, popular brands started. And with my background in branding, I love storytelling and podcast like these are wonderful:
Carrie Green's YouTube channel, she started the FEA in the UK and has a network of female entrepreneurs and shares lots of tips on how to start a business and grow it.
Advice for other entrepreneurs who want to get started or are just starting out?
Talk to people about your ideas, don't be shy to get feedback and test the viability of your idea fast.
It's ok to start selling and then hustle in the background to put in place a process and refine things once you get traction for your offering. There's no perfect timeline for launching your service, you will run into bumps and need to adjust...constantly.
Never stop learning, read books, blog posts, listen to podcasts, be part of forums on Facebook and part of the conversation.
Where can we go to learn more?
-
Mai An Tran, Founder of MixBloom
Want to start your own business?
Hey! 👋I'm Pat Walls, the founder of Starter Story.
We interview successful business owners and share the stories behind their business. By sharing these stories, we want to help you get started.
Interested in starting your own business? Join Starter Story Premium to get the greatest companion to starting and growing your business:
Connect + get advice from successful entrepreneurs
Step by step guides on how to start and grow
Exclusive and early access to the best case studies on the web
And much more!
PROMOTED
Did you know that brands using Klaviyo average a 95x ROI?
Email, SMS, and more — Klaviyo brings your marketing all together, fueling growth without burning through time and resources.
Deliver more relevant email and text messages — powered by your data. Klaviyo helps you turn one-time buyers into repeat customers with all the power of an enterprise solution and none of the complexity.
Join Brumate, Beardbrand, and the 265,000 other businesses using Klaviyo to grow their online sales.
Starter Story
Wanna see 52 business ideas you can start with less than $1,000?
Join our free weekly newsletter and get them right now.