9 Proven Ways To Grow Your Social Media Organically
•
Updated: September 8th, 2021
Learn how thousands of people are earning up to $2.5M/month online.
9 Proven Ways To Grow Your Social Media Organically
Thank you Klaviyo for sponsoring Starter Story ❤️
Turn one-time buyers into repeat customers. Try the platform loved by 265,000 brands
Social Media and the role it plays in business is constantly evolving.
Often times, it can be overwhelming - one day, you feel like you've mastered the craft, then the next day you're hit with new algorithms/features that may cause you to rethink your entire business strategy.
Whether you're just starting to learn the fundamentals of social media or you're an expert, there are always strategic ways to increase your organic reach.
We've outlined 9 ways to leverage your organic social media presence with little to no start-up costs, and give examples of:
Best days/times to post
Getting to know your audience
Engaging with customers
Working with influencers
... and more!
Define your Target Audience
One of the most common mistakes businesses make is "winging" their social media accounts.
What I mean by that is some businesses feel the pressure of running their accounts to create a presence for themselves in the space, without focusing on any targeted efforts.
One common example of this is paying for followers (in reality, these are purchased bots/inactive accounts that add to your follower # but have no ability to engage).
Engagement (likes, comments, etc) is one of the driving factors to how the algorithm displays posts to users. This is why it's so critical that you have real followers, compromised of your target demographic that organically like/comment factors.
So, you may be asking yourself, how do I define my target audience?
Here are a few tips to keep in mind:
Check out your competition - see what kind of followers they have and what they are posting.
Instagram has an analytics page that is actually useful. You can actually see your follower's demographics such as age range, gender, location, etc.
Use polls to see if your audience likes the content you're putting out
Understand what type of content motivates your followers - this will help with engagement
Once you understand your target audience, use the right hashtags so people can discover your content organically (we'll dive into this later)
David Lombardo, founder of ATC Memes discusses the importance of winning over your audience with social media:
ATC Memes originally started as a social media site that was geared towards air traffic controllers sharing stories and joke images known as 'memes'. The market research required was already encapsulated within our own fan base. That is to say, we just had to post a few mock images, and gauge the reaction from our already loyal fans.
This is perhaps one of the single biggest advantages in the modern world of social media. There is little risk of doing some basic market teasing and testing if you've already won over the attention of the audience through other means, memes in our case.
If we had tried to do it the other direction (that is, sell something before building the rapport of an entertainment page), I don't think it would have worked; or at the very least, it wouldn't have been as successful. People want to establish a relationship with your brand and in 2018, sometimes this means they want to get to know the people behind the page. Entertainment (specifically humor) on social media offers a sort of social bond that blatant, old-school marketing cannot achieve. It was the glue that established the framework for the entire business itself.
Use the Proper Hashtags
Hashtags are one of the most important tools you can implement on your posts, today. In 2020, this is more relevant than ever.
Why? It's quite simple - using targeted hashtags makes you discoverable by new followers, and as a result, increases things like:
# of followers
Engagement on posts (likes, comments, etc)
More customers, more sales!
Here are a few different types of hashtags you may want to consider adding to your posts:
Community Hashtags (simple words that connect followers to a certain subject... such as, #hotel or #tacotuesaday).
Campaign Hashtags (these are short term hashtags used to promote a specific item, like a product launch, season, partnership etc).
Branded Hashtags (ie. your company name, a word that reflects your brand identity... anything unique to your company that customers can resonate with).
Engage With Your Audience
Another great way to effectively reach your audience is by engaging with them, or what I like to call "flirting."
One great method is to simply "like" or respond to every single comment on your post or every DM in your inbox, at least in the beginning stages of your launching your business.
The reason this is so important is that it makes your audience feel a deeper connection with you/your product. Who doesn't like feeling acknowledged?
Imagine one of your customers leaves a complaint on one of your twitter posts, something along the lines of:
"I ordered this product three weeks ago and still haven't received it in the mail."
Your response (and tone) could potentially turn a negative comment into a positive feed, and may even attract new customers.
For example, Colin McIntosh, founder of Sheets & Giggles believes responding to Facebook comment/DMs within minutes is the single best thing you can do to attract and retainer customers:
I think the single best thing we do to drive conversion is answer all Facebook comments and messages within minutes. I have the Pages Manager app on my phone (it's terrible but it at least works), and when people comment on our ads we respond immediately to almost every single comment with on-brand straightforward answers, questions, jokes, pics, gifs, etc.
I honestly think that some people are deciding to buy before they ever click on our ads based on our answers to questions and interaction with commenters.
A lot of people (especially customer service folks) don't understand that you're not just responding to the person who asked; you're writing marketing language to convert the thousands of people who will read the comments before clicking.
We bend over backwards for customer service; I literally put my cell phone on the contact page and get about 10 calls a day.
Defects? Free replacement.
Delayed shipment? Amazon gift card.
Follow us on Twitter / Insta / FB? You're gonna get free money, free pizza, and free sheet.
Work with Influencers
Partnering with like-minded influencers (within your industry) is one of the most effective ways to grow your social media organically.
Industry influencers already have an established and loyal following. With one post, your product immediately establishes a connection with a brand new audience. It's that powerful.
When finding influencers to promote your product, do your research and make sure that their following will actually be interested in your product.
It's easy to be blinded by any influencer with a huge following, but if those followers don't resonate with your product, there may not be any value there.
Evan Marshall, founder of Plain Jane discusses how "micro-influencers" have impacted his business:
Influencer marketing has been huge for us. Our approach is pretty simple. We give out samples of our products and ask people to post about us on social media aka a micro-influencer strategy.
We really like this approach because we get authentic stories and content. We cannot really control the messaging so the product has to speak for itself. We don't really take product photos at all. Our customers take the photos and we ask to reuse them.
With any influencer strategy, you have to be very sure you're targeting the right people and engaging with them. You can make sure you're targeting the right influencers by looking through their posts and then looking through the profiles of their engaged followers. It takes more time per influencer but the payoff is certainly worth it. Make sure their followers look like your existing customers.
It takes a ton of time and work to grow a social media following this way but it's worth it. Other accounts have tried to grow themselves through botting or other manipulations. As a CBD company, we didn't want to give Instagram any reason to shutdown our account so we've done everything through content and real engagement. It's not magic to make this happen. You just have to post consistently and then reply or like every single comment you get. It takes months but it works.
Post Original Content
The content you post is a direct reflection of your brand and identity, and can ultimately enhance your organic reach.
Check out your analytics page to understand what your audience is most interested in and what they've engaged with most in previous posts.
You may want to also consider creating unique content for each platform, rather than simply reposting the same content on all channels.
This is how Rev. Chris Lee's Instagram account grew to 100k organic followers.
Post Videos
Videos are a highly effective way to reach your audience.
According to Hubspot's Report in 2020:
"59% of social media users want a post that teaches them something, and visual content is more than 40 times likelier to be shared on social media than other types of content"
Post At The Right Time
Finding the right time to post can be a challenging item to identify, so you may want to consider experimenting with a few different times to see when is most ideal for your audience.
The perfect time depends on your business, but there is quite a bit of data on the subject that can at least get you started.
SproutSocial provides us with the best times to post on social media in 2020:
Instagram: Tues-Fri: Safe to post between 9 AM and 6 PM
Twitter:
Daily from 10 AM-Noon
Friday from 9 AM-10 AM
Facebook: Weekdays from 10 AM-3 PM
LinkedIn: Tuesday-Thursday = best day to post from 3 PM-5 PM
Stay Consistent
Once you understand the best time to post for your audience, it's important to stay consistent.
One simple way to do this would be to schedule out your posts in advance so your followers can engage accordingly.
We've outlined some of the most popular scheduler apps to help automate this:
Mat Hofman & Erik Polumbo grew their Instagram account to 51,000 organic followers and walk us through their weekly schedule:
We have realized that you want to keep your customers engaged by posting with some form of consistency.
Monday
On Mondays we like to feature other miniature artists and hobbyist, we call it "Mini Maker Monday".
This cross-markets the featured maker as well as opens their audience to us and others in the miniature community. We've found that Instagram accounts that focus on a community tend to be the most successful.
It gets others excited when they see that their products/services or talents are being featured on another account, especially one with a large following. Our friend Kate at @DailyMini is a perfect example of how a community can build your success as well as others.
Tuesday
Tuesdays we call "Tiny Tuesdays", and we try and stick with simple and catchy tiny items that we sell or have created with our products.
This helps to answer the common customer question, "What can you do with these things?".
Wednesday
Wednesdays are for woodworking. Woodwork, in general, is very catchy and performs well on Instagram, but serve up some realistic miniature versions and it really gets people going. Here's an example:
Thursday
Thursdays we generally go with a "Throwback Thursday" post to some of our more popular creations.
Friday through Sunday
Friday through Sunday are free range. Sometimes we list new products, sales, or giveaways but we try and be more creative than salesy.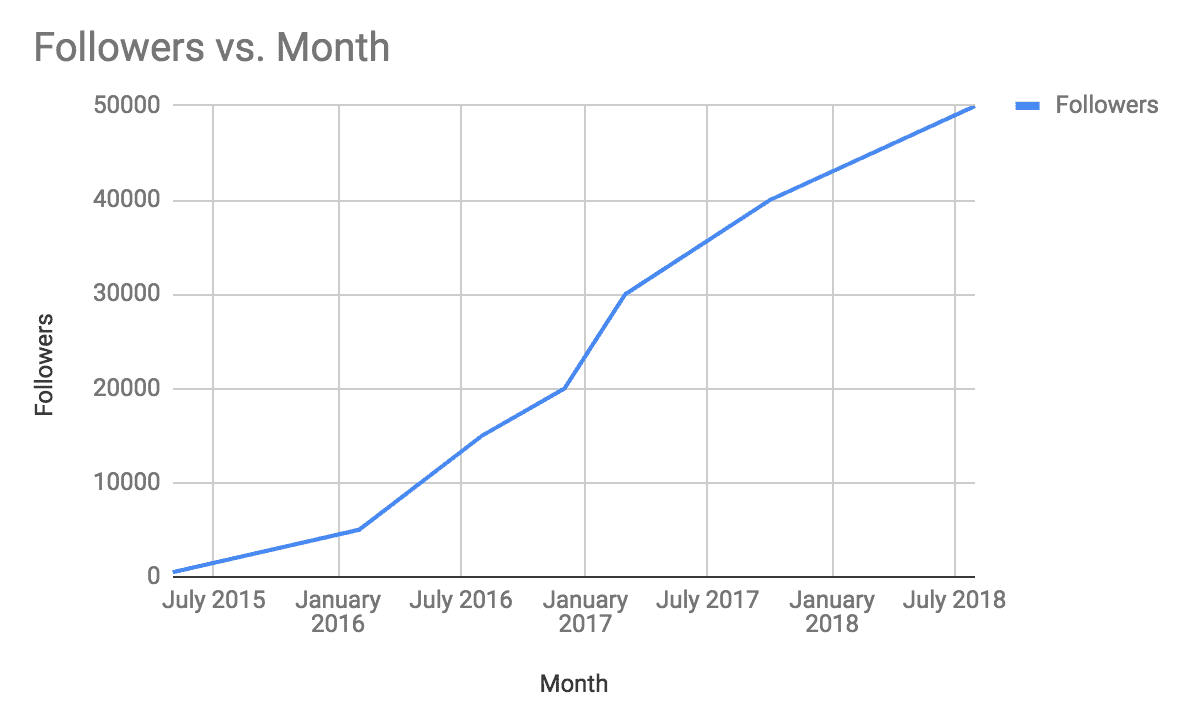 Promote your social channels everywhere
An easy way to increase followers and engagement is by simply promoting your social channels everywhere that your business has a presence.
Here are some quick ways to implement this:
Add follow buttons on your website (users can follow your page instantly, vs opening up the app on their phone)
Add your social channels to the bottom of your email signature
Consider listing your handles on your business cards.
Cross-promote your social media profiles on all platforms. By doing this, you may be able to turn your twitter followers into instagram followers (and vice versa).
Conclusion
Organic growth does not happen overnight, and there's no exact formula that every business can implement right away.
It's all about experimenting with different strategies and staying up to date with the newest features and algorithms.
Thanks so much for reading our guide! To learn more, join our community here!
Discover the best strategies of successful business owners
Join our newsletter and receive our handcrafted recap with the best insights shared by founders in Starter Story each week.
Useful, convenient, and free:
PROMOTED
Did you know that brands using Klaviyo average a 95x ROI?
Email, SMS, and more — Klaviyo brings your marketing all together, fueling growth without burning through time and resources.
Deliver more relevant email and text messages — powered by your data. Klaviyo helps you turn one-time buyers into repeat customers with all the power of an enterprise solution and none of the complexity.
Join Brumate, Beardbrand, and the 265,000 other businesses using Klaviyo to grow their online sales.
Wanna see 52 business ideas you can start with less than $1,000?
Join our free weekly newsletter and get them right now.