Thank you Klaviyo for sponsoring Starter Story ❤️
Turn one-time buyers into repeat customers. Try the platform loved by 265,000 brands
The 13 Best Coworking Spaces In Sacramento [2022]
•
Updated: January 20th, 2022
The 13 Best Coworking Spaces In Sacramento [2022]
Looking for a coworking space in Sacramento?
Some new tech companies have chosen to start in Sacramento over Silicon Valley which will hopefully boost the demand for enterprise SEO in Sacramento says On Point Internet Marketing
Whether you are a solo entrepreneur, small business, freelancer or simply just searching for a creative place to work, Sacramento has plenty of dynamic spaces to choose from.
We've put together a list of the 13 best coworking spots in Sacramento and provide you with:
location
hours of operation
amenities included
membership & cost breakdown
Here's the full list: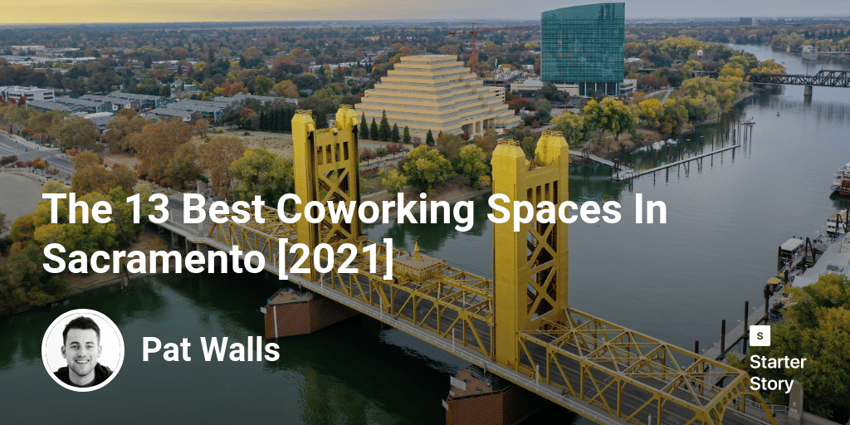 1. Pacific Worksplaces
Location: 770 L Street, Suite 950 Sacramento, CA 95814
Hours: 8am - 4pm
Amenities: Monthly valet parking, a 6-meeting room conference centre, virtual office space infrastructure, access into building all day and night, high-speed Internet connection, colour printer & copier, ShoreTel VoIP technology
Membership & Cost Breakdown:
Day passes: $25
Three days at month: $49
Open coworking: $139
Dedicated desks: $249
Pacific Workplaces offers a wide choice of on-demand services for your business. They've been in the flexible office space industry for nearly 20 years and have been locally owned and operated since day one. Their concept called Workplace-as-a-Service provides low overhead and flexible workplace solutions on a hosted, subscription-based model. In addition, members benefit from business support services and collaborative workspace environments.
Learn more about Pacific Worksplaces ➜, or send them an email.
2. Capsity
Location: 572 21st St, Sacramento, CA 95818
Hours: 10am - 5pm
Amenities: High-speed and secured WIFI, premiere conference room, private room, an abundant supply of whiteboards, lounge area, kitchen, virtual office capabilities
Membership & Cost Breakdown:
Virtual desk: $95/month
Dedicated in-office desk: $357/month
Private office for a team: $487 to $1157/month
Capsity has striven to support local businesses, entrepreneurs, start-ups, contractors, non-profits, and good causes in the Sacramento region by providing space, resources, and community for more than a decade. Capsity's Sacramento branch is perfect for those seeking full-time workspaces or freelancers who need something on the fly. It's sleek, elegant, yet economical with its design. Furthermore, it's an intimate space with vibrant professionals looking to make connections.
Learn more about Capsity ➜, or send them an email.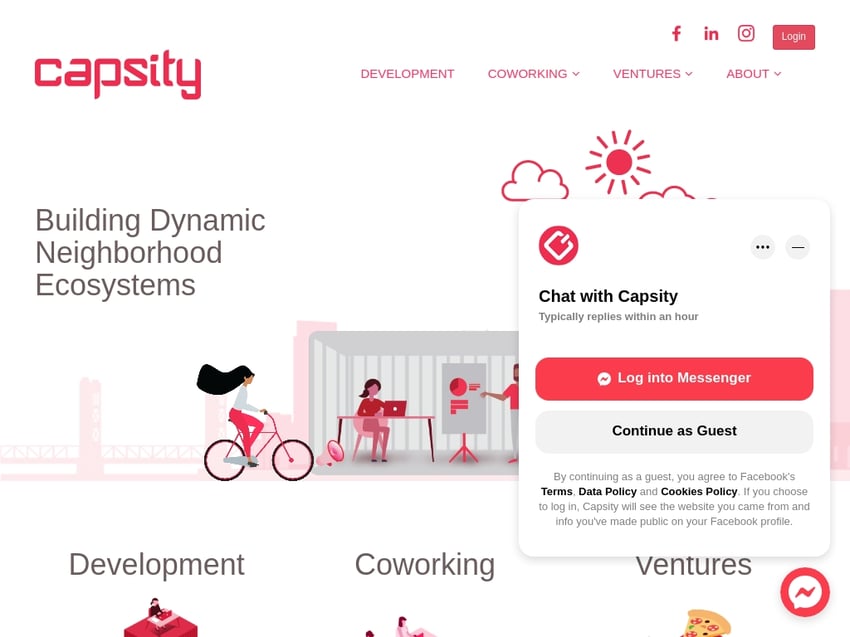 3. Outlet Coworking
Location: 2110 K Street, Sacramento, CA 95816
Hours: 9am - 5pm
Amenities: Permanent access, fresh coffee & tea, furnished meeting rooms, mailbox services, bike racks, filtered water, hosted reception
Membership & Cost Breakdown:
Part-time membership: $49 for four days per month
Day job membership: $150/month for access during business hours
Resident membership: permanent 24/7 access for $225/month
Private office: $349 to $700
Outlet provides a coworking space in Sacramento that's located in the most accessible location imaginable. It's sleekly designed with modern amenities and surrounded by retail spaces and restaurants. They bring together the key experiences of any workweek–office space, events, coffee, and meeting space–and enhance them with their hospitable staff and culture.
Learn more about Outlet Coworking ➜, or send them an email.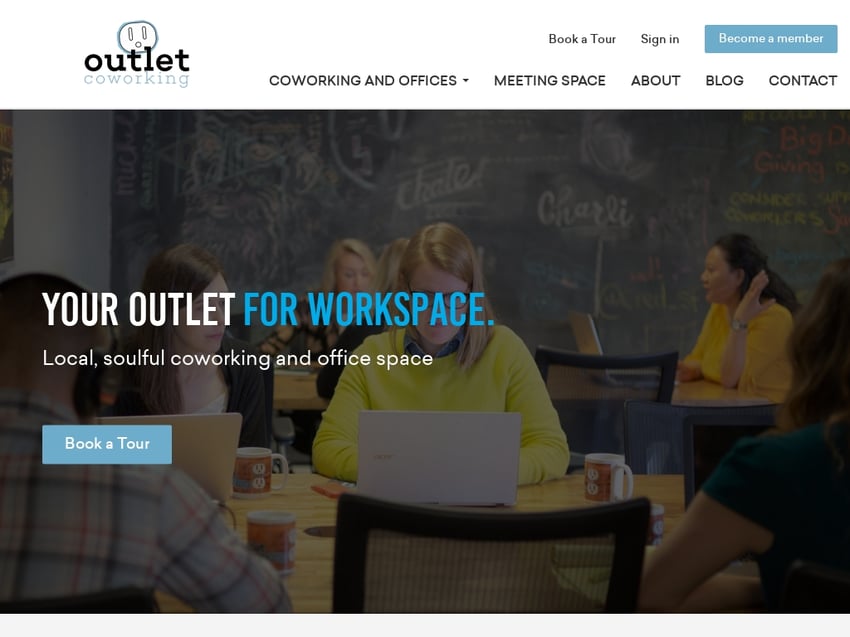 4. The Urban Hive
Location: 1007 7th Street Sacramento CA 95814
Hours: 7am - 9pm
Amenities: Fast and secure WIFI, shower facilities, reception services, kitchen, complimentary coffee & tea, professional mailing address, yoga & meditations, efficient meeting rooms
Membership & Cost Breakdown:
Part-time access: $199/month
Full-time access: $299/month
Private suite: $1200/month
As a coworking space, The Urban Hive is most associated with creatives. Namely, I'm talking about designers and artists, as well as the entrepreneurs interested in those circles. In fact, with 500+ members, this space comprises Sacramento's largest coworking community. One of the most attractive features of this sleekly designed art-forward space is choosing to work on your own or amongst other community members.
Learn more about The Urban Hive ➜, or send them an email.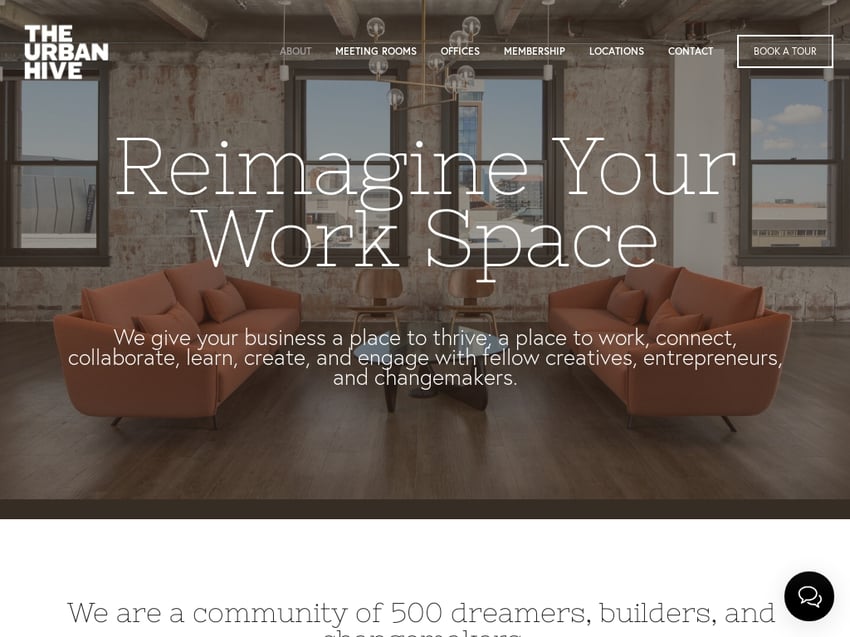 5. The Trade Collab
Location: 2220 K Street Sacramento, CA 95816
Hours: 7am - 5pm
Amenities: High-speed WIFI, two conference rooms, private offices with differing sizes, two open office spaces, daily events, classes
Membership & Cost Breakdown:
Day pass: $7
Monthly membership: $60, $90, $140, and $265 depending on your needs
Small private office: $625/month
Large private office: $975/month
The Trade Collab is a coworking space that blends a love of coffee with workplace creativity and efficiency. More specifically, it celebrates fresh coffee as being a key ingredient in work completion. The design is open but also offers dedicated seating options.
Learn more about The Trade Collab ➜, or send them an email.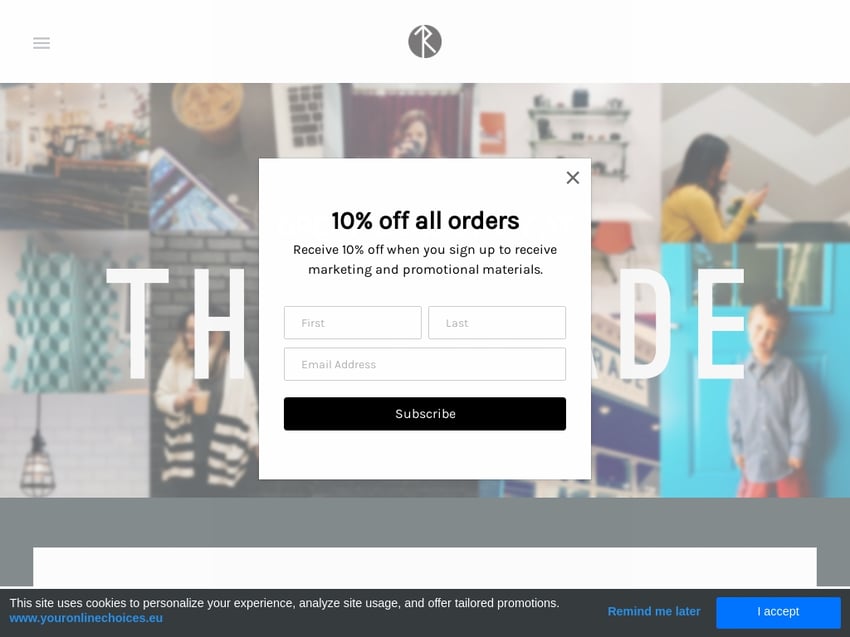 6. Cowo Campus
Location: 918 5th St, 1st Flr Sacramento, CA 95814
Hours: 9am - 5pm
Amenities: High-speed WIFI, heating & AC, 24-hour access for members, on-site café, lounge, chillout areas, Ted Talks Host Space
Membership & Cost Breakdown:
Monthly membership: $95 or $195
Day pass: $10 or $15
Weekly pass: $50
Monthly dedicated desk: $499
Monthly private office: $900 or $1100
In Cowo Campus, they are looking to become the most creative network of innovative work and launch consultants with workshops and an accelerator program in California. They also give you a genuine support network - running businesses, having problems, helping each other by sharing their experience and knowledge. Cowo Sacramento is 12,000 square feet of beautiful interiors that inspire your best work.
Learn more about Cowo Campus ➜, or send them an email.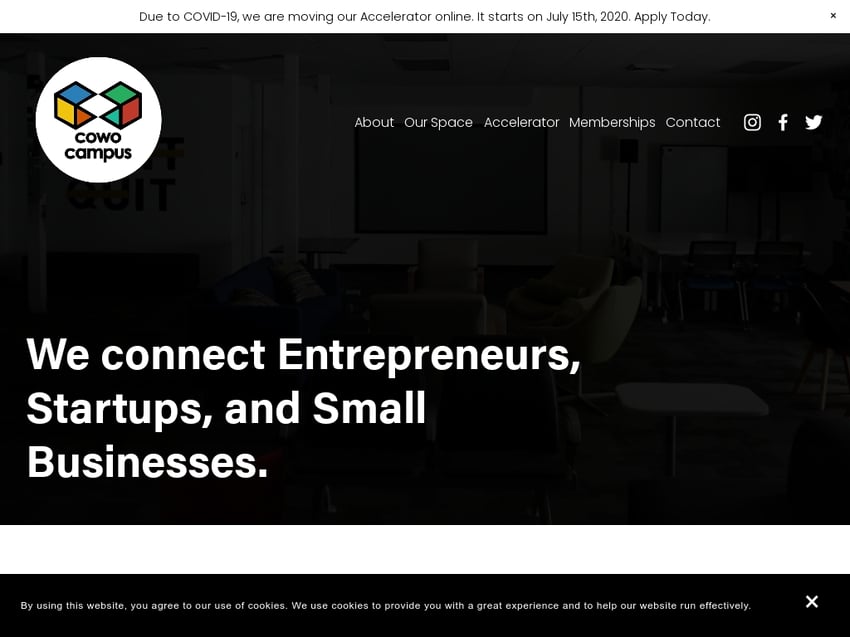 7. The Workshop Sacramento
Location: 3301 C Street, Ste. 1000 Sacramento, California
Hours: 24/7 access
Amenities: Free parking, free coffee, free printing, open floor space, large conference rooms, small conference room, audio/visual options
Membership & Cost Breakdown:
Dedicated desks: $225/month
Open table spaces: $125/month
Private office space: $50 or $100 per hour
The philosophy of the Workshop facility based out of Sacramento is all about innovation and providing you with an optimized coworking space. In addition, there's a staff that's available to train you in reaching your business goals.
Learn more about The Workshop Sacramento ➜, or send them an email.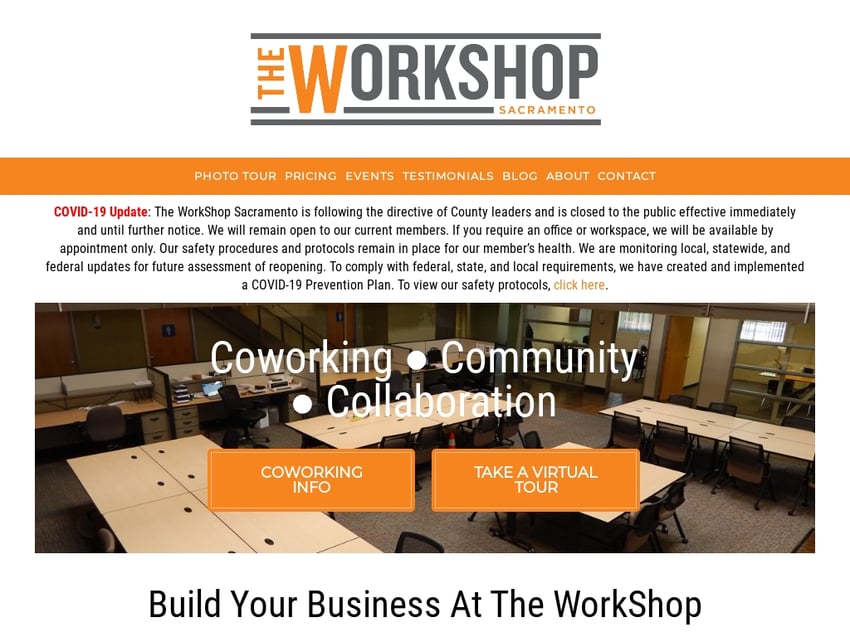 8. Hacker Lab
Location: 2533 R Street Suite 120, Sacramento
Hours: 10am - 5pm
Amenities: 24/7 keycard access, significant maker space, large conference room, coffee, healthy snacks, vibrant community, comfortable workspace, educational workshops
Membership & Cost Breakdown:
All-access membership: $124.99/month
Maker Cage membership: $299/month
Private desk: $249/month
Private office: starts at $599
More than just tools, Hacker Lab provides access to education, workspace, community, and over $500K in speciality equipment and machinery. One of the most beneficial features is the array of organized and informative workshops offered in this space.
Learn more about Hacker Lab ➜, or send them an email.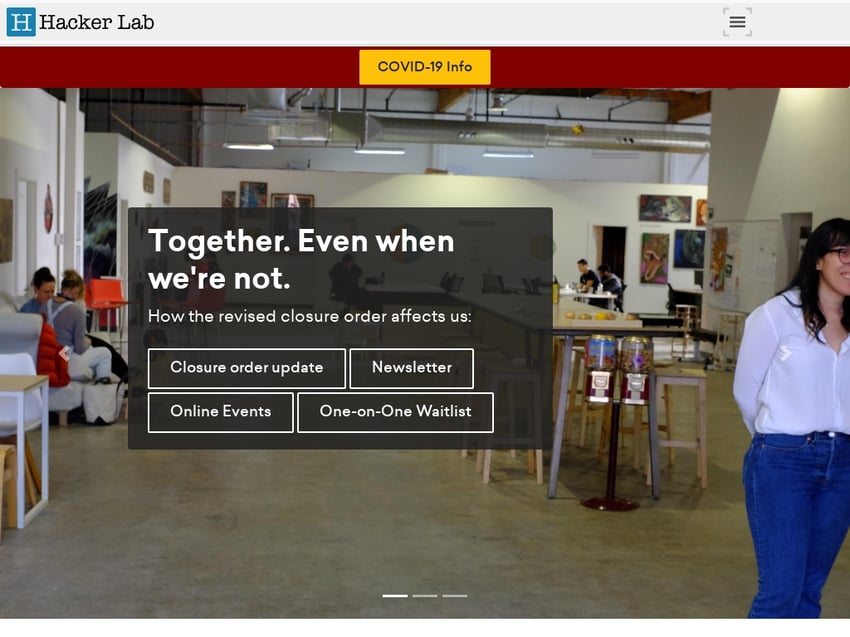 9. The Creator's Place
Location: 1901 Del Paso Boulevard, Sacramento, CA, 95815
Hours: 9am - 6pm
Amenities: Shared workspace, shared commissary space, startup business incubation, community meetings, member-only events & resources, free street parking, high-quality printing (fees applicable), mailing address, prayer room, coffee, tea.
Membership & Cost Breakdown:
Shared space memberships:$100/month
Main room desks: $300/month
Private offices: $500 to $1200 per month
Its purpose-oriented mission bolsters the entrepreneurial environment of The Creator's Place. Furthermore, this coworking space is known for its Sacramento social impact culture. Through this innovative environment, startups can incubate, create, and design products and services in the vibrant Maker Space.
Learn more about The Creator's Place ➜, or send them an email.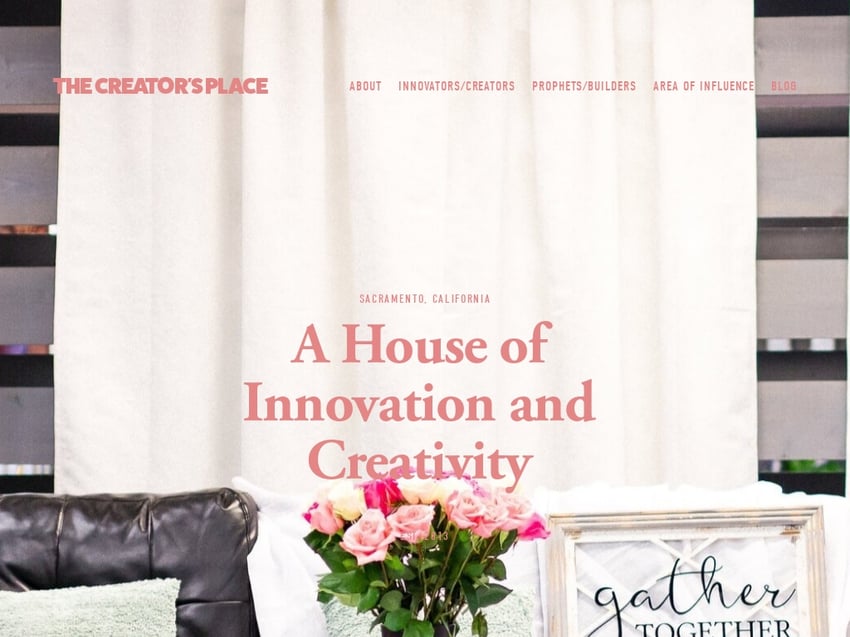 10. Amen Coworking
Location: 6313 Elvas Avenue, Sacramento, California 95819
Hours: 9am - 6pm
Amenities: High-speed internet, free locker space, coffee, snacks, media lounge, unlimited conference room usage, happy hour, foosball and pool, mail service, 24-hour access, dog-friendly, event space
Membership & Cost Breakdown:
Work bar membership: $129/month
Dedicated space: $249 or $349 per month
In Amen Coworking, their community is all about local. Locally sourced food, small businesses, family-owned companies: these groups thrive in the region. They believe in an open and fun work environment of independent professionals, entrepreneurs, and start-up businesses. This welcoming environment is conducive to a boost in creativity while also helping members accomplish their goals. Lastly, there's a large breakout area for you to kick back in between work.
Learn more about Amen Coworking ➜, or send them an email.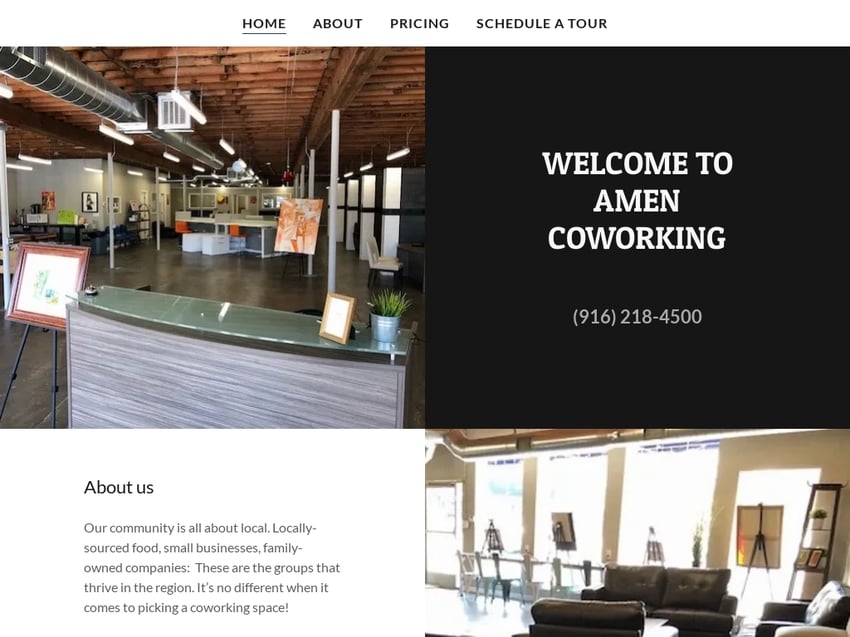 11. Lab 7
Location: 2417 21st Street Sacramento, CA 95818
Hours: 9am - 6pm
Amenities: Conference rooms, phone booth, high-speed, WIFI, 24-hour access, coffee & snacks, library access, laptop rentals, printing services, 3D printing
Membership & Cost Breakdown:
Lab tenant: $700/month
Member: $100/month
Daily pass: $7
Lab 7 aims to close the digital divide and expose communities to what happens when creativity, tech, and an open mind collide. The Labs are less of a physical construct and more of a living, ever-evolving family of community members, innovators, artists, philanthropists, teachers, and scholars alike.
Learn more about Lab 7 ➜, or send them an email.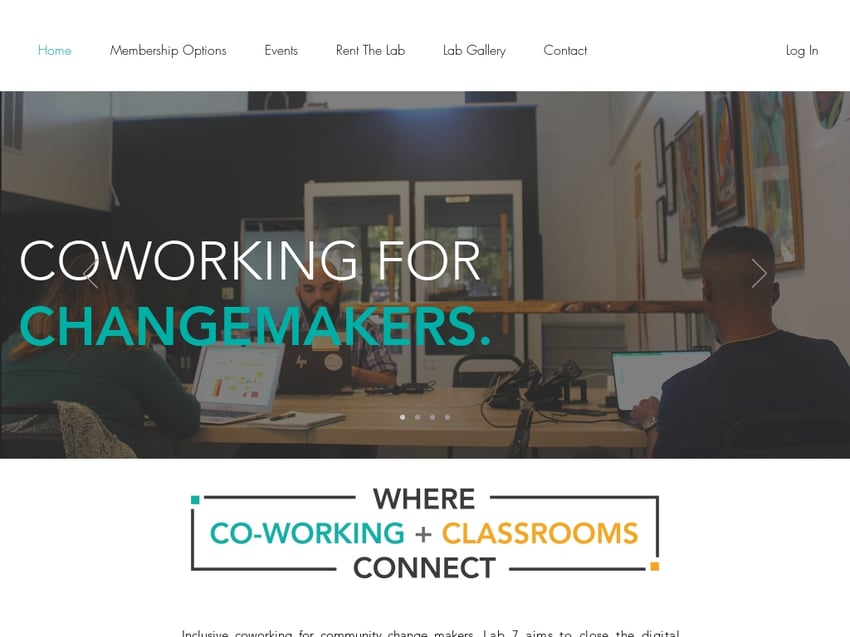 12. Workflow Lounge
Location: 9912 Business Park Drive, Ste 170 Sacramento, CA 95827
Hours: 8am - 5pm
Amenities: High-speed WIFI, heating, air conditioning, standing desks, lounge/chill-out areas, free drinking water, free coffee, free parking, wheelchair accessibility, printer, scanner, photocopier, PCs, kitchen
Membership & Cost Breakdown:
Membership: start at $125 per month
Workflow Lounge is a boutique coworking space that's owned by women and based on community building. It offers rooms that prioritize comfort and professionalism for client meetings and work schedules. In addition, the staff at this location is there to help with business growth, offering free business development workshops and other entrepreneurial services.
Learn more about Workflow Lounge ➜, or send them an email.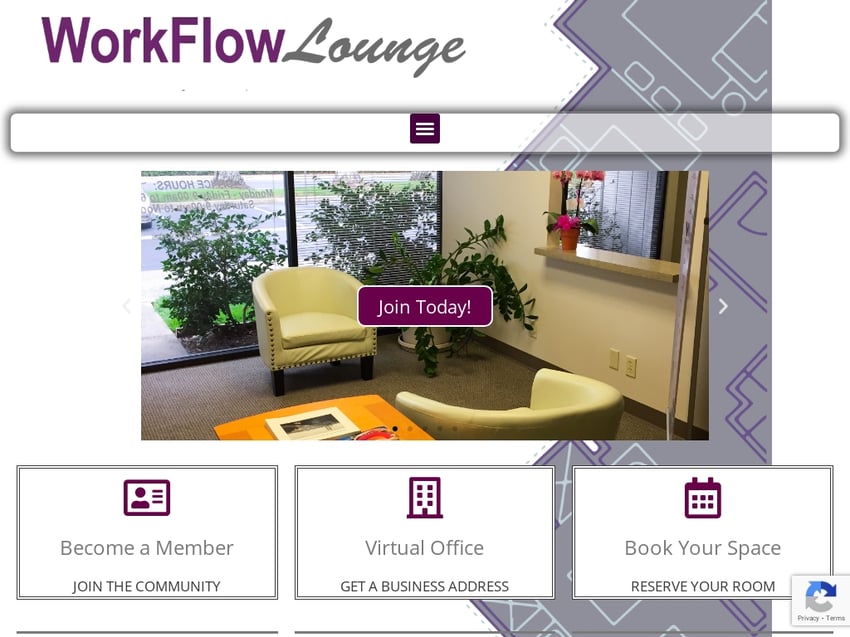 13. WeWork - Sacramento
Location: 400 Capitol Mall Sacramento, CA 95814
Hours: 9am - 5pm
Amenities: Mother's room, parking, shower, bike storage, electric vehicle charging station, espresso bar, natural light, wellness room, swimming pool, high-speed WIFI, phone booths, meeting rooms, common areas, cleaning services, stocked kitchens
Membership & Cost Breakdown:
Hot Desk membership: $300/month
Dedicated desks: starting at $550/month
Private offices: Starting at $1,420/month
WeWork Sacramento boasts bright and airy lounges for client meetings. Plus, there are sleek private offices and modern conference rooms for project planning. This top-of-line coworking space can be found just a block from the Downtown Commons and is known to be an energizing home for any entrepreneur.
Learn more about WeWork - Sacramento ➜, or send them an email.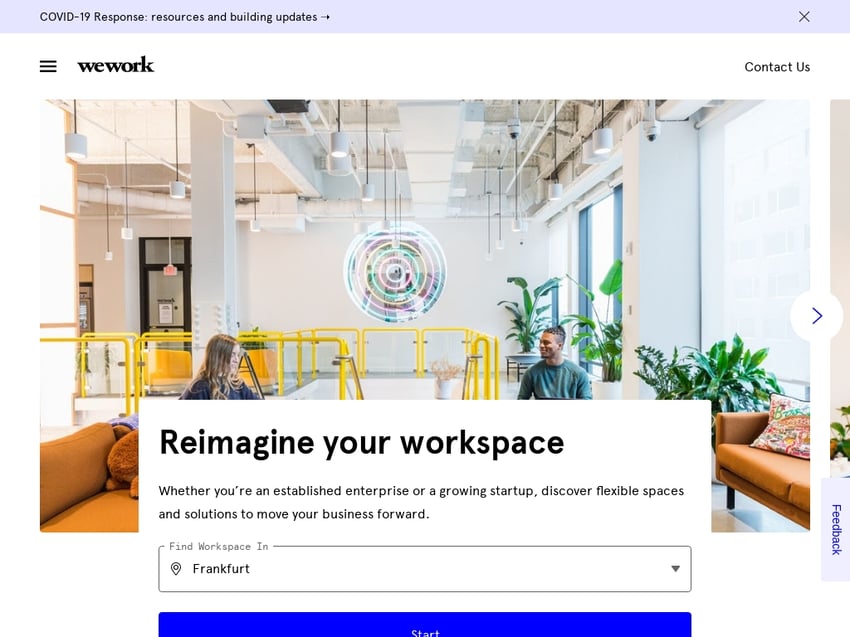 Want to start your own business?
Hey! 👋I'm Pat Walls, the founder of Starter Story.
We interview successful business owners and share the stories behind their business. By sharing these stories, we want to help you get started.
Interested in starting your own business? Join Starter Story Premium to get the greatest companion to starting and growing your business:
Connect + get advice from successful entrepreneurs
Step by step guides on how to start and grow
Exclusive and early access to the best case studies on the web
And much more!
PROMOTED
Did you know that brands using Klaviyo average a 95x ROI?
Email, SMS, and more — Klaviyo brings your marketing all together, fueling growth without burning through time and resources.
Deliver more relevant email and text messages — powered by your data. Klaviyo helps you turn one-time buyers into repeat customers with all the power of an enterprise solution and none of the complexity.
Join Brumate, Beardbrand, and the 265,000 other businesses using Klaviyo to grow their online sales.
Starter Story
Wanna see 52 business ideas you can start with less than $1,000?
Join our free weekly newsletter and get them right now.