On Building A Restaurant Reservation SaaS And Raising Over $20M
Start A Restaurant Reservation Platform
Hello! Who are you and what are you working on?
Hi, I am Joel Montaniel, the CEO & Co-Founder of SevenRooms, an operations, marketing and guest engagement platform that helps operators maximize profits, build brand loyalty and enable personalized guest experiences.
Prior to founding SevenRooms in 2011, I served as Chief of Staff at LivePerson, leading strategic, operational and cultural initiatives, and started my career at Credit Suisse, working within the Real Estate, Finance & Securitization Group after I graduated from Georgetown University.
SevenRooms combines operations, marketing and guest engagement tools into one front-of-house solution, helping operators maximize profits, build brand loyalty and enable personalized guest experiences. Currently used by restaurants, nightclubs, hotels and entertainment venues in more than 250 cities worldwide, operators seat millions of guests each month using our technology platform. Our clients include Mandarin Oriental Hotel Group, Jumeirah Group, LDV Hospitality, Live Nation, Zuma, TAO Group, Altamarea Group, Wolfgang Puck, Michael Mina, Corbin & King and more.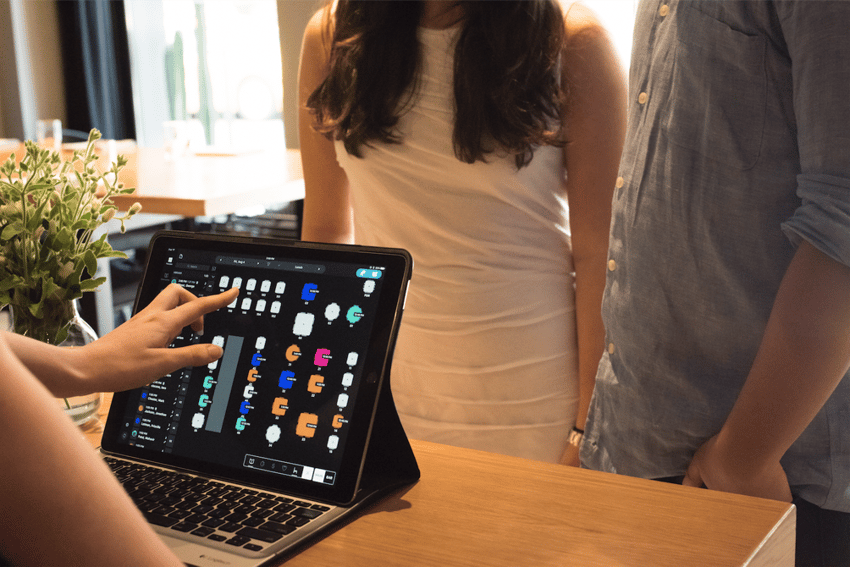 What's your backstory and how did you get into entrepreneurship? Take us through your entrepreneurial journey.
After graduating from college, I started working in banking at Credit Suisse, regularly clocking 100-hour work weeks with little passion for what I was doing. I shared a cubicle wall with my now co-founder, Allison Page, and we bonded over our shared love of restaurants. However, with long, unpredictable hours, we couldn't book a reservation a month in advance to dine at the newest restaurants. Nor could we go enough times to become a 'regular' and build a relationship with a general manager or host that could fit us in last-minute.
Really get to know your customers. Take the time to listen and learn from them to help you identify real problems you can solve.
SevenRooms was born out of this dilemma. After a product failure trying to solve this problem from the consumer side, we realized there was a larger problem to solve, not for consumers, but for the hospitality operators themselves.
Looking at the systems hospitality operators were using to run their businesses, we saw a big piece missing: guest data. The reason we had to go 20 times to get recognized as valued regulars was because the data was stored in employees heads, not systems, which prevented businesses from building strong customer relationships at scale.
Not only did the systems lack this invaluable guest data, but they also didn't help operators automate collecting any information or engage meaningfully with guests without a lot of manual work. Hospitality is all about making guests feel at home through personalized, memorable experiences and guest data is at the core. We set out to become the only reservation, seating and guest engagement platform focusing 100% on the operator, creating technology exclusively to help them build direct relationships with guests to turn them into loyal regulars.
With no prior hospitality operations experience, we spent many sleepless nights, while still holding down full-time jobs, shadowing hosts at restaurants and nightclubs across the city to learn the industry from the inside. We talked to operators everywhere we went, discovered industry pain points and developed a platform that solved the real problems operators faced each day. Our priority for the SevenRooms platform was to enable these operators to easily deliver personalized, memorable experiences that kept guests coming back.
Eight years later, SevenRooms provides a reservation, seating and guest engagement platform for operators in over 250 cities worldwide, helping them to provide memorable hospitality experiences to millions of guests every month. The platform helps our hospitality partners build direct and personalized relationships with their guests at every point along the guest journey: before, during, and after their visit.
In October of 2018, we received an investment from Amazon's Alexa Fund – their first foray into restaurant operations – to build Alexa-specific skills for restaurant operators. The skills will further streamline operations, allowing for all hospitality staff to seamlessly deliver more personalized guest experiences. By using new voice-powered technology, SevenRooms users will be able to use voice commands to access guest information and preferences. Operators can simply voice a multitude of questions from, "Do we have any peanut allergies tonight?" to "Who's at table 7?". You can see it in action here from our presentation at the National Restaurant Association Show in May 2019.
In February 2019 we saw another opportunity to enhance our core product by adding integrated marketing capabilities with the launch of 7X. In every other industry, companies have long had access to automated marketing and customer engagement tools, allowing them to engage their customers directly in a personalized manner at scale. When we saw the hospitality industry was lacking an all-in-one tool, we developed 7X, a first-of-its-kind product combining guest satisfaction, automated tagging & segmentation, email automation, and experiences & special offers. The new tool offers operators a number of new ways to stay connected with guests – from sending them an email a week before their birthday offering a free glass of champagne, to segmenting special event invitations by type of guest. For example, operators can invite local families to a make-your-own pasta night while avoiding anyone with a gluten allergy, and only invite those over 21 to an exclusive wine tasting with the in-house sommelier. Targeting guests with offers they actually want based on their preferences helps build stronger relationships outside of their visits to the venue.
How are you doing today and what does the future look like?
Our mission is the same as it was eight years ago -- to help operators make their guests feel at home. Our focus is to continue building technology that enables hospitality operators to maximize profits, build brand loyalty and create more personalized guest experiences.The root of hospitality is making guests feel special with memorable experiences that turn them into regulars. As new tech emerges, we aim to seamlessly weave it into the dining experience to empower operators to build these relationships with guests.
A key priority is harnessing the power of voice technology to build Alexa skills that allow operators to instantly access key guest preferences, hands-free. Harnessing a wide array of voice commands will allow operators to have everything they need to deliver exceptional, customized experiences without taking their eyes off the guest.
We are also excited to be in the midst of a massive growth stage for the company. This includes the opening of our first office in London after considerable momentum in the market over the past 12 months, with the company seeing a 105% year-over-year (YOY) increase in U.K. reservations booked through SevenRooms and a 116% increase YOY in seated diners across Europe. We're hiring across every team, including Marketing, Customer Success, Product, Design, Engineering, Sales, Finance, People and Partnerships -- with roles open around the world. We're always looking for talented, passionate people who thrive in fast-paced startup environments to help bring us into the future of hospitality technology.
Through starting the business, have you learned anything particularly helpful or advantageous?
One of the biggest lessons I learned was while raising our Series A round. While my co-founders and I had Wall Street and MBA backgrounds, we had no experience raising institutional capital. We went in to our first meeting feeling prepared, but it quickly became apparent that we were not.
Building a business, at any stage, requires more than just showing up. In order to be truly present in every meeting, conference call, brainstorm and interview it requires me to take care of my whole self.
The first VC investor we met asked us questions about our business we had never thought of and asked about metrics we should have had on hand. That night my co-founders and I immediately got to work, identifying every potential gap in our presentation and brainstorming every outlandish question we could ever get asked. We hustled. It brought us closer together as founders while making us feel confident and prepared in every future meeting.
Something else we learned through the fundraising process was how to choose the right investors. Time and time again we received the advice that an investor should be someone you see yourself working with 10 years down the line, through the ups and downs – like a marriage.
We waited for the right person and when we met Dinesh Moorjani from Comcast Ventures we immediately knew it was him. He understood the business and vision for the future immediately and had real entrepreneurship experience to bring to the table. We saw the value in him as partner beyond just the capital, and that was key to our successful partnership.
What have been the most influential books, podcasts, or other resources?
My favorite books are those that have teachable moments and show people overcoming challenges on their path to success (big surprise!). As an entrepreneur, books like The Alchemist, Creativity Inc., ShoeDog, and Blitzscaling have been incredibly insightful because they analyze the challenges founders and people have faced and how they overcome them.
The Alchemist reminds me to appreciate the journey because it's even more important than the success at the end. Creativity Inc. is one of my favorites because it showcases the importance of questioning traditional by-the-book business methods and exploring unconventional paths. ShoeDog reminds me that the biggest, most successful companies aren't born overnight, and that even giant companies like Nike faced the same startup challenges as the rest of us. And Blitzscaling because it's a practical framework on how to scale a business.
For podcasts, my favorite is How I Built This on NPR with Guy Raz. It features leading entrepreneurs, digging deep on their journeys to success and particularly how they overcame their biggest challenges along the way. Every time I listen, I pick up real advice, whether it's something simple like a morning ritual or an insight into effectively scaling your business model.
Advice for other entrepreneurs who want to get started or are just starting out?
My biggest piece of advice to entrepreneurs who are just starting out is to really get to know your customers. Take the time to listen and learn from them to help you identify real problems you can solve. SevenRooms has been successful because we've treated our clients like our partners, putting ourselves in their shoes to figure out how we can truly make their challenging jobs easier. Everywhere we go, we want to hear from anyone, at any level, using our platform (or a competitor's) to find out what they like about the experience and improvements they want to see moving forward. Overtime we've developed a true feedback loop that has informed our product roadmap and ensured new releases were successful. In turn, our customers have become our strongest advocates.
On a more personal level, I have learned the importance of taking care of myself. Building a business, at any stage, requires more than just showing up. In order to be truly present in every meeting, conference call, brainstorm and interview it requires me to take care of my whole self. It's not easy to find balance but I have started to think about my personal well-being like a bank account. Certain activities feel like withdrawals, and others feel like deposits of energy. I prioritize adding in these "deposits," like exercise, time with family and friends, and cooking or going out for a nice meal, because these small activities are hugely impactful on my everyday state of mind and, in turn, my productivity.
Where can we go to learn more?
-
Joel Montaniel, Founder of SevenRooms
Want to start your own business?
Hey! 👋I'm Pat Walls, the founder of Starter Story.
We interview successful business owners and share the stories behind their business. By sharing these stories, we want to help you get started.
Interested in starting your own business? Join Starter Story Premium to get the greatest companion to starting and growing your business:
Connect + get advice from successful entrepreneurs
Step by step guides on how to start and grow
Exclusive and early access to the best case studies on the web
And much more!
Together With Food Foundry
Do you want $75k in funding to grow your startup?
Food Foundry is an accelerator program built by Relish Works & Gordon Food Service for early-stage startups disrupting the foodservice industry. Applications are open now through October 23rd! Apply today if you're looking for:
$75K in funding
Specialized early-stage curriculum and resources
Dedicated mentorship from investors and foodservice experts
Highly supportive community to help grow your business
Food Foundry's 2023 cohort will kick off in January in Chicago and end with a final invite-only showcase for companies to pitch to investors and the broader Food Foundry community.
Apply NOW [It only takes 10 minutes!]