31 Restaurant Email Subject Lines That Convert (2022)
•
Updated: July 25th, 2022
31 Restaurant Email Subject Lines That Convert (2022)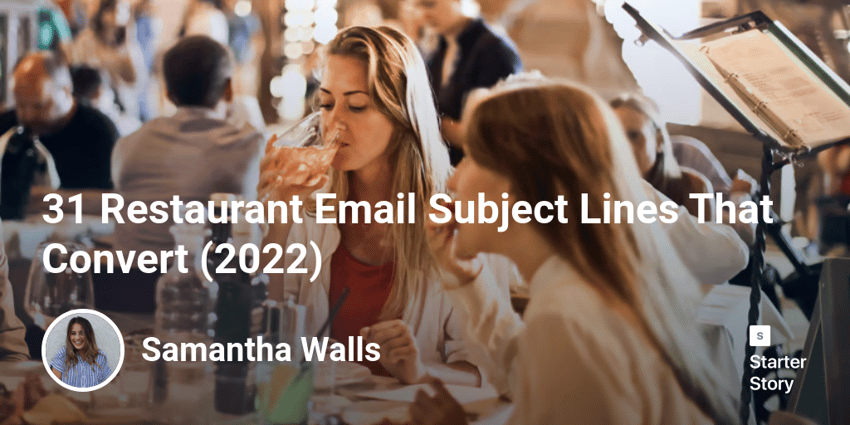 If you're running a restaurant, catering service, or food-related business, it's important that you invest in clever marketing techniques. Email is a great way to reach your customers and let them know about the ongoing offers and discounts at your restaurant.
In addition to creating great emails, a catchy subject line will help increase your open rates.
In this article, we provide you with 32 restaurant email subject lines to save you time and effort.
Best Restaurant Email Subject Lines
Does this email make you hungry?
New menu coming soon!
Your lunch is ready!
Here's what you've been waiting for
At our restaurant, we're committed to excellence
5 Things That Keep Employees Happy
Someone's getting a free birthday meal. Guess who!
10 Restaurants to try in Fall
Our New Spring Menu is Here!
Come have a meal with us
Catchy Email Marketing Subject Lines for Restaurants
3 menu suggestions for your next visit...
Your table is ready
Come dine with us!
We have a lot in common: fried chicken, mac & cheese, and whiskey
We'll remember you by name
Just heard about your new restaurant, opening in the neighborhood
This is what happened when food delivery and a taco truck collided…
Need a great place for your next meeting?
How much do you know about Korean food?
Fancy a date?
Fun Restaurant Marketing Email Subject Lines
Help us break the record for the highest brunch rush ever!
Dinner that tastes like a vacation
Everything you need to know about ramen
Up for a delicious mystery tour?
You won't believe what happened here last night...
Our New Menu is Here: Come check it out!
Put a little exclamation mark in your next lunch invitation!
We have a secret menu—and it's available every day.
This Is The Most Awkward Restaurant. Ever.
You get a steak and you get a steak...
Come in hungry and leave happy!
10 Fried Foods You Never Thought You Could Eat
Lead Management
title= Help us to help serve you better Hi [Name]
Hope you've been enjoying our services so far.
We want to continue offering the best service. Could you please take five minutes and fill up this feedback form for us [share link to form]?
Please be honest with your responses. If you didn't like something, don't be afraid to point it out. We take feedback very seriously and are ready to make changes to help serve you better.
Thank you,
[Your signature]
Product Launch Email
title= It's here! The [product name] Hi [Name]
I hope you're having a wonderful day!
I am emailing you today to let you know we have opened doors to our [product name].
It helps you [describe the problem and solution].
[Link]To learn more about what it does, click here…[Link]
Make sure you buy it before [mention either a time frame or number of sales].
Here is a testimonial from a recent customer [add a review from a customer].
If you have any questions about the product, please respond to this email or use the live chat on the product page. Our staff is waiting to respond to you.
Thank you,
[Your signature]
GUIDE: How To Write A Great Subject Line
As we mentioned above, crafting a catchy subject line is critical to the performance of your email campaign.
While just a few words may seem like a small piece of your overall message, this is the first impression your audience will have before they decide whether to open your email.
If your subject line isn't engaging or appealing enough, there's a chance it could get buried in your reader's inbox.
Let's go over the proven tips on how to craft a subject line that boosts engagement:
What makes a great subject line?
First, let's discuss the fundamentals of creating a great subject line:
Spark interest and curiosity
A clear and urgent call to action
An offer/intriguing discount
Personalization (this can be done by sending out different versions of emails to subscribers based on their preferences)
Relevance - make sure your subject line covers the current trends and topics within your industry
5 Tips To Crafting a Great Subject Line
Now, let's dive into the specifics of how to create a great subject line for your next campaign:
1. Use a familiar sender name
Although this may seem obvious, it's a piece many marketers miss the ball on.
Your readers want to feel like your email is coming from a human and not a corporation or automated system.
One of the easiest and most effective ways to do this is by changing the sender's name to YOUR name or someone in the company that is well known.
Here's a great example of this from Marketing Examples

Pro Tip
Avoid the "no-reply" sender name at all costs. This makes your email feel unfamiliar, unapproachable, and less personable.
2. Keep your subject short and to the point
If your subject line is too long, it will get cut off, which could impact your reader's chances of opening your email.
The rule of thumb (for both mobile and desktop) is to keep your subject line under 50 characters.
3. Add personal touches to your subject line
If you have access to information about your subscriber (ie. name, location, etc), you can use this to benefit your subject line and catch your readers attention.
It's important not to go overboard here, but adding even the simplest touch such as their name can build trust and rapport.
Here's a great example of a personalized email + offer I received from BarkBox with my dog's name in the subject line: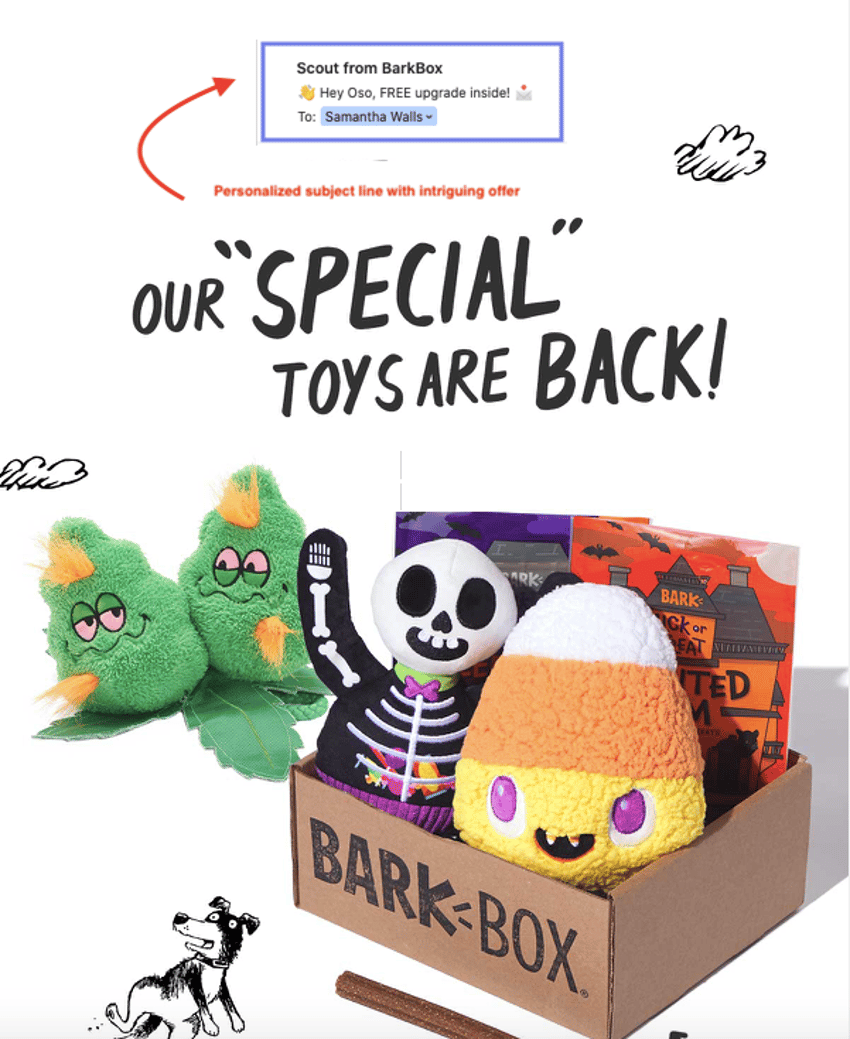 4. Avoid making any false promises
Your subject line makes a commitment to your reader, so it's important you don't stretch the truth just to simply get more opens and clicks.
In the grand scheme of things, making false promises will end up hurting your open rate as your readers will lose trust in you.
5. Give them a sneak peek of what's inside
Telling your subscriber what is inside helps with open and clicks.
For example, if you're providing your reader with a free guide or e-book, consider making your subject line something along the lines of:
"Your FREE marketing e-book awaits!"
Conclusion
If you want your email campaign to perform well, it all starts with your subject line.
Think about the emails you receive in your inbox and what makes you click vs what gets buried - odds are, the same habits go for your customer.
We hope you enjoyed our guide + list of 31 restaurant email subject lines that convert (2022).
Want to start your own business?
Hey! 👋I'm Pat Walls, the founder of Starter Story.
We interview successful business owners and share the stories behind their business. By sharing these stories, we want to help you get started.
Interested in starting your own business? Join Starter Story Premium to get the greatest companion to starting and growing your business:
Connect + get advice from successful entrepreneurs
Step by step guides on how to start and grow
Exclusive and early access to the best case studies on the web
And much more!
Get Smarter on Business & Tech
Read the weirdest, wildest, newest stories in business, money, and tech -- plus what to learn from them, and how to capitalize on them.
A free, 5-minute daily email that keeps you sharp on what's going on.
No nonsense -- just highlights and deep-dives on the day's most interesting stories.
Sign Up For Free Now