Thank you Klaviyo for sponsoring Starter Story ❤️
Turn one-time buyers into repeat customers. Try the platform loved by 265,000 brands
115+ Catchy Pet Photography Blog Post Topics & Ideas Your Audience Will Love In 2022
•
Updated: January 20th, 2022
115+ Catchy Pet Photography Blog Post Topics & Ideas Your Audience Will Love In 2022
Looking to write a new blog post but experiencing some writer's block?
Coming up with new blog post ideas and topics can be time-consuming and daunting.
What's even more challenging is coming up with a great content idea - one that will bring you the right traffic and resonate across your audience.
Writing a great blog post can take hours, days, and sometimes even weeks, so it's critical that you do your research to ensure your post will reach your intended audience.
This post provides you with creative blog post ideas to help spark some ideas for your next article.
Additionally, we provide you with proven tips and strategies on how to find the right blog post topic for your pet photography business.
Different Blog Post Types For Your Pet Photography Business
Before we dive into the list of blog post ideas and topics, let's go over a few common blog post types and how to use them:
How-to-guide content for your pet photography business
How-to-guides are a great way to share your insight and knowledge across your audience.
If you are able to provide answers to a person's search, they will likely click on your article and stay on your site for a period of time.
The more value and answers you bring to your reader, the more they are likely to return to your site and become a customer.
List-based content for your pet photography business
Lists are a great way to consolidate information and provide your user with an easy-to-read blog post.
For those that want a quick answer or don't have time to read a long article, this is a great way to get your point across and answer your searchers query.
Lists are a great way to build traffic for your blog posts, and they are often quick to write. It's a win-win!
Interview content for your pet photography business
Why not have an industry expert write a piece of content for you, rather than writing it yourself?
Interviews are a great way to get user generated content for your site - and oftentimes, they will generate quality traffic and interest.
Not only will your audience read this content, but the audience of your interviewee will also read and share this content.
Interviews are a great way to add value to your business while mixing up your blogging style.
List Of Pet Photography Blog Post Ideas
We put together a list of 115+ pet photography blog post ideas to help give you some inspiration for your next article:
Write about how a photo relates to some music
When (and how far in advance) to plan for photography in advance of holidays
Gallery of cute pets
Blog about your shooting style
Share a few things that make a client a good fit for you
Creative Collages Show ALL your Pet's Personality
Let the fur fly: why action shots make great photos
Downward dog and other fun portraits of your pets
Write about how your photo helped a client's business
Talk about your favorite piece of equipment
The curious cat and why we love them
Flower crowns for loyal companions are always in season
Your Favorite Wall Galleries You Have Created
Write about how you recently created a photo with a client to help them capture a special moment
We ride at dawn: sunrise photos of your pet are spectacular
Do you need to groom your pet before your pet portrait session?
Funny faces: doggos catching treats!
Share tips on how your clients can prepare for a session
Write a post thanking a local vendor, business, or person who has helped your photography ventures
Props that we love for dogs
Show an example of a horrible image you've made, and what it taught you
Hoof (paw) prints in the snow and other winter themes for pet portraiture
Wet noses to wagging tails: the details matter!
Purrr-fect cat portraits take patience
Our pet photography philosophy
Write about how you handle licensing and rights management
Why do you sell prints vs. digital files (or both)
Blog about a new local spot your clients would love
Let's Get Dirty: Muddy Puppy Portraits
Why old dogs rule: take photos of them in their twilight years
Share a photo that folks seem to love but that doesn't do much for you
Props that we love for cats
Portrait Walk-through From Booking to Delivering the Final Product
Give your camera to your young kid, and have them make a photo of you. Write about what they said about the picture
Share some love for a vendor/collaborator
Write about how a photo relates to a book you've read
It's a Formal Affair: How a Bow-Tie Completes Your Pets Look
Blog your most recent client session
Educate your clients on something you offer
Toe Beans and Whiskers; why every part of your cat is adorable
Duck, duck, goose. How about a barnyard session?
Hip-hop bunny portraits that will make you want to dance
Share images from a genre you've never shared
Great Christmas props for your pet's portraits
How might things go wrong, and how do you deal with it?
Why having an assistant can make your pet photos a breeze
Introduce (or re-introduce) yourself to your audience
You absolutely can have an album with your pets in it
Share a story of something funny that happened on a photoshoot
Why Prints Are Important
Interviews with vendors in complementary businesses
Ways to Display your Pet's Portraits
Expressions: Capturing Your Cats Curiosity
Share 5 things your clients should know before booking their photographer
Why B&W Portraits are the Dog's Bollocks
Share some insight on your editing process
These are a few of their favorite things: bring your dog's favorite toys to your session
Show an experience working with a different piece of EQ (ex. Instax cameras)
What treats and toys should you bring to your pet portrait session?
Offer a resource (Lightroom presets, Photoshop actions, etc.)
How You Choose the Best Images From a Shoot
Yes, you can put your furbaby on your Christmas card
Blog about an upcoming special offer/discount/session style (ex. Holiday Mini Sessions)
Talk about why you started taking photos
Let's play in puddles: muddy puppies and more
Write about what sorts of things are in your contract (and why)
How a client can best prepare for a particular type of shoot
Share some frequently asked questions (and answers) that you get from prospective clients
Explain how a client should choose a photographer in your niche
Share your most unusual family vacation photo
Lost in the leaves and other outdoor pet photography adventures in (City)
Work on a creative blogging project (ex. a photo every day)
Cowboy Up for sunset photos with your horse
Why you're a member of a professional organization (PPA, ASMP, etc)
The most relaxing locations for pet photos is your home!
Explain why, based on your pricing, your clients get more value than they pay for
Shy pets and portraits
Explain how the fact that you're an experienced photo veteran (or how you bring fresh new eyes)
Portraits with horses; how we do it
Review a new (or rented) piece of camera gear
You Say It's Your Birthday? Doggos Love Birthday Cake, Too!
The nose knows: sniffing out the right pet photographer for you
How do you determine what size print is appropriate for a wall or display?
Write about what sort of photography you don't do, and why
Show an example of how a client is using your image
Show how your vision has evolved over months or years
Let's Go For a Walk: Photojournalistic Pet Portraits
Behind-the-scenes photos or videos
How often do you photograph, and why?
Share a photo every day
Let's play dress up: costume pet photography
Have your client write about how awesome you are
How to Choose Wall Art For Your Home
Talk about recovering from a shooting mistake
Share a few things that would make a client a bad fit
Shake it off; water sessions for dogs
Write about how you shot a certain image
Dramatic pet portraits and modern decor
If It Sits, It Fits: Why A Basket is The Ideal Place For Your Cats Portrait
Blog about one of your favorite photo locations
Smooch your pooch: get in the picture!
Pocket Pets: There's a Mouse in The House, & Other Small Animal Pet Portrait Ideas
How To Pick Photos For an Album
Share a photo of the same thing every day (photographed in different ways)
Puppy love: How we capture every sweet feature of your sweet furbaby
Showcase images featuring one of your vendor partners (florist, caterer, etc)
List your favorite resources (podcasts, books, etc.)
My favorite locations in (city) for urban pet photos
Revisit an old shoot with a new editing style
Cat's Eyes: intimate pet portraits
Why you're not a member of such an organization
How to prepare your pet for a photo session
Sleeping babies make for simple, sweet pet portraits
Hedgehogs and teacups: small pet portrait ideas
Share how you're different than your competitors
Guide: How To Find Content Ideas
Finding the right content type and topic for your blog is critical. The last thing you want is to spend hours and days writing a piece of content that doesn't end up performing well.
We've outlined tips to help you find the right blog post topic
1. Find Blog Post Topics Using Google
Google search is a great (and free) tool for finding a content type and topic.
You can actually use google autocomplete to see what people are searching for: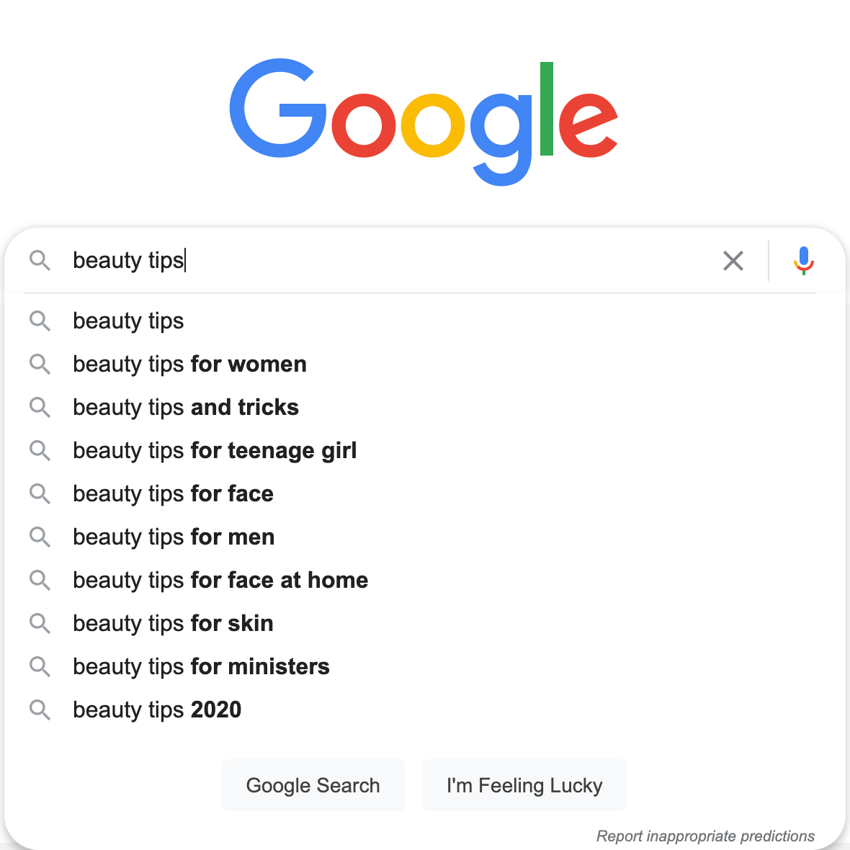 2. Find Blog Post Ideas Through Competitors and Useful Websites
A great way to find content types is by seeing what your competitors with similar audiences are doing.
There are a few different ways you can do this:
Manually going through different websites to see what others are writing about
Use a tool like ahrefs to see top-performing websites and topics
3. Find Content Ideas Using Google Search Console
Google search console is a great and free way to see what your audience is searching for: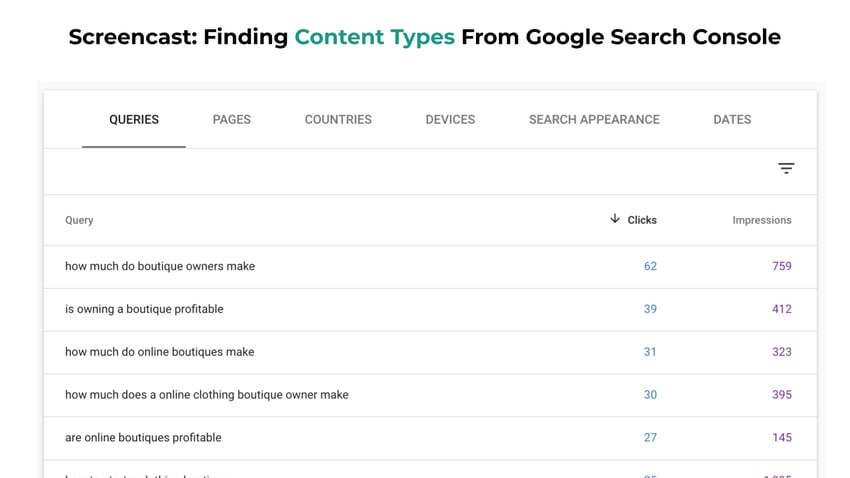 4. Make Sure You Can Perform Well For The Content
Just because your audience is searching for something, doesn't always mean you can win for that content.
Consider looking at existing search results and other top-performing websites. Then, ask yourself a few questions:
Are these top-performing sites massive businesses? If so, what would it take to rank for something like this?
Is the existing content in the search results good quality?
Are there ways that I can improve this content type? (ie. adding photos, videos, optimizing keywords, making the posts longer and more valuable to the reader, etc)
Want to start your own business?
Hey! 👋I'm Pat Walls, the founder of Starter Story.
We interview successful business owners and share the stories behind their business. By sharing these stories, we want to help you get started.
Interested in starting your own business? Join Starter Story Premium to get the greatest companion to starting and growing your business:
Connect + get advice from successful entrepreneurs
Step by step guides on how to start and grow
Exclusive and early access to the best case studies on the web
And much more!
PROMOTED
Did you know that brands using Klaviyo average a 95x ROI?
Email, SMS, and more — Klaviyo brings your marketing all together, fueling growth without burning through time and resources.
Deliver more relevant email and text messages — powered by your data. Klaviyo helps you turn one-time buyers into repeat customers with all the power of an enterprise solution and none of the complexity.
Join Brumate, Beardbrand, and the 265,000 other businesses using Klaviyo to grow their online sales.
If You Don't Rank In Google, You Don't Exist.
In order to be successful, you need to be visible online. If you're not, then your competitors might be stealing customers from you.
Semrush lets you quickly create content that ranks, and compete with the biggest brands in your niche.
Try Semrush Free Today ➜