On Starting A Panerai Straps Business
On Starting A Panerai Straps Business
Hello! Who are you and what are you working on?
Hello everyone, my name is Daniel Luczak and I'm the founder of DaLuca Straps. I started the company more than ten years ago (2009) in order to create extremely well made and unique watch straps. Since then we have expanded into other categories such as belts, wallets, hats and t-shirts among other items.
I was initially doing everything by myself including shipping, manufacturing, customer service, ordering supplies, marketing, designing, etc... until a few years in, when I could no longer fly solo anymore. I was able to find an employee that took the production burden off of me and allowed me to tackle the non production related tasks. We have always tried to keep all of the leather manufacturing in house (in our San Diego, Ca workshop) and source as much as possible from US based suppliers. This has been at the core of our DNA since inception and we have stuck to it 100%. There are a few exceptions for products we are unable to source within the USA, but if it can be done, we do it! Besides the excellent quality of our products and hands on customer service, we offer one of the largest one of a kind watch strap collections on planet earth, with each strap truly being one of a kind, handmade in San Diego, and individually named. This is one of the biggest differentiations between us and our competitors. At any given time we will have around 1,000 one of a kind watch strap offerings in five different sizes 18mm, 20mm, 22mm, 24mm and 26mm and in non-vintage or vintage selections (vintage being made from primarily reclaimed ammunition pouches from the Swiss, German and Swedish dating back to the early 1900s up to the 1960s).
We primarily focus on watch straps as they are our best sellers, with many being made to order aka custom. Since this was our first product, we have had the longest amount of time to perfect them and know exactly what our customers want.
Our flagship product would have to be our handmade Swiss Ammo Pouch watch straps! They are extremely unique, well made and are made from military grade leather ammunition pouches that date back to the early 1900s. Most higher end watch owners love ordering a custom made watch band made from this material and source. They truly are a one of a kind art piece for your wrist!
When I first started Daluca Straps, I was convinced that my audience was only going to be 40+ year old, well educated men, but that sure has changed and expanded ten fold. We have had kids purchasing our leather bracelets and headphone wire wraps, their moms purchasing our handmade leather bags and womens wallets and their husbands purchasing our handmade leather belts, custom made watch straps and our wallets as well. Sometimes they will even throw in a dog leash and collar combo as well for good measure. There really is something for everybody from us and that is what is so different from when we first started. The local pop ups and farmers markets we vend at on a regular basis, in San Diego, are what prove this for us. We see first hand that entire families love our products and our expansion into these markets has been well received.
We hear on a regular basis that our customers love the simplicity and quality of our products. The best example I can think of is our watch straps. Most of our competitors use many thin layers and glue them together creating a nice looking strap, initially, that bends easily and once the bend goes through the first thin layer the entire strap cracks and is rendered useless. Ours are generally made from one solid layer of leather, unless it is one of our alligator or lizard straps and they are a total of 3 layers, but 3 layers that are all solid and much thicker than our competitors. Lets just say we have never had one strap returned from a cracking through the first layer type issue in our 10 years of existence!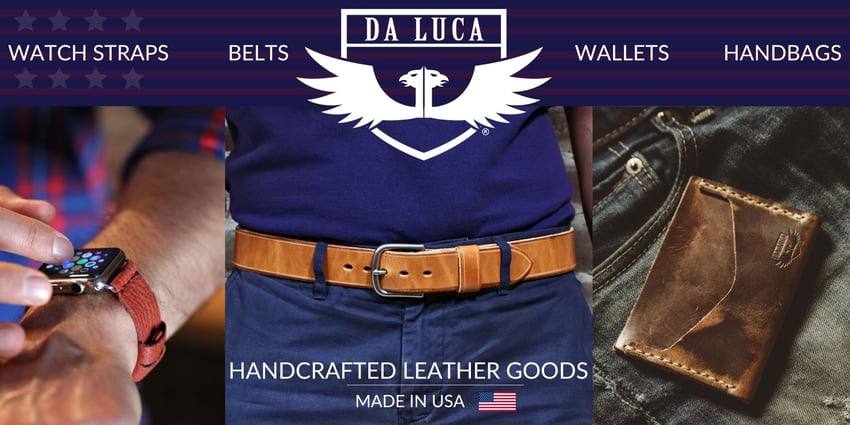 What's your backstory and how did you get into entrepreneurship? Also, take us through your entrepreneurial journey. How did you go from day 1 to today?
My life as an entrepreneur started VERY young. Some of my first memories of dabbling in entrepreneurship started in elementary school. My mother would sometimes take me to the toy store and yo-yo's were quite popular at that time so naturally I would purchase a few packs of yo-yo strings so I could replace my strings as they broke or got too many knots in them. But each time I would purchase a pack of strings I would buy an extra pack (5 strings per pack) and take these to school and sell them to my classmates for $1 each, while the entire pack cost me approx $1 and change. The margins were very nice, but the life cycle of a fad was also shown to me and that was an early lesson as yo-yo's definitely had a lifespan in school and I knew my money would not be made solely off of this hobby. Therefore my career and early retirement plans would need to wait a tad longer.
Keep things simple and keep the overhead as low as possible. Don't be over ambitious to take the world over as quick as you can unless you can smartly prove your concept and know that your idea is scalable.
My next dabblings were in the form of the quintessential lemonade stand and lawn mowing business on my street. The lemonade stand would generally bring in around $25-45USD per day and I had to be in elementary school at the time, maybe 5th grade or so. It taught me customer service, offering a quality product and how timing affects a business' income stream. This was clearly a summertime only gig and my other business, the lawn mowing business, would have to be my core income source since it was year round (grass doesn't stop growing). Being this young, it was tough to get a loan, tough to get seed money to purchase my equipment and maintain it with the necessary gas on a weekly basis, let alone get the gas, since I had no car. I was solely dependent on my parents for this help. The deal my father and I made at the time were that he would provide me with the lawn mower, provide me with enough gas for my lawns (at the peak of my lawn mowing empire I had a total of 5x lawns/week to mow) as long as I mowed, trimmed and swept his lawn each week, free of charge. I charged $3 for a small lawn, $4 for a medium sized lawn and $5 for the big ones! Now keep in mind this was all in San Diego, Ca and generally our lawn sizes are micro in size compared to the midwest and a push mower was always used. Each lawn needed to be trimmed, mowed and swept in order to be qualified as a completed job and this gig taught me the direct value of a dollar, which I have never forgotten to this day. I feel nowadays you cannot put a price on this priceless of an experience.
Further entrepreneurship progression brought me to my first real career at the tender age of 15 and that was becoming a mobile disc jockey. I started at my local ice arena, DJing for the 3 hour skate sessions (where people of all levels would skate in circles for 3 hours), and this did provide me with a high level of entertainment as there was clearly a lot to see when people were attempting ice skating for their first time in their life. I was making good money, able to meet lots of babes and even established connections with other DJs that allowed me to purchase their old equipment at pennies on the dollar and work for them until I could start my own company. The ice skating rink was a central hub and launching pad for my DJ career that spanned over 7 years in length. After working for a few companies for over 2 years I finally decided to start my own DJ company and this was right before I turned 18. I was able to file the correct paperwork and get everything dialed in so this was my first legit and official company of my life. The name of this company was Triple D Productions. Now before you jump to hasty conclusions about the name and its meaning, I did have a nickname from my boss at the time, from the ice arena. He called me Triple D as my nickname and it was short for Ding-Dong-Dan (he was Canadian and had a weird sense of humor [Disclaimer: I LOVE CANADIANS!]. He would always say I had my head in the clouds, and so he called me that name. I personally believe I was thinking about future business opportunities along with my next steps, but who really knows as it was a long time ago? I was also forced to dress up as the ice arena's mascot, the ice cube and skate around during the public skate sessions that I was not able to DJ. They also had me cooking on the outside grill for customers that were hungry during the skate sessions. I couldn't start my own DJ company fast enough!
Moving forward a bit towards the end of my DJ career, I was and still am really into music and collecting records aka vinyl. I simultaneously worked at a record shop while DJ on weekends and going to college, as well as putting together a home based recording studio in my parents "bonus room" next to my bedroom. That room was where I was able to record artists and my bedroom would act as the control room. I put about $50k into this studio, it had tube gear, a 16 channel vintage analog mixing console, custom Mogami wires and a german Neumann mic. I was setup to record and learn as much as I could, while diving deeper into the wormhole that is, music!
While all of this is happening, I still have a love that is pulsating deep within my heart, a love that I just cannot say no to any longer and that love is the love for timepieces. From the tender age of 10 I would always try to get my hands on any watches that I could. I started with really cheap or free giveaway type watches with low end quartz movements and the company's branding would be plastered all over the dial. This led me into seeking higher end and much nicer watches over the years that including Citizen, Seiko, quite a few of the Tag Heuer Formula 1 watches all the way to my first Panerai (Panerai 164) watch at the age of 22. This watch in particular was the catalyst for DaLuca Straps. After purchasing this watch I joined the Paneristi forum and group and saw how popular aftermarket watch straps were for this brand of watch and it's owners. While scrolling and scrolling through all of the for sale listings and websites I could just not find what it was that I was looking for as far as an aftermarket watch strap was concerned. The pricing was also very high and I was not looking to spend that kind of money on a strap, unless it was absolutely perfect. This led me to doing leather work as a hobby and making my own watch straps.
To dive deep into the world of leather I went to a local leather supplies store called, Tandy Leather and at this store was a personal church friend of my parents that I connected with and he was able to personally show me the ropes of leather working and what this hobby, at the time, was all about. I told him what I wanted to do and showed him photos of watch straps that interested me and he was able to break down each individual process so I could end up with a quality finished product. After months and months of practicing and becoming better at working with leather I was confident enough to create a small Weebly website and list the straps I made through there, for sale. This proved to be very fruitful and was the birth of DaLuca Straps and the next 10+ years of my life.
How are you doing today and what does the future look like?
Today, we are doing very well. We have strategically slimmed down our operation to what works for us after trying many different avenues and experimenting with various marketplaces and advertising campaigns. For our market, we have not been effectively able to scale using Facebook Ads, Google Ads, AdRoll, etc…. We were spending 5-10k/mo on ad spend and nothing was quite penciling out for us as far as getting the ROI that we needed to see.
We have come to the conclusion that in house content creation along with guerilla type marketing is the most cost effective way for us to advertise, since our company is such a niche. We needed to seek out our super targeted customer and be in front of them at all times and we are doing just that using our blog, creating new content, our social media pages and very strategic methods of pushing this content out to all of these highly targeted, yet near free places to advertise on. Looking forward, we want to get much more into video content creation and pushing that out as much as possible.
We have cut overhead which included our own building that we leased and we will be cutting the farmers markets by the end of 2019 to get down to a more focused business model of handmade and/or custom made watch straps along with a few strategic leather products that include belts and wallets with other minor leather accessories. We expanded over the past 5-6 years, experimenting and trying the different markets as I stated before, but we also did this with our product offerings and saw what did and didn't work for us which has greatly helped us with the slimming down of our product lines, to what actual sells and what our actual customers want. We feel a market correction is fast approaching and this will help us navigate through any troubled waters that may be coming at us.
Through starting the business, have you learned anything particularly helpful or advantageous?
Over the past 10 years there have been many things we have learned. At one point we purchased a very large quantity of custom made nylon watch straps that were made to our specs, for us. We ordered many colors and sizes that to this day are still in our inventory. We have tried liquidating these and it has been a very tough challenge for us to sell these on any large scale.
Our core colors and sizes sell very well every single day, but the 18mm and 26mm widths have been much tougher to sell since there are much less watches that takes these 2x sizes. Colors such as white and yellow do not move as fast as well for us, so we greatly wish we could have gone back in time and ordered about half of what we did and much less in the sizes and colors that did not sell as fast for us.
Another great tip for anyone is to keep the overhead as low as possible as long as you can. We decided to expand and keep experimenting while we were doing well and we found it hard to gain traction through most of the experimentations. We also tried to conquer the world and get involved with many marketplaces in a short period of time and this proved to be unsuccessful for us. We wish we would have stayed more focused and sold on fewer marketplaces while keeping the inventory in stock more, looking deeper at our #s and again, staying more focused.
What platform/tools do you use for your business?
Our website's backend is BigCommerce and we are very happy we made the swap to them, quite a long time ago. This gave us more years of customers, detailed order information and just a solid platform to rely on and partner with.
They have excellent support that is now 24/7 and they seem to genuinely care. For shipping we use a program called ShipWorks and that has been excellent for us as well. The custom integration and personal service helped us dial in our shipping program to be efficient and easy to use for our ship team. Lastly, we found a great blog writer through a website called "Freelancer" and that has taken the burden off of us for writing articles for the blog on an almost daily basis. We would recommend taking a peek at them in case you need anything in that realm, done for you or your business.
What have been the most influential books, podcasts, or other resources?
To be honest, I was mostly influenced by some interviews that I setup during my junior college days for community college, before I transferred to SDSU vs books, podcasts, etc...
Some of those interviews included flying out to the Zappos HQ at the time, in Henderson, NV, and meeting with the heads of each department including an interview with Tony Hsieh, their CEO. I was also fortunate enough to have an interview with Jeff Jacobs of Qualcomm, whom is the son of Irwin Jacobs, the founder. He was President of global development when I was able to meet him at that time.
These interviews really inspired me, showed me business on a much larger scale and gave me the confidence that no amount of money could buy, at that time. I was very lucky to experience those and I have taken the information and knowledge they handed down to me and done my best to use any and all that I could for DaLuca Straps.
Advice for other entrepreneurs who want to get started or are just starting out?
When starting things, as I said before, keep things simple and keep the overhead as low as possible. Don't be over ambitious to take the world over as quick as you can unless you can smartly prove your concept and know that your idea is scalable. Each business is different and each model is different as well, but I always aire on the side of aggressively cautious behavior for business, as it's nice to push on the throttle, but I am always looking as intently as I can for any signs of trouble and then I am quickly easing up on the throttle to be cautious. This should apply to most businesses and their captains at the helm, so you can keep things growing and moving in the direction you want to go.
Hiring is a big deal. Do not take this lightly! Do your best to create a great corporate culture, hire people who fit that culture and believe in the overall vision of the company. Do not just hire anybody because you are desperate, make sure everyone you hire is a really good fit and somebody that should be a part of the team. I always say you are only as strong as your weakest link and one bad apple can spoil the bunch.
I have seen a few things over the years as far as other people waiting and waiting and waiting…..they were always telling me about their future plans but how it just wasn't the right time to start it or move forward with their plan because of X, Y or Z. This always frustrated me because I could see that they had a great idea, had great potential but never acted upon that idea. They essentially held themselves back from being great and starting something that they wanted to. No matter how much you can see it, they need to see it and be willing to take that risk to make their ideas actually happen and come to fruition. You can lead a horse to water, but you cannot make him drink.
Where can we go to learn more?
-
Daniel Luczak, Founder of DaLuca Straps
Want to start your own business?
Hey! 👋I'm Pat Walls, the founder of Starter Story.
We interview successful business owners and share the stories behind their business. By sharing these stories, we want to help you get started.
Interested in starting your own business? Join Starter Story Premium to get the greatest companion to starting and growing your business:
Connect + get advice from successful entrepreneurs
Step by step guides on how to start and grow
Exclusive and early access to the best case studies on the web
And much more!
Together With Semrush
If You Don't Rank In Google, You Don't Exist.
In order to be successful, you need to be visible online. If you're not, then your competitors might be stealing customers from you.
Semrush lets you quickly create content that ranks, and compete with the biggest brands in your niche.
Try Semrush Free Today ➜