The 7 Best Coworking & Shared Work Spaces In Naples, Italy [2022]
•
Updated: January 20th, 2022
The 7 Best Coworking & Shared Work Spaces In Naples, Italy [2022]
Looking for a coworking space or office in Naples?
Naples is becoming one of the most desired cities in Italy to do business. According to a report by Statista.com, By the end of March 2021, Milan, Rome, and Naples were the Italian provinces with the highest number of startups. Naples had around 565 startups.
Whether you are a solo entrepreneur, small business, freelancer or simply just searching for a creative place to work, Naples has plenty of collaborative office spaces to choose from.
We've put together a list of the 7 best-shared workspaces in Naples and provide you with:
location
hours of operation
community space amenities
membership & cost breakdown
Here's the full list: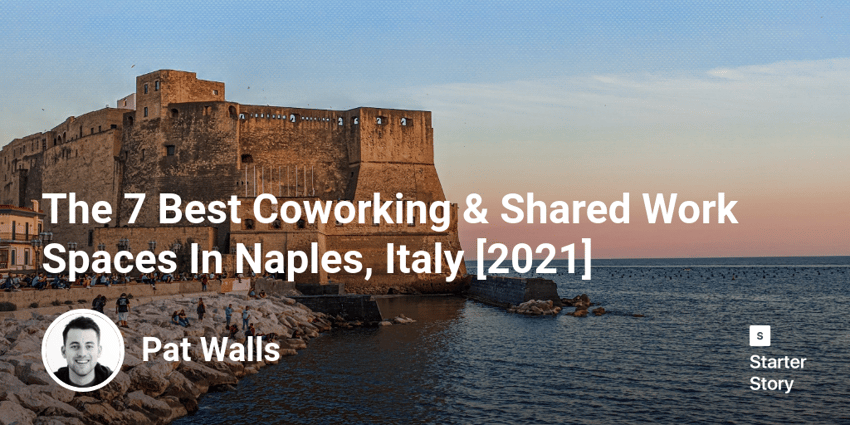 1. NapHub
Location: Via Riviera di Chiaia n. 9A, Naples
Hours: 9 AM - 5 PM
Amenities: Free WiFi, Multifunction printer, Domiciliation, Secretariat, Relax area, Kitchen room, Library, Party hall
Membership & Cost Breakdown:
Office Space: Contact for Pricing
Meeting Space: Contact for Pricing
Event Space: Contact for Pricing
NapHub is a beautiful coworking space with an old-world charm. The office has beige & golden-colored walls, marble flooring, grand-looking chandeliers hanging from the roof, rendering a royal look to this place, Though the place has a vintage look, it is equipped with all the modern technologies to fulfill all your working needs.
It doesn't matter if you are a solopreneur, freelancer, startup, or an established business, this place is ready to accommodate you all. Invite your clients to this stunning place and treat them to the amazing architectural design and outstanding working environment.
Learn more about NapHub ➜, or send them an email.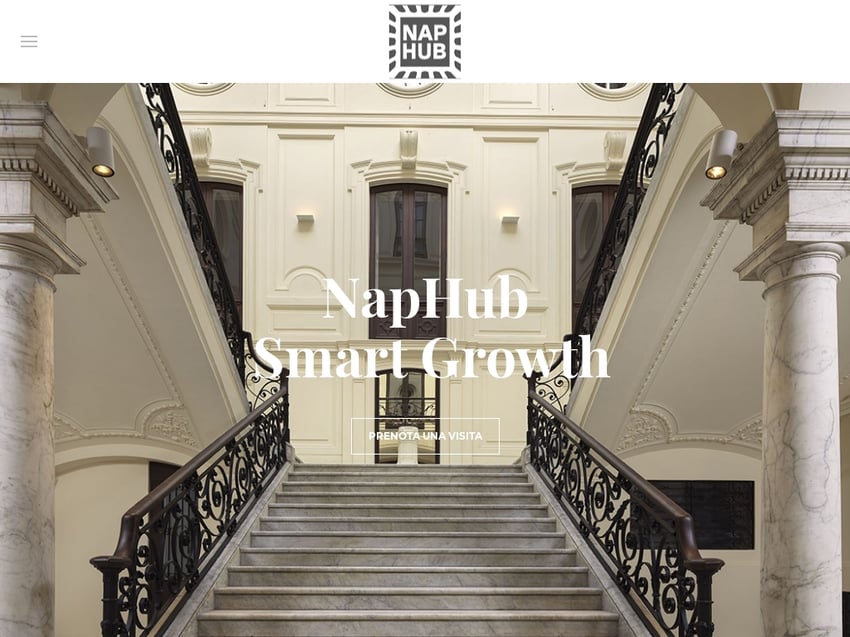 2. Regus - Naples
Location: Corso Novara 10, Naples, Campania 80143
Hours: 24/7 access
Amenities: Major transport connections, Break-Out Areas, Business Lounge, Reception Services, Elevator
Membership & Cost Breakdown:
Office Space: From €300/month
Coworking: From €282/month
Virtual Offices: From €65/month
Meeting Rooms: From € 22/hour
Membership: Price upon Request
Regus offers three locations in Naples and the one at the Garibaldi Train Station building offers a central location in a commercial hub right at the heart of Naples. The office space here provides a productive coworking environment, modern facilities, amazing skyline views, and is filled with enough natural light giving this place a bright & energetic vibe.
The Naples Central Station & Garibaldi Metro Station are just two minute walk from the office. Being at a prime location, this space is ideal to host your clients or organize your meetings. After office, you can go to the nearby bars or pizzerias right outside the office to unwind.
Learn more about Regus - Naples ➜, or .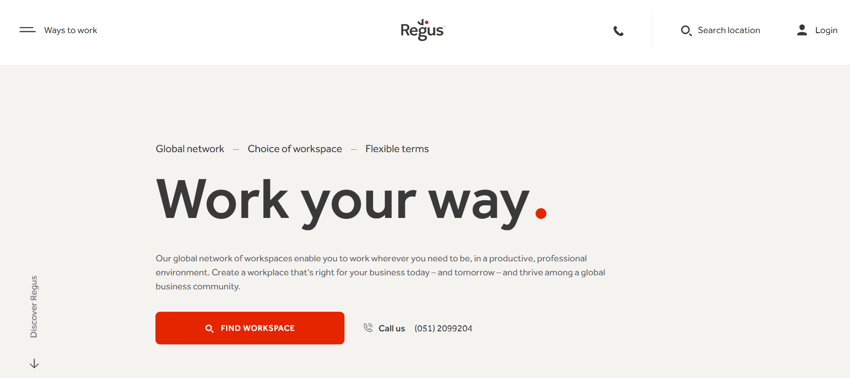 3. Co.working Napoli
Location: Viale della Costituzione Centro Direzionale Is. E2 80143, Napoli
Hours: 8 AM - 8 PM
Amenities: WiFi & LAN Connection, Secretariat, Postal domiciliation, Shared printer, Postal domiciliation, Refreshment area, Events area
Membership & Cost Breakdown:
Coworker: €120/Week +VAT
Smartworker: €90/Week +VAT
Mover: €60/Week + VAT
Co.working Napoli is a smart & flexible coworking space with cost-effective subscription plans. They offer a comfortable & productive environment where businesses can thrive and reach new heights.
The office is spread over 700 square meters of space and offers dedicated coworking area, meeting & event rooms. They offer a perfect setting where freelancers, entrepreneurs, and small businesses can work side by side, network & collaborate, and inspire each other to give their best.
Learn more about Co.working Napoli ➜, or .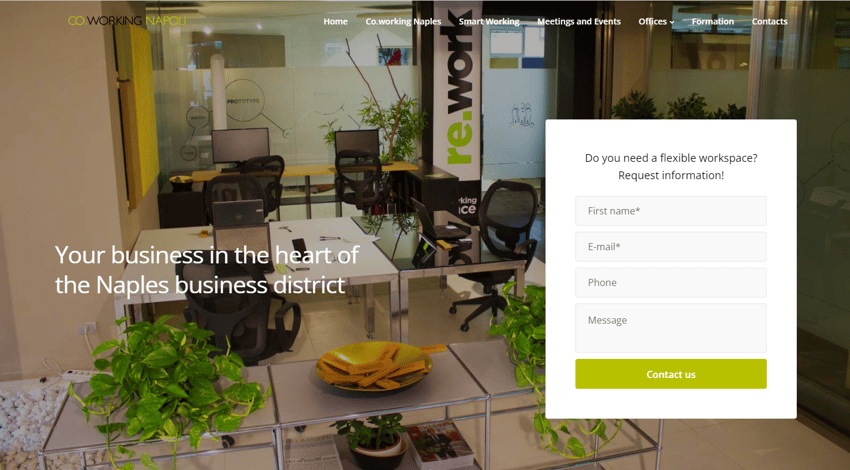 4. FareWork
Location: Piazzetta Gagliardi 6 80137 Naples, Campania, Italy
Hours: 9 AM - 7 PM
Amenities: WiFi, Printer/Fax/Scanner, Personal LAN port, Unlimited hot/cold drinks, Landline phone with unlimited inbound/outbound calls, Kitchen equipped with microwave
Membership & Cost Breakdown:
Quarterly: €300/month
Half-yearly: €275/month
Annual: €250/month
FareWork offers fully-furnished private & shared workstations that can be rented on a quarterly, half-yearly, or annual basis. They provide a wide range of services starting from Personal cloud space, Private and secure connection with VPN and firewall, Mailbox for handling, Charging station with USB, cleaning services, and many more.
Located in the heart of Naples and stands in close proximity to the "Museo" metro stop. The place is also flexible to adapt to your specific coworking needs.
Learn more about FareWork ➜, or send them an email.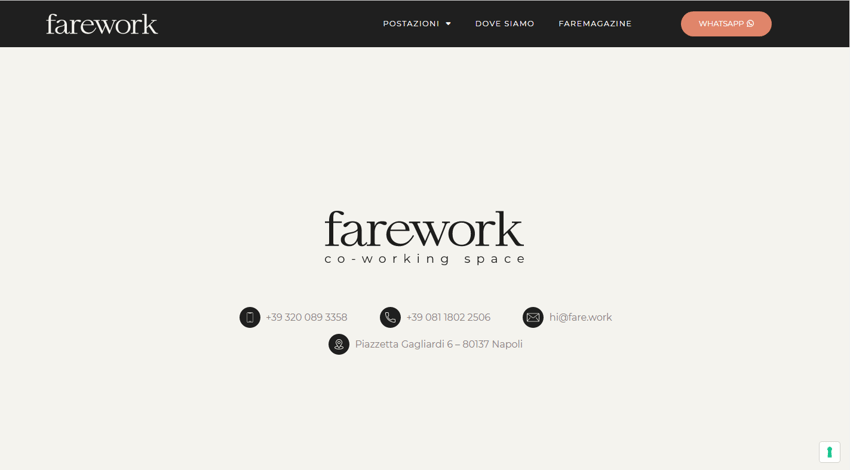 5. Dialogue Place
Location: Dialogue Place, Via Sapienza 18, 80138 Naples
Hours: 9 AM - 7 PM
Amenities: Internet, Photocopies & scans, Locker, Basic IT and electronic assistance, Refreshment room, Secretariat, Meeting room, Secretariat
Membership & Cost Breakdown:
Coworking: Starting from €150/month
Event Space: Price upon Request
Dialogue Place is a contemporary coworking space where businesses grow & dialogues happen. They help young entrepreneurs, small businesses, and migrants bring a change to the world.
Here, members will get the chance to meet new people from diverse backgrounds and learn from their experiences. They also frequently organize incubation programs, enterprise competitions, and events to help new businesses fulfill their business goals.
Learn more about Dialogue Place ➜, or send them an email.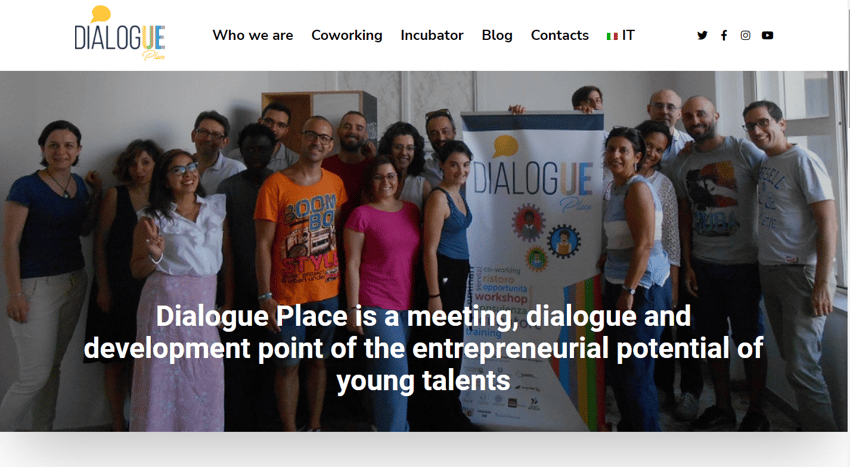 6. Study Room
Location: Via Renato Caccioppoli 17, 80125 Naples
Hours: 9:30 AM - 7 PM
Amenities: WiFi, Printer, USB, Office supplies, Coffee, Healthy food
Membership & Cost Breakdown:
Study Room: Contact for Pricing
Workstations: Contact for Pricing
Study Room is Italy's first dedicated classroom specially designed for you to study without any distractions. Other than classrooms they also offer a total number of 500 workstations that come with all the facilities required for hassle-free coworking.
They offer two offices in Naples, one is in Fuorigrotta and the other is in Pozzuoli. They provide a stress-free environment where you can focus on your work or study and excel in your respective fields. Another great thing about this place is they give you the opportunity to reserve a workstation via their website.
Learn more about Study Room ➜, or send them an email.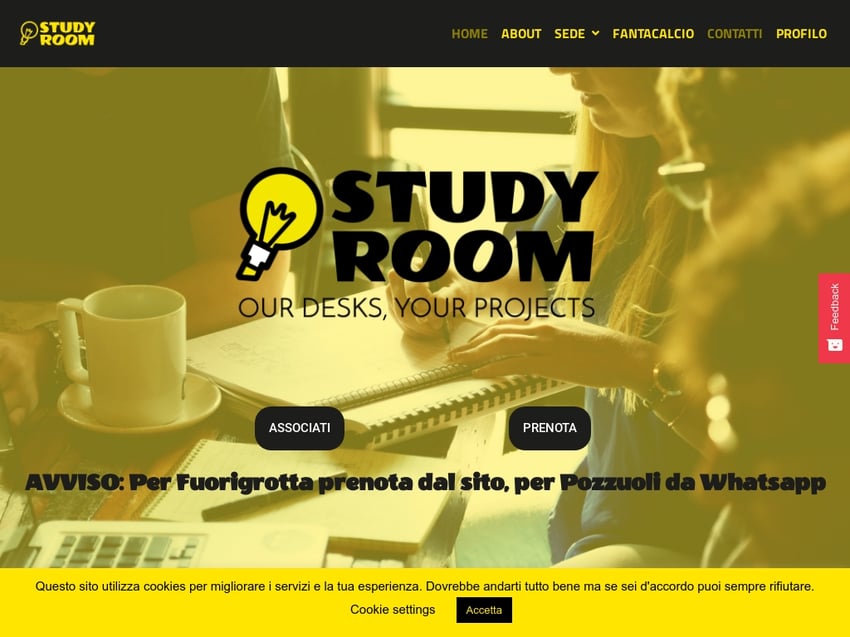 7. Centro Uffici Napoli
Location: Via Nazionale delle Puglie, 7, 80013, Casalnuovo di Napoli NA, Italia
Hours: 24/7 access
Amenities: Wi-Fi broadband internet, Flexible contracts, Furnished & equipped spaces, Telephone, Parking spaces, Security
Membership & Cost Breakdown:
Furnished Offices: Starting from €249/month
Meeting Rooms: Price upon Request
Virtual Offices: Price upon Request
Centro Uffici Napoli offers ready-to-move-in office spaces in Naples at affordable rates. All you have to do is register for your preferred plan and join in, they will take care of the rest.
The office is decorated with modern furniture, is spacious enough to host big teams, and offers an amazing view of the beautiful surroundings. The space is nice & clean, has a great number of services available, plus offers flexible contracts.
Learn more about Centro Uffici Napoli ➜, or send them an email.
Want to start your own business?
Hey! 👋I'm Pat Walls, the founder of Starter Story.
We interview successful business owners and share the stories behind their business. By sharing these stories, we want to help you get started.
Interested in starting your own business? Join Starter Story Premium to get the greatest companion to starting and growing your business:
Connect + get advice from successful entrepreneurs
Step by step guides on how to start and grow
Exclusive and early access to the best case studies on the web
And much more!