Thank you Klaviyo for sponsoring Starter Story ❤️
Turn one-time buyers into repeat customers. Try the platform loved by 265,000 brands
The 8 Best Coworking & Shared Work Spaces In Melbourne [2022]
•
Updated: January 20th, 2022
The 8 Best Coworking & Shared Work Spaces In Melbourne [2022]
Looking for a coworking space or office in Melbourne?
According to a report by Startup Genome, Melbourne's maturing startup scene is home to more than 2,100 startups, nearly 500 investors, and close to 50 accelerators including, and continues to grow.
Whether you are a solo entrepreneur, small business, freelancer or simply just searching for a creative place to work, Melbourne has plenty of collaborative office spaces to choose from.
We've put together a list of the 8 best-shared workspaces in Melbourne and provide you with:
location
hours of operation
community space amenities
membership & cost breakdown
Here's the full list: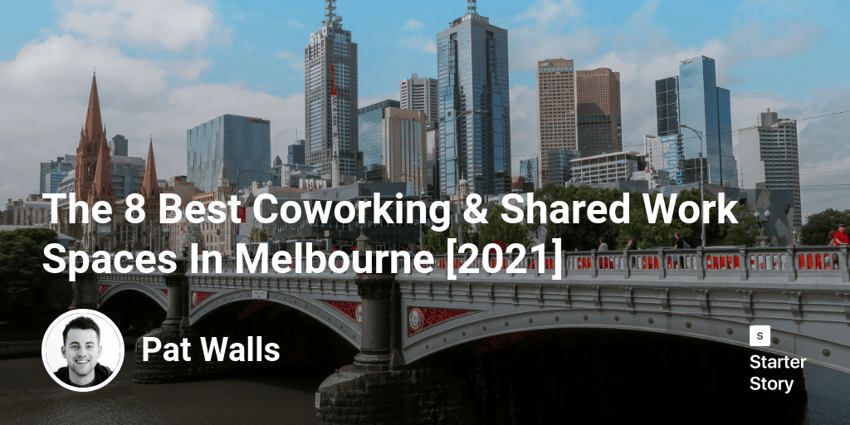 1. The Cluster
Location: Level 17, 31 Queen Street, Melbourne, 3000
Hours: 24/7 access
Amenities: Lightning-fast Wi-Fi, Telephony Services, In-house IT & Front of House support, Weekly networking & social events, In house barista, Weekly networking & social events
Membership & Cost Breakdown:
Private Office: Price upon Request
Dedicated Desk: $195-$205/week + GST
Flexi Desk: Starting from $50/week + GST
Hot Desk: $50/day + GST
Virtual Office: Starting from $15/week + GST
Event Space: Price upon Request
Meeting Rooms: Price upon Request
The Cluster is a modern coworking space in Melbourne with a prime location and all the necessary services required for a hassle-free coworking. They have an amazing front office team & hospitality staff, a great community of coworkers, and a productivity-fuelling atmosphere.
The interior is tastefully done, there are multiple seating arrangements, live plants, attractive lighting, plenty of natural light, break-out areas, plus the view of the surrounding areas from their glass windows is mesmerising.
Learn more about The Cluster ➜, or send them an email.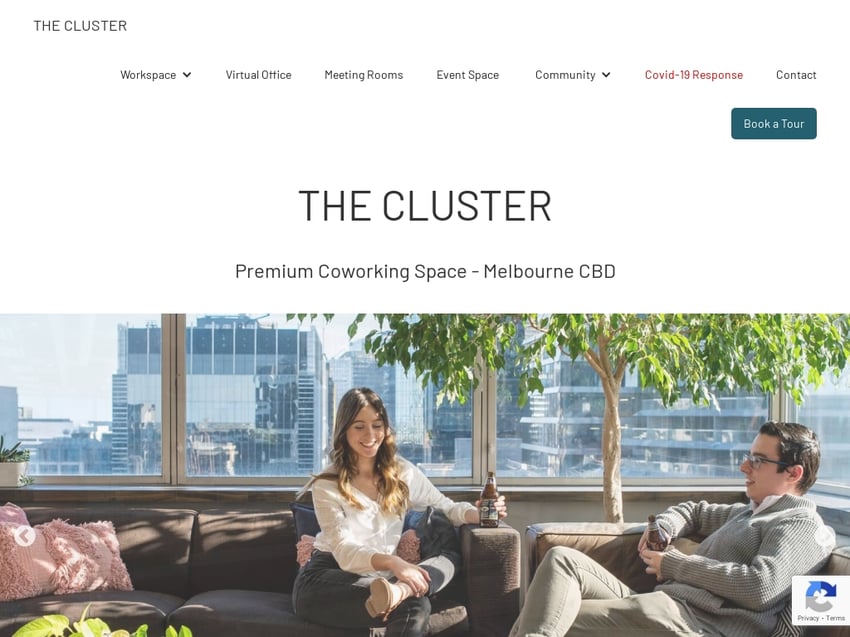 2. Regus - Melbourne
Location: 385 Bourke Street, Melbourne, VIC 3000
Hours: 24/7 access
Amenities: 24-hour surveillance monitoring, On-site Lunch Restaurant, Break-Out Areas, On-site Sandwich / Coffee Bar, Break-Out Areas
Membership & Cost Breakdown:
Office Space: From AUD 420/month
Coworking: From AUD 367/month
Virtual Offices: From AUD 131/month
Meeting Rooms: From AUD 62/hour
Membership: Contact for Pricing
Regus, a global name serving coworkers around the globe with beautiful private & shared office spaces, offers 22 locations in Melbourne. The office on 385 Bourke Street is housed in a 41-storey building right opposite Bourke Street Mall.
Invite your clients to this contemporary workspace located in a thriving business area and discuss your projects in a quiet & professional environment. After office hours you can take a stroll in the stunning Royal Botanic Gardens or visit the luxury retail complex located in the same building.
Learn more about Regus - Melbourne ➜, or .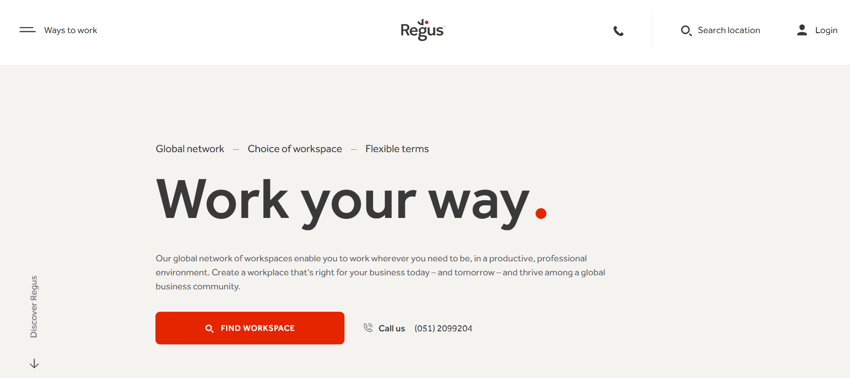 3. The Thrive Network
Location: Levels 2 & 3, 52 Albert Road, South Melbourne Vic 3205
Hours: 24/7 access
Amenities: HI-SPEED WIFI, PUBLIC TRANSPORT, CAR PARKING, KITCHEN, MEMBERS, EVENTS, WORKSHOPS, BIKE STORAGE, END OF TRIP FACILITIES
Membership & Cost Breakdown:
PRIVATE OFFICE SPACE: $1350/month
DEDICATED DESK: $675/month
FLEXIBLE DESK: $320/month
DAY PASSES: $35/day
MEETING ROOM: Starting from $35/hour
VIRTUAL OFFICE: $50/month
Thrive's flexible office space is designed to keep your overheads down while assisting your business. It includes private offices, dedicated desk space, flexible desks and hot desks or casual day passes. Their virtual office packages provide your business with a professional address, without the cost of a dedicated.
Their range of meeting rooms include boardrooms, small meeting rooms, conference rooms and training rooms available. The place is ideal for working at peace. They offer a work-friendly environment where you can turn your business dreams into reality.
Learn more about The Thrive Network ➜, or send them an email.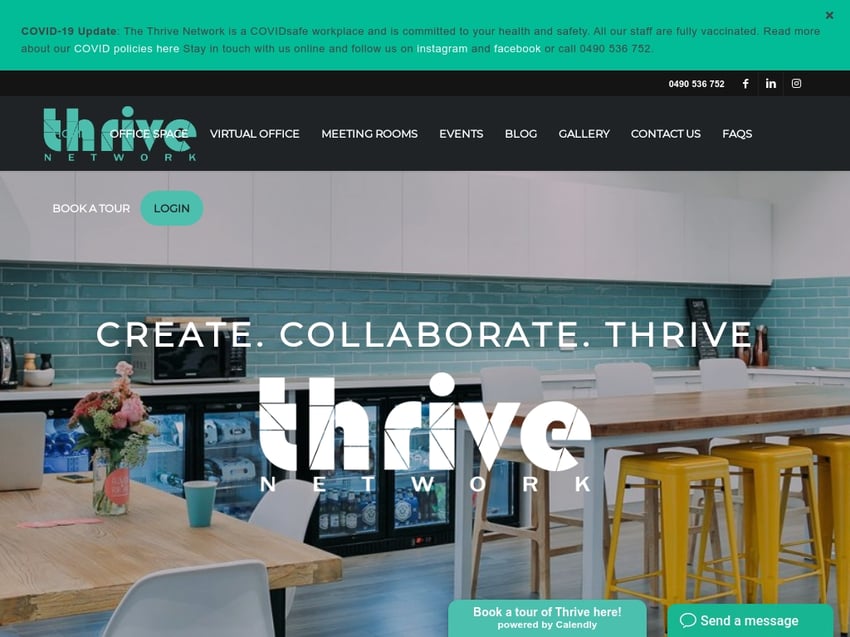 4. Hub Australia - Melbourne
Location: Level 7, 180 Flinders Street, Melbourne VIC 3000
Hours: 24/7 access
Amenities: In-House Cafe, Meeting & Workshop Spaces, Fitness Studio, Parents' Space, Photography Studio, Business Events, Podcasting Studio
Membership & Cost Breakdown:
Flexible Membership: From $425/month
Dedicated Desks: From $850pp/month
Office Space: From $890pp/month
Office Suites: From $912pp/month
Hub Australia provides workspaces across the top five metro cities including Melbourne. In Melbourne, they offer a total of 6 locations and the office on Flinders Street is one of their top spaces in the city.
The place is ideal for freelancers, creatives, entrepreneurs, startups, small teams as well as large enterprises. The space offers a prime location, the Flinders Street Station & Swanston Street trams being within a waking distance. Flexible membership, plenty of amenities, and a vibrant atmosphere are what makes this place stand out.
Learn more about Hub Australia - Melbourne ➜, or send them an email.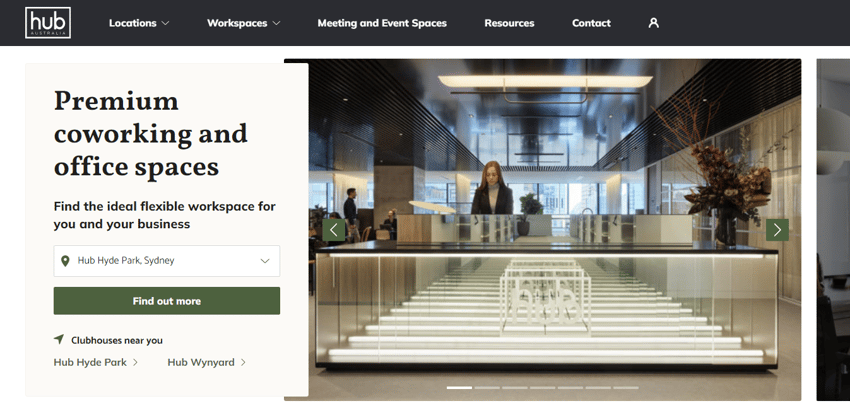 5. WeWork - Melbourne
Location: 222 Exhibition Street, Melbourne, VIC 3000
Hours: 24/7 access
Amenities: Enhanced cleaning services, Outdoor space, Wellness room, Parking, Mother's room, Bike storage, Recreational games, Event space
Membership & Cost Breakdown:
Private Offices: A$1,390/month
Dedicated Desks: A$640/month
Open Workspace: Enquire for Pricing
Day Pass: A$45/day
Conference Rooms: A$25/seat/hour
WeWork is known for its outstanding coworking & private office services across the globe. Melbourne has 4 different locations one of which is on 222 Exhibition St. The place is great to work, network, meet, and collaborate with professionals coming from diverse backgrounds and having varied knowledge.
Here they offer a number of flexible subscription plans to satisfy your coworking needs. So, all you go to do is choose your preferred plan and start working straight away in their fully furnished workspaces. This office has onsite staff, unique common areas, stocked kitchens, phone booths, and many other facilities that members absolutely love.
Learn more about WeWork - Melbourne ➜, or send them an email.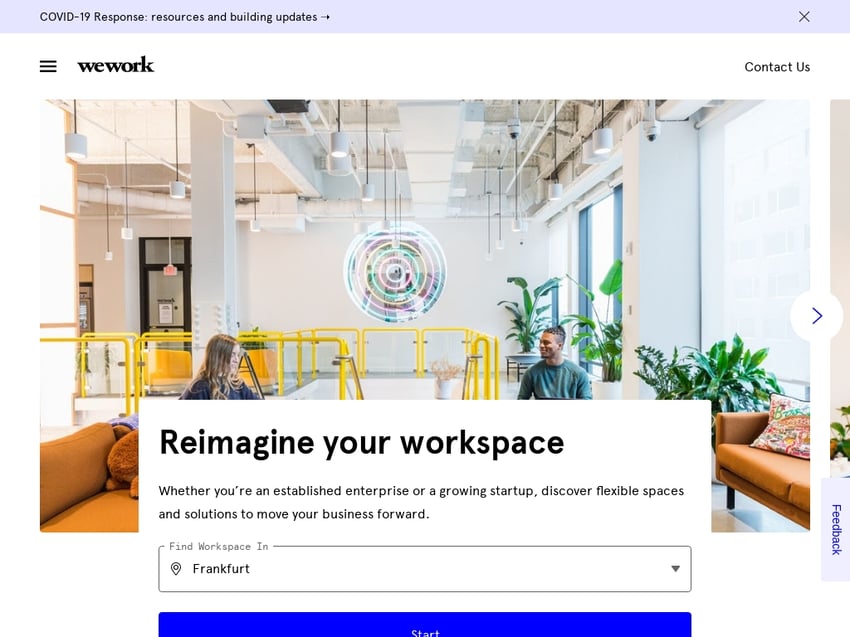 6. The Circle
Location: 4 Bloomburg St Collingwood VIC 3066
Hours: 24/7 access
Amenities: Optic Fibre Internet, Private Phone Booths, Multi-function Printer, Card Scan Access, Event Hall, Community Resource
Membership & Cost Breakdown:
Floating Desk: From $370/month
Dedicated Desk: From $600/month
Private Office: From $730/month
Meeting Rooms: Contact for Pricing
The Circle is one of the most desired office spaces in Melbourne. Located in Collingwood the place is a couple of minutes walking distance from both North Richmond Station & Collingwood Station, Woolworths & Aldi stores are also just 5 minutes walk away.
Work on your projects, network with like-minded individuals, host your clients or do whatever you want at this amazing coworking destination. Plus, the amenities offered here are hard to find anywhere else, e.g. Meditation Room, Idea Corner, Photography Studio, Massage Room, Game Room, Basketball Arcade Machine, and much more.
Learn more about The Circle ➜, or send them an email.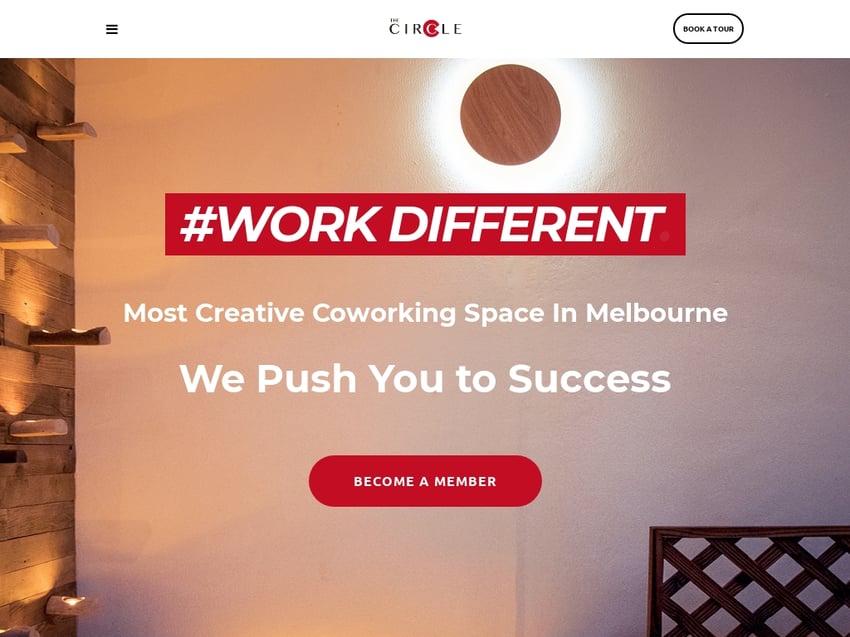 7. Inspire9
Location: L1, 41-43 Stewart Street, Richmond, Victoria 3121, Melbourne
Hours: 9 AM - 4 PM
Amenities: Fibre internet, Coffee, Business address, Access to printing, Business space, Breakout areas, Bike parking, Yoga, Pet-friendly
Membership & Cost Breakdown:
Dedicated Desk: $699/month
Hot - Desk: Starting from $90/month
Serviced Offices: Contact for Pricing
Virtual Office: Contact for Pricing
Meeting Rooms: Contact for Pricing
Inspire9 offers one of the best coworking atmospheres in Melbourne. Members will enjoy a central location, clean & safe office environment, a diverse & supportive business community, attractive interior, comfortable seating options, a wide range of services, and a lot more.
Members will get a stocked kitchen along with a fridge, microwave, & coffee machine, quiet space, event space, indoor gaming room, yoga room, rooftop terrace. Another plus point is, you can bring your pets to your office as they will be warmly welcomed here.
Learn more about Inspire9 ➜, or send them an email.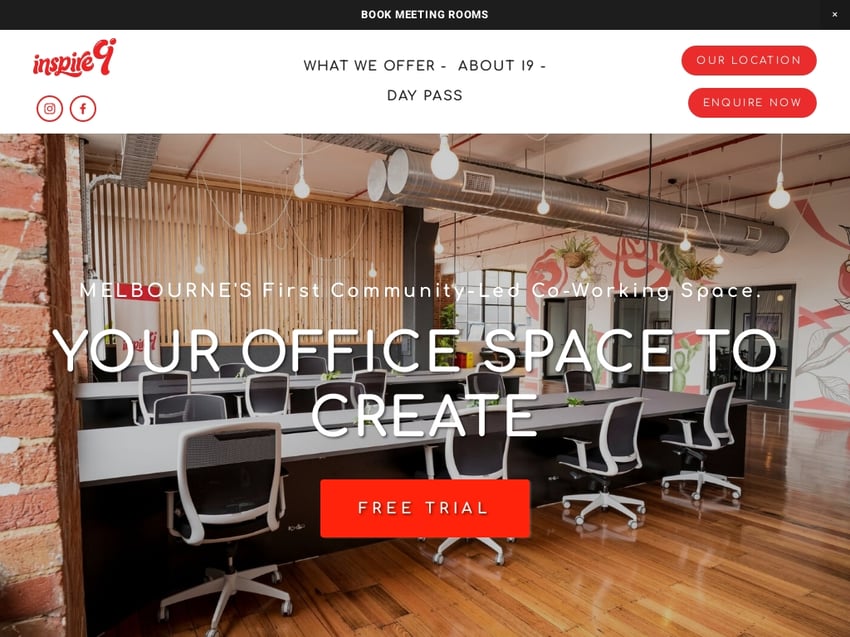 8. CoWork Me
Location: 245 St Kilda Road St Kilda, 3182 Victoria, Melbourne
Hours: 24/7 access
Amenities: High-speed internet, Secure offices, Community events, Parking & bike storage, Prime location
Membership & Cost Breakdown:
Virtual Office: Price upon Request
Hot desk: $99/month
Dedicated Desk: $53/month
Serviced Offices: $572/month
Meeting Rooms: Price upon Request
CoWork Me is a beautiful & stylish coworking office located in a picturesque neighbourhood on Kilda street in Melbourne. They offer a variety of membership options at affordable rates.
This spacious office is spread over 3,000 square metres and can accommodate everyone from freelancers, entrepreneurs, teams to small & large enterprises. They have spaces for private & shared coworking, corporate events, study spaces, board meetings, and so on.
Learn more about CoWork Me ➜, or send them an email.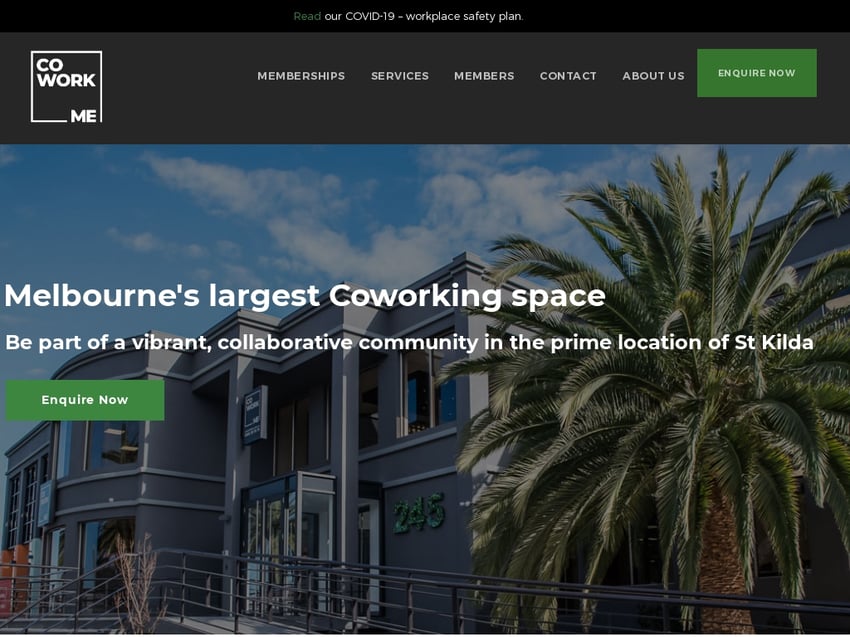 Want to start your own business?
Hey! 👋I'm Pat Walls, the founder of Starter Story.
We interview successful business owners and share the stories behind their business. By sharing these stories, we want to help you get started.
Interested in starting your own business? Join Starter Story Premium to get the greatest companion to starting and growing your business:
Connect + get advice from successful entrepreneurs
Step by step guides on how to start and grow
Exclusive and early access to the best case studies on the web
And much more!
PROMOTED
Did you know that brands using Klaviyo average a 95x ROI?
Email, SMS, and more — Klaviyo brings your marketing all together, fueling growth without burning through time and resources.
Deliver more relevant email and text messages — powered by your data. Klaviyo helps you turn one-time buyers into repeat customers with all the power of an enterprise solution and none of the complexity.
Join Brumate, Beardbrand, and the 265,000 other businesses using Klaviyo to grow their online sales.
Starter Story
Wanna see 52 business ideas you can start with less than $1,000?
Join our free weekly newsletter and get them right now.