Thank you Klaviyo for sponsoring Starter Story ❤️
Turn one-time buyers into repeat customers. Try the platform loved by 265,000 brands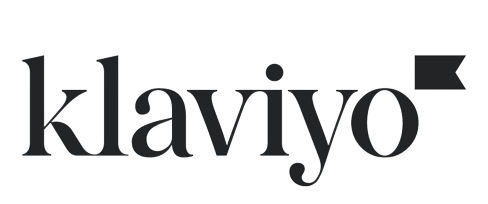 On Starting A Podcast And Recording 61 Episodes
Hi, my name is Layshi Curbelo. I am a user experience designer from Puerto Rico focused on web accessibility and instructional design. Currently, host and produce command z podcast, Command Z is a podcast focused on educating on a variety of topics related to design in a simple and accessible way for any type of audience. The podcast kicked off on April 25, 2019, and releases episodes regularly on Thursdays.
To date, Command Z has recorded 61 episodes in locations across Puerto Rico, San Francisco, New York City, and Chicago. Our guests are industry leaders that represent their specialties and share their expertise on each episode's main topic. The title "Command Z" comes about from the keyboard combination "Command" + "Z" to undo a mistake. During each episode, our guests share mistakes they've made, how they fixed them, and how learning from these mistakes helped on the road to success.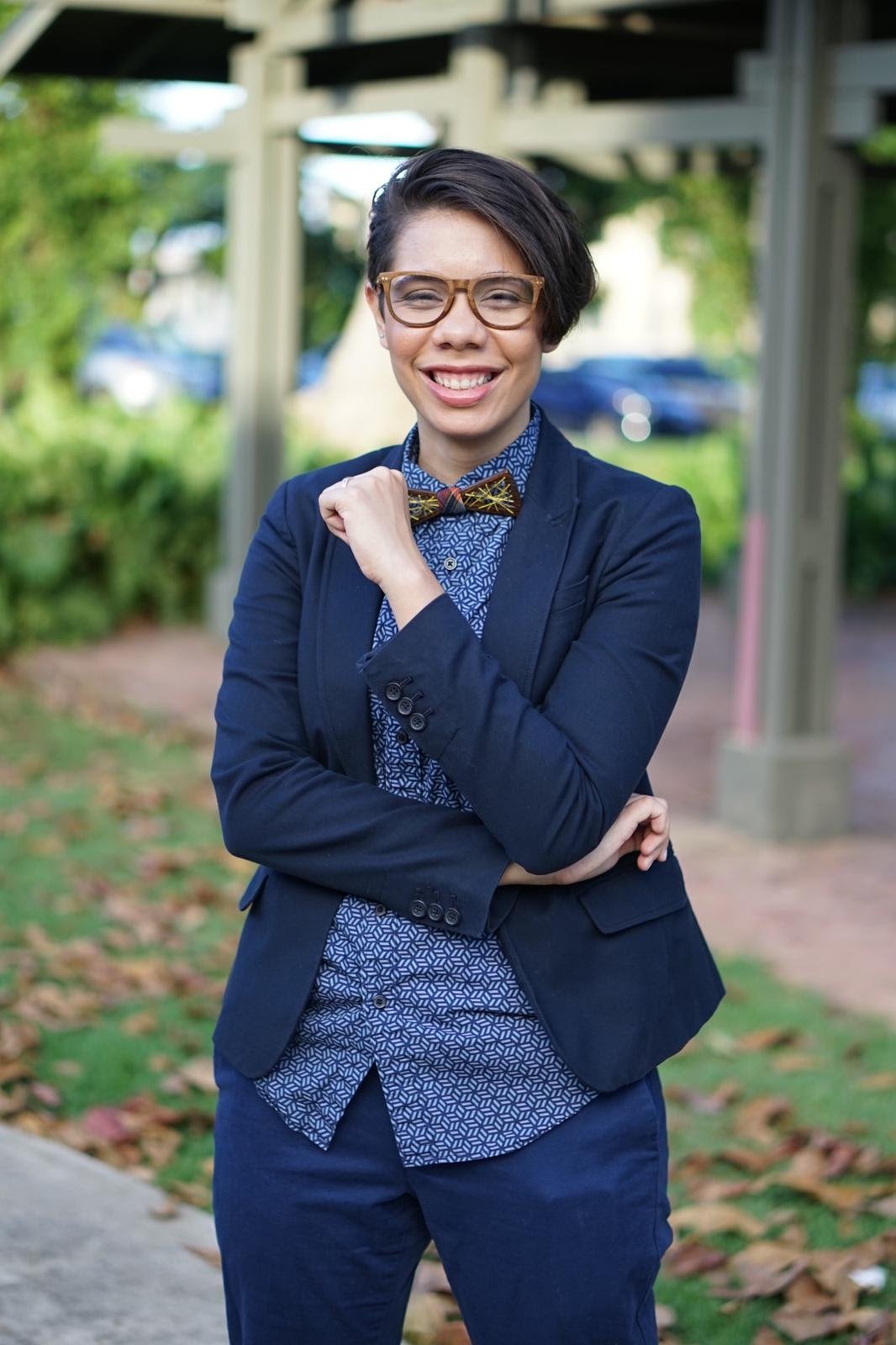 What's your backstory and how did you get into entrepreneurship?
When I started as a designer it was really hard to find educated content in my language and that's why I started Command Z. Our mission is to educate our audience and provide tools related to design, to keep them at the forefront of new trends in the creative industry. Also, educate and connect designers with real content and opportunities. We validated all concepts, topics, and new ideas through our audience in direct and open communication with the brand through social media and our episodes.
Don't be afraid to lose or fail, it is important to fail to succeed and learn.
For us, it is super important how they perceive the content and how useful it is for them to continue working on a product that is not only useful but also valuable. Currently, we are a podcast with a partnership with the major resources in the design industry in Puerto Rico such as the Museum of Art and Design Miramar, Ana G Mendez University, Piloto 151, and Colmena 66.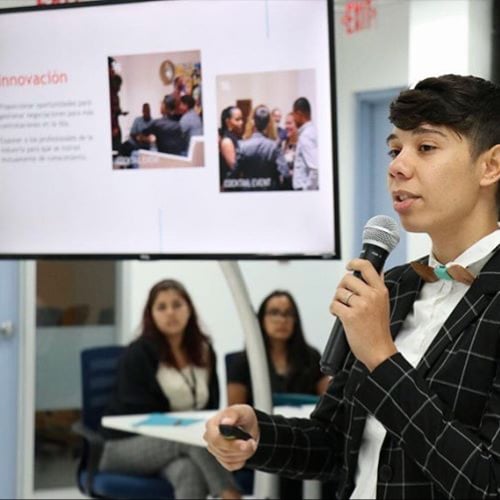 Presenting at "Creative Industries for the Development of Digital Applications" competition in 2019
Take us through your entrepreneurial journey. How did you go from day 1 to today?
I started my entrepreneurship journey when I was 20. I started a non-profit with the vision of helping others but also as a way to build my career and start things on my own. I always feel the need to make things happen even knowing that is the hard way. I learn a lot as you imagine that adventure doesn't end well but as I always say in Command Z "The failure is not optional but the success is obligatory" to grow you need to fail and it is okay to fail. People perceive failure as the end of their careers and the majority don't know that is the gasoline to start a new fire! After that I work in a coworking space that gives me the opportunity to see how startups work and the challenges of starting a business, I feel motivated to start my journey that was not easy definitely but rewarding.
I start the podcast with just the idea and my knowledge of advertising and event production no experience at all in audio, but with a lot of good vibes and thinking that this is more than just a show or program. As soon I started to contact good friends and colleagues the idea started having more shape and in just two weeks we were having the first season ready. We have the opportunity even to travel to New York, San Francisco, and Chicago even that first year of launch. The ongoing questions always are; "how you know so many people or how you do it?'' and the funny answer is "I just ask. I don't have fear of rejection because what is the worst that can happen? Just a no for an answer! In that case, I will take that risk."
How are you doing today and what does the future look like?
We have a lot of new great offerings for creatives and designers. For example, start the mentoring and consulting program for designers that want to put their skills and professional brand on the shape. One of our goals is to educate professionals in the creative industry, providing tools that help develop as market leaders. Taking this goal as north we make this service and have been built based on the necessity of creatives wanting to enhance their resumes and portfolios to obtain the opportunity of a job interview.
We are experts on the Applicant Tracking System (ATS). This system simplifies the recruiting process by using automated intelligence to screen for the best, most qualified candidates. Being said we help creatives design resumes that can adjust to the ATS to pass the first filter of human resources. On the other hand, we work with portfolios, and designers and creatives can enhance their skills and showcase their projects in a way that is more appealing to companies.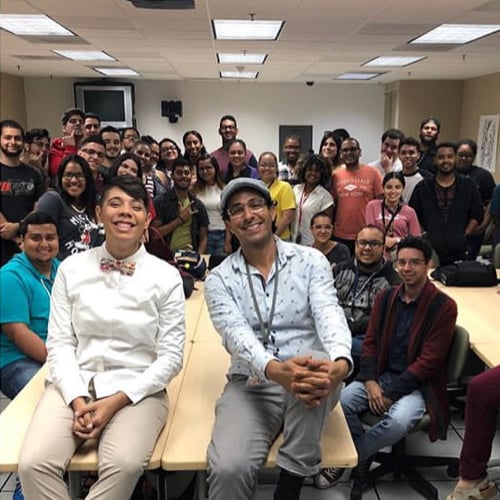 Speaking opportunity to students at the Universidad Ana G. Méndez of Puerto Rico
Through starting the business, have you learned anything particularly helpful or advantageous?
I think the most valuable lesson is to iterate and move your business at the moment that is needed not before or later. When I started the podcast, we had in mind that our audience was students that want to have another kind of cool and not boring resource for reference in their classes. But after a lot of analysis and testing, we saw that our audience was huge but it was based on young professionals or professionals with an experience of 1 to 5 years in the industry.
At the moment that we figure that we change our content, our strategies, and offerings because our client is not anymore the "persona" that we build in the first place and I think this is when most of the companies fail. A saw many companies that don't want to change strategies or even the product itself because they love so much their products that can not conceive the idea of starting over and that is when you lose almost everything. You lost the timing of exploring even more opportunities and most important you lost the chance of growth.
What platform/tools do you use for your business?
Here in Command Z, we use a lot of organization and automatization tools to produce our content efficiently. For example, we build a design system for all our content of social media and our website through Sketch and plugins that allow us to work our design content pieces with the atomic design approach.
Also, we keep our podcast in a variety of platforms through Castos that allow us to manage our podcast content on WordPress and show stats and analytics information of our audience and reach through different countries. As a result of Covid-19, we no longer record live with our guest speakers so we found Zencastr that allows us to have the audio production in a higher quality even recording from distance. Last but not least is our life changer Airtable, this helps us keep on track in terms of content creation, production, and publishing and everything automatizes with just a few clicks and even configured to trigger actions without passing hard work.
What have been the most influential books, podcasts, or other resources?
When I started the podcast that guides my decision in terms of content creation and production aspirational goals were Reply All from Gimlet Media. Is not only creative and entertaining but also has a particular way to educate through storytelling that is so captivating that it is impossible not to finish an episode without saying WAO. Same with Darknet Diaries, the way that they showcase the story and educate people through just presenting only events of different stories is captivating.
Here in Command Z we take all the learnings from Reply All and Darkent Diaries and create Design Stories that is our way to present how people feel and see the design in their day to day lives. We talk about topics that people don't feel relate to design but surely are present in many ways, the best example is Drag Design our first story of how design is on every aspect of a Drag how design is an important key of the LGTBQ community.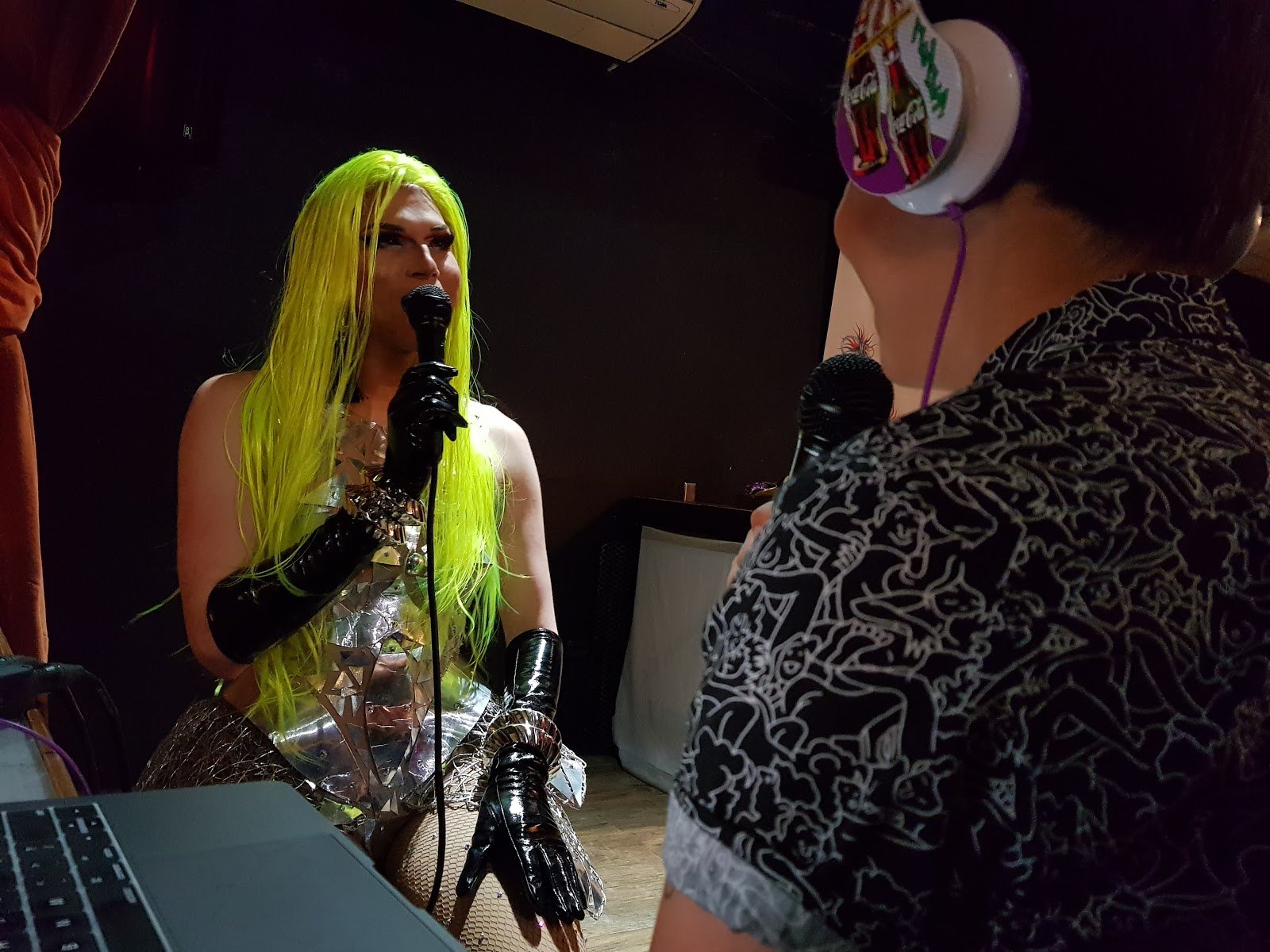 Design Story, "Drag Design"
Advice for other entrepreneurs who want to get started or are just starting?
Don't be afraid to lose or fail, it is important to fail to succeed and learn. Is super okay to fail. If something I learn in this career is that failing is no longer a sign of misery or even weakness. Is a sign of people that believe in something bigger than just needs adjustments to grow and one of the ways to get to the learning process is for sure to fail.
Also never be afraid to ask questions and ask for opportunities. One of the things that make me grow in my industry is just asking for collaborations and how I can add value to other projects. To the extent that you can share and collaborate with more colleagues, you will be able to achieve more visibility and opportunities to grow.
Where can we go to learn more?
On social media, we appear as Command Z Podcast on Twitter and Facebook, and on Instagram is CommandZPodcastpr, you can find all our additional content and design stories on the website and remember to listen to us every Thursday.
-
Layshi Curbelo, Founder of Command Z Podcast
Discover the best strategies of successful business owners
Join our newsletter and receive our handcrafted recap with the best insights shared by founders in Starter Story each week.
Useful, convenient, and free:
PROMOTED
Did you know that brands using Klaviyo average a 95x ROI?
Email, SMS, and more — Klaviyo brings your marketing all together, fueling growth without burning through time and resources.
Deliver more relevant email and text messages — powered by your data. Klaviyo helps you turn one-time buyers into repeat customers with all the power of an enterprise solution and none of the complexity.
Join Brumate, Beardbrand, and the 265,000 other businesses using Klaviyo to grow their online sales.
Starter Story
Wanna see 52 business ideas you can start with less than $1,000?
Join our free weekly newsletter and get them right now.