How I Started A $16M/Year Landscape Design Company
•
Published: January 13th, 2021
Start A Landscaping Business
Hello! Who are you and what business did you start?
I'm Terry Morrill, the owner of Pacific Outdoor Living, Pacific Pavingstone, and creator of the AIMM System. At Pacific Outdoor Living, our main product that we sell is a complete landscape design-build project to high-end residential customers. We refer to our primary customer base as the "mass affluent". I run Pacific Outdoor living and its sister company, Pacific Pavingstone, with my two sons, Trent and Chad Morrill.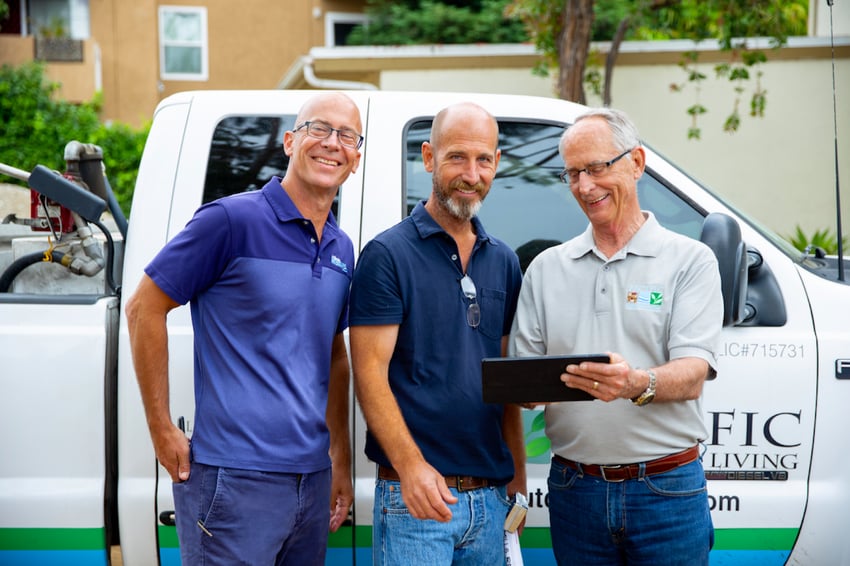 We handle everything in the backyard, from the design, demolition, construction, and finally, the finished project. We've completed tens of thousands of backyard renovation projects across Southern California.
Our office, located in Sun Valley, has a staff of over 80 employees. Within the staff, we have specialized crews in demolition, landscaping, pavers, and pools. These specialized crews are experts in their field and have been trained with the highest certifications in each division.
This year, we will end up grossing around 16 million in gross sales, which is a significant increase from the years prior.
What's your backstory and how did you come up with the idea?
It hasn't always been easy. I've had many different businesses over my life. I first started purchasing, renovating, and reselling apartment buildings. I started with a 5-unit building in Los Angeles and after selling it successfully, I purchased a completely dilapidated 66-unit building that scared me to death! But I made it through and over those first years made over one million dollars.
I rolled the dice and continued to buy, renovate, and sell until the bottom dropped out of the market. On January 17, 1994, the Northridge Earthquake devastated Southern California. During this period there was a negative migration in Los Angeles and our vacancy rates hit 40%. Being unable to support the mortgages, I lost all of my properties - over 250 units.
From 1994 to 1999, I started a company from scratch that built homes in Mexico. I sold insurance, ran an automatic door company, was the general manager for a bicycle specialty company, and sold copper pipe.
Then I finally got back into construction and took on a million-dollar renovation project of a residential home. I had 37 sub-contracts, one of which was a paving stone company that I ended up buying for $8,000, and that became Pacific Pavingstone. We started in June 1999 with four guys and one job. The first three months, I was learning to take over the job from the person we were buying the business from, and I found out from there that he was just running the entire company on a shoestring budget. He had no credit. In fact, the only assets there were was a crew of four, a beat-up 73 Chevy dump truck, and a bunch of worn-out tools.
I wanted to specialize in delivering one product fast with the best quality possible. It wasn't long before we had 13 paving stone crews and 2 demolition crews. With my two sons, we took the company Pacific Pavingstone on a rocket ride over the next 7 years, from working out of my garage to grossing over 15 million and earning two Inc. 500 awards on the way.
But, disaster hit again in 2008 through 2010 with the downturn in the economy. Not only was there less work, but the number of paving stone installers in Los Angeles grew from about a dozen companies to hundreds! Every landscape contractor, now short on work, started installing pavers. We dropped to a measly $8 million in sales and were losing money for the first time.
To survive the recession, we decided to go wider and deliver full landscape services including irrigation, lighting, planting, pergola installation, and pool construction, and to widen our service area from Ventura to San Diego. We started branching out but we only had small crews, so we had to find out how to hire masons, carpenters, landscapers, and pool installers.
We started to collect skilled workers, mainly by word-of-mouth and began building up specialized divisions when we found the right people to run them. Then, we had to find qualified supervisors that knew the trade and also how to manage a team. That was a whole process in itself, and we made a lot of expensive mistakes. We didn't know what we were doing, and the first year was really quite traumatic. We barely made any money on some of our landscape jobs but we just persisted and kept bringing in new guys, and new systems.
Throughout our journey as a company, we have made every mistake in the book. However, we persisted, became experts in the trade, and came out on the other side.
Take us through the process of designing, prototyping, and manufacturing your first product.
The process starts with a person calling into our company. We have two well-trained professionals here that take the calls, listen to the customer, understand what their basic needs are, and then explain what our process is from there. That process is sending a site measurer to measure their property. We get the water flows and pressures, where the electrical lines are, where the gas line is and all the different elevations throughout the site. We charge the customer a fee of $500 to do this.
The difference between ourselves and our competitors is: our competitors send somebody out there without charging for it and just guess the measurements because they don't have the time to do the work thoroughly.
Truck signs were a winning lead avenue. I bought a truck with a 20-foot box panel trailer that we put a sign on and parked on the overpass. The tickets we got for these activities just became a marketing cost.
We use this practice because we want to come up with an exact budget of what we can do the project for, and then design within that budget. So we need to collect some data to get educated. Once we have the measurements, we put all that data into CAD software and we schedule the first meeting. During that meeting, we actually do a rough design, on tissue drafting paper, of where your design elements are going to be and how it all fits together.
And since we already know everything about your property from the site analysis, we can actually come up with a very close ballpark. So I'm going to give you a ballpark. Let's say it's $85,000, and you and your wife say, "Hey, we're hoping for a little less, but we're willing to do that if we can get all these things." So then, we signed a landscape design agreement at that point.
From there, we schedule an appointment for you to come back for the full design. From the initial meeting, the landscape designer has enough information on what the customer wants that he can put all that in CAD and create a workable outdoor design.
The customer comes back in, we make revisions as needed to the conceptual design, inform them if there are any budget changes (if they were to pick out an expensive tile, etc.). Once the customer is happy with the design and the budget, it goes to the estimating department.
Our estimator crunches the numbers and if we've done our work correctly, we're going to be close, if not exactly on the agreed-upon budget. The customer then signs the contract agreement.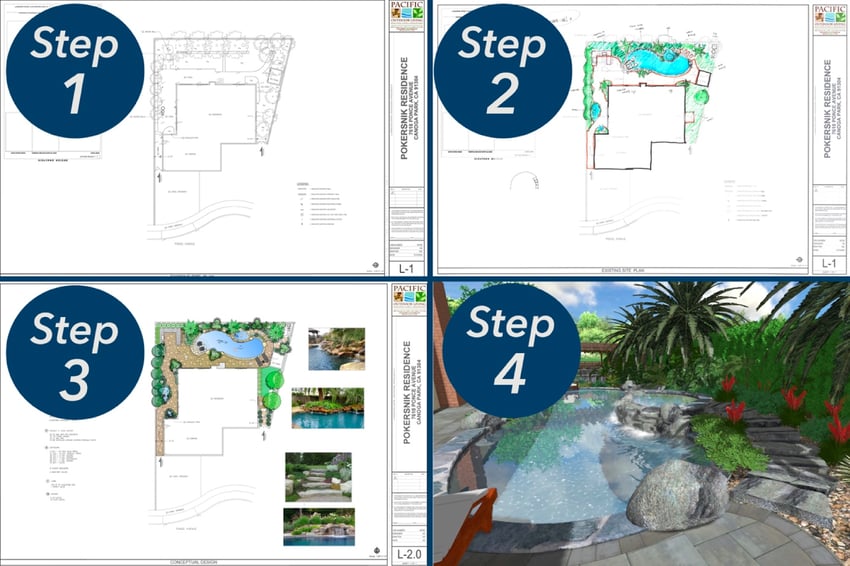 For the next step, we meet the customer at the job site with the landscape designer and the project manager, to go through every aspect of the project. This step is crucial because we want to make sure that we've communicated and fully understood what they need, and can make any other revisions or changes on the spot right there.
The landscape designer then passes the project over to the project manager, and the project manager is now the liaison for the customer. This is a key part of our business. We separate the designer's job and function from being a project manager. We gain a lot of power by doing that, having the designer stay in communication with the customer, but no longer getting involved with running the aspects of the job. This job is now in the project manager's domain.
On the production side, we have our specialized crews. We have crews for demolition, masonry, pavers, carpentry, landscape, and pool installations. The project manager is in charge of all crews on the specific job and ensures that each one is running smoothly and the project is done in the allotted time.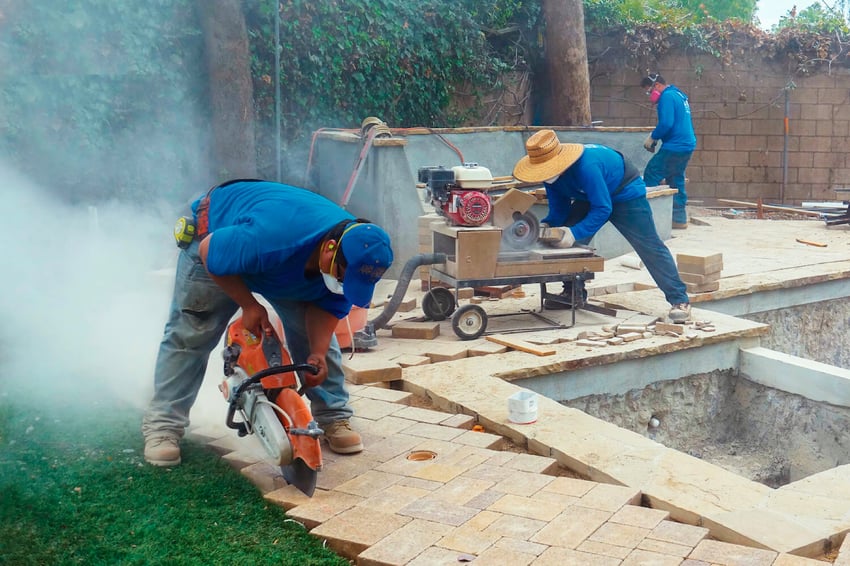 This brings us to the completion of the project. We completed a final job walk with the homeowner, designer, and project manager to make sure everything was completed to the customer's satisfaction. We then turn it over to our quality control center to make sure the customer is happy and see if they have any feedback on how we can improve. Most of the time they will also refer us to another homeowner, and we start the process over again.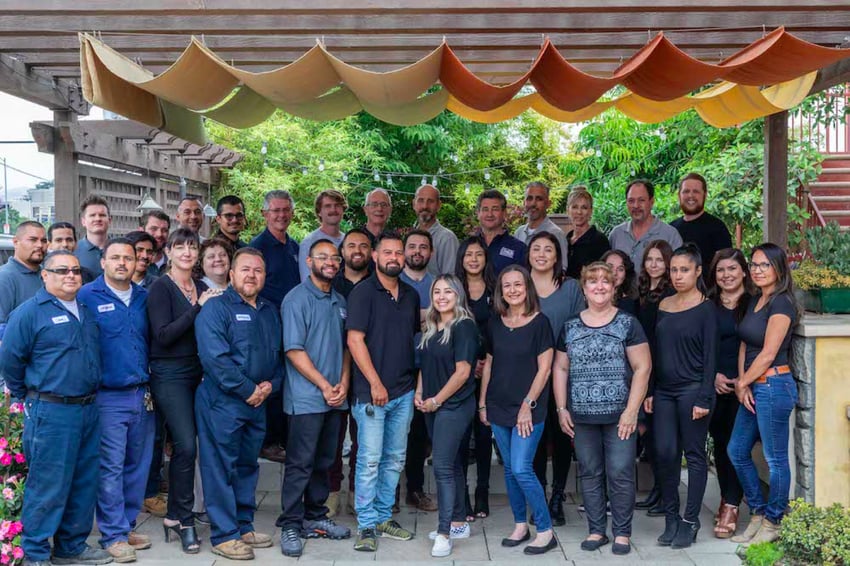 Describe the process of launching the business and how do you attract new customers.
Since my sons handled the installation end of the business, I concentrated on marketing and sales.
My first goal was to drive in more business than they could handle. To do that, I wanted to establish 10 Lead Sources. ** ** Obtaining 10 different lead sources gave me the versatility to branch out into uncharted areas, keep revenue-generating sources, and change ones that weren't performing. I tracked the ROI on each and dropped the poorest performing to try another.
Over the years, we tried direct mail, magazine and newspaper ads, signs on a box truck parked on freeway overpasses, booths at trade shows, county fairs, farmer's markets, kiosks in malls and department stores, demo ponds in nurseries, radio, TV and a storefront design center. When one didn't work, we dropped it and found another.
Direct mail was the leading source for several years. We started out sending 2,000 a week and within a few months, I was sending out 15,000 postcards every week.
Another winning lead avenue was yard and truck signs. We hired somebody to place signs out on major boulevards around Los Angeles. I also bought a truck with a 20-foot box panel trailer that we put a sign on and parked on the overpass. The tickets we got for these activities just became a marketing cost.
In talking about lead sources, I can't forget referrals. The best way to expand your business and the best marketing you can do is to deliver an incredibly fantastic product. Never argue with the customer; do whatever it takes to make them happy. I still get referrals from projects we completed 20 years ago. If you leave a customer happy, they will sing your praises to their friends, family, and beyond for years to come.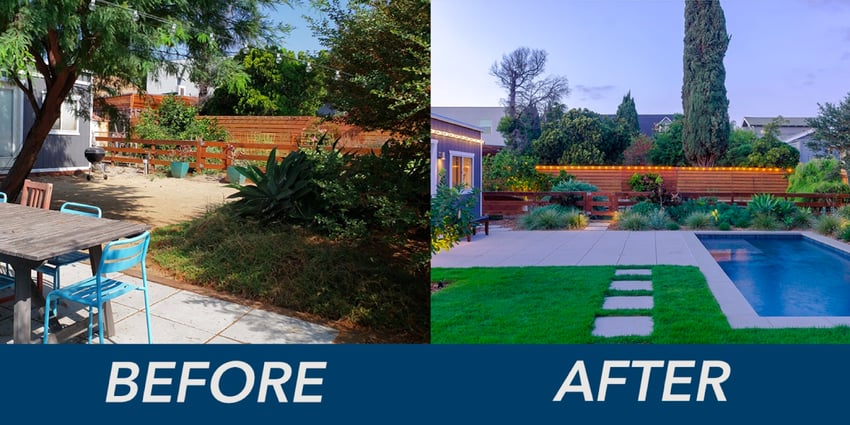 This leads us to the present day. In 2020, web marketing has dominated our lead source. A whopping 70% of our leads come from our website, pay-per-click ads, and review site platforms.
Regarding client retention, it's far better for us to go above and beyond to make the customer happy than to get into a fight or litigate over something. We pride ourselves on our customer reviews on various review sites like Yelp and continue to pay attention to the feedback that our customers are giving. Even if it isn't something we like to hear, we appreciate knowing where we can improve.
An innovation that we put in just a couple of years ago has proved to be one of the best yet. My designers were spending 20 to 25 hours a week driving from home to home, measuring the property, and then trying to sell the design on the spot, which was the first step to selling the construction. One day I said no more! We will bring the customer here, to our offices, first. When a customer called, we told them that the first step was to send someone out to measure their property and the next step was to meet a designer at our offices. The designer could now have all the data to come up with an accurate budget for the project.
Before this change, it was a wild guess. Also, we charge the customer $500 for this site analysis. All our competitors go to the homeowner's house for free; some even do the design for free! This will lead to them going out of business if done consistently. Today, we are selling about 10 Site Analyses a week, sales have gone up and our designers are more efficient and happier!
The most important element of our success was developing an estimating and project management system. I happened to discover that there is a fatal flaw in the way that contractors estimated, whether it's by unit price or by adding a markup, that made it impossible to tell if one was making money at the end of the day. With the software that I developed for our internal use, I can tell not only how much money I made today but also get a very accurate prediction of how much it would make tomorrow.
I'm in the process of developing this software to sell to other contractors and businesses in general. That's an entire story on its own!
How are you doing today and what does the future look like?
2020 has been our best year in business yet. We are on track for hitting $16 million in sales and are reaching the highest-ever delivery and profits. We have invested in the future by codifying what we've learned, putting it into systems and software that others can use.
The software, named The AIMM System, has been years in the making. We now have a beta version that some contractors are using in their businesses today.
AIMM Software helps a contractor understand their numbers so they can manage their company effectively. It also enables crews to track their targeted hours and gives them bonuses if they achieve their targets.
I have also put together a book available for download on Amazon that helps you understand the basics of the AIMM System, and has all the tools you need to run a successful contracting business.
I'm guilty of starting too many things at one time or not doing solid groundwork on a project. But making those kinds of mistakes are far less damaging than doing nothing, starting nothing, and taking very few chances.
Through starting the business, have you learned anything particularly helpful or advantageous?
Well, at the age of 75, I still make mistakes and still learn every day. How can I sum it up? Systems, hats, and rewarding production. Anytime that we have got away from those three aspects for whatever reason, it's like taking your eye off the ball. Getting complacent, trying to do too many things, or not getting one system or action in first before moving to the next.
Never stay stagnant, keep pushing, and trying new things. If you never try anything new, you will never be able to take your business to the next level.
What platform/tools do you use for your business?
We developed our own software, the AIMM System, to estimate jobs and to track them during the installation process. It's a unique and different way of looking at estimating and the business as a whole. In fact, there is an entire philosophy behind how we approach things based on common sense. We don't use the conventional way, like using unit price or markup for labor and materials, the way most contractors do. The first version was developed in Microsoft Access, later we used C# and now have our first cloud-based product available for contractors to try here.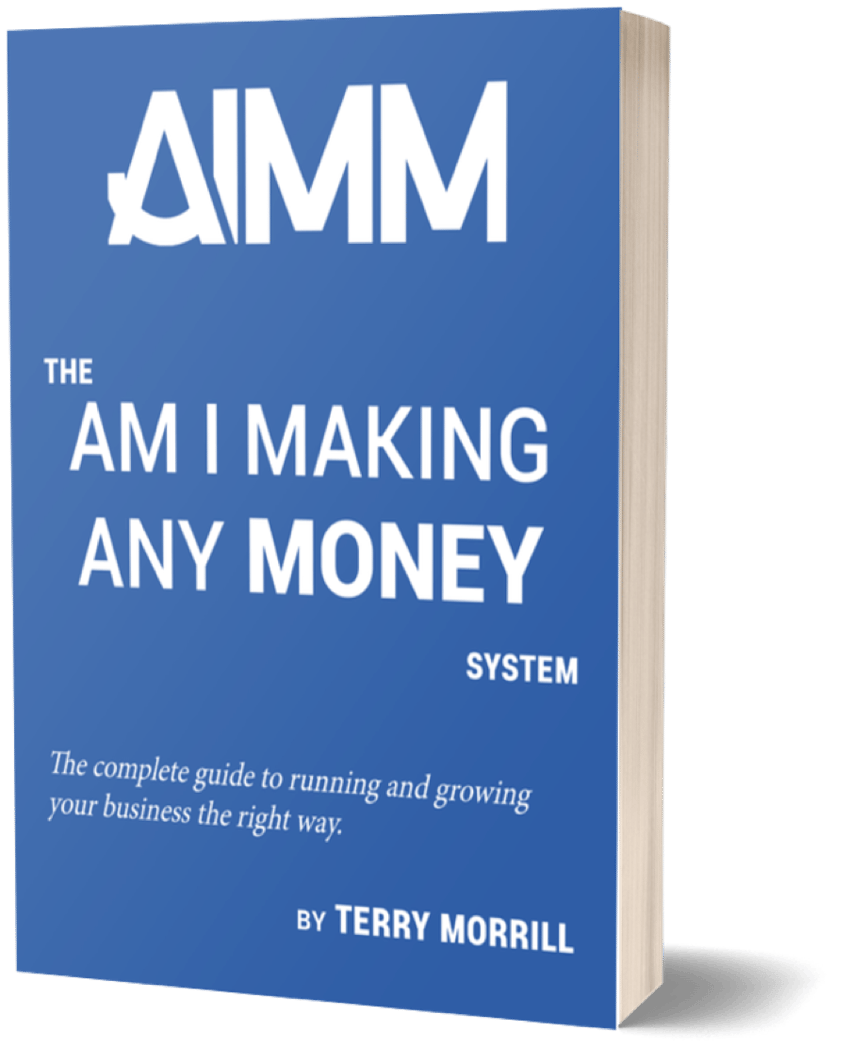 What have been the most influential books, podcasts, or other resources?
The most influential books and people for me were:
Advice for other entrepreneurs who want to get started or are just starting?
Two words, dream and create. Allow time to dream and create new things and projects. Yes, I'm guilty of starting too many things at one time or not doing solid groundwork on a project. But making those kinds of mistakes are far less damaging than doing nothing, starting nothing, and taking very few chances. If there is a risk in it, I say go for it. Then persevere, because there is always going to be opposition to your ideas and programs. If there is no one opposing you at all, what fun would that be? Also, be sure to hire good people and surround yourself with a solid team who are willing to grow with you.
Are you looking to hire for certain positions right now?
I'm actually looking to hire somebody to run our software start-up company. They would preferably have to have experience in startups and have a background working in tech. We would definitely entertain hiring people for that.
Internally, for Pacific Outdoor Living, we're always looking for good project managers who could either run jobs or eventually run our whole delivery end. Somebody who can handle that would be fantastic.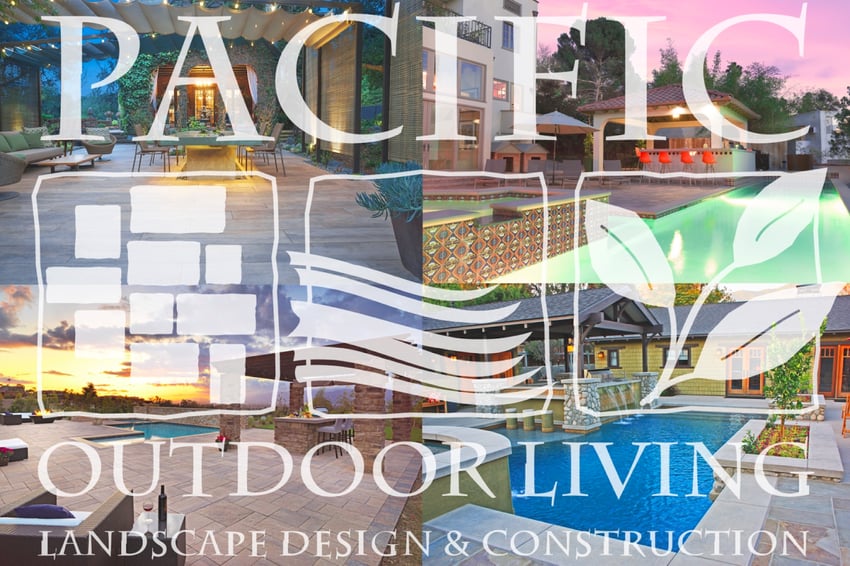 Where can we go to learn more?
You can see more about Pacific Outdoor Living by clicking here and Pacific Pavingstone by clicking here.
The AIMM manual is available for download by clicking here.
For more information about The AIMM Software or for a free demo, click here to check out our website.
-
Terry Morrill, Founder of Pacific Outdoor Living
Want to find more ideas that make money?
Hey! 👋 I'm Pat Walls, the founder of Starter Story.
Get our 5-minute email newsletter packed with business ideas and money-making opportunities, backed by real-life case studies.