200+ Inspiring Good Morning Quotes & Sayings For Work
•
Updated: July 21st, 2022
200+ Inspiring Good Morning Quotes & Sayings For Work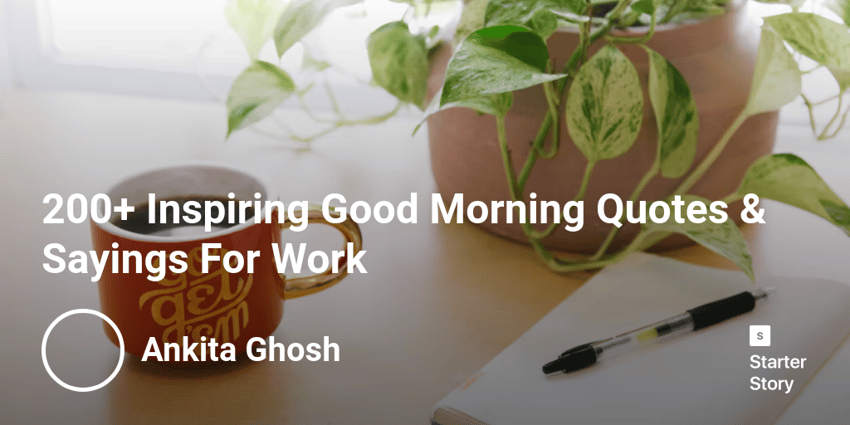 Good morning quotes are a great way to begin the day. They can be used in several different ways:
As greetings to clients, colleagues and employees
To inspire yourself when you're feeling discouraged
To motivate others when they need it most
The way you greet your customers, colleagues, and employees can have a huge impact on their impression of your company.
We've put together 200+ good morning quotes to use in the workplace.
Here they are:
Positive Good Morning Quotes
There was never a night or a problem that could defeat sunrise or hope. - Bernard Williams
With the new day comes new strength and new thoughts. - Eleanor Roosevelt
Morning comes, whether you set the alarm or not. - Ursula K. Le Guin
Life is what we make it. Always has been, always will be. - Grandma Moses
A grateful heart is a magnet for miracles.
I love that this morning's sunrise does not define itself by last night's sunset.
Start the day with a smile and see how you make everyone smile.
I love the smell of possibility in the morning!
Think about the dreams you had last night to make your lazy morning a beautiful one. - Lisa Lieberman-Wang
Great attitude is like a perfect cup of coffee — don't start your day without it. - Lisa Lieberman-Wang
This is not just another day, this is yet another chance to make your dreams come true. - Lisa Lieberman-Wang
I get up every morning and it's going to be a great day. You never know when it's going to be over, so I refuse to have a bad day. - Paul Henderson
One key to success is to have lunch at the time of day most people have breakfast. - Robert Brault
This morning will never ever come back into your life again. Get up and make the most of it. - Lisa Lieberman-Wang
Wake up and face life's challenges head-on. Else, life will become quite a challenge. - Lisa Lieberman-Wang
An early morning walk is a blessing for the whole day. - Henry David Thoreau
Every morning is destiny's way of telling you that your purpose in life is yet to be fulfilled. - Lisa Lieberman-Wang
Every morning is a beautiful morning. - Terri Guillemets
Not the day only, but all things have their morning. - French Proverb
Success is the sum of small efforts repeated day in and day out. - Robert Collier
The only way you can respect your dream is to get out of bed and do something about it. - Lisa Lieberman-Wang
Lose an hour in the morning, and you will spend all day looking for it. - Richard Whately
No matter how bad things are, you can at least be happy that you woke up this morning. - D. L. Hughley
The breeze at dawn has secrets to tell you. Don't go back to sleep. - Rumi
Outside the open window, the morning air is all awash with angels. - Richard Wilbur
There is nowhere morning does not go. - Leah Hager Cohen
The next morning dawned bright and sweet, like ribbon candy. - Sarah Addison Allen
Cultivate the habit of early rising. It is unwise to keep the head long on a level with the feet. - Henry David Thoreau
The morning was full of sunlight and hope. - Kate Chopin
Coffee chatter is my morning cup of therapy. - Adrienne Posey
Don't look back, you're not going that way.
You're off to great places! Today is your day!
I really need new clothes.. is me every morning.
Every morning is a chance at a new day.
Be in love with your life. Every minute of it.
I opened two gifts this morning. They were my eyes.
Smile at strangers, slow down, say thank you, laugh, and give compliments today.
Happy thoughts are the only cure for a sleepy morning.. and I feel the happiest when I think about you!
Each good morning we are born again, what we do today is what matters most.
Let your soul expand, let your heart reach out to others.
I love the smell of possibility in the morning.
Each morning we are born again. What we do today is what matters the most.
You don't have to be great to start, but you have to start to be great.
Mistakes increase your experience.
Love the life you live; Live the life you love.
Life laughs at you when you are unhappy.
Life always offers you a second chance. It's called tomorrow.
Dear past, Thank you for all the lessons.
Hello, Good Morning! I hope you have a ridiculously amazing day!
The sun is up, the sky is blue, it's beautiful and so are you.
The best thing about waking up is knowing you have another cup of coffee to enjoy.
No matter how good or bad your life is, wake up each morning and be thankful that you still have one.
If you want to make your dreams come true, the first thing to do is to wake up.
Be willing to be a beginner every single morning.
Motivational Good Morning Quotes
Good morning. The happiness of your life depends upon the quality of your thoughts. So think happy and positive.
Having a rough morning? Place your hand over your heart. Feel that That's called purpose. You're alive for a reason. Don't give up.
The sun is a daily reminder that we too can rise again from the darkness, that we too can shine our own light. - S. Ajna
You know the feeling when you wake up in the morning and you're excited for the day? That's one of the main goals in life. - Kirsten Dunst
Keep spreading positivity wherever you go.
Life is too short to wake up in the morning with regret. So love the people who treat you right and forget the ones who do not.
Rise up, start fresh see the bright opportunity in each day.
Every day may not be good, but there is something good every day.
When you arise in the morning, think of what a precious privilege it is to be alive.
Every morning has a new beginning.
Every sunset gives us one day less to live.
Nothing is impossible when God is on your side.
Mornings are gifts of God.
Puppies are the greatest blessing to waking you up.
Today will be amazing so wake up and smile. Positivity is a choice that becomes a lifestyle.
Yesterday is Gone, Tomorrow is a Mystery, Today is a Blessing.
Good morning! Each morning we are born again, and what we do today is what matters most. Don't sweat the small stuff.
Spread love everywhere you go. Let no one ever come to you without leaving happier. - Mother Teresa
This morning is what it is because you were what you were yesterday. Be what you should be today so that you can be what you want to become tomorrow.
The greatest inspiration you can ever get is to know that you are an inspiration to others. Wake up and start living an inspirational life.
Don't start your day with the broken pieces of yesterday. Every morning we wake up is the first day of the rest of our life.
Wake up every morning with the thought that something wonderful is about to happen.
Only you know what you are possible of doing today. Wake up and show off your might.
Today is a new day and so you must have a new resolution, a new will, and a strong desire for success.
The stars have gone away and the sun is rising. This means a new day has begun and the possibilities available to you are endless!
Some people dream of success, while other people get up every morning and make it happen.
Dreaming can only last so long. Wake up, my dear, and take on this wondrous day.
Every day, do something that will inch you closer to a better tomorrow.
Some days you just have to create your own sunshine.
Wake up with determination, go to bed with satisfaction.
Rise up and attack the day with enthusiasm.
The only difference between a good day and a bad day.
Learn from yesterday, live for today, hope for tomorrow.
Chip up, sweetie. You're beautiful!
Every morning is a blank canvas… It is whatever you make out of it.
Good Morning, I Hope You Are Having a Ridiculously Amazing Day.
The only thing preventing me from smashing my alarm clock this morning is the fact that it's my cellphone.
Think in the morning. Act in the noon. Eat in the evening. Sleep in the night. - William Blake
I always write WAKE UP on my to-do list so I can at least accomplish one thing a day.
Monday is the perfect day to correct last week's mistakes. Good morning!
In the morning a man walks with his whole body; in the evening, only with his legs. - Ralph Waldo Emerson
Monday morning, you sure look fine.
The best foreplay starts with: Good Morning beautiful.
Sunshine is the Best Medicine.
Early morning cheerfulness can be extremely obnoxious. - William Feather
There is no snooze button on a cat who wants breakfast.
This morning I put Red Bull into my coffee maker instead of water and now I can see noises.
Morning! The person you are trying to reach is out-of-body. Please try again later, after I have my coffee.
The Fun Thing to Do in the Morning is Not Talk to Me.
Never work before breakfast; if you have to work before breakfast, eat your breakfast first. - Josh Billings
Coffee; because bad mornings deserve a second chance.
Most people do not consider dawn to be an attractive experience unless they are still up. - Ellen Goodman
The Trouble is If You Don't Risk Anything, You Risk More.
Success comes to those who have the willpower to win over their snooze buttons.
A great attitude is like a perfect cup of coffee – don't start your day without it.
If you don't wake up right now with your full might, you will never be able to achieve that dream you saw last night.
The biggest sources of motivation are your own thoughts, so think big and motivate yourself to win.
If yesterday was a good day, don't stop. Maybe your winning streak has just begun.
Being happy or sad, gloomy or excited, moody or stable… are options that are presented to you every morning. You just have to make the right choice.
Don't complain about yesterday. Make a better tomorrow by making the most of today.
Don't blame God for not showering you with gifts. He gives you the gift of a new day every single morning.
Your Future is Created by What You Do Today, Not Tomorrow.
The morning is good because we remember that no matter what went wrong the previous days, we just got a perfect opportunity to rewrite history and do better.
The brain is a wonderful organ; it starts working the moment you get up in the morning and does not stop until you get into the office. - Robert Frost
Whether the day is for writing, designing, or painting, the consistent practice of a morning routine is the doorway to it all. - Elle Luna
Wishing a good morning to the person who is the reason why I feel like waking up every day. I love you.
Being in love with you makes every morning worth getting up for.
Today has a lot of good things for all who are alive in it. Wake up and pursue life with courage and hope, and I can assure you that your future is going to be bright.
Good morning! We learn something from everyone who passes through our lives… Some lessons are painful, some are painless, but all are priceless.
Good morning. The sun is rising just for you today! Let it light your path and lead you on your way.
Sometimes the greatest test in life is being able to bless someone else while going through your own storm. Good morning!
Inspiring Good Morning Quotes
May this morning offer you new hope for life! May you be happy and enjoy every moment of it.
It doesn't matter how bad was your yesterday. Today, you are going to make it a good one.
Good morning my love. As the rays of the sun fall on you, I hope they bless you with the brightness of a thousand suns.
Every sunrise marks the rise of life over death, hope over despair, and happiness over suffering.
God has granted you yet another day to make your dreams come true. Accept it with all your heart. Let's give your life a new start.
The darkness of night has ended. A new sun is up there to guide you towards life so bright and blissful.
A beautiful morning does not solve all your problems, but it gives you a good start to solving any of your problems.
Take life challenges day by day and be grateful for the little things.
Each day is an opportunity to grow. I hope we make the most of it. Wishing you a perfect morning.
No matter how difficult yesterday was, just know that today is your day. Stay positive at every moment of your life.
Neither the sun nor the moon, but your prettiest smile is the only thing that brightens my life.
If you just take a deep breath in the fresh air of morning, half of your anxiety will go away.
Life is the most precious of all gifts. So, enjoy every moment of it. Don't miss the most of it by sleeping too late.
Wake up like the superstar you are and let the world know you're not going to stop until you get what you deserve.
Life is full of uncertainties. But there will always be a sunrise after every sunset.
It's a new day. Yesterday's failure is redeemed at sunrise.
Good morning! The gifts of the world await your presence, get up and indulge in nature!
No matter how hard yesterday was, today is a new beginning, so buckle up and start your day.
May everything you dreamed about last night comes true!
Life gives us new opportunities every day, so hoping today will be full of good luck and prosperity for you!
Nothing is more refreshing than a beautiful morning that calms your mind and gives you reasons to smile.
Every day is a new opportunity to thrive anew, so don't stay stuck in yesterday's mistakes.
I pray that you accomplish all the goals that you have been striving to achieve in life.
Don't stress over the worries of yesterday, rather accept what today has to offer with wide arms!
Time is valuable. Cherish every moment and use it wisely by doing something productive.
Waking up in such a beautiful morning is a guarantee for a day that's beyond amazing. I hope you'll make the best of it.
Get up early in the morning and don't forget to say thank you to God for giving you another day!
Open your eyes and have a look at this beautiful morning. You'll find happiness in every moment of it.
Only fortunate ones get the opportunity of wishing their loved ones good morning when they wake up, and I am one of them.
I know you slept tight all night. Now wake up and welcome a new sun so bright, here to make your day right.
Good morning. Another day, another blessing, and another chance at life. Take nothing for granted and think of every breath as a gift.
Life never seems to be the way we want it, but we live it the best way we can. There is no perfect life, but we can fill it with perfect moments.
Good morning! Life becomes more meaningful when you realize the simple fact that you'll never get the same moment twice.
Always remember, life has no guarantees. It is as uncertain as anything else in this world. So as long as you are alive, live it to the fullest.
Every morning is a new beginning, a new blessing, a new hope. It's a perfect day because it's God's gift. Have a blessed, hopeful, perfect day to begin with.
When you start each day with a grateful heart, light illuminates from within.
Let this morning be a new beginning to a better relationship and a new ending to the bad memories. It's an opportunity to enjoy life, breathe freely, think and love. Be grateful for this beautiful day. - Norton Juster
It is a serious thing just to be alive, on this fresh morning, in this broken world. - Mary Oliver
Write in your heart that every day is the best day of the year.
The day is awaiting you with rich and beautiful blessings. Accept and enjoy them as they are.
When you arise in the morning think of what a precious privilege it is to be alive, to breathe, to think, to enjoy, to love.
God always blesses us with new opportunities with every blessed day He blesses us with. Never forget that.
When you start each day with a grateful heart.
Thank God for another day. Don't waste it!
Wake up each day & Be thankful for life.
God's greatest blessing is waking you up.
Life is a gift. Wake up every day and realize that.
Good morning. Awake from your sleep. Say hello to the day. Put on your fighter gear; it's time to tackle the day!
The dreams you had last night can only come to reality if you get up and work at achieving them today.
Even the smallest of thoughts have the potential to become the biggest of success. All you have to do is get up and get going.
Make every effort in life just like this: Whenever you want to stop, tell yourself to try just one more time; maybe this time, you might succeed.
Remember who you really are today. Know that you too have the power to overcome anything you may be facing.
True happiness comes from within yourself. Not from someone else. Stop searching. Start living.
Good morning. As you go out there, do your best and believe that the results will follow.
I never wake up in the morning and wonder why I'm here. I wake up and wonder why I am not making here better. - Jeffrey Fry
If you want to make your dreams come true, the first thing you have to do is wake up. - J. M. Power
Wake up and move on. When you don't feel like getting up for the day ahead just remember, staying in bed will bring another night.
Lookout, world! The fabulous you have to awaken! Decide today to be and do your best!
It always seems impossible until it's done. Move ahead and finish it.
Good morning! One beautiful heart is better than a thousand beautiful faces. So choose people having beautiful hearts than faces!
Sometimes the greatest test in life is being able to bless someone else while going through your own storm.
The importance of good people in our life is just like the importance of heartbeats. It's not visible but silently supports our life.
The minute you think of giving up any relation, think of the reason why you held it so long.
The sweetest moment in life comes not with the greetings you receive but with the thought that someone wishes the best for you.
Life is like a pizza. You get to decide the toppings of your choice. Hope you enjoy your life slice by slice.
Just when you open your eyes first thing in the morning, take a deep breath and say, Today, I am going to be better.
When everything seems to be going against you, remember that the airplane takes off against the wind, not with it. - Henry Ford
Witty Good Morning Quotes
Good morning, my new buddy and colleague! You shall prosper today because you are phenomenal.
Good morning! As you begin your day, let your passion be a guiding light for all your activities and interactions, and you will achieve your goals and objectives with ease and grace.
Good morning! When things get tough and you feel like just giving up, take a moment to look in the mirror and tell yourself that you are more than capable of the task you've been given. All the best.
Wishing you a productive day! And may you always remember not to say or do anything when you are angry — it almost always leads to regrets. Good morning!
I exhort you to see every misfortune as an opportunity to forge your own path to success. Good morning, and stay productive with your team!
How you start your day often sets the tone for the whole of it, so be sure to commence with a smile and a mind full of beautiful thoughts! Good morning, and have yourself a productive day.
When times get tough, remember to be thankful for your life, work, and the wonderful teammates around you. This will give you the perspective to go strong. Good morning, and have an amazing day.
Good morning, team! As we commence the day, I want to remind you that great thoughts do often lead to great outcomes. So let's think and do big. Best wishes.
See today as a new opportunity to make a difference, and you surely will. Good morning, and have a very fruitful day!
Seize every opportunity that today presents you to make life better through your work. May today be your best day yet. Have a blissful morning!
Ours is an organization that believes in the innate power of a human being to make a difference. Let's give life to our creed today by making a difference. Good morning!
Today, I challenge you to stay focused on our mission and discover your purpose with each passing hour. Good morning, and let's get to work!
You are with us today because you not only make a perfect addition to this team but also have something unique to offer. Go ahead and make your presence felt through your work. Good morning!
I call on you to get over the mistakes of the past, worry less about the future's uncertainties, and, instead, focus on what unique contributions you can make today. Wishing you a very beautiful morning and a productive day!
Today, let us create more productive problems and solve them to the best of our abilities, for it is by doing so that our organization can make advances. Good morning. May we all enjoy a productive time at work.
Have a wonderful day at work, then come home so we can have an even better evening together.
A great day at work is a day you'll be able to look back on and smile about someday. I hope today is a day you'll remember fondly.
Wonderful people make great things happen. Have a great workday and make it shine with your brilliance.
I hope your day at work is extraordinarily wonderful. Put your best foot forward and release the power of your outstanding abilities.
May all your tasks at work be the kind you really enjoy doing. May your workday be pleasant and easy.
If you like your job, enjoy your day. If you don't, have lots of coffee. I hope your day at work is the best it can be.
I hope that all of your workday challenges are easy to handle. My desire is for you to have a great day at work today.
Consider work more than a job. Think of it as a mental exercise and a reason to be happy when the day is done.
I've always known you to be an overachiever. When you go to work today, impress your boss and have a fabulous day.
Don't despise going to work. You'll be home before you know it because time passes quickly. Smile and have a great day!
I hope your day at work gives you every reason to smile. A smile on your pretty face is what I'm looking forward to seeing.
May you have a stress-free day at work so you can leave your job with a smile on your beautiful face and laugh with me tonight.
Find joy in the work you do. Let it be rewarding. I'm sure that the people you work for appreciate your outstanding job performance.
Because you're always doing what you can to make people smile, I'm wishing you a splendid day at work.
Some people are just naturally great at what they do. That's you. Have a good day at work today!
You should be awarded for putting your heart and soul into the work that you do. May your day on the job be as awesome as yours.
Since much of your time is spent working, do your job to the best of your ability, reap the rewards, and have a fantastic day.
Whenever you feel like giving up, please remember the reason why you signed on in the first place, and get back up on your feet. Good morning, and never stop being an awesome secretary.
I challenge you to be the master and captain of your fate because none but you knows better what you want to achieve on this job. Good morning, my amazing secretary.
Your smile and amiable disposition make us want to come to work every day. You simply rock and are at your best when it comes to correcting the fault in our stars. Good morning, madam secretary.
Good morning! I just want to say hi and let you know that this office feels empty when you are not around. Keep on doing the wonderful work that you do for us. We treasure you.
Many commend me for being a great boss, but what they don't know is that I would be nothing without an amazing secretary like you. Thank you for playing a very instrumental role in my success. Good morning, and keep up your good work!
You always burnish the corner where you are and bring the best out of everyone you encounter. It's always a pleasure working with you. Wishing a lovely morning and day to a truly outstanding secretary!
Your colleagues and I hate to admit this but your cheerful demeanor, skill, and smile have made you our team's sine qua non. Keep up this disposition, and your limit will be the sky! Good morning, boss.
Managing people is no mean feat but you rise above expectations each day. Keep up the hard work, and you will see huge results at the appropriate time. Good morning, boss.
Even the best of bosses need assurance that things will be alright. I want you to look at the amazing team you've raised among us, and use us as your inspiration to forge ahead. Good morning, dearest boss.
Good morning, I encourage you to look for the silver lining in everything today, for doing so will help you to overcome the stresses and disappointments at work. Cheers.
Since your success is dependent upon your thoughts, I exhort you to think big and positive so that you will experience great outcomes. Wishing a beautiful day to one of the most amazing bosses I've ever had.
Whether we like it or not, obstacles will come our way. However, we must never let ourselves be held down by them. Good morning to you, dearest!
Wishing a beautiful morning to a really special client. You are different from others. Allow this remarkable difference to define you rather than confine you. Never stop celebrating the amazing person that you are!
The things you do today are definitely what is going to light up your tomorrow. Good morning.
Good morning! Please, don't ever give up on the goals you have set for yourself, come what may. Keep pressing forward and you shall make it into the realm of success.
When you have total confidence in yourself and give life your best shot, the whole world becomes yours for the taking. Keep moving on. Don't stop. Good morning.
Wishing a wonderful client a lovely morning! Start this beautiful day with the knowledge that the only way to soar beyond the sky is to let go of the things that weigh you down.
Good morning! Let the bright light in you shine. Never let yourself live in the shadows of others and nothing shall stop your life from being a testimony at the end of the day. I wish you nothing short of a magical day!
Believe in yourself and let your confidence silence those who deliberately try to silence you. Good morning!
As you begin this beautiful day, never forget that you are a priceless gem who has the innate ability to achieve the impossible. Good morning!
Good morning! The road might be hard, but don't ever think of giving up for a second. Remember that the harder the journey, the more breathtakingly wonderful the destination and victory are.
Never has life not been full of challenges. Love yourself, believe in yourself, and keep moving. This is the best way to overcome the obstacles that life comes rife with. Good morning.
May this brand new blessing of a day inspire you to chase after your dreams and fulfill your destiny. Good morning, and have a very lovely day.
A barrier on your path isn't the end of the road; push through it with faith and you shall definitely overcome it. Have a beautiful morning.
History has taught us again and again that we don't need to be perfect in order to enjoy a totally blissful day. Enjoy this beautiful brand-new day to the fullest.
Good morning! Transform all the obstacles you encounter today into your stepping stone to achieving remarkable things.
Start today knowing that you alone are in charge of your choices. What does this mean? It means you alone decide how beautiful and sunny your day is. Stay positive and have an amazing day.
No matter the difficulties you face today, just put a smile on your face and keep moving forward. If you do this, you'll definitely get through whatever difficulty comes your way. Have a lovely morning.
Good morning, dear colleague. Faith in yourself will not only make the impossible possible, but it will also make achieving the impossible much easier. Keep on believing in yourself.
I know you'll have a wonderful day at work today because you are smart, hardworking, and diligent. What a blessing it is to have you as a colleague! Good morning!
Things might not go the way you have planned them to go, but never give up hope. Always know that you can always rely on me to have your back. Have a beautiful day!
Regardless of the number of setbacks that came your way yesterday, forget about them. Today is a totally brand new day for you to start again and achieve great things. Good morning.
When you arm yourself with determination, courage, and faith, defeat is suddenly eliminated from the equation. Good morning.
Have a ridiculously beautiful morning! Journey through this day never letting your background hold you down.
Wish you a fabulous morning! My advice for you on this beautiful day is to give zero attention to anything that tries to hold you back or bring you down. Stay positive.
Good morning to you! The surest way to win in all spheres of life is to never doubt yourself. Welcome aboard and have yourself a tremendously nice day. We are all happy to have you with us!
Dearest, you are the definition of hard work. I'm honored and privileged to have an amazing colleague like you. I wish you a truly wonderful and blessed day!
Want to start your own business?
Hey! 👋I'm Pat Walls, the founder of Starter Story.
We interview successful business owners and share the stories behind their business. By sharing these stories, we want to help you get started.
Interested in starting your own business? Join Starter Story Premium to get the greatest companion to starting and growing your business:
Connect + get advice from successful entrepreneurs
Step by step guides on how to start and grow
Exclusive and early access to the best case studies on the web
And much more!