Thank you Klaviyo for sponsoring Starter Story ❤️
Turn one-time buyers into repeat customers. Try the platform loved by 265,000 brands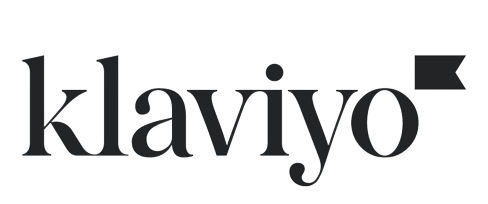 200+ Giveaway Email Subject Lines (That Work!)
•
Updated: May 13th, 2021
200+ Giveaway Email Subject Lines (That Work!)
If you're looking to boost your email open rates and increase sales, your email subject line is the first (and most important) step in achieving those goals.
Did you know that 33% of email recipients open emails because of an engaging subject line?
That's why it's critical to craft a catchy email subject line that will get you the traffic and conversions you deserve.
We've put together a list of 200+ giveaway email subject lines (that work!).
Some are proven examples from other successful campaigns, and some are creative ideas to inspire you.
Creative Email Subject Line Ideas
Audible.com: A Free Holiday Gift Just for Our Members
Voices.com: Cyber Monday Deal from Voices.com Coming Soon
Secret Santas know how to hook up with Christmas savings
Finish Line: Black Friday Doorbusters start now. Put down the drumstick.
Just Give: Gifts that do good…and feel good
Warby Parker: Forgetting someone?
Christmas Pattern Sale!!
Doug Smith Subaru: Share the Love with your Community
MAC Cosmetics: NEW Holiday Kits = Perfect Gifts!
Rock the Christmas clock with time-saving gift inspiration
MOO: A three day Christmas sale? Let's go!
Do you need a time-out from the holidays this year?
Aerie: Last minute shopping? We're here for you!
Wool and the Gang: Relax, Get a Gift Card.
Anthropologie: Thanksgiving hosting, toasting & roasting must-haves
Bath & Body Works: 5 DAYS 'TIL CHRISTMAS
Monterey Bay Aquarium: Today is #GivingTuesday: Donate now and become part of a new tradition.
Skechers: Get BLACK FRIDAY savings all weekend at Skechers.com!
KSL Deals: Save 10% with Promo Code: Christmas10
Musician's Friend: Perfect last-minute gift–a gift certificate
Give great gifts that give back with our incredible Christmas discounts
Lyft: You guys are amazing, you know that?
Glow like a Christmas angel with our premium cosmetics
Tick, tock! 30% off sale ends soon!
Emergency Essentials: Black Friday Sale! Check Back Tomorrow To View the Deals!
When it's gone, it's gone.
Discounted elf exclusives add extra joy to your holidays
Rifle Paper Co.: The After-Christmas SALE!
Man Crates: Last Chance to Get Our Coolest Gifts For Christmas
Adidas: Are you ready? Check out our gift ideas to get started.
Rapha: Last express shipping days for Rapha Gifts
Pinterest Partner Team: This week: Create holiday boards and plan Pinteresty events
3 Key Elements: Stressed Out by the Holidays? Body Language Tools to the Rescue!
L'Occitane: Holiday Gift Guide To Nature's Wildest Gifts
Members get first dibs.
Available for 24 hours only
Bass Pro Shops: Final Hours! Stretch your payments for 6 months
Travel Channel: Travel's Best Holiday Attractions 2014/
Framebridge: Last chance for free shipping on Christmas gifts
L'Occitane: New Year's Resolution: Revamp Your Ritual with $20 OFF
Sports Authority: Hurry, Only Hours Left for Cyber Monday Savings!
Even Rudolph thinks our holiday travel booking services are the best
We couldn't wait 'til Friday!
Cloth & Paper: After Christmas Sales
Finish Line: Black Friday Doorbusters END TODAY. Snag 'em before it slams shut.
One Kings Lane: Post-Christmas grab bag: pick a present for yourself
Box these deals like you mean it! 25% OFF
Crate & Barrel: Get ready to holidazzle.
Ho Ho Ho FreeShipping, Here we go! ✌️
Papa Murphy's: Don't Get Your Tinsel in a Tangle…Let Us Help with Dinner!
Cabela's: You've made your list…
Going once, going twice…
Pureleverage.com: Your $1.00 Cyber Monday sale!!
We saved Santa's best stocking stuffers just for you
The White Company: In need of Christmas inspiration? Discover these influencer favourites
Susan G. Komen: Holiday gift deadline is tomorrow
Psst !! Up to 75% OFF happening right now!
Banana Republic: You should claim your surprise gift (it's well-deserved!)
MOO: Christmas has arrived at MOO
Team Tony Robbins: Your last chance to save in time for the holidays.
west elm: VERY MERRY CHRISTMAS SALE Up to 60% off select styles
Capsule: Christmas Deadline: TODAY – Best stocking stuffer ever!
kikki.K: Year round gift ideas
Monoprice: Holiday Gift Guide – Headphones & Earphones Starting Under $10
Boozt: The Christmas gift shop is open!
Orbitz: Good gravy! 20% off
Food & Wine: 27 Recipes for a Holiday Cocktail Bash
Sleigh your Christmas list with these last-minute gifts
"Win this amazing gift worth $500"
Freshbooks: Deliver Some Cheer this Holiday Season
Be the world's best St. Nick with just one click
Dot & Bo: Ring In The New Year – Plus: 12 Days of Christmas Gifting Starts Now
Push procrastination out the window with super-fun holiday shopping
Wool and the Gang: TODAY Last Chance For Xmas Delivery!
Moovly: Create your own Season's Greetings video in 10 steps
🎁 Gifts For Him Under $20!
"You deserve a little something extra, [name]"
You can be naughty and still stay fit through the holidays
Nordstrom: Black Friday Is Here Early
"Open if you're willing to get this treat"
PACK THESE FOR YOUR THANKSGIVING TRAVELS (STUART WEITZMAN IT)
J. Crew: It's OK to have seconds (or thirds) of this sale
Check out Santa's recommendations for your favorite pet
west elm: Christmas is coming… beat the holiday rush!
Boxing Day Sale 🔥
Southwest: Snow Fare Like A Low Fare!
How can joining a gym turn into your Christmas vacation?
HAPPY THANKSGIVING! SHOP BLACK FRIDAY ONLINE NOW! (MACY'S)
Shutterfly: Just 3 days: get 50% off + NEW Disney Frozen Stockings
Inspire a kiss under the mistletoe with these romantic holiday destinations
Violet Grey: 7 New Year Hangover Cures
Ring in the holidays wearing elegant Christmas jewelry
Groupon: Groupon's Most Wanted This Holiday Season
Make room under the tree for cash-saving Christmas fun
Oribe: 10 Holiday Tips for Your Salon
Macy's: Extra 20% off? Our After Christmas Sale is on!
This is your last chance to shop our sale
Merry Christmas Sale!
San Diego Chargers: Share the Joy, Bring a Toy To The Chargers Game
ProAudioStar: ProAudioStar Will Beat ANY Black Friday Price PLUS Give You 15% Off Your Next Purchase
Beat the holiday rush with tips for being a St. Nick in time
Bass Pro Shops: Save up to 25% on Santa's Toy Shop!
This is an Emergency
California Academy of Sciences: Unique Holiday Gifts for Everyone on Your List!
Zip through the holidays with our super-fast elf-checkout
Give yourself something you really want this Christmas
Friends of the Sea Otter: Adorable Sea Otter Gifts Available on Giving Tuesday
All good dogs and cats deserve stockings stuffed with goodies
Baby, it's cold outside, so warm up with our holiday gift ideas
These sizzling Christmas deals are hot enough to warm up Jack Frost
Allbirds: Need A Last Minute Gift?
Birchbox: Free Boxes. Ohh Yeah.
🎁Last call for early Christmas deals 25% off
🚗 Your Adventure Begins NOW
Kate Spade: Last day! 30% off everything with our Cyber Monday sale
🎄Tick tock. (early holiday up to 75% off )
Monoprice: 10% OFF Site-Wide + Shop Our Holiday Gift Guide!
Indulge in the joys of personalized holiday shopping
Food & Wine: 15 Thanksgiving Drinks to Start on While Cooking
🎄Christmas Sale 🎄 🎁
❄️ Price Freeze – Black Friday Deals Back
Be Santa Claus for your favorite paws with these pet treats
Too Faced: You're Welcome for the Best Christmas Gift Ever
Joss & Main: Jingle Belles: Gifts for her, best-selling bedding & more on sale today
Steve Madden: Cyber Tuesday – 50% Off Clearance!
Hollister: Up to 30% off last-minute gifts! Open now to get 'em by Christmas.
One Kings Lane: Gifts for everyone on your list
BevMo!: $20 Coupon! Save Big on Cyber Monday.
JetBlue: Up to 50% bonus – 'tis better to give AND receive!
Instacart: This week's forecast? Stress-free holiday grocery shopping!
Chubbies: Your Gift Card is Ready.
Wave at Santa's reindeer as they go flying by your plane window
Crate & Barrel: Happy New Year + free shipping
🎁 Gifts For Her Under $20!
You might want to hurry…
Deck the halls with unbelievable holiday savings
Get on Santa's nice list by getting in shape this year
De Beers: Find the Perfect Gift
Vacationist: Gobble Up These Deals!
Bath & Body Works: 1 DAY for this deal. 2 weeks 'til Christmas!
Happy New Year from [brand]
Everlane: Gifts The Won't Blow Your Budget
💫 Catch of the Day
Doll up your fur babies for the holidays with our pet grooming services
Thank you! 75% OFF for being an awesome customer
The Leukemia & Lymphoma Society: #GivingTuesday is today!
Super Christmas shopping savings put extra jingle in your pocket
You want and deserve the special secrets to Noel Nirvana
Rip Curl: 5 reasons you need a SearchGPS this Xmas
Dazzling Christmas discounts are our holiday gift to you
Bliss: Holiday Shopping Has Never Been So Easy.
Beautiful boots, bows and bells dress up the best holiday wardrobes
"Watch out for this cool surprise"
Guitar Center: 12 Deals of Christmas—Updated Daily
Turn your home into a holiday palace with dazzling home decor
Take your Christmas shopping over the finish line with time to spare
Steve Madden: If You Open One Email This Black Friday…
Wrap up super savings that keep your stocking stuffed
Even Santa shops our super-saver Christmas deals
Guitar Center: Alert: Cyber Monday Has Been Extended
Put the shine in your holidays with our sparkling ideas
Enjoy fantastic discounts on fabulous holiday fashions
A little (limited-time-only) present
Be an angel this year by giving heavenly holiday gifts
Mystery Tackle Box: Merry Christmas From Karl VonDibble (And Mystery Tackle Box)
Musician's Friend: St. Nick's here with two ways to save
Seafolly: All she wants for Christmas is S E A F O L L Y
Shein: Drop everything… Our Christmas sale is here
Dale Carnegie Training: Be Bold This Holiday Season with Powerful Conversations
Forever 21: New year, new jeans
Back in stock, so don't miss out
These Christmas decorating tips make Martha Stewart jealous
De Beers: There's still time…
Kick holiday stress to the curb with one-stop shopping for everyone on your list
The Marine Mammal Center: A Special Gift to Thank You for All You Do
Rapha: Cold weather riding essentials
Fabulous holiday fashion looks so good on you
Homestead Resort: Home for the Holidays at Homestead Resort
3D Moon Lamp 🎄: 50% OFF(7 Days Shipping)
25 % OFF + Christmas shopping deals
Utah Valley Massage Therapy: Last Minute Stocking Stuffer Ideas
"Hot freebie alert! Win [product] today"
Target: Pssst! Get the scoop on Black Friday
Cath Kidston: Tick tock | Last chance to order in time for Christmas!
Put joy in your world with post-holiday travel discounts around the globe
Let the holiday season begin by treating yourself to something special
Away: Free shipping on us for the holidays
Provisions by Food52: Gifting Made Easy: Free Shipping + Discounted Gift Cards + Our Best Picks
Celebrate Cyber Monday with deep discounts on all home decor
Waves Audio: Waves' Black Friday Sale Starts Now – Get a Free New Plugin
Conquer Christmas shopping while you ring up super savings
Ancestry.com: Save big for Cyber Monday – give the gift of family
KSL Deals: 14 Awesome Gift Ideas
The White Company: Order by tomorrow, get it for Christmas
Even more 💰 off – 75% OFF!!
Anthropologie: New year, new sale: 40% OFF Fresh Cuts!
SF-Marin Food Bank: Today is #GivingTuesday
Where would you love to ring in the holidays this year?
What are you really dreaming of this Christmas?
Backcountry.com: For the Person that Has Everything
GUIDE: How To Write A Great Subject Line
As we mentioned above, crafting a catchy subject line is critical to the performance of your email campaign.
While just a few words may seem like a small piece of your overall message, this is the first impression your audience will have before they decide whether to open your email.
If your subject line isn't engaging or appealing enough, there's a chance it could get buried in your reader's inbox.
Let's go over the proven tips on how to craft a subject line that boosts engagement:
What makes a great subject line?
First, let's discuss the fundamentals of creating a great subject line:
Spark interest and curiosity
A clear and urgent call to action
An offer/intriguing discount
Personalization (this can be done by sending out different versions of emails to subscribers based on their preferences)
Relevance - make sure your subject line covers the current trends and topics within your industry
5 Tips To Crafting a Great Subject Line
Now, let's dive into the specifics of how to create a great subject line for your next campaign:
1. Use a familiar sender name
Although this may seem obvious, it's a piece many marketers miss the ball on.
Your readers want to feel like your email is coming from a human and not a corporation or automated system.
One of the easiest and most effective ways to do this is by changing the sender's name to YOUR name or someone in the company that is well known.
Here's a great example of this from Marketing Examples

Pro Tip
Avoid the "no-reply" sender name at all costs. This makes your email feel unfamiliar, unapproachable, and less personable.
2. Keep your subject short and to the point
If your subject line is too long, it will get cut off, which could impact your reader's chances of opening your email.
The rule of thumb (for both mobile and desktop) is to keep your subject line under 50 characters.
3. Add personal touches to your subject line
If you have access to information about your subscriber (ie. name, location, etc), you can use this to benefit your subject line and catch your readers attention.
It's important not to go overboard here, but adding even the simplest touch such as their name can build trust and rapport.
Here's a great example of a personalized email + offer I received from BarkBox with my dog's name in the subject line: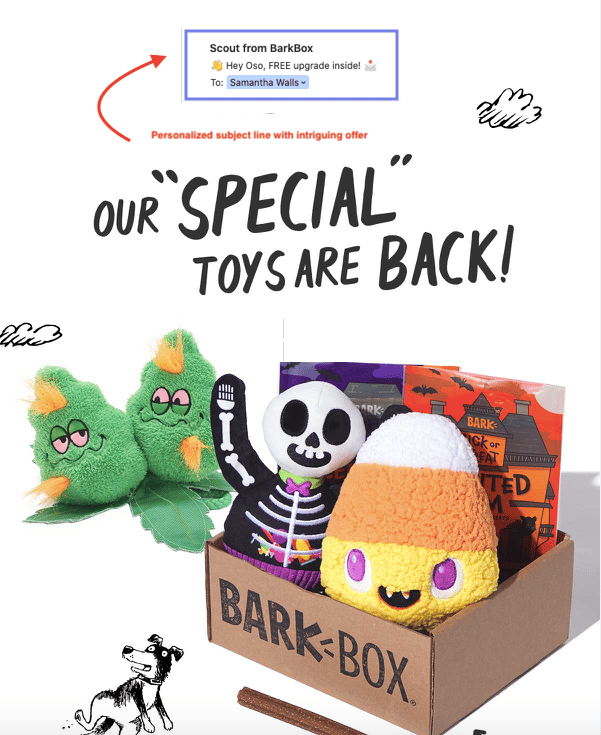 4. Avoid making any false promises
Your subject line makes a commitment to your reader, so it's important you don't stretch the truth just to simply get more opens and clicks.
In the grand scheme of things, making false promises will end up hurting your open rate as your readers will lose trust in you.
5. Give them a sneak peek of what's inside
Telling your subscriber what is inside helps with open and clicks.
For example, if you're providing your reader with a free guide or e-book, consider making your subject line something along the lines of:
"Your FREE marketing e-book awaits!"
Conclusion
If you want your email campaign to perform well, it all starts with your subject line.
Think about the emails you receive in your inbox and what makes you click vs what gets buried - odds are, the same habits go for your customer.
We hope you enjoyed our guide + list of 200+ giveaway email subject lines (that work!).
Want to start your own business?
Hey! 👋I'm Pat Walls, the founder of Starter Story.
We interview successful business owners and share the stories behind their business. By sharing these stories, we want to help you get started.
Interested in starting your own business? Join Starter Story Premium to get the greatest companion to starting and growing your business:
Connect + get advice from successful entrepreneurs
Step by step guides on how to start and grow
Exclusive and early access to the best case studies on the web
And much more!
PROMOTED
Did you know that brands using Klaviyo average a 95x ROI?
Email, SMS, and more — Klaviyo brings your marketing all together, fueling growth without burning through time and resources.
Deliver more relevant email and text messages — powered by your data. Klaviyo helps you turn one-time buyers into repeat customers with all the power of an enterprise solution and none of the complexity.
Join Brumate, Beardbrand, and the 265,000 other businesses using Klaviyo to grow their online sales.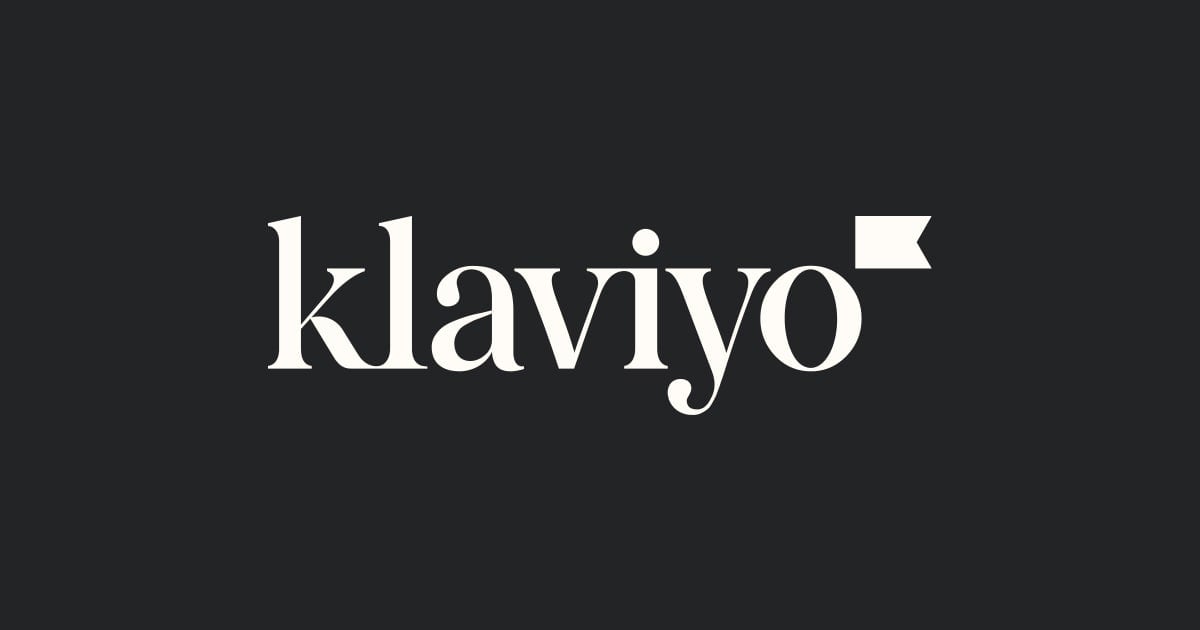 Companies using Klaviyo see a 95x ROI (yes, 95x)
Use Klaviyo to turn hard-earned customer data into hard-working emails and texts.
Try the platform that 265,000 brands use to grow their business.
Try it now (it's free) ➜