On Starting A Ghost Tours Business
On Starting A Ghost Tours Business
I'm Steve Chapman, founder of Salida Walking Tours and Buena Vista Walking Tours.
Our friendly, personable team of storytellers delivers a walking tour exploration of Salida, home to Colorado's largest National Historic District, and nearby Buena Vista.
With six different tours, we have something for every age and interest.
One of our most popular offerings is the family-friendly Ghost & Murder Tour, which explores the darker side of this quaint mountain town, including stories behind the many actively haunted buildings in the city. A close second is the adult version of this tour, the 21+ Boos Cruise Ghost & Murder & Party Tour. This tour is an NC-17 excursion filled with lots of gore and off-color jokes and two stops at local pubs for adult refreshments.
For history buffs, our Wild West History Tour is a favorite and our original tour. We also offer a tour of Cleora Cemetery, on the National Register of Historic Places, a History on Tap Tour (a 3-hour history tour with beer stops), and a Brewery Tour & Pub Crawl.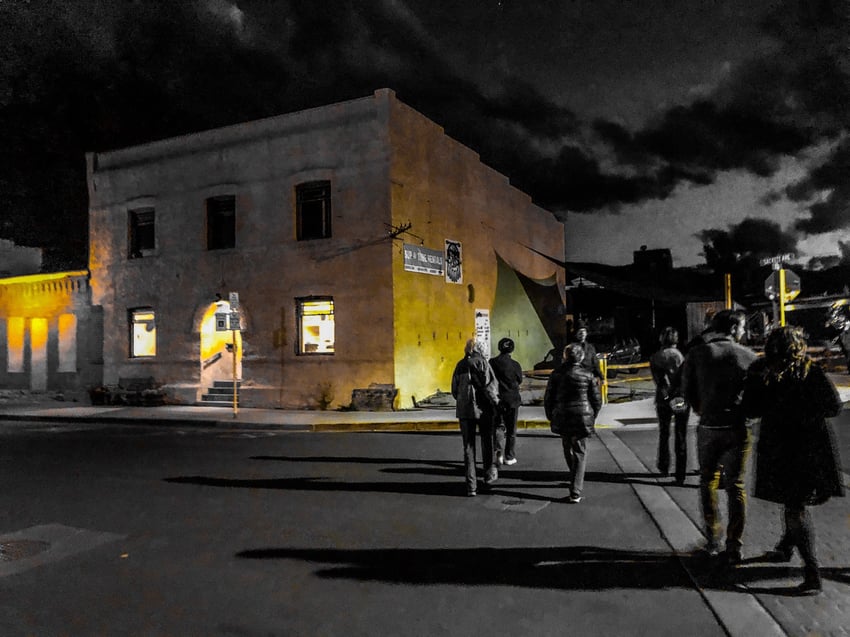 What's your backstory and how did you get into entrepreneurship?
I am a serial entrepreneur and own several other active businesses. The tour industry, however, I stumbled across by accident.
Be fearless about confronting your weaknesses and regularly evaluate your business as if you were your main competitor.
In April of 2018, I sold a marketing consulting firm that was operating in southeast Asia. Salida, Colorado, had long been home, but with so much time out of the country, I hadn't explored it in depth.
While pondering my next venture, I started researching the history of the 140-year-old town and became obsessed with the incredibly rich backstory. There are 136 original buildings in Salida, preserved from 1880-1910. I found unbelievable tales of lynchings and shootouts, many of which made national news, and I began wondering why no one offered tours of the area.
My background has always been behind-the-scenes in strategic marketing roles. The thought of being customer-facing and entertaining people was unsettling, but I pushed ahead because I saw an untapped niche.
After much exploration and research, I launched Salida Walking Tours in the summer of 2018. From the first offering, which I led, we've expanded into two cities and added three guides and five additional tours. We are also now writing books on local history, filming videos about the past for the county visitors bureau, and we created an award-winning radio segment. In 2019, that show won the Colorado Broadcasters Association award for Best Regularly Scheduled Entertainment Program in the small market division.
Take us through your entrepreneurial journey. How did you go from day 1 to today?
With a background in marketing, I had an advantage in launching this new company. But I had a tremendous amount to learn about performing as I had zero experience entertaining or dealing directly with customers.
I began by studying the art of impromptu acting and comedians, because they are masters of choosing the right word at the right time, and they perform what I call scripted impromptu. 90% may be pre-planned, but every performance is a unique creation.
Then, it was trial and error. We continuously re-evaluate tours, we break them down weekly and see what works and what doesn't, and there is endless work on social media and in developing local relationships and alliances.
How are you doing today and what does the future look like?
Pre-COVID lockdown, we were on pace for another record-breaking season. Like most businesses in tourist towns, we took a few steps backward and are regaining our footing.
Historically, our business relied on out-of-town visitors for the majority of bookings. We quickly realized that to survive this bizarre season, we needed to attract local guests and did a significant shift in our marketing to appeal to those who live in and near town.
For now, our goal is to make it through the 2020 season and re-evaluate over the winter. Things are picking up, but we're substantially under 2019 numbers and recognize that holding our ground is more important than previous expansion plans or exploring new markets.
Through starting the business, have you learned anything particularly helpful or advantageous?
One of the most significant learning curves for me in such a one-on-one business was the power of social media. It is a fickle platform and can tear you down as quickly as it can build you up.
We choose to look at this as a positive in that we recognize our success is always tenuous. In other words, we're only as good as the last tour and the latest review.
What platform/tools do you use for your business?
Salida Walking Tours is a heavy user of time-saving technology. One of our favorite tools is ReviewTec, which automates the collecting of social media reviews and has a dynamic reminder tool.
We have some of the highest response rates in our industry, which is reflective of our dedication to delivering quality tours as much as the technology is.
What have been the most influential books, podcasts, or other resources?
The walking tour business is a unique and highly specialized industry. From the outside, it appears simple--show up, talk, collect money. In reality, it's a very complicated business. We study performance arts, body language, the use of words, continuously research and rework scripts, and try to improve on the skills of impromptu speaking and performing.
Our business is performance art. We are in the entertainment business. While we deliver the show through historical facts and engaging true stories of ghosts and murders, we are performers and spend a lot of time watching artists, reading about the craft, and fine-tuning our shows.
Advice for other entrepreneurs who want to get started or are just starting out?
Research slowly and honestly. As a marketing consultant, I saw far too many people fall in love with their idea and become blind to economic and market realities. Yes, you need to have unwavering confidence, but that doesn't mean closing your eyes and praying.
Research, obtain feedback (particularly from customers--continuously), and don't be afraid to tweak or abandon an idea or product or service if it isn't performing. Be fearless about confronting your weaknesses and regularly evaluate your business as if you were your main competitor.
Where can we go to learn more?
-
Steve Chapman, Founder of Salida Walking Tours
Want to start your own business?
Hey! 👋I'm Pat Walls, the founder of Starter Story.
We interview successful business owners and share the stories behind their business. By sharing these stories, we want to help you get started.
Interested in starting your own business? Join Starter Story Premium to get the greatest companion to starting and growing your business:
Connect + get advice from successful entrepreneurs
Step by step guides on how to start and grow
Exclusive and early access to the best case studies on the web
And much more!