270+ Best Friday Email Subject Lines [2022]
•
Updated: January 20th, 2022
270+ Best Friday Email Subject Lines [2022]
If you're looking to boost your email open rates and increase sales, your email subject line is the first (and most important) step in achieving those goals.
Did you know that 33% of email recipients open emails because of an engaging subject line?
That's why it's critical to craft a catchy email subject line that will get you the traffic and conversions you deserve.
We've put together a list of 270+ best friday email subject lines [2022].
Some are proven examples from other successful campaigns, and some are creative ideas to inspire you.
Creative Email Subject Line Ideas
BOGO
Artifact Uprising: If you're going to open one email this weekend…
Groupon: Is It Black Friday Already?
Leap Frog: Black Friday Savings without the Big Crowds!
4 Days of 40% Off
Moo: This sale's too BIG for subject li–
Pssst… This Sale Is Secret
Tone It Up: BLACK FRIDAY #GOALS | SAVE NOW!
Monday MADNESS! Black Friday Countdown starts now…
Target: Pssst! Get the scoop on Black Friday
Surprise! 25% Off Sitewide
How Does FREE SHIPPING Sound?
20% off storewide* Black Friday Weekend Sale starts now!
Start that shopping list now!
J. Crew: The biggest, best, most amazing, OMG, beyond anything, ever, sale event. Starts now.
Ready to flex your power shopping muscles this Black Friday?
Forever 21: Mystery Sale — How Much Will You Save
Ready to Get Your ? Holiday Shopping ? On?
Etsy: To: the tech obsessed, from: you
Make The Most of These Black Friday Offers
Up to 70% Off. One Day Only.
Is it too late to save for Cyber Monday? ⏳ Definitely not!
Everlane: Skip The Sales. Make A Difference.
Finally! It's Black Friday – GO GO GO!
What Are You Doing? It's Almost Saturday!
Be The First To Shop Our Black Friday Deals
Only 2 Hours Left!
Your Exclusive Black Friday Sale Guide
Frank & Oak: Black Friday Event: 35 Shirts Under $35
Didn't Think It Could Get Any Better? Let's Throw In Free Shipping Too
BFCM Is Coming Early For You!
Early Black Friday Sale Starts NOW!
Is It Black Friday Yet?
We can't take it anymore! These Black Friday deals on electronics are too good!
Target: Black ✳ Friday ✳ Ad.
So … we went a bit crazy with our markdowns. Black Friday deals like never before!
Our BFCM Deal: 35% Off All Sale Items
This Is The Sale You've Been Waiting All Year For
Black Friday Weekend Sale – 40% Off Everything. What Are You Waiting For?
Adidas: ★ 50% OFF! Black Friday Drops Now ★
Trust Us, You'll Want To Open This Sale Email
Groupon: Black Friday is 100 Days Away….
Madewell: Kaitlin, don't stress: 25% off for Black Friday
Our Once-In-A-Year Sale Is Almost Over!
Browse sales 24 hours before everyone else!
Black Friday Sale – Huge Savings While Stocks Last!
Dollar Shave Club: Save money. Don't leave the couch.
Target: Yule love our electronics deals.
Save up to 70% this weekend
Up 50% Off Storewide? You Better Believe It
Celebrate Black Friday with Free Shipping!
40% Off & Free Shipping For One Day Only
Modcloth: What's on sale? Anything & everything.
Early Bird BFCM Discounts
We made an Oops! 👀 Cyber Monday BOGO 50% Off!
Black Friday Sale – 20% Off EVERYTHING 'til Midnight!
Black Friday | Free Shipping Start Now!
You're In For A Surprise With These Deals
Give Thanks (And Get An Extra 50% Off!)
Black Friday Countdown: 3 Hours Left
Free Gift With Every Order
📣 Black Friday is here. Spread the word.
Finish Line: Black Friday Doorbusters start now. Put down the drumstick.
This Is The Big One
Free Shipping Nation wide 🚢
50% Off, Free Shipping? It Must Be Black Friday
Don't Wait Until Next Year For A Deal Like This Again
Finish Line: Black Friday Doorbusters END TODAY. Snag 'em before it slams shut.
First Turkey, Then Great Dealss
Starts Now: 25% EVERYTHING
Buy 1, Get 1 Free
😱Black Friday is nearly over 😱
ProAudioStar: ProAudioStar Will Beat ANY Black Friday Price PLUS Give You 15% Off Your Next Purchase
Early Black Friday Sale! No Parking. No Lines. No Hassles.
Grab these Black Friday deals now!
⚡️ 25% Off EVERYTHING ⚡️ The Biggest Sale We've Ever Had
Get these Black Friday deals before they're gone!
Why Wait Until Black Friday? Access Our Sale Early!
Drop Everything! Our Sale Starts Now!
Your Early Access Code To Our Sale
SHIPPING INTERNATIONALLY? GET YOUR ORDER IN TODAY!
Hurry! Only a few hours left on our largest sale ever…
Rue La La: Ray-Ban, Burberry, & up to 80% off dresses. Oh yes we did.
It's Black Fri-Yay! 🎉
Target: ? The Black Friday Ad is here. Spread the word.
The Final Countdown Has Begun
Just 1 Week Until Black Friday
Last Chance to Save Up To 50% OFF
Newk's Eatery: How to Survive Black Friday
Still Not Enticed? How About We Throw In Free Shipping!
Don't walk. Run! 5 hours left to save big for Black Friday!
50% off select menswear
50% Off Black Friday Sale + FREE Shipping
Celebrate the Holiday Season with our Sale
How About 40% OFF?
Seriously, you don't want to miss these brands
Get 3 Free Months On A Yearly Subscription!
J. Crew Factory: Gifts they'll actually wear – ALL UNDER $35!
Black Friday Starts Now!
The Countdown Timer On Our Sale Is Ticking
You'll Want To Keep These Specials To Yourself
Your Invitation To Our Exclusive Black Friday Shop
Black Friday Alert. The Deals You Have Been Waiting For Inside!
Now that the Turkey is out of the way, it's time to SAVE
Williams-Sonoma: ? Look Inside for a SWEET Surprise + The Great ❽ for BLACK FRIDAY!
Black Friday Deals EXTENDED Through Sunday!
Don't Forget: Black Friday Sale 30% Off!
Deals like these are not going to last. Black Friday ends soon
Say Goodbye to Shipping Fees this Black Friday
🚨 All Purchases This Black Friday Ship Free 🚨
L'Occitane: Beauty You've Had Your 👀 on, Now with $20 OFF!
Just 6 Hours Left To Grab A Great Bargain
Self Publishing School: Black Friday deal for people who like sleeping in…
Get amazing deals now!
Free Shipping. Check. Up to 50% Off. Check. Black Friday. Check.
INSIDE: Our Black Friday Offer
Last Call On Our Black Friday Sale
BOGO – Buy One, Get One 🎁 Cyber Monday Deal
SunWarrior: Black Friday Sneak Peek Inside ?
Your Early Black Friday Offer
What's Better Than 50% Off? 50% Off + FREE SHIPPING
Sale Sneak Peek 👀
💣 💥 BLACK FRIDAY Big Brand Sale 🔛 👀
★ Black Friday Sale 30% Off + Doorbusters!
United by Blue: This is Not a Sale. It's a Celebration.
Buy 1 Get A Second 70% Off
Hey, Night Owls. Cyber Monday Ends at Midnight!
Rise & Shine…Black Friday Deals Are Here
Get a free gift
50% OFF or Free Shipping (YOUR CHOICE) ☺️
Dr. Axe: $10, $20, $3Which will you pick?
Nokia: Black Friday offers: be the first to know
All protein powders at ½ price
⚫ 50. 70. 90% off. No, we're not kidding
Just 48 hours left until your favorite ? Friday ?
Take 30% OFF
Don't break the bank this Black Friday
Quirky: Don't wait 'til tomorrow! Take up to 50% off our most popular inventions right now
3-Day Black Friday! Get our amazing deals now!
Free in-store goodies for the first 50 Black Friday shoppers!
Black Friday Countdown. 6 Hours left to grab today's offer!
Early Black Friday Access – Up to 79% Off
Unbelievable bargains this Black Friday!
Reminder: Black Friday 40% OFF! is closing 🔥
Let's Celebrate The Holiday Season With Free Shipping!
Save 40%
Can you keep a secret, Sam? VIP access to Cyber Week sales!
Shein: Be the First to Shop Black Friday Sets! 60% Off Everything!
It's Finally Here! Black Friday Sale Starts Now
Miss Selfridge: Stop EVERYTHING! Up to 50% off ALL Dresses 🚨👗
Loft: Stop what you're doing.
Clock's Ticking On Our Sale ⏰
Get our amazing deals now! – 25% OFF
$10 Flat Shipping Nation Wide!
Our Black Friday Deal? 20% Off Everything!
Black Friday Preview Event – Buy More Save More!
Your Black Friday Survival Guide
Petco: Up to 65% off site wide – you're not dreaming ?
Etsy: Here's a different way to save today
Aldo: Black Friday Early Access: 50% Off Select Styles (Today Only) + Free Shipping
FREE SHIPPING: It's How We Do BFCM
Up to 75% off all appliances for the next 48 hours only!
west elm: 💡 THIS SALE IS LIT 💡 20% off all lighting
Happy Thanksgiving!
The Holiday Season Is Coming Early
Few hours left for BOGO!? 👀
The countdown to Black Friday is now on!
Hollister: Your favorite jeans are 20% off 🙌
FOMBF: Fear of Missing Black Friday
Franklin Juice Co.: Closed for Thanksgiving, Back on Black!
Don't Forget: Black Friday Sale 40% Off
Buy one get 50% off
Early Black Friday Sale Starts Tomorrow. Save Up to 70%
Aveda: Your Black Friday Treat'
Only for You, Sara: An Early Access Pass to Our Cyber Monday Sales
Are You Ready for Our Pre-Black Friday Sale?
50–75% off all children's toys for the next 3 hours
A Special Offer For Supporters – Free Shipping on The Man Behind the Maps!
Black Friday Warning: $9.99 Deals Selling Out Quick!
There's Only An Hour Left On The Sale Countdown Timer
We're Down To The Last Few Hours Left On Our Sale
Yes, It's Here: Our First HUGE Deal Of Black Friday!
Get Ready For The Biggest Sale We've Ever Had
Shop
Psst … 25 Black Friday Sales You Must See to Believe ?
Just 5 Hours Left On Your Sale
It's that time of year again…
Expires at Midnight – Exclusive Thanksgiving Offer!
Sephora: Get your Black Friday game face on ?
★ FREE SHIPPING! Black Friday Drops Now ★
Crate & Barrel: Exclusive Black Friday sneak peek. Save up to 30% off.
Black Friday Starts Now (40% Off Everything!)
TGI Black Friday
Get Prepared for Black Friday
Shop SMALL & Save 30% 💕💕
Don't Miss Out On These Great Deals
Black Friday Mystery Sale
VIP Discount
December Newsletter & 25% OFF Coupons
Aerie: 50% off a bra that feels good. It's REAL.
Best Offer
Black Friday Starts Early For You
24 Hours. 24% Off Store Wide
Ervine: Enjoy a stress-free holiday season with great gifts, extended returns and more –
TopMan: ?Better Than Their Deals☝️
Thanksgiving Done. Now It's Time For Shopping
‼️FLASH SALE ‼️ Save on your order…
Still Up? Good. Black Friday Is On!
📣 Target Hot Black Friday Deals & More
STARTS NOW: 50% Off Black Friday Sale + FREE Shipping
Our Trending Gifts
Exclusive Black Friday Deals Sneak Peek
This BFCM Is Going To Be UNREAL
✨ 🛍️ BLACK FRIDAY DEALS! 🛍️
Get Our Amazing Deals Now!
Save up to 40%! Black Friday Sale Now Live!
Take A Sneak Peek At Our Deals
BFCM Deals: Be The First To Know
50% OFF Entire Store
ACT NOW: Only 2 Hours Remaining On The Biggest Sale Ever!
Don't start without looking at these Black Friday deals
Get a sneak peek at our Black Friday sale
40% Off. Free Shipping. It Must Be Black Friday.
We're Starting Black Friday By Offer Free Shipping! No Minimum Spend!
Don't miss out: Final hours to save big!
It's Cyber Monday! Get a free Premium Travel Case
Black Friday Weekend starts now!
Rent the Runway: Our Black Friday offer is…
Target: Wow oh wow! It's our Black Friday ad + today-only deals.
Black Friday Sale Starts… NOW!
Have you seen our deals on Gucci, Prada, and Chanel?
40% Off Store Wide + Free Shipping = Our Best Deal Ever
The Perfect Ski Gift – Free Shipping on The Man Behind the Maps!
No More Shipping Fees This Weekend Only
Special day
Doors open at 8 a.m.
Our Best Deal Ever: Up to 72% Off!
THE ICONIC: The sale's on SALE! 😱
The Sun's About To Set On These Deals!
Overstock: We're Bringing Black Friday To You! Shop Our HUGE Deals Now!
Stop What You're Doing! The Sale Is Almost Over!
This Is A Once-In-A-Year Sale-Don't Miss It!
Ulta Beauty: Best. Black Friday. Ever. Just got even better!
White Plum: What's Better Than Black Friday Deals? – FREE SHIPPING.
J. Crew Factory: ANYONE UP? BLACK FRIDAY is on…
Blink & You'll Miss It
Black Friday Door Busters Ending Soon!
Nordstrom: Why wait? Save now.
Our Black Friday Deal Have Arrived
Discover Card: Earn cash back on Black Friday & Cyber Monday
25% OFF STOREWIDE
Don't Miss Out! Sale Ends In 1 Hour!
Get. In. Here. Now. The Black Friday Sale Has Arrived!
Get an exclusive sneak peek at our Black Friday sales
Black Friday Sale – The Offers You've Been Waiting For
Buy 2 Or More & Get 60% Off All
The Top Gifts This BFCM Weekend
Amazon: Shop a full week of Black Friday deals!
These Are The Deals You've Been Waiting For
Get Your Black Friday Shopping Shipped Free
Barnes & Noble: Take a Break from Black Friday Shopping
We've Began Our Countdown To Black Friday
Who Still Charges For Shipping? We Don't!
Your Black Friday Treat
Look Inside for some Sweet Deals
Buy 2 Get 1 Free This BFCM Weekend
Kate Spade: open to see our top picks of sale
You'll regret not taking advantage of these offers…
Better Than Their Deals
OMG, The biggest sale ever!
GUIDE: How To Write A Great Subject Line
As we mentioned above, crafting a catchy subject line is critical to the performance of your email campaign.
While just a few words may seem like a small piece of your overall message, this is the first impression your audience will have before they decide whether to open your email.
If your subject line isn't engaging or appealing enough, there's a chance it could get buried in your reader's inbox.
Let's go over the proven tips on how to craft a subject line that boosts engagement:
What makes a great subject line?
First, let's discuss the fundamentals of creating a great subject line:
Spark interest and curiosity
A clear and urgent call to action
An offer/intriguing discount
Personalization (this can be done by sending out different versions of emails to subscribers based on their preferences)
Relevance - make sure your subject line covers the current trends and topics within your industry
5 Tips To Crafting a Great Subject Line
Now, let's dive into the specifics of how to create a great subject line for your next campaign:
1. Use a familiar sender name
Although this may seem obvious, it's a piece many marketers miss the ball on.
Your readers want to feel like your email is coming from a human and not a corporation or automated system.
One of the easiest and most effective ways to do this is by changing the sender's name to YOUR name or someone in the company that is well known.
Here's a great example of this from Marketing Examples

Pro Tip
Avoid the "no-reply" sender name at all costs. This makes your email feel unfamiliar, unapproachable, and less personable.
2. Keep your subject short and to the point
If your subject line is too long, it will get cut off, which could impact your reader's chances of opening your email.
The rule of thumb (for both mobile and desktop) is to keep your subject line under 50 characters.
3. Add personal touches to your subject line
If you have access to information about your subscriber (ie. name, location, etc), you can use this to benefit your subject line and catch your readers attention.
It's important not to go overboard here, but adding even the simplest touch such as their name can build trust and rapport.
Here's a great example of a personalized email + offer I received from BarkBox with my dog's name in the subject line: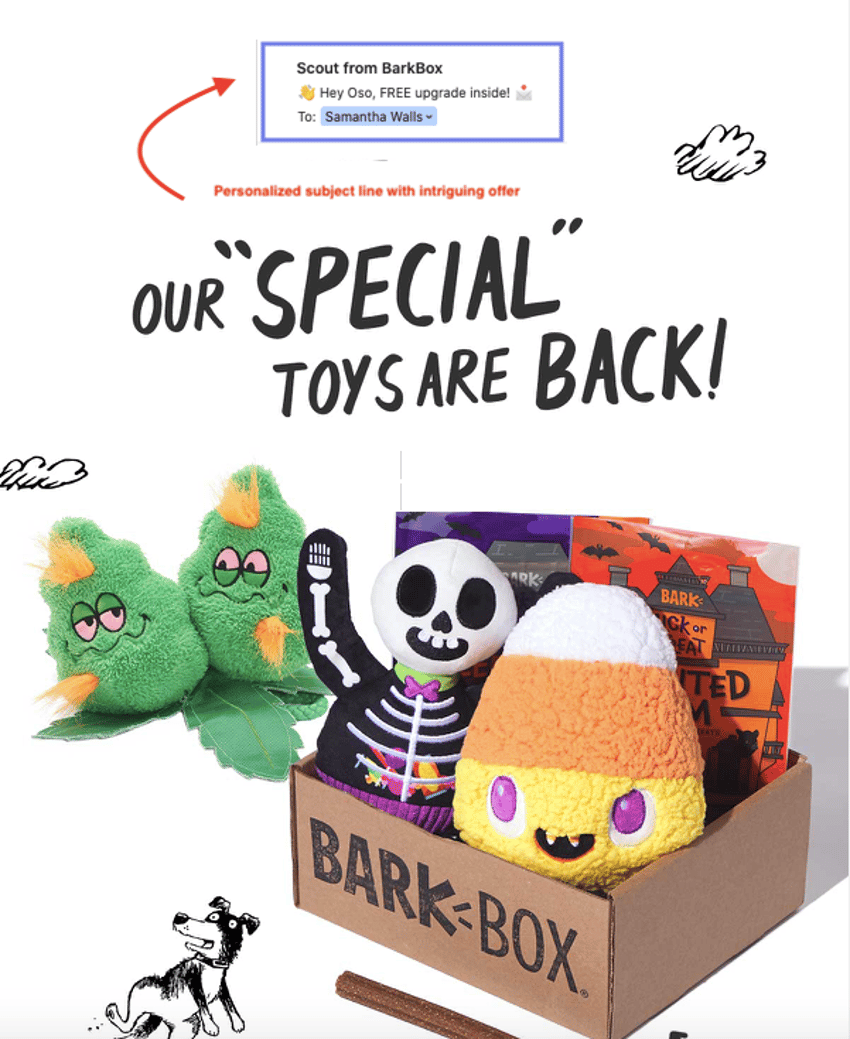 4. Avoid making any false promises
Your subject line makes a commitment to your reader, so it's important you don't stretch the truth just to simply get more opens and clicks.
In the grand scheme of things, making false promises will end up hurting your open rate as your readers will lose trust in you.
5. Give them a sneak peek of what's inside
Telling your subscriber what is inside helps with open and clicks.
For example, if you're providing your reader with a free guide or e-book, consider making your subject line something along the lines of:
"Your FREE marketing e-book awaits!"
Conclusion
If you want your email campaign to perform well, it all starts with your subject line.
Think about the emails you receive in your inbox and what makes you click vs what gets buried - odds are, the same habits go for your customer.
We hope you enjoyed our guide + list of 270+ best friday email subject lines [2022].
Want to find more ideas that make money?
Hey! 👋 I'm Pat Walls, the founder of Starter Story.
Get our 5-minute email newsletter packed with business ideas and money-making opportunities, backed by real-life case studies.