Thank you Klaviyo for sponsoring Starter Story ❤️
Turn one-time buyers into repeat customers. Try the platform loved by 265,000 brands
324+ Creative Fashion & Beauty Email Subject Lines [2022]
•
Updated: January 20th, 2022
324+ Creative Fashion & Beauty Email Subject Lines [2022]
If you're looking to boost your email open rates and increase sales, your email subject line is the first (and most important) step in achieving those goals.
Did you know that 33% of email recipients open emails because of an engaging subject line?
That's why it's critical to craft a catchy email subject line that will get you the traffic and conversions you deserve.
We've put together a list of 324+ creative fashion & beauty email subject lines [2022].
Some are proven examples from other successful campaigns, and some are creative ideas to inspire you.
Creative Email Subject Line Ideas
The stock's running out
Find Your Fave – Vans
Get free cosmetics today itself
Wearable memories start with details – Tommy Hilfiger
theBalm Cosmetics: Welcome to #THEBALMERS community!
Up to 60 percent off on your beauty products
The 7 items on our winter wishlist – Whistles
See the best cosmetic deals on our website
Steve Madden: Take our shoe stylists' word for it
The wedding gown that everybody wants
JustFab: Your FREE money is waiting. We put $30 in your account.
J.Crew: The shorts circuit
ACT NOW: 30% OFF Spring Essentials (Plus Everything Else!) – US Polo Assn.
Go green in 2019 with a new cosmetic collection
Pura Vida: Save the Amazon Rainforest!
Pura Vida: Special offer (but only for our BFFs)
Get inspiration to shop celebrity clothes
Friday deal: up to 70 percent off on cosmetics
How to shop clothes online?
Make a choice that makes a difference to our oceans – Adidas
A fashion clothes and footwear ultimate guide
You almost missed out this fashion sale
Enjoy your birthday. Get your free cosmetic basket
make your tan lines worth it this summer – Chubbies
<New product> is selling like hot cakes
You are the part of our squad
Michael Kors: FOOD IS LOVE: Help Us Watch Hunger Stop
Alice & Olivia: Hot date? We've got you.
ATTN: This pack will DEFINITELY sell out
Now's the perfect time for that new winter look. – Paul Fredrick
Meet your new cosmetics collection
Style secrets you can master in under 10 minutes
Giving > Getting
Howdie! Your faves are back in stock
Tonight only: Your wish list items on sale
Nike: Good stuff in your cart…checking out > missing out
Are You Geared Up For Summer? – O'Neill
Tell me it's spring without telling me it's spring – Lululemon
Massage therapy for 101 for athletes. Grab today
Don't buy from us…
Kate Spade: You're getting sleepy…
Meundies: Well, this is exciting!
Steve Madden: TORNADO warning
You've still got time
Going Coastal – Travis Mathew
New sunscreen lotions. New sunscreen creams
Mango: LAST FEW HOURS to enjoy 30% off the entire collection!
Superstar gets a spring update 😎 – Adidas
When was the last time you gift yourself?
Winter Is Coming 😱 – Culture Kings
Reduce stress with these DIY treatments
Weekend trend: utilitarian edge – Trunk Club
Gifts for everyone on your list
One more chance to get up to 50 percent off
J.Crew: What Adam Scott thinks of our suits
Yep, they'll wear this ALLLL summer long! – carter's
Anthropologie: Let us per-SUEDE you.
5 hydrating and healthy moisturizers
Is THIS what you've been waiting for?
Saying goodbye is the toughest
You earned what's INSIDE this email
Summer Awaits ☀️ No, You're Not Dreaming… – boohoo
Thank you to open our mail
Estée Lauder Online: Why's everyone obsessed with retinol?
Make your skin beautiful with these creams
EXTRA 25% OFF*. YES to all of this 👀 – General Pants
Sephora: Your beauty issues solved
Bright, beautiful Summer Blue – Frank & Eileen
Age-defying beauty tricks
Nancy, check out these hand-picked lip shades
DSW: Reviewers have spoken: "BEST BOOTIE EVER!"
Wanna know a secret? Open this mail
How to treat sunburn with our cosmetics
⚡ Mystery Deal Flash Sale! ⚡ – Talbots
Revolve Tomorrow's outfit forecast
That Swimsuit You Wanted Is On Sale! – Bare Necessities
The fashion is timeless but the sale is not
Get these fashion clothes before they are gone
What to wear for the New Year's bash
Increase your appreciation in 2 minutes
Party is over but the sale is not.
UNIQLO: Get it before it's gone
Thousands of style in jewellery, shoes and clothes
Summer: Incoming ⛱️ – boohoo
Yes! Free gifts with purchase – Nordstrom
STYLE REMIX. WINTER WRAPS. – Witchery
We have just added new trendy jewellery collection online
TwoThirds: Meet our unique pieces!
Sign up to get notifications of latest cosmetic collection
Get Ready For Winter ❄️ – City Beach
The New In You Need To See – boohoo
Your dream fashion clothes online store
Hot new summer arrivals only for you
New hair style cosmetics inside
Stay in our list. Follow us on Facebook
Deals for your beautiful and fresh look
Baby, it's baccccck!
It's your birthday! Get 30% off, a FREE gift and free shipping.
Huckberry: "Want" — everyone
Totally impressed: thanks for shopping with us
Manage the beauty of your skin
You've ONE day left: FREE shipping +20% off
Shop new limited fashion trousers
🌸 FLORAL DRESSES | Starting At $8 🌸 – Tobi
We just received new stock of fashion clothes
Did we tell you that…
Transitioning To Summer – Rebecca Taylor
Impressed by items in your card: Buy 'em before they're gone
Spring comfort made easy. – Orvis
Treat yourself in style
Your summer wardrobe made easy – FRAME
Birchbox: We've got some ideas for you.
Choose or lose: Free gift worth up to $200
It is how we treated you. Open your email
Nykaa: You snooze, you lose.
Last chance to grab make up for your face
👉 Your Weekly Personalized Styles – Zumiez
Look how's your friend dressing sense!
Your First Pair Risk Free – Knix Wear
Victoria's Secret: 60% off bras & apparels, in stores only! GO, GO, GO!
FIRST time ever on sale
We've Got IV Reasons to be Excited About Tomorrow – Reebok
We Know Sports Bras – Title Nine
Final reminder to shop your beauty products
Your foot will say thank you. Log in and shop for new style footwear.
Our Ultimate Winter Cops ❄️ – Culture Kings
Get your beauty make up in your first click
UH-oh. Your fav styles are (almost) gone
We Know What Your Closet Needs – boohoo
100s of 5-star reviews can't be wrong… – Express
Our online fashion store will say thanks
This Shirt? – Ben Sherman
You're one click away from shopping complete spring look
Let's Keep This Shorts – Bestseller
Work pants packed with lightweight tech.​ – Timberland
Shop now and save big
The North Face: 5 jackets that will have everyone saying…where'd you get them from!
5 things to remember for your skin
The season's best duo: a dress and sandals – Nordstrom
Seema, Earn triple points today
Hydrating moisturizers for your hands
200 minutes of free online shopping begins now
Did you know that we are here only for you
160 New Styles Added Online – HUGO BOSS
New cosmetics are available on order.
Our top 10 at 10% off for the next 24 hours
100 reasons to join us in your beauty campaign
Get a head start with this winter.
Dropps: Get 15% off, but move quick.
Fall 2021 Ready-To-Wear Show: From Shanghai, With Love – Dior
Your favorite shirt has a new secret… – Chico's
Peaceful in Pink Ginger – Knix Wear
Pura Vida: Happy birthday to us (gifts for you!)
UNIQLO: TICK TOCK! Free shipping ends tonight
Don't miss out sale and extra discounts on online fashion store
calling all hopeless romantics 💕 – Red Dress Boutique
My favorite fashion jewellery of all the time
Free code inside! Just login and shop
Olay: Over 50 million sold ❤️
A sunny chance for romance ☀️ – Free People
Jeans, dresses, tees and everything on sale
The Autumn/Winter 2021 menswear pre-collection – Alexander McQueen
Alice & Olivia: LAST.DAY.DROP.EVERYTHING.
Stop buying from us?
Free worldwide shipping. New launch fashion clothes
This is personal…
Save $100 now. Buy more, save more. – Brooks Brothers
We're just as ready for summer as you are… – Free People
Nicole Miller: Button me up, Button me down.
Isha, try our new skin and hair products
Hmm…..what's this? You can't do this to us
Free bag of fashion jewellery
We Got Your Back 😘 – Charlotte Russe
Do you want to see something special?
Want To Win a $500 CK Voucher? 💸 – Culture Kings
Sorel: Meet our exclusive Frozen 2 boots✨
Your inside look in your wardrobe
First look – Women's Fall/Winter 2021 – Acne Studios
Your complexion will feel like velvet
Free coupon inside for your eyes
Brighten up your look with Pastel Pack – Adidas
Blink and you will regret later
Weekend is almost over. Shop for free
Perfect Outfits For Any Zoom Meeting! – dressbarn
Got a sec? Open this email right away, or…
🌴 Fresh Finds – Tillys
Anthropologie: Just for you: the inside scoop
Your winter break packing list is HERE!
Top Styles of the Week – Forever 21
How to dress for your wedding?
Hurry! Open for your exclusive treat! – Sheln
Sephora: Because you need these.
You are invited- up to 20 percent off on beauty products.
We are back. Your cosmetics are in stock
Tonight only- Free make up kit
Those cute dresses you've been eyeing? They're 50% off (and ship free!) – LOFT
Pass on these savings and discounts
Purple, anyone? – Stadium Goods
Spring Essential: Our Softest Tees – Banana Republic
Thanks for shopping with us
Olay: Get it before it's gone!🎁
Beauty issues solved. Up to 80 percent off on cosmetics
Join us on safari – Boden
Add a splash of color with summer new arrivals – Scotch & Soda
Read this mail or you will loose
Your login account is almost free
Support sustainability with the new Emporio Armani capsule collection – Emporio Armani
Make space in your wardrobe for limited edition clothes
Not even in your wildest dreams would…
Don't just take our words. Visit online fashion store
New launches inside
Luxury living with style
Soft and sultry springtime intimates ✨ – Free People
Are you looking for online fashion store?
Paint options and free delivery
Marc Jacobs: New to sale and going fast
Be a VIP in the city of cosmetics and explore the parlour
Relax in Style – Citizens of Humanity
you've never seen CHIC like this – Revolve
Jimmy Choo: Dreams are made up of these + complimentary global shipping
It's between you and us ONLY
LAST chance to save up to $55
💦 Make a SPLASH in these! – carter's
Michael Kors: Give us an inch…
Bring Out Your Winter Wardrobe! – Myntra
2 days only. Up to 60 percent off on our all products
4 secret tactics for your beautiful skin
SALE: 25% OFF – Rent the Runway
Add these OBEY graphics to 🛒 ASAP – PacSun
The footwear edit is here 👟 – The Iconic
DSW: Find out how you can make a difference.
Revolve: Say goodbye to 65% off 👋
Online fashion store sale. Be there online
Your overall new favorite look 😉 – Free People
LIMITED-time offer on items on your wishlist
These tops are 100 percent gone forever
Spring's favorite fabric – Frank & Eileen
It's true…these will look dapper on you
Really great. Our online fashion store
Final call to take care of your skin and hair
Our 3 reviews on your old wardrobe
Break these five rules of old fashion
Adidas: You're in. Welcome to Adidas
stylish maternity and postpartum basics – Spearmint Ventures
Buy one New year gown and get another free
Nykaa: These will sell out in 3…2..⏳
We are waiting for your next order.
Our birthday treat = gifts for you!
OMG! 😍 These are the prettiest sandals! 🙌👡 From $12.99 – Rainbow Shops
FINAL HOURS for Midnight Madness: Up to 80% off! – Men's Wearhouse
Free samples for your face and body
Free limited edition discount coupon.
Save this week on lip balm and face powder
Up to 70% off —> Picks for brighter days ahead – Gap
Just $499 for your entire wedding shopping
Absolute must have in your make up kit
This week. 30 percent off exclusively on fashion boots
Fabric of the Season: Linen – Banana Republic
Nightwear clothing accessories sale ending tomorrow
Say goodbye to 20% Off $65 👋 – Forever 21
Limited edition: All new fashion clothes
We want to hear from you
What Offer Will You Get❓ – boohoo
Discover Our New Dream Angels Collection – Victoria's Secret
You have to see what's there on online fashion store
✨ OUTLET SALE – SAVE UP TO 85% OFF ✨ – Zumiez
Meet your favorite celebrity and shop online free
Weekend sale. Cosmetics that you want to buy
CLEARANCE SPECIALS: Up to 80% OFF. – Jos. A. Bank Clothiers
Call to action for your best cosmetic deal
A new cream that you want to buy
Hundreds of new cosmetics added today
9 types of free facial masks.
Wanted young and spot less skin? Free coupon inside
❗ LAST CHANCE to Unlock Your Mystery Offer ❗ – Ashley Stewart
Ritesh, Start your week with 45 percent off on cosmetics
J.Crew: We don't do this (MAJOR) sale too often…
Free shipping farmhouse finds – Jane
FINAL DAYS ⏰ Your Mystery Discount ends soon! – City Beach
Give only 1 minute to get your favorite cosmetics
Warehouse sale. Last chance. Grab
You DESERVE this
What's up, shorties? – Hollister Co.
Ends today: 4 Pre thanks giving gifts of fashionable clothes
Luxury cosmetic brands are waiting for you
And the color of the season is. . . – Todd Snyder
Revolve: This collab was made for you
Treat mosquito bites and heat rashes with hot selling product
Sorel: These stunners are selling out fast
For your eyes only, because you wanted it
Your beauty treatment is on us
For hanging poolside – United By Blue
No need to break your bank balance.
Customers can't get enough of the stuff
Hot discounts and free coupons on Lipsticks
Live with fashion, wear fashion and speak fashion
Pack light and bright – Trunk Club
Before you regret not buying your favs
A match made in heaven (+ it ships FREE) – Lou & Grey
Say goodbye to old fashion style
Free 444 day shipping. Shop and get best deals
Shop Our Winter Warm-Up Collection – Original Penguin
We don't want to stress you out but the sale is still on
Ends today- shop today or regret later
ATTN: Free Shipping – boohoo
Bestseller in a new color – Pendleton
Celebrate bumper sale on cosmetics.
New Collection | Summer is Calling – Lacoste
Float into spring in swim 🏊‍♀️ – ModCloth
Sshh…you're the FIRST ONE to be seeing this
MEET CELESTE. OUR WHITE SHIRT CAMPAIGN AMBASSADOR – Witchery
Beyonce-approved autumn wear you can't say no to
Too busy to read this email?
Patagonia: School lunch made easy
Offer expires tonight
Chic style for wherever you go – Nike
Sweet launch discount (for members only!)
ENDS TOMORROW: Can't-miss deals from $9.90 – Uniqlo
Three for three make up kits
Knits to Love – Bardot
4 practices for beauty and glowing skin
Good news inside. Big discounts and great offers
5 tips to inspire your next visit to our online fashion store
COLOUR THE WORLD – P.E. Nation
GUIDE: How To Write A Great Subject Line
As we mentioned above, crafting a catchy subject line is critical to the performance of your email campaign.
While just a few words may seem like a small piece of your overall message, this is the first impression your audience will have before they decide whether to open your email.
If your subject line isn't engaging or appealing enough, there's a chance it could get buried in your reader's inbox.
Let's go over the proven tips on how to craft a subject line that boosts engagement:
What makes a great subject line?
First, let's discuss the fundamentals of creating a great subject line:
Spark interest and curiosity
A clear and urgent call to action
An offer/intriguing discount
Personalization (this can be done by sending out different versions of emails to subscribers based on their preferences)
Relevance - make sure your subject line covers the current trends and topics within your industry
5 Tips To Crafting a Great Subject Line
Now, let's dive into the specifics of how to create a great subject line for your next campaign:
1. Use a familiar sender name
Although this may seem obvious, it's a piece many marketers miss the ball on.
Your readers want to feel like your email is coming from a human and not a corporation or automated system.
One of the easiest and most effective ways to do this is by changing the sender's name to YOUR name or someone in the company that is well known.
Here's a great example of this from Marketing Examples

Pro Tip
Avoid the "no-reply" sender name at all costs. This makes your email feel unfamiliar, unapproachable, and less personable.
2. Keep your subject short and to the point
If your subject line is too long, it will get cut off, which could impact your reader's chances of opening your email.
The rule of thumb (for both mobile and desktop) is to keep your subject line under 50 characters.
3. Add personal touches to your subject line
If you have access to information about your subscriber (ie. name, location, etc), you can use this to benefit your subject line and catch your readers attention.
It's important not to go overboard here, but adding even the simplest touch such as their name can build trust and rapport.
Here's a great example of a personalized email + offer I received from BarkBox with my dog's name in the subject line: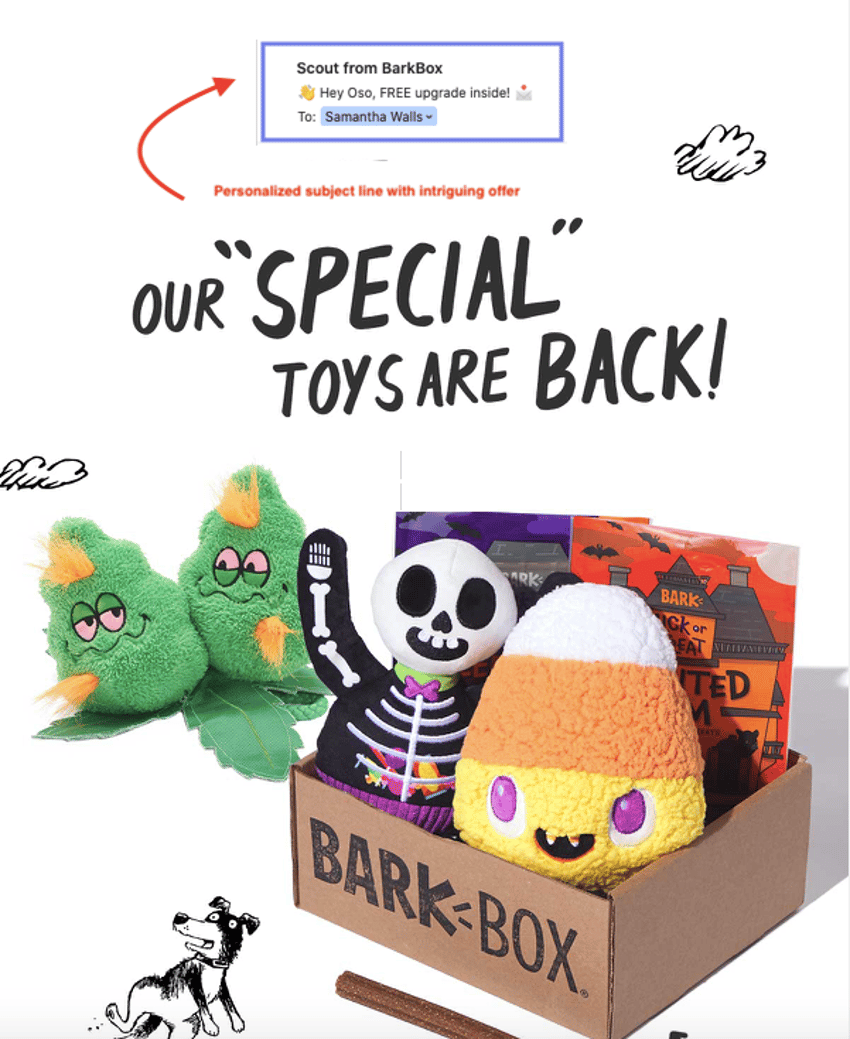 4. Avoid making any false promises
Your subject line makes a commitment to your reader, so it's important you don't stretch the truth just to simply get more opens and clicks.
In the grand scheme of things, making false promises will end up hurting your open rate as your readers will lose trust in you.
5. Give them a sneak peek of what's inside
Telling your subscriber what is inside helps with open and clicks.
For example, if you're providing your reader with a free guide or e-book, consider making your subject line something along the lines of:
"Your FREE marketing e-book awaits!"
Conclusion
If you want your email campaign to perform well, it all starts with your subject line.
Think about the emails you receive in your inbox and what makes you click vs what gets buried - odds are, the same habits go for your customer.
We hope you enjoyed our guide + list of 324+ creative fashion & beauty email subject lines [2022].
Want to start your own business?
Hey! 👋I'm Pat Walls, the founder of Starter Story.
We interview successful business owners and share the stories behind their business. By sharing these stories, we want to help you get started.
Interested in starting your own business? Join Starter Story Premium to get the greatest companion to starting and growing your business:
Connect + get advice from successful entrepreneurs
Step by step guides on how to start and grow
Exclusive and early access to the best case studies on the web
And much more!
PROMOTED
Did you know that brands using Klaviyo average a 95x ROI?
Email, SMS, and more — Klaviyo brings your marketing all together, fueling growth without burning through time and resources.
Deliver more relevant email and text messages — powered by your data. Klaviyo helps you turn one-time buyers into repeat customers with all the power of an enterprise solution and none of the complexity.
Join Brumate, Beardbrand, and the 265,000 other businesses using Klaviyo to grow their online sales.
Companies using Klaviyo see a 95x ROI (yes, 95x)
Use Klaviyo to turn hard-earned customer data into hard-working emails and texts.
Try the platform that 265,000 brands use to grow their business.
Try it now (it's free) ➜