Thank you Klaviyo for sponsoring Starter Story ❤️
Turn one-time buyers into repeat customers. Try the platform loved by 265,000 brands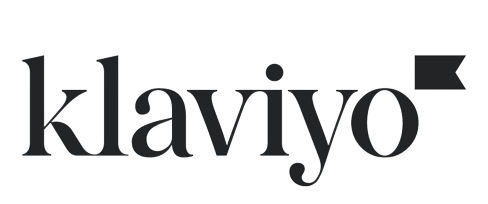 How We Published 135 Interviews With Startups Using A Gmail Extension
•
Updated: March 17th, 2022
How We Published 135 Interviews With Startups Using A Gmail Extension
Hello, who are you and what business do you run?
My name is Rich and I run a website called Failory as my side hustle.
Failory is a content site for entrepreneurs & startup founders where we weekly publish interviews with failed and successful startup founders, blog articles related to entrepreneurship, analyses on why have specific companies shut down and, in the upcoming months, a podcast.
I started the site 2 years ago and have grown it to +$1,600/month, as of December 2019. We're receiving over 40,000 users/month and growing.
Since we began, we have interviewed +135 startups and this wouldn't have been possible without Pigeon.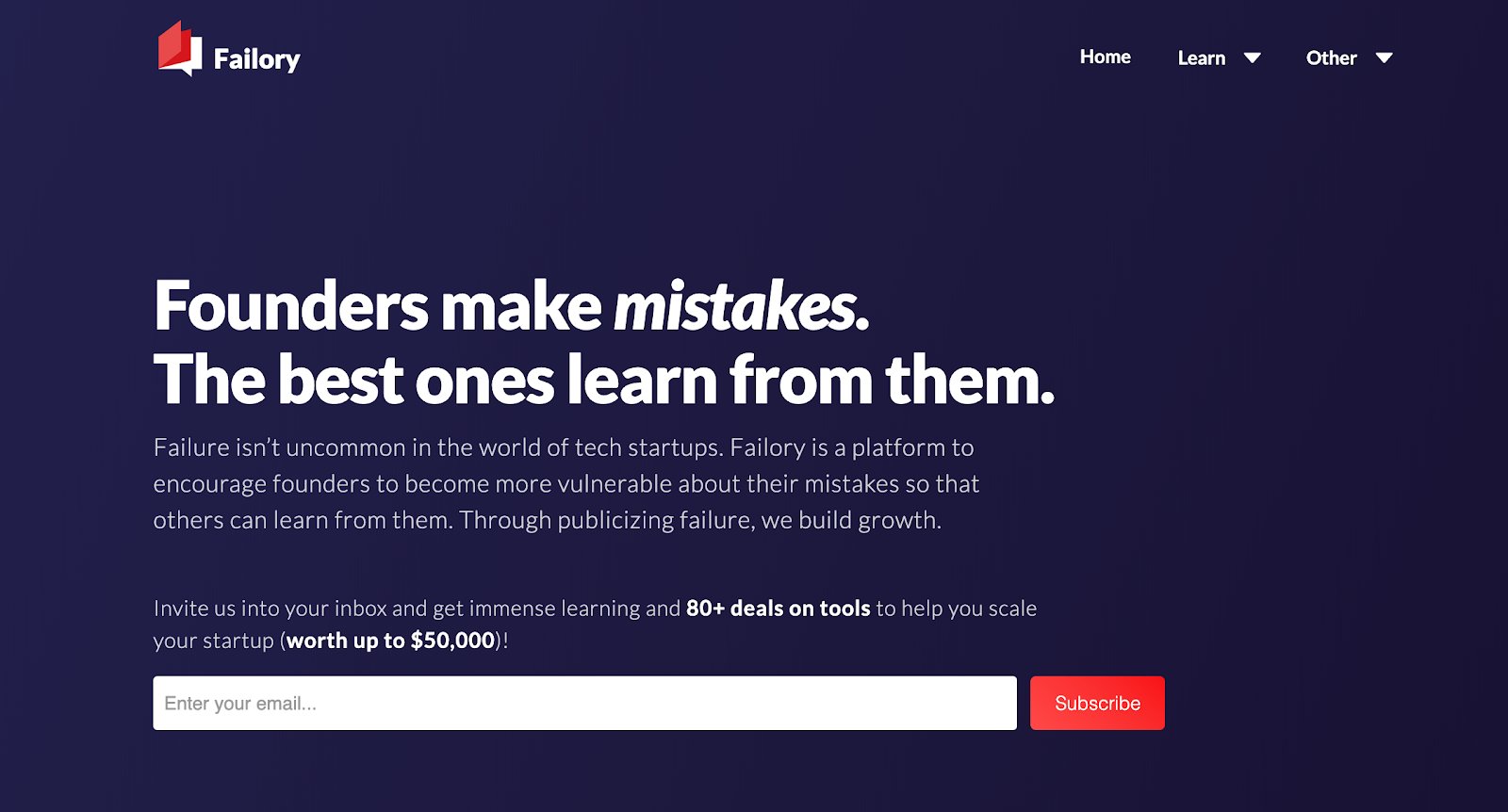 Explain to me your email and business workflows.
Since we run a lean operation, I personally manage all of our startup interviews and 99% of daily inbox work. I have set up my email on Zoho but it is connected with Gmail, so that I receive all the Zoho emails on my Gmail inbox and so that I can send emails from my Gmail inbox with my Zoho address - confusing I know.
Although my volume of emails has increased, I spend far less time on email than I used to.
While processing emails, I use an extension called Pigeon for Gmail and it's my master tool to contact, follow up and see the status of written & podcast interviewees as well as sponsors and other partners.
I've set up a number of sequences within Pigeon that allow me to do cold outreach for interviews, conduct the interviews themselves, and follow up/undergo revisions with just 3 clicks. Pigeon reminders are also amazing as it allows me to use Gmail as if it was my to-do list app.
Although my volume of emails has increased, I spend far less time on email than I used to. I also have been able to improve the delay to reply to emails.
I used to be quite lazy with my inbox - when I saw an email that required some complex workflow, as interviews do, I used to just let it sit there. Nowadays, I go ahead and tackle those emails as I know Pigeon can help me take action.
How does Pigeon fit into that workflow?
My Pigeon set up consists of 3 collections:
failed startups
successful startups
the podcast
I use the first two to manage the interviewees for Failory's written interviews and they share most sequences & fields, except for the Google Doc, which is different for successful startups than for failed ones.
Here is how my setup looks: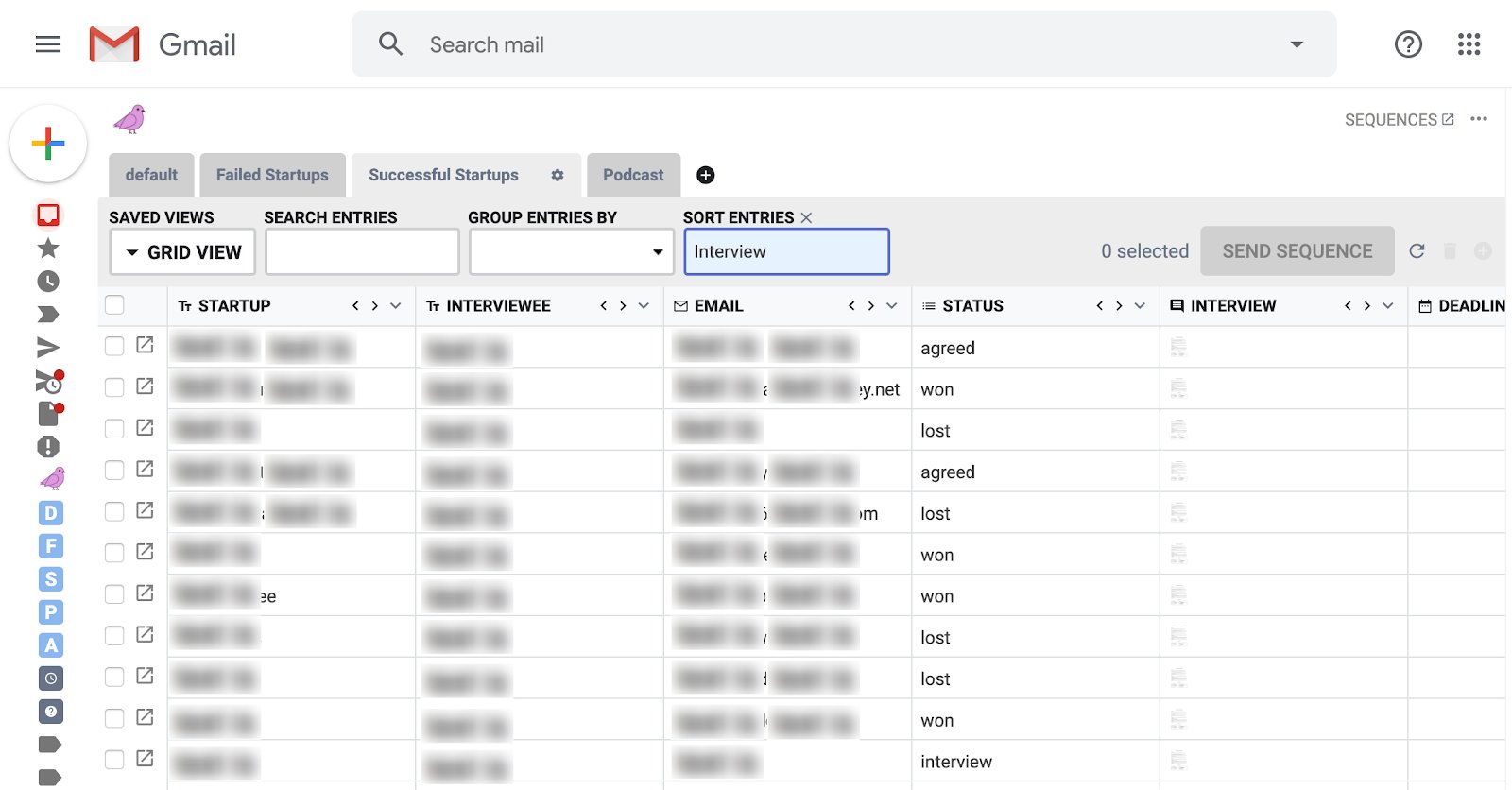 As far as how I set up my sequences, this is my general workflow:
Cold outreach
I send this main email (pictured below), then 2 automed follow-ups, and then a reminder for myself so that I can set the status of the interviewee, if it hasn't replied, to "Lost".
Here is what my outreach email looks like:
And here's what those follow-ups look like: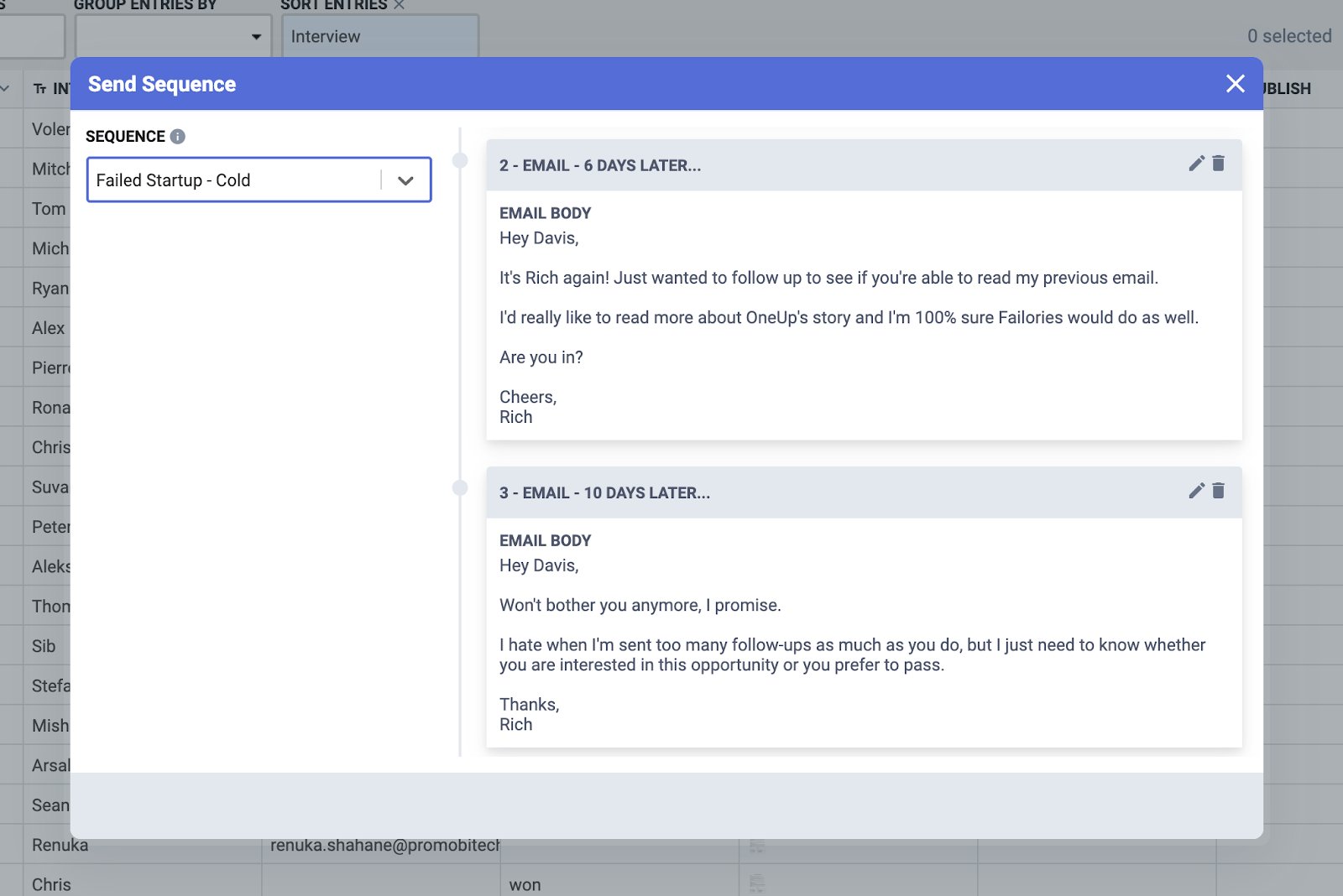 Once Interview has been accepted
I send this email once the person reached has accepted to be interviewed.
This sequence has the main email, and then 2 more automated follow-ups and a reminder.
Here is what that email looks like: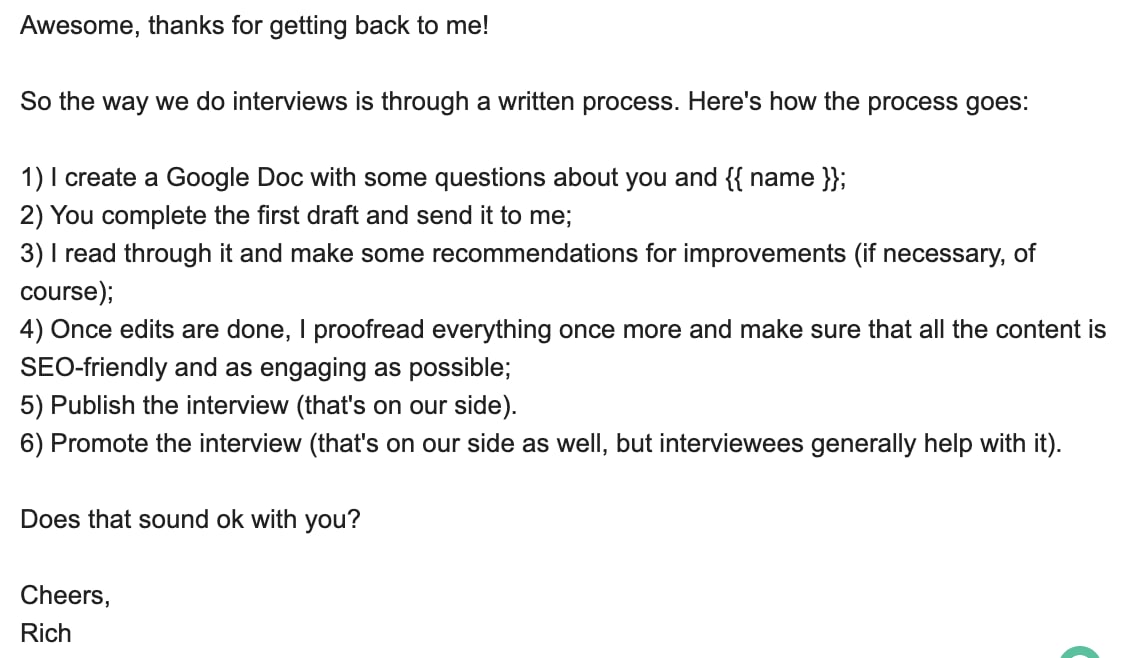 And here's what those follow-ups look like: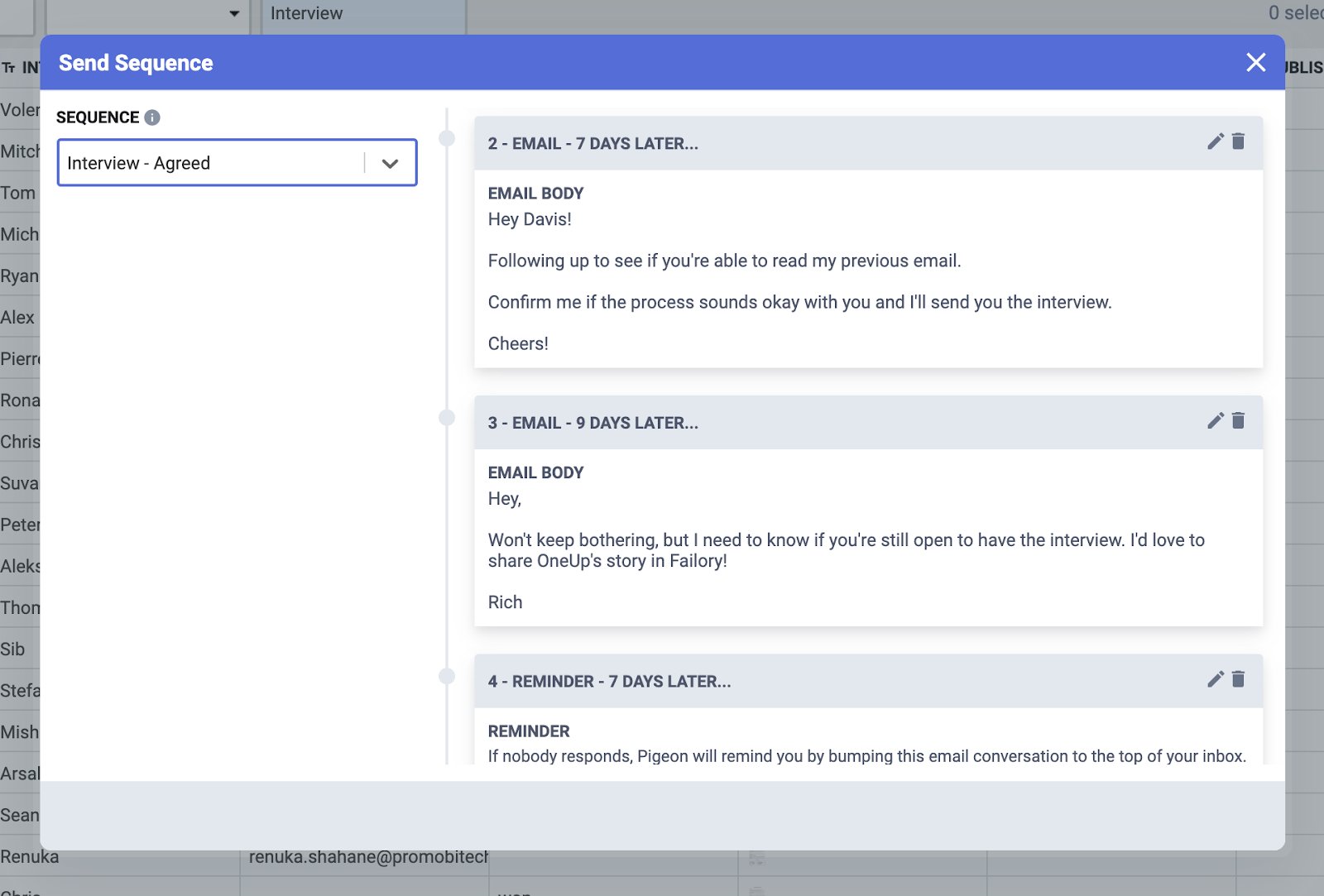 Sending the interview document and deadline
Once the interview has accepted the process, I send them an email with the link to the interview.
This email has a follow-up 12 days later, which is near to the 2-week deadline I tend to set-up, a second follow-up a few days later, and a reminder for myself.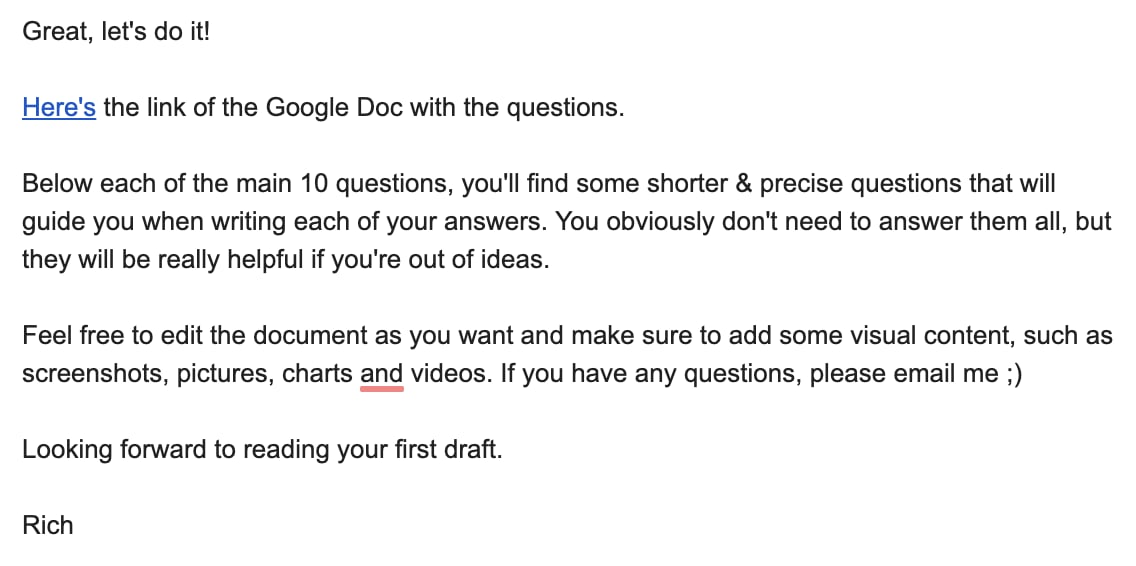 Improvements & Revisions
Once the interview is finished, I do many corrections and comments on the Gdoc and send them an email to notify the interviewee about this, as well as 3 follow-ups in the following weeks.

And once these improvements are done, I send them the following email:

Once the interview is published
Finally, as soon as I publish the interview, I send them a sequence with the main email notifying them about this, and two follow-ups to check the interviewee has received it.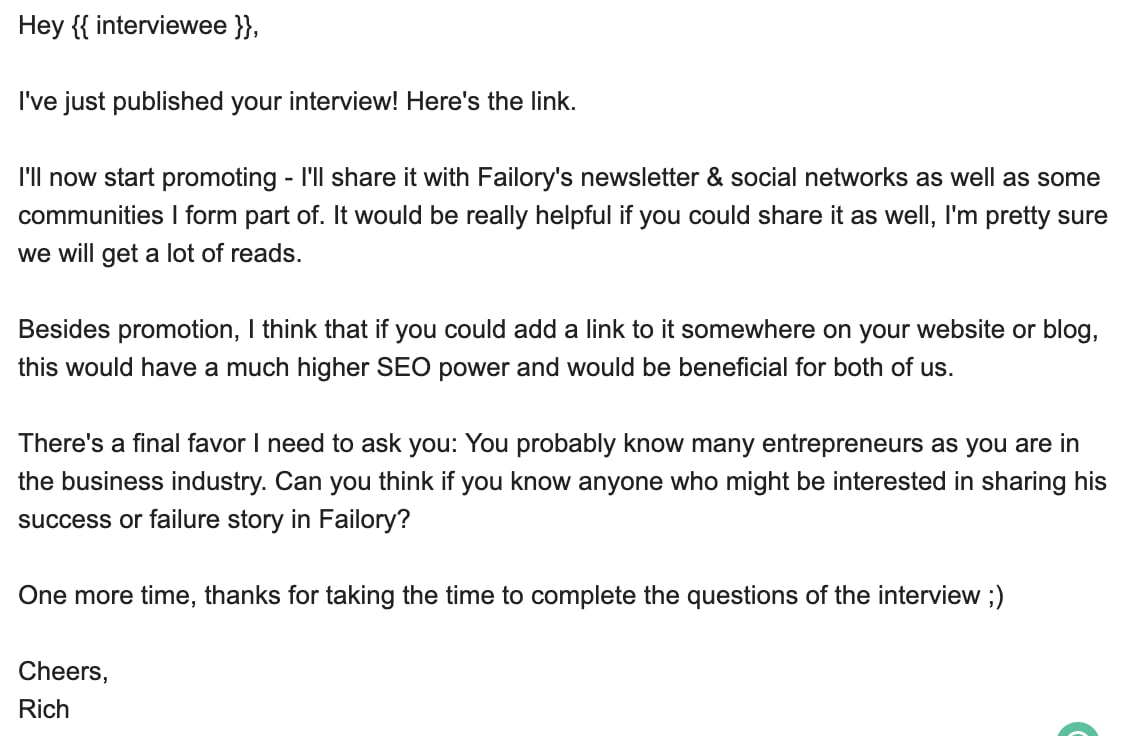 As for the "podcast" collection, this is something we're just starting so I haven't created any sequences yet. I just add a field for each candidate for the podcast and set some reminders for myself.
Finally, I use the "default" collection as a way to set reminders for myself for anyone who isn't an interviewee. For example, let's say there's someone who contacts me interested in a sponsorship package. I reply back and set a reminder so that I can follow him up in X days.
Why do you like about Pigeon?
Pigeon is truly built for a business like Failory. We have a very high volume of email communication, and I need to focus on automating as much as possible, as this is a side hustle for me!
For example, the ability to generate and duplicate Google Docs (with one click) is perfect for a website like ours and no other tools have this feature..
I also like to support products built by indie makers, like Pat :)
What improvement have you seen after implementing Pigeon?
As I said before, I now spend less time on the email and my delay to reply to emails has decreased, as I'm less lazy to do it.
I also have noticed the conversion rate of cold outreach to published interview has gone up for us significantly. This is thanks to the automatic follow-ups and the ability to organize our interview pipeline and track everything from beginning to end.
What are your other favorite tools that help run your business, and why?
Notion has recently become the master tool for Failory. Their database feature is amazing and allows us to manage all the projects we're running super simply.
Slack is also essential, as it is the way I can communicate with 2 interns that are working on the project.
Thanks Rich for sharing! Check out Failory if you haven't already :)
-
Rich Clominson, Founder of Failory
Discover the best strategies of successful business owners
Join our newsletter and receive our handcrafted recap with the best insights shared by founders in Starter Story each week.
Useful, convenient, and free:
PROMOTED
Did you know that brands using Klaviyo average a 95x ROI?
Email, SMS, and more — Klaviyo brings your marketing all together, fueling growth without burning through time and resources.
Deliver more relevant email and text messages — powered by your data. Klaviyo helps you turn one-time buyers into repeat customers with all the power of an enterprise solution and none of the complexity.
Join Brumate, Beardbrand, and the 265,000 other businesses using Klaviyo to grow their online sales.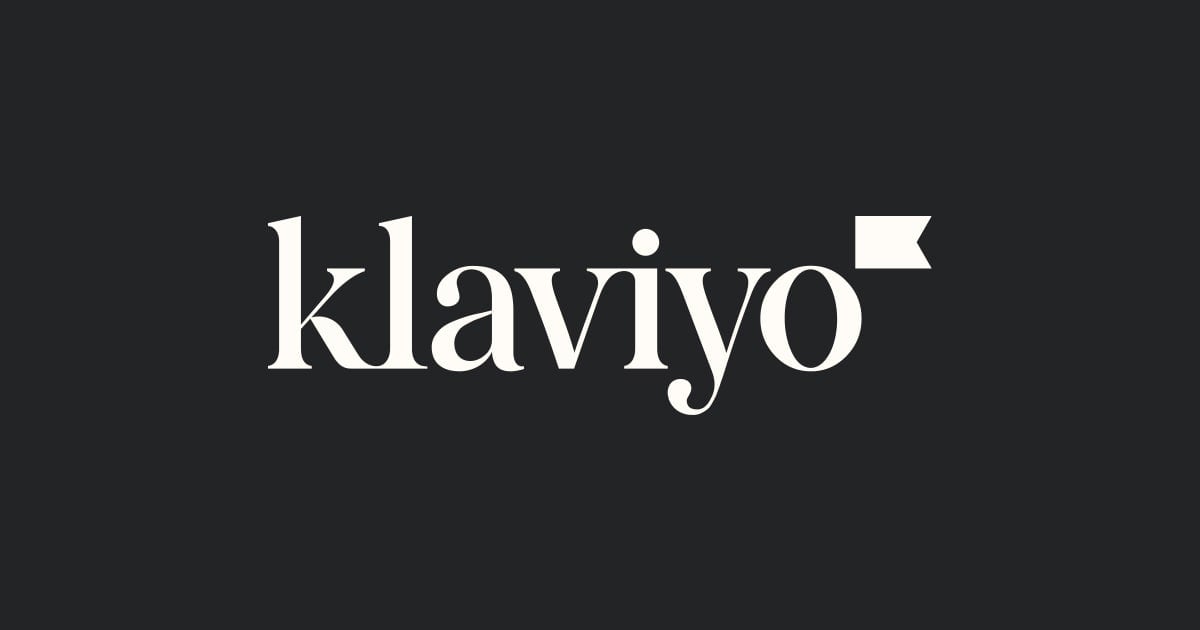 Companies using Klaviyo see a 95x ROI (yes, 95x)
Use Klaviyo to turn hard-earned customer data into hard-working emails and texts.
Try the platform that 265,000 brands use to grow their business.
Try it now (it's free) ➜