How I Use Curated Outreach To Create Expert Roundup Posts That Go Viral
•
Updated: March 17th, 2022
How I Use Curated Outreach To Create Expert Roundup Posts That Go Viral
I'm Andrew Kamphey. I run Influence Weekly, a data-informed newsletter about the influencer marketing industry, it goes out to 5,854 subscribers.
It's been running for just over 2 years and achieved profitability about a year ago. Very recently, The newsletter has also led to a bunch of consulting gigs within the industry as well!

Roundup posts that perform well every time
Beyond the normal curated emails I send each week to subscribers I create informational products. Sometimes these become revenue streams. However, some are free informational products that are lead magnets. They show off the kind of content I share on a weekly basis to a wider audience. They tend to be easy to share and extremely useful for the people I want to subscribe to the weekly newsletter.
For example, I created the Influence 100, a list of the 100 most influential people in the influencer marketing space: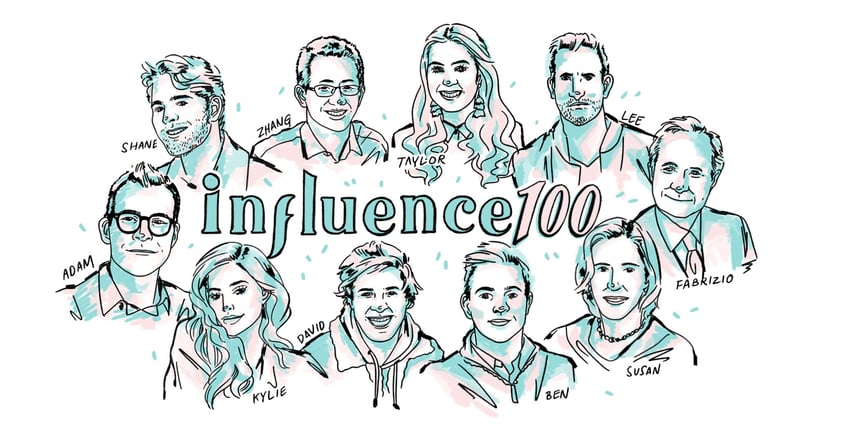 To build a list like this, there are a few stages:
1 - Early list feedback
Before publishing this report, I start with a rough draft of the list and send this out to about 20 influential people in the industry. At this stage, it's merely a google sheet. By sending this "early" list out, I get a couple things:
Really insightful feedback that I use to improve the list, new people to add to the list. And some to take off.
The most fun part is that it builds some excitement for when the list comes out. The people that I initially email feel involved in the selection process and are almost always willing to share the list when it's eventually published!
I don't wait too long. It's easy to get into analysis paralysis at this point. Publish. Publish Publish.
2 - Send to curated list of industry experts
After making changes from Step 1, I send the next version to a curated list of 220 experts, journalists, writers, and publications in my industry. I curated this list from the articles I feature on a weekly basis. About a year into serving 15 articles a week I nearly had 800 articles shared. Across that list I had about 500 entities (journalists and publications) Found emails for just over 300 of these. I use this list personally, and it ended up being a key part of another industry list I served in nearly the same way as the top 100. I use this journalist list time and time again to get press myself.
This builds a ton of excitement for the post and I get even more feedback to improve. Albeit, I'm reticent to change anything at this point unless it's existential. I do have to answer a few emails of "why am I not on this list?" or "I'll only share it if I'm on the list." And because my criteria to be on the list is that they have to actually be changing the industry, not just a large "figure" in the industry… it's easy for me to respond with facts/figures or just ignore the pleas.
Just to reiterate: It helps to have a strong data-informed editorial thesis, for when these emails come in. Also, I try to publish a couple of weeks later, a list of those I overlooked. That helps.
3 - Send to people on the list
Just a few days before the list is published. the penultimate step is to send to all 100 people on the list. Even if just a small fraction of these people respond and share the post, I consider it a huge win! These are in fact influential people. There's bound to be layers of PR and assistants to get through.
I will say, that the 2nd year I did this list, it was way easier and got way more reach. 6,000 page views the first year. 15,000 pageviews the 2nd year.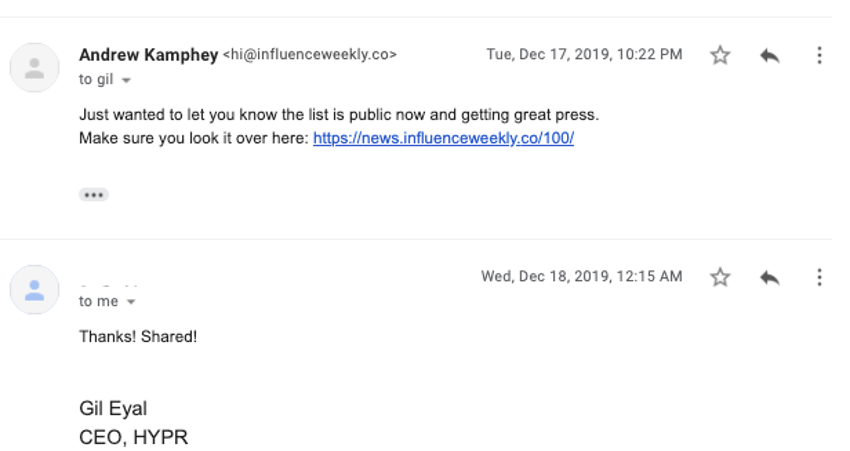 What's great about Pigeon is that I can easily segment out those 3 groups above and track their process separately. It allows me to fine-tune email sequences to get the best response rate I can (See Gil's need for a followup)
I've used this outreach process over and over to create great content that's performed really well. For example, last fall, I created Influencers Guide to Bali, an ebook for Bali hotels that helps them with their social media marketing.
For this project, I build a spreadsheet of 1,000 hotels in Bali and emailed all of them, asking them a simple question: "Do you work with influencers?".
With the help of Pigeon, I was able to batch these emails over the course of a couple days, and these outreach emails led to dozens of meetings and sales.
Thanks for the awesome tips Andrew! Check out and sign up for Andrew's newsletter here. - Pat
-
Andrew Kamphey, Founder of Influence Weekly
Want to find more ideas that make money?
Hey! 👋 I'm Pat Walls, the founder of Starter Story.
Get our 5-minute email newsletter packed with business ideas and money-making opportunities, backed by real-life case studies.