Thank you Klaviyo for sponsoring Starter Story ❤️
Turn one-time buyers into repeat customers. Try the platform loved by 265,000 brands
On Launching A Dropshipping Software
Develop A Dropshipping Software
Hello. I'm Giovanni Conforti and I'm the CEO and founder of Yakkyo Srl. Our flagship product is Yakkyofy, a dropshipping software that helps shop owners completely automate the management of their dropshipping store.
Yakkyofy was originally developed to help with sourcing products from China and fulfilling orders, but it has become a complete end-to-end tool providing dropshippers with all the automation they need to manage their dropshipping store easily and successfully. Our software empowers clients to set up their own businesses and supports them at all stages of growth and development.
We're particularly proud of our leading technology and top customer service and specifically of our state-of-the-art Image Recognition Technology, which provides real-time quotations for products at B2B prices.
Once dropshippers have sourced the product they want, they can automatically import it to their store and start selling. But there's more, each time a new order arrives at the client's store, Yakkyofy will automatically fulfill it, ship the parcels with the fastest shipping method available for the destination country and send the tracking number to final customers.
Our software integrates directly with all the main eCommerce platforms and our shipping times are very competitive; we ship to the US and most of the EU in just 3-15 days.
Finally, we also offer customers that want to buy a small amount of stock-free storage in our Shenzhen Warehouse. With our private label shipping of branded products or packaging, we can even help more seasoned dropshippers develop brand loyalty and encourage repeat sales to their store.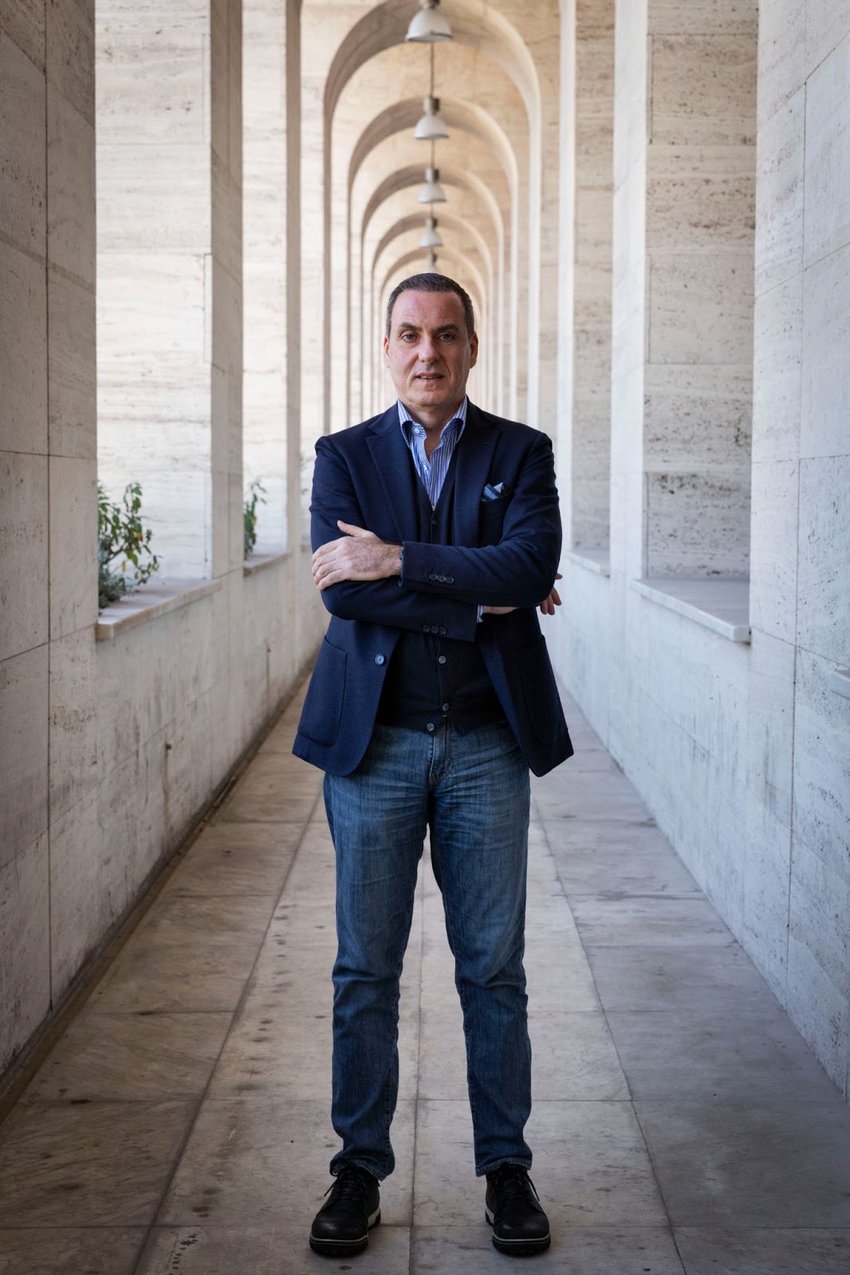 What's your backstory and how did you get into entrepreneurship?
Yakkyo Srl was born in 2016 as a brainchild of mine and Carol Hsiao, COO and co-founder. Both Carol and I had been importing products from China for major brands like Bulgari, Groupon Europa, and Gruppo Uvet for over a decade. This laid the foundations for Yakkyo and now the company is based both in Italy and in China.
You still have to keep knocking on those doors and starting conversations! Eventually, you will find the investors that believe in you and your idea but you can leave no stone unturned.
The first embryonic idea for Yakkyofy is rooted in our experience and was that of assisting small companies by helping them find suppliers in China. Business owners needed a go-between to help them find factories in China that made their products. They also struggled with making arrangements with them once they found them because often the suppliers only speak Chinese or have very limited English. Making clear arrangements directly is a very complex and time-consuming process.
It then became clear to me that this process could be improved even further! Why not use technology to speed up this process of sourcing and importing products from China?
Take us through your entrepreneurial journey. How did you go from day 1 to today?
In 2016 Carol and I took part in the selection for the 9th Luiss Enlabs Acceleration Program and we were chosen. This 4-month opportunity provided us with the chance to found Yakkyo Srl, to build our first website, and to present our first pitch to investors, collecting the investment of an important group such as LVenture Group. This experience was a catalyst for personal and professional growth as I was exposed to many new ideas and ways of working as an entrepreneur.
Of course, the first website that we presented in 2016 is not the one that you see today! The very first version was exclusively focused on the innovatively rapid collection of information for quotations. Only later did we add the full suite of automation tools that make Yakkyofy the end-to-end integrated solution it is today. To get to this stage we took part in two equity crowdfunding campaigns, the first in 2017 and the second in 2020, on a website called Mamacrowd. I'm proud to say that both campaigns went into overfunding and respectively collected €260,116 and €487,918.
More recently we were also selected by InvestHorizon, the acceleration program funded by the European Commission, in association with Eureka, the intergovernmental network dedicated to innovative start-ups that aims to collect Series A funding.
How are you doing today and what does the future look like?
Today, things are looking very rosy for the eCommerce sector. The ubiquity of mobile devices and the internet, as well as the increase in eCommerce sales as a consequence of the Covid pandemic, gave a real boost to our sales allowing us to close the 1st quadrimester of 2020 with a +943,16% increase in sales on the same quadrimester in 2019.
2020 was an exceptional year for our company. We closed it with a Customer Acquisition Cost (CAC) of € 94.68 which, for a B2B company where clients have an average LifeTime Value (LTV) of € 24,743.37, I think is an incredible result.
This amazing increase in sales also allows us to leave our start-up status behind and enter the scaleup phase in 2021. Now we are looking for a Series A investment that will allow us to create a bigger warehouse in Italy and Shenzhen, to increase the number of third-party integrations with our software, and to open additional warehouses to the one we have in Shenzhen, adding warehouses in the US, in Italy, and around the world. This will enable us to offer more services and faster processing times, therefore, shortening shipping time even further.
Through starting the business, have you learned anything particularly helpful or advantageous?
Throughout the course of my entrepreneurial adventure to date, I have learned a lot of lessons. Some challenges are natural to every start-up, others are more unexpected.
Take for example the Covid-19 pandemic; without a doubt, it is one of the most tragic and disruptive events to take place in the last few decades and it has damaged global economies.
The eCommerce sector has been luckier than most as social distancing imposed by the Covid-19 pandemic drove customers to buy more online. A lot of our customers found themselves growing their stores due to high demand and we were there to support them sourcing products for customers that could no longer shop outside.
eCommerce sales growth worldwide made 2020 an exceptional year for our company growth, but it also allowed us to help others.
Right at the start of the pandemic, there was a shortage of Personal Protection Devices and face masks in Italy, so Yakkyofy helped many companies, pharmacies, and public offices to import them from China.
For this reason, we noticed a despicable trend for speculating on their price, despite the efforts made by governments and large marketplaces to stop this from happening.
This situation was really unfair so we had to step in to try and right this wrong. We initially donated masks to local doctors that had difficulties in finding them, then, with the help of LVenture Group, we donated some FFP2 masks to Bambino Gesù hospital in Rome and together with Rancilio Cube we donated some more to Deliveroo Riders.
Finally, appalled with people profiteering from the pandemic we also opened our own store "nosciacalli.it" which means "no looting" in Italian, to sell devices at controlled and fair prices.
What platform/tools do you use for your business?
To make sure we respond to dropshipper needs effectively, our software integrates with a range of platforms such as Shopify, Woocommerce, CommerceHQ, Storeden, and eBay.
We also have a Chrome Extension that can recognize a product picture, find it in a huge database with more than 12 million products, and provide a quotation with shipping prices for more than 100 countries in a matter of minutes.
For our own operations, we use a range of platforms and tools to help us work smarter and more efficiently. We typically use Asana for workflows and Slack for communications between team members as well as SEMRush for SEO purposes.
We use Business Manager for Facebook ads and Google Ads as well as all our social media profiles daily.
What have been the most influential books, podcasts, or other resources?
I learned a lot from Steve Blank's The Startup Owner's Manual and his The Four Steps to the Epiphany especially on the process of customer development which is a four-step method to validate your assumptions on your business and your product.
I also would recommend a couple of Italian authors: Roberto Cialdini, with his The arms of Persuasion that outlines the six principles composing our "persuasion system" which are coherence and effort, reciprocation, social confirmation, authority, friendliness, and scarcity; and Paolo Ruggeri who influenced me greatly with his causative principle as described in his New Leaders.
Advice for other entrepreneurs who want to get started or are just starting?
My biggest piece of advice to entrepreneurs starting is that you have to accept that as a start-up, a lot of doors will be slammed in your face. This will be difficult to deal with if you are a shy person, so you will need to develop resilience. Another thing you might struggle with if you are not very outgoing is having to speak in public; you'll be speaking at events, at pitches, in networking groups and you need to present your idea engagingly and excitingly to grab the attention of your audience, so personal charisma also plays a big role.
Whatever your personality you need to come to terms with the fact that, although you will be speaking to hundreds of investors, only a few will actually understand your market, your product and will be interested enough to support you. Despite this, never give up! You still have to keep knocking on those doors and starting conversations! Eventually, you will find the investors that believe in you and your idea but you can leave no stone unturned.
Where can we go to learn more?
-
Giovanni Conforti, Founder of Yakkyofy
Want to start your own business?
Hey! 👋I'm Pat Walls, the founder of Starter Story.
We interview successful business owners and share the stories behind their business. By sharing these stories, we want to help you get started.
Interested in starting your own business? Join Starter Story Premium to get the greatest companion to starting and growing your business:
Connect + get advice from successful entrepreneurs
Step by step guides on how to start and grow
Exclusive and early access to the best case studies on the web
And much more!
PROMOTED
Did you know that brands using Klaviyo average a 95x ROI?
Email, SMS, and more — Klaviyo brings your marketing all together, fueling growth without burning through time and resources.
Deliver more relevant email and text messages — powered by your data. Klaviyo helps you turn one-time buyers into repeat customers with all the power of an enterprise solution and none of the complexity.
Join Brumate, Beardbrand, and the 265,000 other businesses using Klaviyo to grow their online sales.
Starter Story
Wanna see 52 business ideas you can start with less than $1,000?
Join our free weekly newsletter and get them right now.