Build A Direct Sales Team For Your Business [+ Inspiring Examples]
•
Updated: September 24th, 2022
Build A Direct Sales Team For Your Business [+ Inspiring Examples]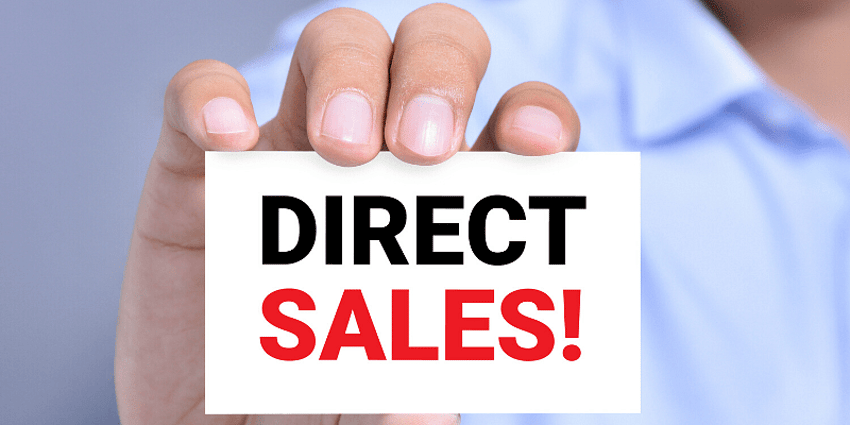 Cost Details
Typical costs to consider when hiring: hiring costs, training costs, plus salary and incentives.
What Is Direct Sales?
Direct sales strategy implies a direct contact between a seller and a consumer without the involvement of any third party. Direct selling is popular in sectors where sellers communicate with their clientele personally. The sales technique occurs at non-store locations which include at home, work, or online.
For direct selling to succeed, hire a few (or many) salespeople to support the sales conversion process. It's critical that you assign them specific roles and responsibilities to nurture the client and provide excellent support.
Direct Sales Key Takeaways
Direct sales allow you to avoid expensive overhead costs as there are no additional intermediaries in the distribution chain.
Direct selling enables companies to personalize and differentiate the customer journey from competitors.
For the method to succeed, direct sellers need to know the customer needs and match products to the customer needs
Product passion and knowing the product inside out are key components for a successful sale
A detailed customer database helps direct sellers track customer satisfaction
How Direct Selling Works
Direct selling eliminates the need for a regional distribution center and a wholesaler. Instead, the products go from the manufacturer to the direct sales company, to the distributing rep, and finally to the consumer.
For the consumer, finding a direct sales representative is the only way to buy the products or services. Direct selling is associated with businesses that sell through party-plan, network marketing and those operating in the B2B scenario.
The three types of direct sales techniques include:
Single-level direct sales: Performed one-on-one through in-person presentations or online meetings
Host or party-plan sales: Involves the distributor or the sales rep presenting to a group.

Multi-level marketing: Features a combination of single-level and party-plan sales.
Direct selling is different from Direct marketing. Ideally, direct selling involves individual salespeople reaching out to consumers.
Tips To Get More Leads
Lead generation allows you to target the desired customers at different demographic locations and to collect important information about prospects, their needs, and their preference.
In other words, generating leads for a direct sales business model is critical for the business to kick off.
Unfortunately, most startup owners run into a wall when it comes to lead generation. Without the right strategies, breaking into the market can be tough.
Here are important tips to help you get started.
Start a blog: A great way to share information about your business and its products/services
Use Lead Magnets: Offer free items or services for the purpose of gathering contact details
Social media advertising: To build product awareness and promote brand awareness
Influencer Marketing: Promote your brand with influencers
Messenger Marketing: uses mobile chat apps to facilitate business and connect with prospects and customers

Talk to friends and family: With friends and family there is a built-in know, like, and trust factor already.
Real World Examples Of Successful Direct Sales
Here are some great examples of direct sales to inspire you.
How Amway Grew To Become One Of The Strongest Business Entities Through Direct Selling Strategy
Amway manages a global portfolio of health, beauty, and home care brands sold in more than 100 countries and territories.
The American company has implemented a successful direct selling model, thereby eliminating any interference from intermediaries.
Amway bases its direct selling strategy on offering business opportunities to existing or potential customers who wish to start and or advance an independent small business.
Amway has established several business operations globally based on the same model.
With its unique business and marketing strategy, Amway is the world's largest direct selling company and has its presence spread across the globe.
How Scentsy Consultants Personalize Product Orders Through "Party-Plan" Direct Selling Model
Scentsy is a home-and-personal fragrance market leader.
Decades ago, the company operated from a 40-foot shipping container. Today, Scentsy has grown into one of the most successful direct selling companies.
Through the years, Scentsy has relied on more than 100K consultants who sell the company's products to the end consumer, through the party's plan model.
Scentsy's commitment to direct selling through Partys plan model has helped the company to compete with retailers like Amazon.
How To Establish a Successful Direct Selling team
Building a direct sales team requires strong business leadership, enthusiasm, and passion for your business. To build a strong direct sales team, follow the tips below:
Set your vision: A great vision will inspire you and your direct sales team to take action.
Build a Belief: Your belief in the sales team is what motivates them to take a leap and stay focused.
Serve your team: Successful business leaders devote their time, energy, and some profits to mentorships and coaching their team
Create a collaborative culture: This enables the team leader to identify what motivates individuals and the teams.
Encourage constant feedback: hold meetings and ask the team to mention where they would like to see changes.
Prioritize good recruitment processes: look for salespeople who are curious, collaborative, and competitive
Implement a strong onboarding process: Have the right support system which includes initial training and internships
While it may seem that the only way to succeed in direct sales is to have a natural talent for it, you have to work smart and have a natural talent. It is wise to accept failure and defeat more gracefully while focusing on the ultimate goal.
How To Find Great Direct Sales People
Create an ideal candidate profile that includes the following traits

Goal-oriented
Feedback-driven
People-centric
Problem-solver
Active listener

Write an appealing, easy-to-understand, and realistic job description that includes:

Job title and position
The key objective of the role
General duties and tasks
Salary range
Desired level of experience
Work location and general schedule

Develop meaningful and thoughtful interview questions
Include your current direct sales team in the recruitment process
Share the job description via reputable channels
Contributors
Contributors to this article:
Pat Walls, Founder @ Starter Story
Samantha Walls, Head Of Content @ Starter Story
David Gitonga, Writer @ Starter Story
Want to start your own business?
Hey! 👋I'm Pat Walls, the founder of Starter Story.
We interview successful business owners and share the stories behind their business. By sharing these stories, we want to help you get started.
Interested in starting your own business? Join Starter Story Premium to get the greatest companion to starting and growing your business:
Connect + get advice from successful entrepreneurs
Step by step guides on how to start and grow
Exclusive and early access to the best case studies on the web
And much more!
Starter Story
Wanna see 52 business ideas you can start with less than $1,000?
Join our free weekly newsletter and get them right now.