On Creating An Outdoor Gear Brand With A Humanitarian Mission
•
Published: June 28th, 2020
On Creating An Outdoor Gear Brand With A Humanitarian Mission
Hello! I'm Davis Smith, the founder, and CEO of Cotopaxi, an outdoor and adventure gear brand with a humanitarian mission at its core. We're a Benefit Corporation (B Corp), so we're building a brand that is much more than just a company dedicated to making money. We have built our entire business, brand, and culture around serving others. We believe that through business, we can make the world a better place.
Our flagship products include an adventure travel bag called the Allpa, a colorful fleece called the Teca Fleece made of remnant (left-over) fabrics leftover from the manufacturing of other outdoor brands, and our Del Dia line of bags which are also made of remnant material but are also one-of-a-kind bags designed by the sewers of the bags.
Since our launch six years ago, we've become one of the fastest-growing brands in the outdoor industry, and last year alone we committed $1 million towards social impact.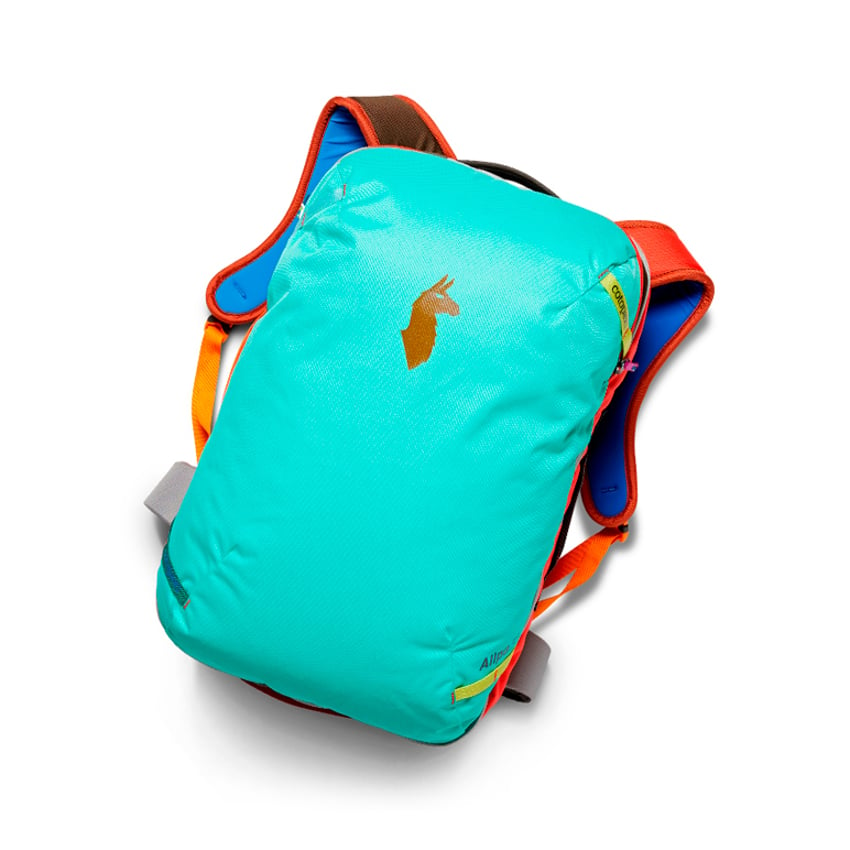 What's your backstory and how did you get into entrepreneurship?
I was born to a Canadian mother and American father, but as a four-year-old, my family moved to Latin America, where I grew up. I grew up surrounded by poverty, and while my family didn't have much money, we had opportunities that most around us would never have, simply because of where they were born. I've known since I was a child that I wanted to use my life to serve others.
When I was in college, I met a man named Steve Gibson who was a successful entrepreneur, turned philanthropist. He had started a nonprofit in the Philippines that taught entrepreneurship helping people to pull themselves out of poverty. I tried to convince him to let me work for him and expand his program from the Philippines to Latin America, where I had grown up, but he instead convinced me that I should be an entrepreneur myself and that I'd be able to find my own way of making a difference ten or twenty years later.
Put as much effort into the ideation phase of your startup as you do into the execution.
I left his office determined to find a way to use entrepreneurship to help me accomplish my goal of helping others. I spent the next several months experimenting and testing business ideas. I eventually launched my first business, PoolTables.com. My cousin and I built the business together, right out of undergrad, and learned some valuable lessons. We bootstrapped the business, borrowing money from credit cards and using the small savings we had, and eventually got my parents and my in-laws to mortgage their homes to help us finance the business. We did $1MM in sales in our first year and over the next six years, we built what became the largest retailer of pool tables in the United States.
My cousin and I ended up selling the business and going to business school, Harvard and Wharton, respectively and began looking for our next opportunity. We landed on the idea of building a business in Brazil and moved there upon graduation. We started Baby.com.br, which became Brazil's Start-up of the Year in 2012. I ended up struggling with my business partnership, which was a very painful experience for me, which pushed me to start looking for something new. I felt a strong pull to finally fulfill my dream of building something that could help others.
I left Brazil in 2013, and while my cousin stayed in Brazil to build the business, I moved back to the US to pursue my dream of building something that could give back to others. If I'm being honest, I was terrified. I had a lot of self-doubts and wondered if I was capable of building a business on my own, without my cousin. I was afraid that if I failed it would change the way people saw me. I decided to build a brand that could not only sustainably do good, but that could inspire individuals and other businesses to also do good alongside us. I incorporated as a Benefit Corporation, against the advice of my attorney who felt venture firms wouldn't be interested in investing in a business committed to giving away money long before it ever made money.
Fortunately, we found investors who believed in our vision for the Cotopaxi brand, and we began building our product and brand.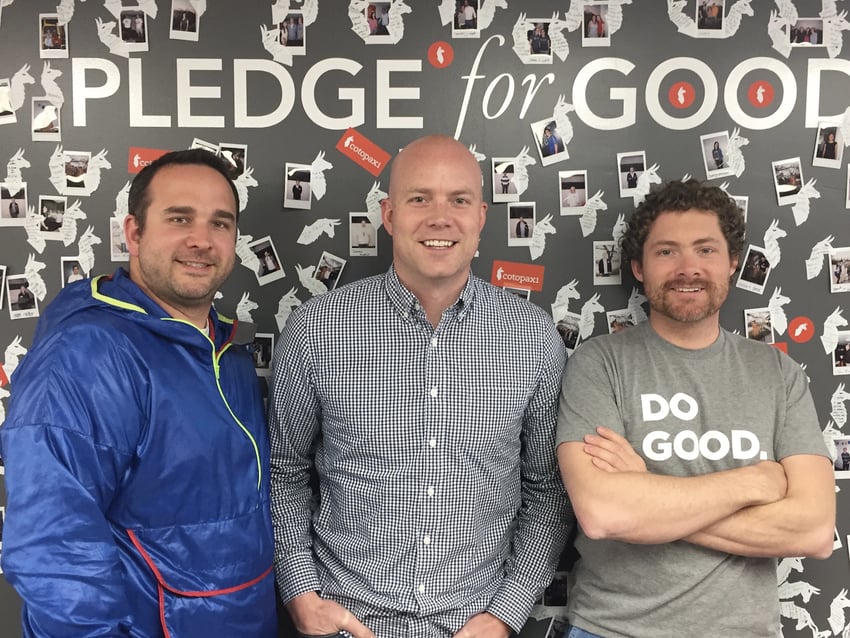 Cotopaxi's Co-Founders: Stephan Jacob (COO), Davis Smith (CEO), CJ Whitaker (VP of Product)
Take us through your entrepreneurial journey. How did you go from day 1 to today?
When I had the idea for Cotopaxi, the first thing I did was begin looking for a team of people that could help me build the brand. I used LinkedIn to find experts that could bring something to the team that I couldn't do myself, and I ended up constructing a team of five other people as part of our "Founding Team." CJ Whittaker and Stephan Jacob both quit their jobs and began working full-time, without pay, to help us get things started. Jordan Allred (finance), Cheri Sanguinetti (design), and Sam Ricks (creative/brand) all began working on the side in their respective areas to help us prepare the brand for launch. They agreed to take deferred pay for their work if we raised venture capital.
The first time we all got together, we met in a cabin in Utah, and I outlined my vision for the brand. I wanted this brand to have people at its very core. We needed to build our social mission into every aspect of the business and brand. Once we raised around, the six of us began working full-time together out of our homes in Utah.
We decided that it would be very challenging to launch "another" outdoor brand if we tried to build a brand like everyone else. We came up with the idea of launching our brand and website with a 24-hour adventure race where people could form teams and complete challenges to get points and win trips and gear. We bought two llamas on Craigslist and began bringing the llamas to college campuses around Utah. We ended up having thousands of participants in our first Questival race, and 30,000 social media posts the weekend of our brand's launch. Every participant received one of our backpacks as part of their registration, and every team used a "DO GOOD" flag in their social media posts.
When we launched, we only had five backpacks, but have since built out a full collection of outdoor and adventure gear, including travel bags, outerwear, and activewear apparel, tents, and sleeping bags, and other outdoor products.
How are you doing today and what does the future look like?
Today Cotopaxi sells online, through our own retail stores, through REI and hundreds of other outdoor retailers, and to companies looking for bags and jackets for their teams. Our ambition is to build the next billion-dollar outdoor brand, with the purpose of playing a meaningful role in ending extreme poverty, which I believe we can do in our lifetimes. We need more businesses thinking about how they can solve global problems and less about how to maximize their profit. That said, we need businesses to be sustainable if we want to sustainably do good.
Cotopaxi has worked hard to grow rapidly while also growing responsibly. We have turned a corner on profitability and no longer need to raise venture capital to grow. We believe in the benefits of raising capital and having strong partners around the board room, but founders need to be careful to not get too reliant on venture money, especially during challenging times like we're experiencing during this pandemic.
Building and maintaining culture is one of the most important things you can do as a founder.
We plan to continue our own-store growth, expanding Cotopaxi stores around the United States, and eventually internationally. We have a small office in Europe where we sell online and to European retailers in Germany and the UK. We believe that an omnichannel strategy for a brand like ours increases our speed to market, accelerates our brand awareness, and reduces business risk through diversification of channel and geography.
Through starting the business, have you learned anything particularly helpful or advantageous?
One of the most important things you do when starting a company is choosing a co-founder. When making this important choice, you can generally do two things:
You can choose a friend, classmate, or family member who you'd like to build something with. You can spend time together brainstorming ideas, identifying an opportunity, and start building together. This route can be really fun, but it also comes with real risk. It's likely that your friend or family member is not someone who is uniquely able to bring value to your business idea, and you'll likely end up giving away 50% of your business to that individual. Many businesses fail and partnerships fail maybe even more often. I don't think it's worth sacrificing a relationship you care about for business. Be very cautious with this approach, but there are success stories, so you don't need to immediately write this off.

You can spend time identifying your business idea and then build the very best team you can around the needs of the business. Use LinkedIn to find experienced experts who might be willing to help you get started or who you could bring on board. This approach is wiser, in my opinion, and oftentimes is less expensive (in terms of equity).
What platform/tools do you use for your business?
Building and maintaining culture is one of the most important things you can do as a founder. Two of my favorite tools we use at Cotopaxi are Motivosity and Officevibe. Motivosity is a tool that flattens employee recognition. Instead of coming from the top-down, it uses a peer to peer model where everyone can recognize their peers for the work they see. It's been a huge contributor to our company culture and is consistently mentioned as one of the most meaningful things our company does culturally.
Officevibe is a tool that measures company culture and team sentiment across a few dozen key metrics. It plugs into Slack and regularly polls your team with key questions that help you measure everything from relationships with managers to satisfaction with compensation. You can cut the anonymous data across teams, by gender, and seniority.
What have been the most influential books, podcasts, or other resources?
My favorite podcast is How I Built This with Guy Raz. I've listened to it for years and was fortunate enough to be included as a guest on the podcast recently.
I'm a lover of books and enjoy everything from business books to biographies. Probably my favorite books of all time are Endurance about Ernest Shackelton and his failed expedition to Antarctica. It's one of the greatest stories of survival in human history and a bible for those studying leadership.
I also love The Last Place On Earth about the race to the South Pole by Captain Robert Falcon Scott and Roald Amundsen. It's one of the greatest and most tragic stories of exploration, and also an incredible book to contrast two different leadership styles and how those styles impacted the fate of these crews.
Advice for other entrepreneurs who want to get started or are just starting out?
My advice to anyone looking to start a business is to put as much effort into the ideation phase of your startup as you do into the execution. What I mean by this is that too many entrepreneurs are willing to put years and every penny of their resources into a new venture, but aren't disciplined enough in their exploration of ideas.
I took a class at Wharton that taught us the importance of this process. We each came to the first day of class with 10 ideas, so close to 500 ideas, collectively. We slowly filtered those ideas down to three. Those three ideas were exceptional, and this class often creates real businesses from this process. The professor showed us studies that verified that as you increase the number of ideas you generate, the quality of your best ideas increases rapidly as you approach 50 to 100 ideas. Once you get beyond 100 ideas, that score still increases, but at a diminishing rate. If you're determined to start a business, commit yourself to spend ~6 months in ideation where you reach a critical mass of ideas. Then run a disciplined process where you filter those ideas down to three or four. Then spend a few months testing and vetting those ideas to see which one has the highest likelihood of success.
Where can we go to learn more?
-
Davis Smith, Founder of Cotopaxi
Want to find more ideas that make money?
Hey! 👋 I'm Pat Walls, the founder of Starter Story.
Get our 5-minute email newsletter packed with business ideas and money-making opportunities, backed by real-life case studies.