Thank you Klaviyo for sponsoring Starter Story ❤️
Turn one-time buyers into repeat customers. Try the platform loved by 265,000 brands
On Launching A Contactless Payment Wristband
Start A Wearable Technology Device Business
My name is Ilya and I am the co-founder of PouchNATION, a leading crowd control and contactless payments company for events and venues in Asia.
Historically we specialize in wearable technology (primarily NFC-based) to manage large crowds at mass participation events and venues (theme parks, beach clubs, etc.) as well as to provide a closed-loop payment system for the patrons. The main form factor looks like a wristband with a small chip in it that acts as a ticket as well as a wallet for your event or venue. Since the COVID-19 pandemic hit in 2020 we've launched a new flagship product called PouchPASS that incorporates a temperature and Bluetooth sensor inside the wristband to allow continuous temperature monitoring as well as contact tracing.
To date, PouchNATION has sold millions of wearables in Asia since its inception in 2015 and is currently aggressively rolling out its PouchPASS product globally: the product is used in more than 20 countries to date with over 140 million temperature records collected.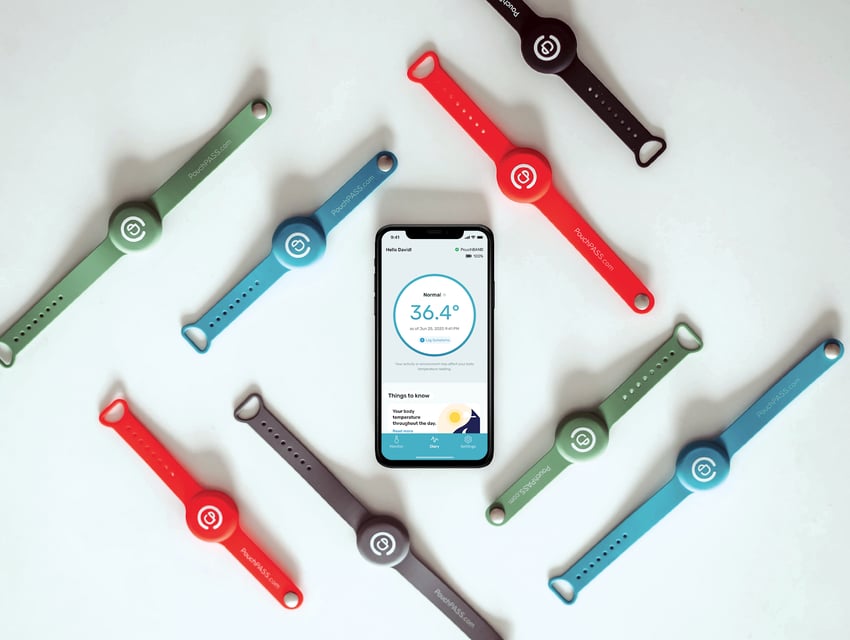 What's your backstory and how did you come up with the idea?
Over a 5-year period, we have launched and built our business to be South East Asia's leader in wearable technologies for mass participation events and venues. We were handling hundreds of events every year and our technology was managing millions of guests across the region, providing insights into consumer behavior, ticketing, and crowd management. Then all of a sudden, COVID-19 happened; the largest event of our lifetime. Understanding immediately the gravity of the situation we decided to redirect our knowledge and resources to something that we knew would help in protecting lives and establishing the fundamentals for a better tomorrow.
"Our market size has grown exponentially as wherever you go crowd control and screening is needed" - our "AHA" moment
For those who know us and our "can do" spirit, it is no surprise that we have now turned years of guest, organizer, venue, and event management experience into one brand new product – all with our hallmark data analytics, practical applications, and insights. The World Health Organisation studies completed in China and Europe indicate that 89.1% of the COVID-19 patients had a fever as the major symptom, so adding a temperature monitor to our wristbands adds a layer of reassurance for guests and organizers alike when activity and businesses resume. The scenarios where this technology can be used are endless; sports, venues, events, factories, schools, hospitals, prisons, public transport, and so on. We also wanted to make sure this product would be available to the masses, so the price point has been a very important consideration for us in the launch of PouchPASS.
One of the investors we talked to congratulated us on the idea of PouchPASS and mentioned that before our market was crowd control and screening for events and venues and now our market size has grown exponentially as wherever you go crowd control and screening is needed. I guess that was the main moment of realization for the need for our product.
Take us through the process of designing, prototyping, and manufacturing your first product.
When we redirected our resources towards the new feature of temperature monitoring we realized that measuring temperature on the wrist is different than measuring temperature in your mouth or armpit. So our first major engineering challenge was to come up with a calibration algorithm that would calibrate the "raw" readings from the hardware device and align them with the core body temperature.
To achieve satisfactory results, we had to deploy a big amount of testers spread across the globe. Yes, wrist temperature measurement does change in different external climate conditions. Indeed, we had testers deployed in warm locations such as Singapore but also in cold places where there was winter at the time, such as New Zealand and Australia.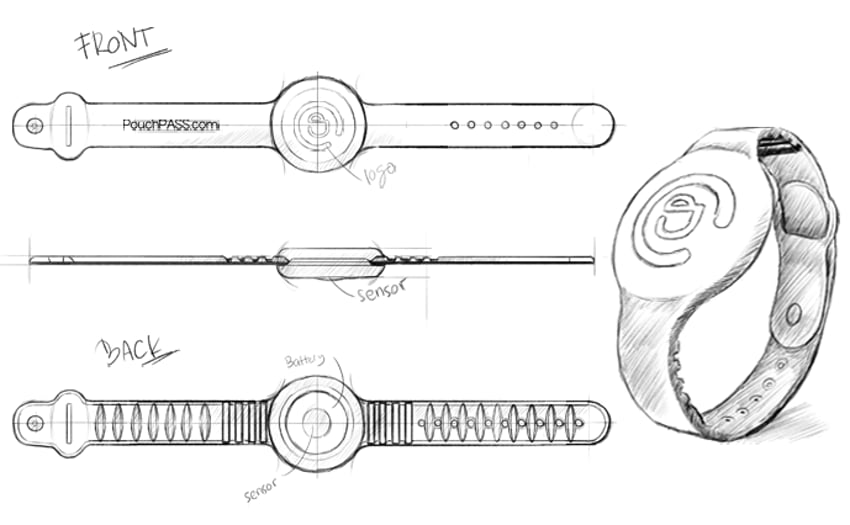 After several months of testing and perfecting our calibration algorithm secret formula, we finally started receiving very precise results. This is when we knew we were product ready for launch. Of course, the next steps included packaging, mass production, logistics, etc.
Describe the process of launching the business.
We've decided to launch on Indiegogo first. The main rationale was to get as much marketing global exposure as possible in the shortest amount of time. It took us roughly 2 months to prepare and gather consumer interest before our official launch of PouchPASS on Indiegogo. As a reference see our Indiegogo page below.
Don't be secretive about your idea, get as much feedback as possible the sooner the possible.
The result was great, not only because in a short amount of time we've managed to generate good sales, without excessive marketing spend, but also because it gave us immediate consumer feedback on our product.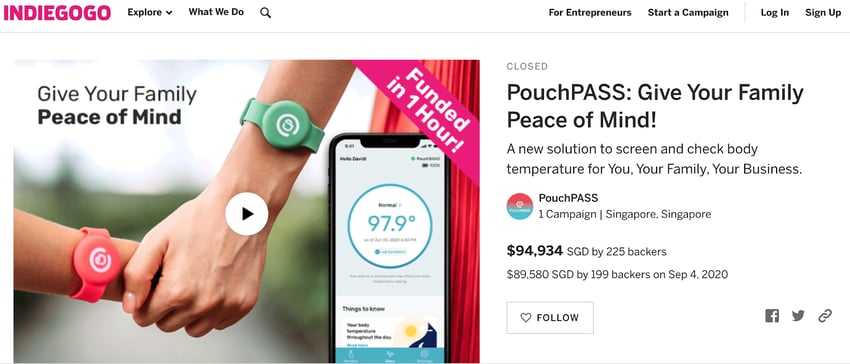 An important learning was that after Indiegogo we were contacted by different distributors and crowdfunding sites from all over the world. We've learned also that Japan is often re-launching Indiegogo products on its own local crowdfunding sites, something I was not aware of. After the Indiegogo campaign, we've started focusing on signing agreements with distributors globally to promote and resell PouchPASS.
Since launch, what has worked to attract and retain customers?
Since our product is very useful during the pandemic we've focused a lot on PR campaigns and PR partnerships. We've been covered by multiple publications including Forbes, Wired, etc. as well as having managed to get airtime on one of the main news channels in Asia: CNA (Channel News Asia).
With regards to PR partnerships, we've received big interest from one of the MotoGP teams (Petronas Sepang Racing Team) to use our product in the MotoGP in Spain. See below the screenshots of the campaign.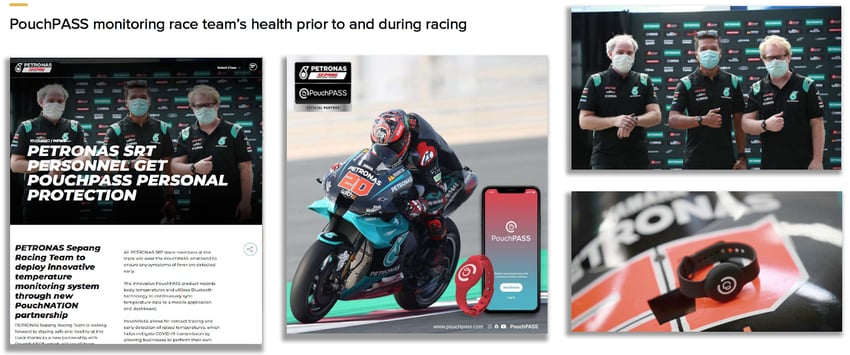 Email Marketing and Constant Product Updates
Since the launch of the PouchPASS product in August 2020 we've continued to build new app features and we've always kept our audience engaged through email marketing. It is extremely important to let people know what you are up to and what are new interesting features are upcoming.
PouchPASS Dashboard: Temperature Diary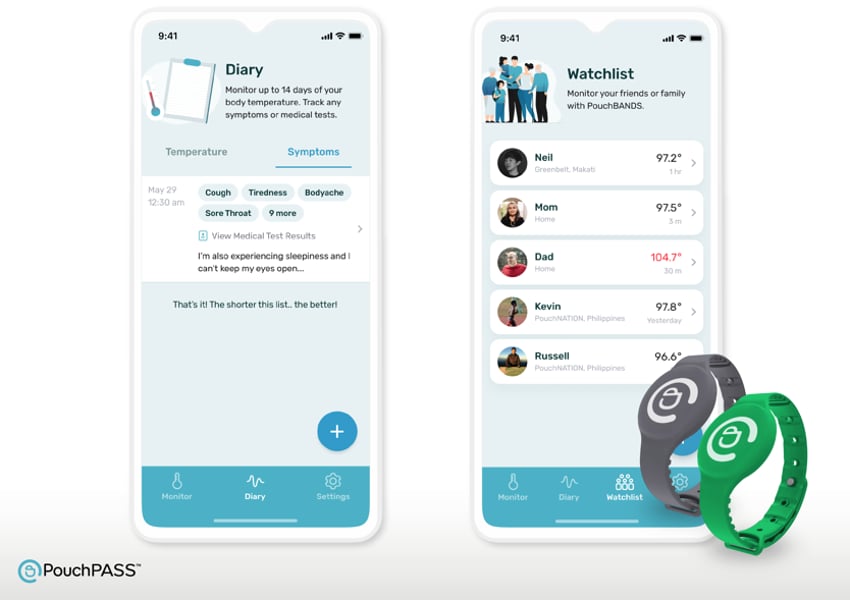 PouchPASS Application: Symptoms Diary and Watchlist
Distributors
Last but not least what worked well for us is to reach out to distributors in each market and pitch them our product. Many of the distributors we've talked to proposed very interesting approaches on how to market the product, which was very relevant for us.
How are you doing today and what does the future look like?
We've managed to sign up several key distributors around the globe that committed to yearly volumes. We've also made significant progress with governments across several countries. Currently, our product is being used in more than 20 countries and we've collected more than 140mln temperature records.
We've also managed to secure funding for this product from several institutional investors and will be raising additional funds in Q1 2020 to expand the hardware production capacity. Overall we believe that our product can become the Digital Health Passport of the future, hence we will be including new features beyond symptoms monitoring such as vaccination records, etc.
We've also recently launched a B2B dashboard and will be focusing on expanding it for our business clients, see examples below: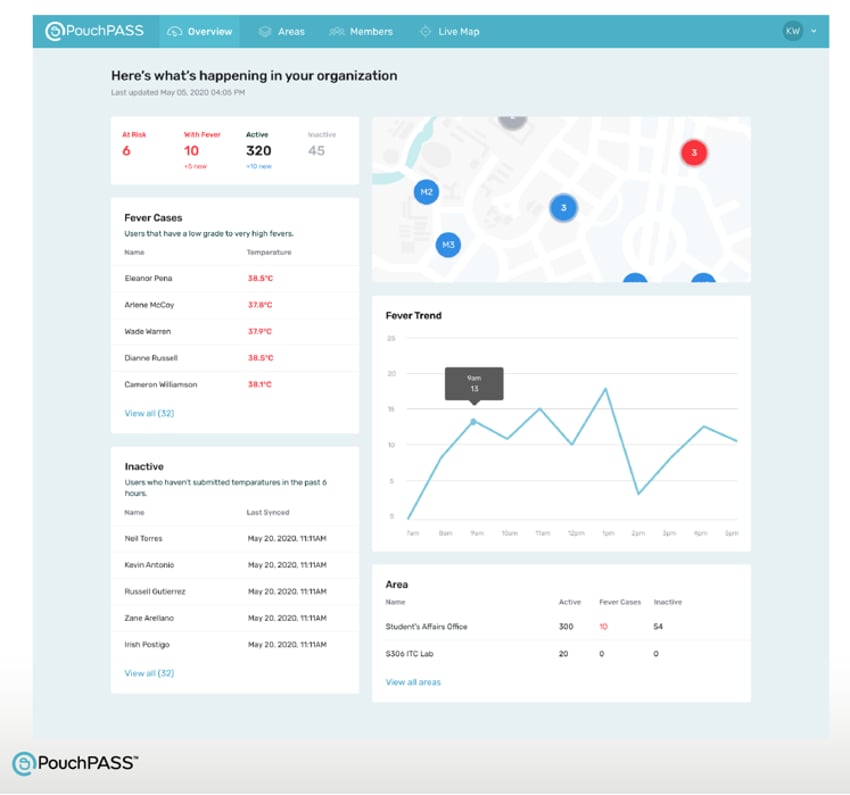 PouchPASS Dashboard: Overview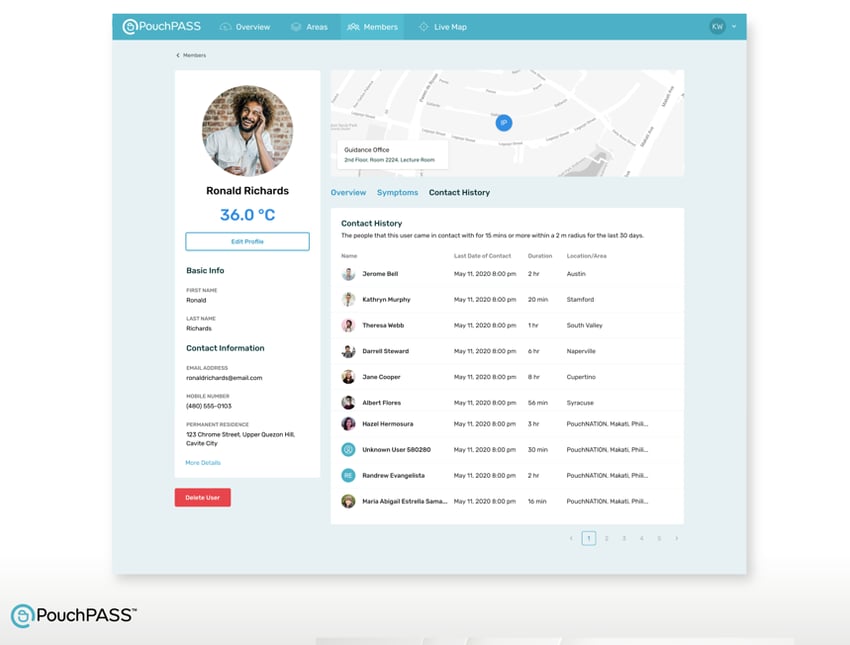 PouchPASS Dashboard: Contact History
What platform/tools do you use for your business?
Sales Platform: PouchPASS Online Store
Email Marketing: Mailchimp
Social Media: Coschedule
Sales: Freshsales
Fulfillment: Odoo
Customer Service: Slack channels for internal communication and ZenDesk for customer communication
What have been the most influential books, podcasts, or other resources?
Bad Blood: Secrets and Lies in a Silicon Valley Startup by John Carreyrou
Alibaba: The House That Jack Ma Built by Duncan Clark
Elon Musk: Tesla, SpaceX, and the Quest for a Fantastic Future, by Ashlee Vance
Advice for other entrepreneurs who want to get started or are just starting?
Be ready for a long journey
Don't be secretive about your idea, get as much feedback as possible the sooner the possible
Choose a big market size
Focus on scalability and repeatability of the business
Don't give up!
Are you looking to hire for certain positions right now?
We are looking for Sales Experts and Senior Advisors in the wearable/MedTech business.
Where can we go to learn more?
If you have any questions or comments, drop a comment below!
-
Ilya Kravtsov, Founder of PouchPASS
Want to start your own business?
Hey! 👋I'm Pat Walls, the founder of Starter Story.
We interview successful business owners and share the stories behind their business. By sharing these stories, we want to help you get started.
Interested in starting your own business? Join Starter Story Premium to get the greatest companion to starting and growing your business:
Connect + get advice from successful entrepreneurs
Step by step guides on how to start and grow
Exclusive and early access to the best case studies on the web
And much more!
PROMOTED
Did you know that brands using Klaviyo average a 95x ROI?
Email, SMS, and more — Klaviyo brings your marketing all together, fueling growth without burning through time and resources.
Deliver more relevant email and text messages — powered by your data. Klaviyo helps you turn one-time buyers into repeat customers with all the power of an enterprise solution and none of the complexity.
Join Brumate, Beardbrand, and the 265,000 other businesses using Klaviyo to grow their online sales.
Starter Story
Wanna see 52 business ideas you can start with less than $1,000?
Join our free weekly newsletter and get them right now.