148+ Best Brand Pitch Email Subject Lines [2022]
•
Updated: January 20th, 2022
148+ Best Brand Pitch Email Subject Lines [2022]
If you're looking to boost your email open rates and increase sales, your email subject line is the first (and most important) step in achieving those goals.
Did you know that 33% of email recipients open emails because of an engaging subject line?
That's why it's critical to craft a catchy email subject line that will get you the traffic and conversions you deserve.
We've put together a list of 148+ best brand pitch email subject lines [2022].
Some are proven examples from other successful campaigns, and some are creative ideas to inspire you.
Creative Email Subject Line Ideas
There's a smarter way to sell real estate...
I thought about what you said
Do not open this email
Interested in [related topic]?
Want to be #1 on the app store? Let us help!
"Imagine what it would be like if [problem they have was solved]..." ...
New PR industry stats for Prowly's blog
Need help with financial planning?
[Prospect], I thought you might like these blogs
west elm: 💡 THIS SALE IS LIT 💡 20% off all lighting
Creative Ways To Build Your Professional Network
Risk Management: preparation is not having to gamble
Your site needs this
Get better app reviews with this one awesome tool
Free New Product Samples of Eco-Friendly Clothing Line
Time to chat?
Looking to outsource [service you can provide]?
Could this go viral?
Hoping to help
Check out our claims & we'll help you with yours
Study: Marijuana consumption – Boomers vs Millennials
Could you use one of these?
Hi [name], [question]?
You know you're running a startup when...
We'd love to help you grow your business!
This deal deserves a billboard
United by Blue: This is Not a Sale. It's a Celebration.
"How happy are you with [tool they're currently using]?" ...
I found you through [referral name]
Steli, you in?
The next steps
Free [day of the week] at 1:45?
Robocalls during Covid-19: Watch out for these scams
"X steps to achieve [goal]" ...
Meeting invite: [Date]
X tips/ideas for [pain point]
We can help you build the app of your dreams!
85% of consumers report paying more for groceries during COVID-19
X ways our software can improve your life
Regarding your [related department] needs
X options to get started
New Stats: Broccoli Can Save Your Breasts
Improve your services with this tool
Hi, we're [company name]. Nice to meet you!
Don't tell my boss
All content creators need this tool
Mentally Healthy Holidays: How To Survive & Thrive This Holiday Season
Hoping you can help.
Know this about [topic of interest]?
15 minutes this week?
10x [prospect's company]'s traction in 10 minutes
L'Occitane: Beauty You've Had Your 👀 on, Now with $20 OFF!
Loved your piece on how to pitch journalists – would love to collab
Here's that info I promised you
Did you get what you were looking for?
Getting started with [product/service]
[the e.e. cummings subject line]
[mutual acquaintance] suggested we reach out!
[Company name] + [Company name]: [Date]
Steli, question about your book
Jam-packed schedule? Let us help you out.
Last chance to snag this deal!
First steps to improving your [issue you're helping with]
Moo: This sale's too BIG for subject li–
Dollar Shave Club: Save money. Don't leave the couch.
State of media in 2020 report for Prowly [research]
10 mins — [date]?
I'd love your feedback on that meeting
Here's what I'll do
I love everything in this email!
Sell more properties with help from [your company]
Steli, you dig this?
"[Their company] + [your company] = $$$"
Feeling [insert emotion]? Let me help
I had this idea since we last spoke
Press opportunity for Prowly
3 ways to make your next commercial a hit
Let's turn your ideas into reality
"[mutual acquaintance] suggested we reach out" ...
The best thing you'll download today
Want to get more clicks on your Facebook ads?
If you change your mind about partnering with [your company]
Steli, crazy idea?
Ding! You don't want to miss this notification
"You know you're a [role] when…"
"[Problem]? Let us help you out."
A [benefit] for [prospect's company]
Fall Finances: How To Start Preparing For The Holiday Season
A must-have update for [their company]
Why You Need To Stop Wearing Your Cell Phone In Your Pocket
We have a delicious deal for you
Steli, your thoughts?
New [department] strategy for [company name]
X steps to achieve [goal they might have]
Thank you for our [date] meeting
Steli, open to this?
Time for a quick touch base?
Survey: How Americans feel about returning to work during Covid-19
Have you thought about [topic/product/service]?
[Study] Half of Americans want cash phased out after Covid-19
It's been a pleasure!
Bring in the foodies with [your company]
Hollister: Your favorite jeans are 20% off 🙌
How To Get The Cheapest Flight Deals This Christmas
Our next steps
3 weekend ideas for you
Am I assuming correctly?
We have [insert fact] in common ...
Money Moves To Make Right Now
X benefits we can bring to your platform
Where is the love?
This is a sales email
We can "smarten up" your home!
Idea for [topic the prospect cares about]
You are not alone.
Requesting a meeting on [Day]
Investment opportunity too good to pass up
Would love to work with you again.
"We can help!" ...
Grab a bite of this!
Let us do the groundwork for you!
X ideas for your next blog post
X ways we can help you with [issue they might have]
A 3-step plan for your busy week
Are your employees' heads in the clouds? We can help.
We'll help you ditch external hard drives
[your company] x [prospect's company]
So nice to meet you, [Prospect]!
We'd love your feedback
Study: 22 million Americans took advantage of 2020 tax extension
Permission to close your file?
THE ICONIC: The sale's on SALE! 😱
From one small business to another...
Should I stay or should I go?
[Mutual connection] recommended I get in touch
Question about [goal]
Looking to improve your software sales?
Here's that information you requested
Could your startup use some help with [common issue]?
It's been great doing business with you!
Kate Spade: open to see our top picks of sale
We can help!
What would it take?
HBO Go password?
Feeling blue? Like baby pandas?
Aerie: 50% off a bra that feels good. It's REAL.
Large companies need [your service/product] too!
Miss Selfridge: Stop EVERYTHING! Up to 50% off ALL Dresses 🚨👗
GUIDE: How To Write A Great Subject Line
As we mentioned above, crafting a catchy subject line is critical to the performance of your email campaign.
While just a few words may seem like a small piece of your overall message, this is the first impression your audience will have before they decide whether to open your email.
If your subject line isn't engaging or appealing enough, there's a chance it could get buried in your reader's inbox.
Let's go over the proven tips on how to craft a subject line that boosts engagement:
What makes a great subject line?
First, let's discuss the fundamentals of creating a great subject line:
Spark interest and curiosity
A clear and urgent call to action
An offer/intriguing discount
Personalization (this can be done by sending out different versions of emails to subscribers based on their preferences)
Relevance - make sure your subject line covers the current trends and topics within your industry
5 Tips To Crafting a Great Subject Line
Now, let's dive into the specifics of how to create a great subject line for your next campaign:
1. Use a familiar sender name
Although this may seem obvious, it's a piece many marketers miss the ball on.
Your readers want to feel like your email is coming from a human and not a corporation or automated system.
One of the easiest and most effective ways to do this is by changing the sender's name to YOUR name or someone in the company that is well known.
Here's a great example of this from Marketing Examples

Pro Tip
Avoid the "no-reply" sender name at all costs. This makes your email feel unfamiliar, unapproachable, and less personable.
2. Keep your subject short and to the point
If your subject line is too long, it will get cut off, which could impact your reader's chances of opening your email.
The rule of thumb (for both mobile and desktop) is to keep your subject line under 50 characters.
3. Add personal touches to your subject line
If you have access to information about your subscriber (ie. name, location, etc), you can use this to benefit your subject line and catch your readers attention.
It's important not to go overboard here, but adding even the simplest touch such as their name can build trust and rapport.
Here's a great example of a personalized email + offer I received from BarkBox with my dog's name in the subject line: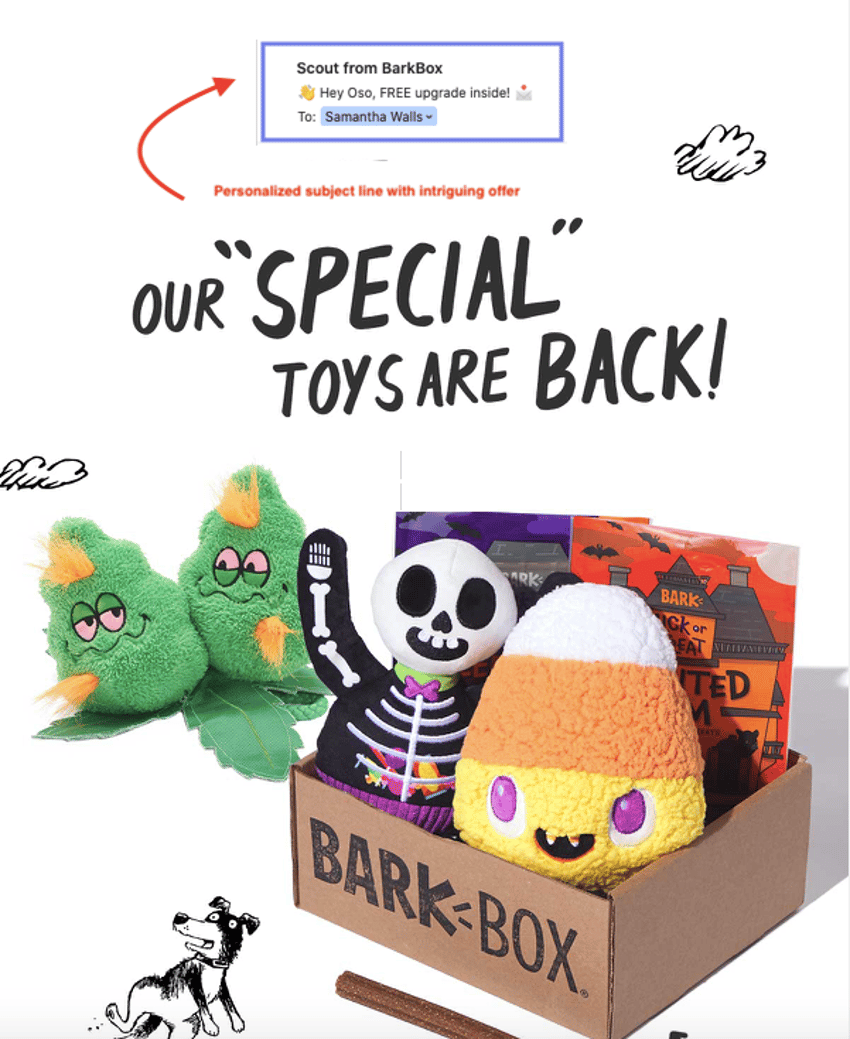 4. Avoid making any false promises
Your subject line makes a commitment to your reader, so it's important you don't stretch the truth just to simply get more opens and clicks.
In the grand scheme of things, making false promises will end up hurting your open rate as your readers will lose trust in you.
5. Give them a sneak peek of what's inside
Telling your subscriber what is inside helps with open and clicks.
For example, if you're providing your reader with a free guide or e-book, consider making your subject line something along the lines of:
"Your FREE marketing e-book awaits!"
Conclusion
If you want your email campaign to perform well, it all starts with your subject line.
Think about the emails you receive in your inbox and what makes you click vs what gets buried - odds are, the same habits go for your customer.
We hope you enjoyed our guide + list of 148+ best brand pitch email subject lines [2022].
Want to start your own business?
Hey! 👋I'm Pat Walls, the founder of Starter Story.
We interview successful business owners and share the stories behind their business. By sharing these stories, we want to help you get started.
Interested in starting your own business? Join Starter Story Premium to get the greatest companion to starting and growing your business:
Connect + get advice from successful entrepreneurs
Step by step guides on how to start and grow
Exclusive and early access to the best case studies on the web
And much more!
If You Don't Rank In Google, You Don't Exist.
In order to be successful, you need to be visible online. If you're not, then your competitors might be stealing customers from you.
Semrush lets you quickly create content that ranks, and compete with the biggest brands in your niche.
Try Semrush Free Today ➜