Thank you Klaviyo for sponsoring Starter Story ❤️
Turn one-time buyers into repeat customers. Try the platform loved by 265,000 brands
SEO Simplified: The Fundamentals for Online Success
•
Updated: March 17th, 2022
SEO Simplified: The Fundamentals for Online Success
I'm David Pagotto, the Founder and Managing Director of SIXGUN, a digital marketing agency based in Melbourne. I've been involved in digital marketing for over 10 years, helping organizations get more customers, more reach, and more impact.
SIXGUN focuses on scaling organizational growth and building sustainable results for the long-term, with a data-driven approach to developing strategy.
Today, I wanted to write a simplified guide to SEO - and a breakdown of all the things I know - that can help your business achieve better results in search engines. Hope you enjoy!
-
Search engine optimization (SEO) is more than attempting to "trick" search engines into ranking your website highly, it's about making your website as visible as possible to people searching for the products or services you offer.
Internet search technology has moved quickly over the past ten years, and Google has come out as the largest search engine in the West, making it the most important to rank on, and they are vigilant about the quality of websites that make it to their 1st page. More than ever, maintaining a website with up-to-date SEO tactics that adhere to their guidelines is vital to performing well.
Keyword Research
A major part of the SEO process is knowing what keywords to work on getting ranked for. To do that you must first select the right words that describe your business (what it does and where it is located), and research what your competitors keywords are and what your ideal customers are typing when searching for your product/service. Once you know what keywords to work on, they help focus your site's content and its technical onsite components.
In the past, with television, radio and print advertising, the ability to target demographics or any segment of an audience was limited. You could advertise in specific interest magazines or on radio stations aimed at a particular age group, which worked, generating leads and sales, but they weren't all of the same quality.
Today people are literally telling search engines exactly what they want to buy. For example, the keyword "wedding photographer Melbourne" is searched 4,400 times a month in Australia. Choosing the right keywords for your SEO strategy is about tapping into this stream, answering their "query" and converting engaged impressions into clicks, leads and sales.
Tools
There are several important tools you can use to research and help choose your keywords.
Google Ads Keyword Planner
Within Google Ads, the Keyword Planner tool is invaluable for discovering search trends. Enter a word and the tool will generate a list of related words and phrases. It allows you to look at where your niche lies and which keywords can realistically be targeted when balancing search volume and competition.
Google Search Console
This is another important tool for determining your keywords and phrases. If your website has been up and running for a while, Google Search Console will show you a breakdown of what phrases are making it appear in search results. It lists both impressions and clicks, which means you can see the words that are actually generating traffic.
Ahrefs / SEMRush
As with traditional marketing principles, understanding your competitors is vital to successful SEO performance. Ahrefs and SEMRush are paid tools that allow you (amongst their other useful functions) to examine the results of your competitors' websites. They show you the keywords your competitors rank for and the estimated amount of traffic they receive, and give you the data to assess your website in comparison so you can adjust and improve.
Balancing Competition with Search Volume
It doesn't matter if you rank at the top of a page for a certain phrase if no one searches for it – you won't generate any traffic. Likewise, trying to rank for phrases that other big, established websites already rank for is time and resources better spent elsewhere. For example, trying to rank for the keyword "Home Loan" is very difficult.
Generally, the best way to assess competition is to review the websites that are listed on the first page of Google for your desired keyword, particularly the number and quality of referring domains those websites have – both to the root URL and to the page itself. Most keyword competition tools use a variation of this method for their calculations.
Allocating Keywords
After you have selected your keywords, you need to allocate them to specific pages of your website. Keywords work best when spread across individual target pages. For example, this could be the allocation for a photographer based in Melbourne, Australia.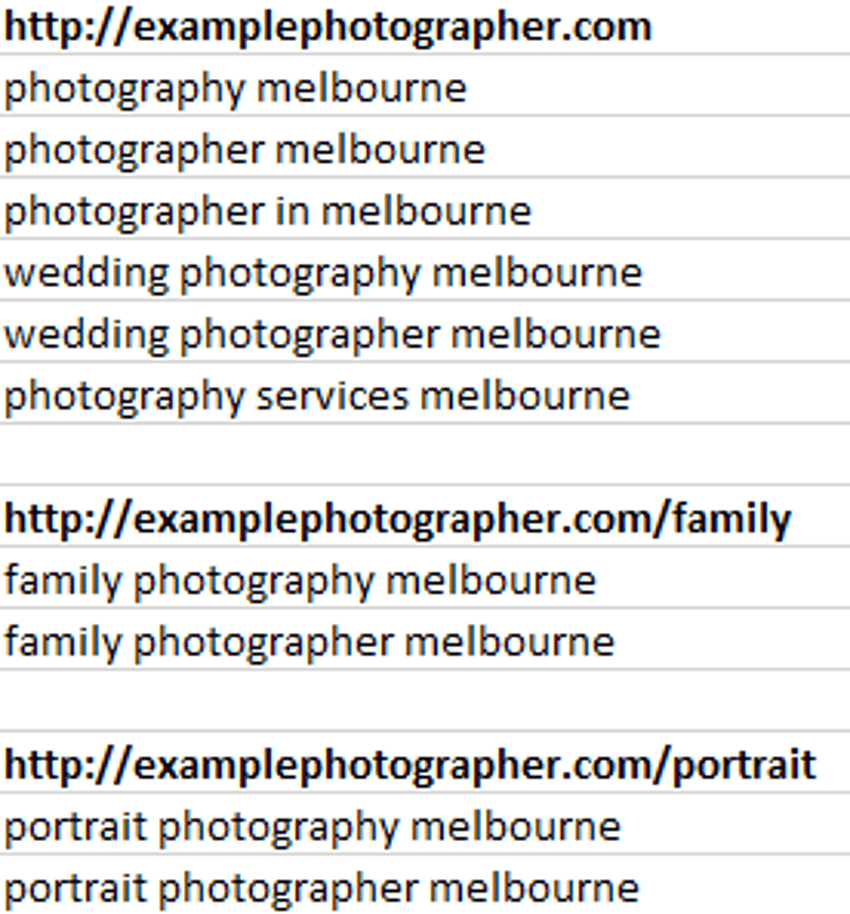 Target pages are used to separate and concentrate the power of keywords and phrases, allowing you to answer each specific search query without attempting to answer every search query at once. Additionally, they mean that visitors will see the phrase they searched for on your page, making them confident your page will answer their question.
Titles, Meta Descriptions & Meta Keywords
Once you have decided on your keywords and allocation strategy, where on your website do you begin to add them?
Title Tags
The single best place to put your most important keywords is in the title tag. When your page appears in search results, the title tag forms the clickable link. Make your title tags clear and concise, entirely unique, under 70 characters, and ensure the most valuable keywords are closest to the start.
Meta Descriptions
This is the short blurb that appears under the clickable title in search results. If your website doesn't specify the meta description (and sometimes even when it does), the search engine will use the first few lines of the page content, or a section of content from your webpage that is relevant to the users search phrase by default.
Write a unique, succinct and informative meta description for every page. Use a keyword or two where it makes sense (if it matches a users search term it will be bolded), and a brief call to action.
The ideal length of a meta description should be between 50-300 characters, depending on the type of website.
Meta Keywords
Meta keywords sit in the code of a website (as do title tags and meta descriptions) and indicate to search engines what the topic of the webpage is. However, in 2009 Google announced that both meta keywords and meta descriptions were not factors used in their ranking algorithm (although well written meta descriptions still have the ability to drive a higher CTR which in turn can boost search performance).
As a result, using meta keywords can cause over optimisation of your website – something you want to avoid. At SIXGUN we like to say, "they can't help you, they can only hurt you".
The Basic SEO Audit
Whether you choose to bring on an SEO marketing agency or go it alone, one of the first, vital steps to improve your website's ranking is to do an SEO audit of your website. Below are some of the often-overlooked basics.
1 – URL Structure
Your URLs must:
Use keywords – all of your target pages, blogs and product pages should have the main keyword used in the URL.

Use a future-proofed URL string – regardless of how large your site becomes, you want to maintain consistency in the structure of each URL. Having this allows you to add more pages at each sub-level while maintaining a coherent order, regardless of how many new pages you create.

Say what is on the page – people like to know where they're going, and being transparent can lead to more clicks. Google Ads, for example, allow you to change the display URL for an ad because it has an impact on click through rates.

Avoid repetition and superfluous words – be descriptive but avoid being overly complex or over-optimising. Keep URLs as short as possible without losing meaning.
2 – Status Codes
Status codes provide information to crawlers and human users alike. Ideally, when crawling a website with a tool like Screaming Frog, the status codes should all read as 200 (meaning OK). You will want to ensure all other status codes, including the below, are swapped to direct links.
301 – which is a permanent redirect.
302 – which is a temporary redirect.
404 – which is a page not found.
3 – Heading Tags
The H1 heading tag is the main one to use on each of your website's pages. It carries the most SEO weight and should be carefully created to include the page's most important keywords. The H2 headings are similar but have less SEO heft, likewise with H3, H4, and so on.
H1 and H2 tags must be used sparingly. Your site should have a single H1 tag per page. Doubling the number of important elements on your page won't double the page's power, rather it shows the search engine that your website isn't correctly structured or optimised. Similarly, H2 tags need to be used in a structured way (as sub headings), which is dependent on the specific content.
4 – Page Speed
How fast your pages load is also important to SEO performance. Pingdom's speed test tool enables you to see how your site performs across several categories. Once you have your results you can look at ways to improve them, such as:
Reduce the number or size of images through compression.
Consolidate multiple style tags.
Reduce the number of server and lookup requests.
Consider the possibility of using a CDN.
Only Good Content is King
Content is what your visitors see, read and engage with. Putting in the time and resources to make it good quality will yield better results.
Have Enough Content
You need content of sufficient length (which varies depending on the type of page) because search engines need something to read. Their bots crawl your content to see what you have to offer and how it can answer their users' search query. More content means a more complete picture of your offering is indexed and available to show in the search results, which is why longer is better. For example, on a webpage built around a specific service, we recommend a minimum of 500 words, and more is better. On a product category page, it is acceptable to have a lesser amount of text.
However, content is not only important for search engines, it is also for your human visitors. Informative content tends to perform well, in addition to presenting your brand and products in the right way. Keeping people on your website, rather than having them bounce back to the search results, is another signal that affects search performance. As I said, only good content is king.
Duplicate Content is a Problem
Duplicate content (both internal and external) will dilute the impact of your SEO efforts. Duplicate content can be the result of plagiarism, as many websites scrape content from other websites to populate their pages quickly. This is a problem, but it can be solved relatively easily through rewriting.
Most duplicate content issues that impact organic search performance are due to multiple versions of the same content being used on various pages of your own website.
Some great tools to assess external and internal duplicate content are Copyscape and Siteliner.
Why Internal Linking Matters
Not every page on your site will be accessible from the homepage, so creating pathways for the bots to crawl and discover the full scope of your website, through internal links, is vital.
Creating an internal link isn't difficult. If you have another page that can provide extra information to the user, then link to it. If you're creating a product page and you have written a blog post about creative uses for it, link to it. When doing so make your anchor text descriptive, for example, "Versatile with a multitude of uses" is more evocative than "Click here".
Links and Link Building
Referring Domains and Backlinks
The backlink profile and number of high-quality referring domains a website has are some of the most important ranking factors. The number of high-quality domains linking back to a site indicates its strength and level of authority to a search engine. So how do you generate links to increase your backlinks and referring domains?
Generating Links
1 – Leverage Professional Relationships
You can use your suppliers, clients and other business contacts to gain support and get genuine back links. Often this can be as simple as being listed on their supplier/dealer/partner page, depending on your relationship.
2 – Public Relations
Responding to requests from journalists through platforms like HARO can get you quoted (often with a backlink) from reputable media website.
3 – Content Marketing and Outreach
Websites are always looking for high-quality, complimentary content to send their users to. Content marketing is all about building a database of high-quality content on your own website and reaching out to related parties who are likely to benefit from sharing it with their users. Creating something of value is always the first step.
In Summary, SEO is The Foundation of a Successful Website
The internet allows anyone with a connection and some time to spare to create a website, thanks to the dozens of content management systems that enable you to build a website without requiring much technical knowledge. The trick, however, is getting your website in front of the right people. SEO is no longer a small part of the marketing strategy, it has become a vital building block for success.
Website: https://sixgun.com.au/
LinkedIn: https://www.linkedin.com/in/davidpagotto/
Twitter: https://twitter.com/sixgunagency
Facebook: https://www.facebook.com/sixgunagency
-
David Pagotto, Founder of Six Gun
Want to start your own business?
Hey! 👋I'm Pat Walls, the founder of Starter Story.
We interview successful business owners and share the stories behind their business. By sharing these stories, we want to help you get started.
Interested in starting your own business? Join Starter Story Premium to get the greatest companion to starting and growing your business:
Connect + get advice from successful entrepreneurs
Step by step guides on how to start and grow
Exclusive and early access to the best case studies on the web
And much more!
PROMOTED
Did you know that brands using Klaviyo average a 95x ROI?
Email, SMS, and more — Klaviyo brings your marketing all together, fueling growth without burning through time and resources.
Deliver more relevant email and text messages — powered by your data. Klaviyo helps you turn one-time buyers into repeat customers with all the power of an enterprise solution and none of the complexity.
Join Brumate, Beardbrand, and the 265,000 other businesses using Klaviyo to grow their online sales.
Starter Story
Wanna see 52 business ideas you can start with less than $1,000?
Join our free weekly newsletter and get them right now.