Building A Personal Fitness Blog Interviewing 250+ Fitness Influencers
•
Updated: March 17th, 2022
Building A Personal Fitness Blog Interviewing 250+ Fitness Influencers
Hello, who are you and what business do you run?
I'm Mads Phikamphon, 44 and from Denmark. I work in programming during the day and run Bulk Hackers during the night together with 2 virtual assistants.
Being quite into fitness and sports (climbing and running), I got inspired by Starter Story and started our site where we interview people who do great in fitness.
Through our interviews, people get to learn much more about the people they follow on Instagram and learn how to train better, eat better and so on.
I have learned a lot from the interviews myself and I'm quite sure our readers also learn a lot.
Also, the interviews are super motivating. There's no limit to what you can do if you put in consistent work!
Explain to me your email and business workflows.
Emailing is central to our business. That's how we get into contact with the people we interview, follow up with them and share things with them.
Without email, we would not have a business!
We have tried using Facebook and Twitter to contact people, but the success rate was low compared with email.
At the moment, I would say we spend 2-3 hours emailing every day. We still spend a lot of time in email - but now we spend more time on on the important things - like finding great leads and publishing content - while spending less time on manual email tasks, like follow-ups. Pigeon automates most of that for us now!
From spreadsheets to using a CRM
Before we started using Pigeon, we did everything manually and administrated things through a spreadsheet and a small program I had written.
It worked, but it took a lot of time and following up was the worst. It was time-consuming and boring. Especially because many follow-ups are never answered anyway.
After we started using Pigeon, things sped up dramatically. It became much easier to keep track of leads, replies and follow-ups.
Besides the actual emailing, we also really like that you can bulk copy-paste leads into Pigeon. Here's what I mean: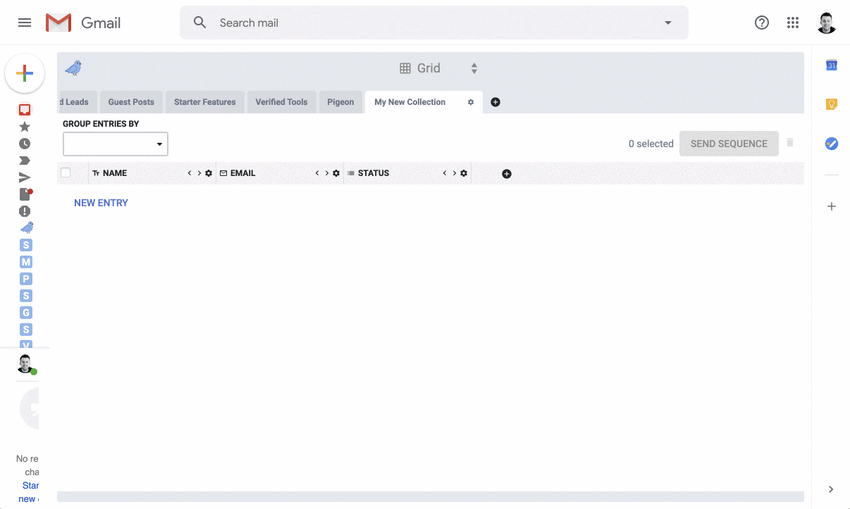 As we find people to interview, we add them to a big spreadsheet - and when we have made sure there are no duplicates etc., we split the leads up amongst me and the virtual assistants and bulk copy-paste them into our separate Pigeon accounts.
Why do you like about Pigeon?
The killer feature of Pigeon is that it's integrated inisde Gmail, so we didn't have to learn/invest in a new tool. Everybody knows how to use Gmail, so we were up and running with Pigeon in no time.
We also really like the scheduled follow-ups. As mentioned earlier, we previously hated doing followups. Now it's automatic, so we don't need to worry about it and spend time doing it.
Couldn't be happier about this!
Mostly we use Pigeon for emailing about the interviews on our site, but have also tried using it for link building.
For link building, we added extra fields like site name, so we could merge in the name of people's site when we email them and thereby make our outreach more personal.
Have you noticed any identifiable results after using Pigeon?
We save a lot of time every day. As mentioned earlier, we spend 2-3 hours emailing every day, so being more effective doing emails really adds up to some great savings over time.
What are your other favorite tools that help run your business, and why?
Our site runs on Wordpress with some custom plugins. I absolutely love Wordpress and enjoy coding stuff that extends Wordpress.
To keep track of our work, we use Trello. We have created a Kanban board for each of us - one for me and one for each of the virtual assistants.
Trello is nice and simple. Just like Wordpress, it's probably all you need to get things done. No need to invest in some complicated project software or an overengineered CMS.
We also use Ahrefs for SEO work and social media to find great leads.
Thanks for the great interview Mads! To see what Mads has built, check out Bulk Hackers here.
-
Mads Phikamphon, Founder of Bulk Hackers
Want to start your own business?
Hey! 👋I'm Pat Walls, the founder of Starter Story.
We interview successful business owners and share the stories behind their business. By sharing these stories, we want to help you get started.
Interested in starting your own business? Join Starter Story Premium to get the greatest companion to starting and growing your business:
Connect + get advice from successful entrepreneurs
Step by step guides on how to start and grow
Exclusive and early access to the best case studies on the web
And much more!
Starter Story
Wanna see 52 business ideas you can start with less than $1,000?
Join our free weekly newsletter and get them right now.