A Day In The Life of Eric Bandholz - The Founder of Beardbrand
•
Updated: March 17th, 2022
A Day In The Life of Eric Bandholz - The Founder of Beardbrand
I'm Eric Bandholz and I'm the Founder of Beardbrand, a men's grooming company. We've bootstrapped our way to seven figures through developing some badass products, building relationships with our customers on social media and direct, and building some key retailer partnerships. I currently reside in Austin, TX with my wife, my daughter, and my Australian Shepherd.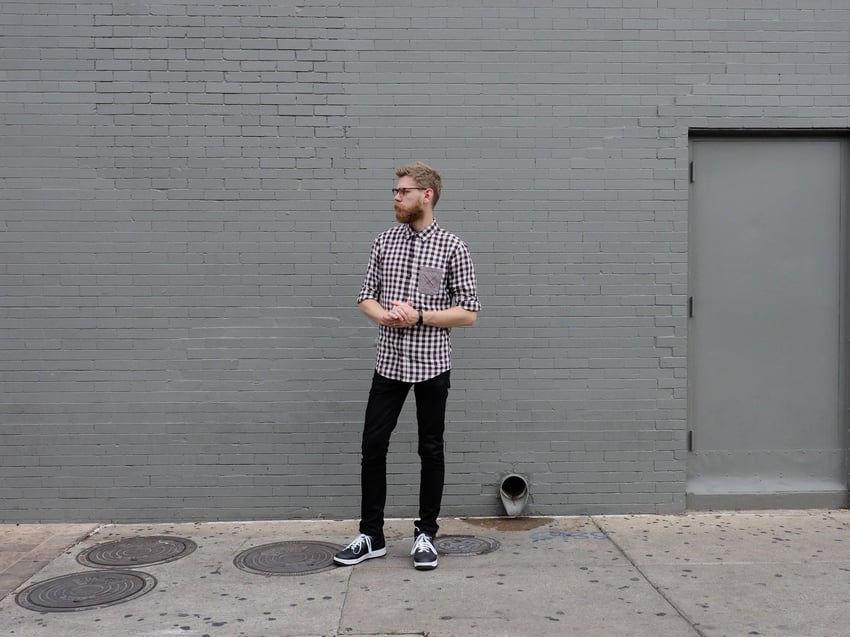 4:30am (Tuesday & Thursday)
My morning routine is pretty similar on all days except the weekends, what changes is the time that I wake up.
The day begins in the bathroom as I sit and check up on the latest Reddit posts as well as yesterday's sales from the business. I'll then get dressed for rowing practice and head out to the kitchen to have my breakfast. My go-to breakfast is plain, full-fat Greek yogurt with granola and a glass of water.
While eating I'll open up my laptop and again browse my favorite personal websites. These include Reddit, 43rumors.com, CockyTalk.com, and SocialBlade to quickly check the performance of our YouTube channel.
I prefer to give myself more time than needed in the morning so that I don't feel rushed.
5:30am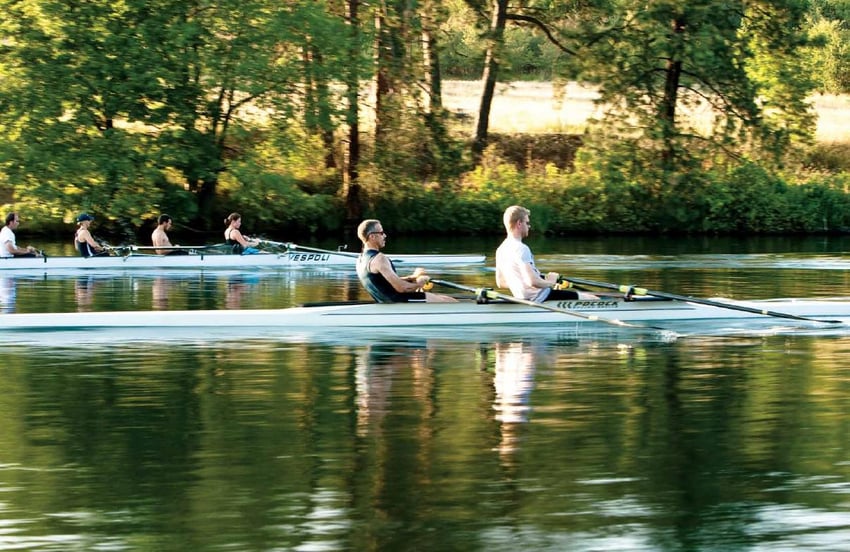 My rowing practice starts Austin Rowing Club at 5:30am on the weekdays so I usually arrive a few minutes early to stretch and get prepared for practice.
As I've gotten older, I've found rowing to be the perfect sport. It's a low impact sport that can never be mastered and can offer clarity and serenity on the water. It keeps my heart fit and allows for me to build strength while staying lean.
During the weekdays we'll row for about an hour and get 6 miles in. The type of workout will vary depending on the season and what races are coming up. After practice I'll drive back home to finish getting ready for work.
7am
On days I don't practice, I'll wake up anywhere between 5:30am and 6:30am. I generally wake up before my alarm goes off and will turn it off so it doesn't wake my wife.
Around this time, I'll hop in the shower and get ready for the day. My shower routine is typically pretty interesting though as I'm frequently trying new prototypes and doing market research. My current routine involves me using our prototype bar soap which can be used as a body bar, a shampoo, and a shave soap.
After hopping out of the shower it's getting down to my grooming routine and like my showering routine there is a lot of testing and trying new things. Frequently I'll create YouTube videos (Like this one, this one, or this one and I'll test different products and techniques that I may want to share with our audience. Style variety is important to me, so my look will change and evolve regularly.
If It's a rowing day, I'll brush my teeth and head to work; but if it's a non-rowing day then I'll eat, brush my teeth, and then head to work.
9am
Once I get into the office then the regularity completely disappears. I do have a few standing meetings which include our daily huddle at 10am as well as a YouTube meeting and a Marketing meeting on Monday and Tuesday around 9am.
We have set KPIs that we keep an eye on. Our marketing meeting is quite robust and includes everything from revenue, email sales, blog visits, YouTube views, YouTube comments, YouTube subscribers, customer support response time, fraud orders, and design projects completed. Each person within the department are responsible for their own KPIs so they'll share them over the course of about 10 minutes and we call out an abnormalities.
The YouTube meeting is more focused on creative and naming our videos as well as planning out content for the upcoming week.
It's typically after the bulk of my meetings that I head out of the office and walk to a coffee shop. Historically, when it's cold out I'll get a pour over or an Americano and when it's warm out, I'll get a cold brew coffee. I drink my coffee black with no cream or sugar.
As of today, I'm trying to kick my caffeine addiction and am doing half regular / half decaf Americanos with the longer term goal of switching to a rooibos herbal tea.
12:00
I enjoy going to a local place to eat for lunch as it allows me to step away from the office for a little bit; but lately I've been drinking a fair amount of Soylent for lunch. I tend to be a lazy eater and hate preparing food or going out to eat. Having Soylent in the fridge allows me to get the calories I need that are more balanced than junk food or sugary drinks. I don't drink them as quickly as they arrive on my subscription plan so I've stock piled a few months worth. As I crank down those bottles, I'll treat myself to eat a bit more.
Typically, when I go out to eat it's with one of my team members or business partners. I do enjoy meeting with other local entrepreneurs and catching up when time allows. That being said, I'm not the best at facilitating those meetings, but I love them.
So if you're an entrepreneur in Austin, just email me and we can get lunch on the schedule.
13:00
I tend to have a few regularly scheduled meetings in the afternoons, but the most important activity is being part of the Beardbrand YouTube live stream. We are currently running that show at 3pm Eastern every Tuesday and I'll either be co-hosting the show or I'll be jamming in the comments and interacting with the viewers.
We have a long term goal of getting up to 14 videos a week, and the live streams are a way for us to get closer to hitting that goal. The beauty with live streams is that it allows you to build a real relationship with your audience, answer the frequent questions you get directly, and produce content with minimal planning and editing. It's also going to allow us to segway into podcast content and make it easier for our audience to interact with us on multiple platforms.
If I start to feel an afternoon slow down, I'll get out of the office and go for a short walk around the block. This will help clear my mind and spark creativity.
17:00
Typically I'm wrapping things up between 5pm and 6pm.
The last hour or so I like to spend time with my team members and catching up with what they are working on or learn more about their passions outside of work. Once I get home I become perhaps the laziest person you can imagine. I love laying down on the couch and catching up on whatever nature shows are on Netflix. I'll fight off sleep as much as possible.
Then I'll grab dinner with my wife and daughter, and help get my toddler to sleep.
20:00
After my daughter lays down for bed, I'll go through my typical night time routine of skin care routine, brushing my teeth, and getting ready for bed.
I typically end up in bed before my wife and will generally browse Reddit while she wraps up her day. If it's been a very strenuous day (days I row), I'll typically fall asleep when I hit the pillow. If I'm being responsible, I'm sleeping by 9pm; otherwise it's normally in the 10pm - 11pm timeframe. I strive to get a good 8 hours of sleep every night.
I tend to leave my schedule pretty flexible as I love variety and that every day is different. However, that leaves me with the downside of not maximizing my time. I do think I could do a better job of grabbing lunch with someone everyday; even if that's a team member in the office.
-
Eric Bandholz, Founder of Beardbrand
Want to start your own business?
Hey! 👋I'm Pat Walls, the founder of Starter Story.
We interview successful business owners and share the stories behind their business. By sharing these stories, we want to help you get started.
Interested in starting your own business? Join Starter Story Premium to get the greatest companion to starting and growing your business:
Connect + get advice from successful entrepreneurs
Step by step guides on how to start and grow
Exclusive and early access to the best case studies on the web
And much more!
Together With
Food Foundry
Do you want $75k in funding to grow your startup?
Food Foundry is an accelerator program built by Relish Works & Gordon Food Service for early-stage startups disrupting the foodservice industry. Applications are open now through October 23rd! Apply today if you're looking for:
$75K in funding
Specialized early-stage curriculum and resources
Dedicated mentorship from investors and foodservice experts
Highly supportive community to help grow your business
Food Foundry's 2023 cohort will kick off in January in Chicago and end with a final invite-only showcase for companies to pitch to investors and the broader Food Foundry community.
Apply NOW [It only takes 10 minutes!]