A Day in the Life of British Founder Elliot Bishton
•
Updated: March 17th, 2022
A Day in the Life of British Founder Elliot Bishton
I'm Elliot Bishton, the founder of Engravers Guild of London, the online personalised gift retailer.
You can read my StarterStory here; but, in short, I began selling personalised gifts in September 2016 and have grown the company to $30k a month. From starting with only seven styles of cufflinks, we now have well over 200 product lines (such as engraved lockets and custom hip flasks) and have transitioned from a business-at-home to one operating out of a purpose-designed workshop.
The mission of the business is to deliver beautiful gift experiences, and we really do try to go above and beyond. In personalising each item we send out, though, the process can be quite labour intensive. As you'll see below, almost all my time is spent working in the business as opposed to on the business, which is now a priority for me to address.
That said, here's what my day looks like at the moment...
8am
I'm not a natural early-riser. I set my alarm for about 7.40, but hit the snooze button for a while after. I sometimes feel guilty about not being up at the crack of dawn… but figure it's worked for Zuckerberg, Picasso and half the tech founders in Silicon Valley, so why should I get hung up on it.
I make a point of never checking my phone or emails in bed. Instead, when I do rise, I prefer to take a few moments doing something akin to a very basic meditation. It doesn't take long at all (like, about a minute), but I find that if I start the day in a frantic spin then I never manage to work out of it.
8.30am
I have a light breakfast, usually consisting of just a bowl of cereal. Depending on what day of the week it is determines my schedule for the rest of the day as I move between two locations.
The business was founded and started in London. At the beginning, I used to outsource all the engraving to various suppliers around the country and manage the flow from an office in Shoreditch. However, when the business got to a size to invest in our own engraving capability, I set-up a workshop outside the city. So, my main base and home is still in London, but I spend the middle part of the week at the workshop and stay about two miles away.
I used to think that I could never work anywhere other than a major metropolis, but lately I've been surprised by how much I appreciate not having to fight with the crowds on the London Underground. Instead, I've been making a short drive with absolutely no traffic. That means that I don't listen to the business podcasts that I used to, but I was pretty much at saturation point with those anyway so it is no great loss.
8.50am
I get to the office just before 9am, at which point I check my emails for the first time in the day. I'm most keen to look at whatever orders we had come in, as this will determine how much of the day will need to be focused on production and order processing.
The first priority is to respond to any customer emails that have come in overnight. Throughout the day I try to reply to all emails within 20 minutes of receiving them (getting back to the customer while they are still in the frame of mind of buying), but I stop this at 9pm and so try to respond to anything outstanding now.
At the moment, I don't have a telephone number on our website for customers to call. It's something I've thought about a lot and have been tempted to put one on as I'm sure it would help us with sales. BUT. The times I have spoken to customers on the phone, it has taken forever! I'm pretty sure that I would have to employ someone full time only to answer customer calls, so I'm sticking with just the emails for the time being.
9.30am
Until not so long ago, all the orders had to be manually printed. Lately, however, we've installed an application called Printnode on our site which prints the orders in real-time without even having to press a button. It's been working like a dream so far, and saves us a shed load of time every day.
So at this point I can start on the engraving. Each member of the team has their own workstation, and mine consists of two engraving machines, a computer and laptop. In between jobs I'm responding to customers, ordering stock from suppliers and doing whatever other emails need my immediate attention.
The bulk of my focus, though, has to be on the engraving. Although it's not ideal that I need to give so much of my time to this, I think it's been important to really learn the capabilities of an engraving machine and see what can be possible.
Lots of people offer our services but, as with all things, it takes a certain amount of application to achieve the best results. I don't think it would have been possible for me to build a business that stakes its reputation on the quality of it's engraving without me personally spending day after day gaining an intimate knowledge of the operations.
I've spent hours on the phone to the manufacturer of the engraving machines and hours on tutorials to ensure we are pushing the machines to their maximum. I know that an employee wouldn't have had the same vested interest to go to the lengths that I have done, so I'm glad I don't have to rely on the say-so of others on what should be an acceptable standard.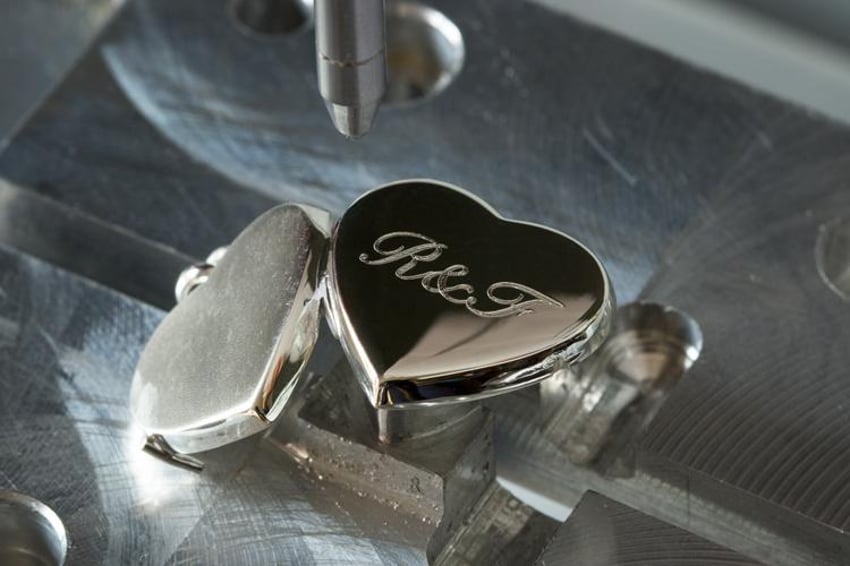 Locket being engraved
11.30am
The team has a tea break and a "second breakfast" of some toast or croissant.
12-3pm
Continue engraving, depending on how many orders there are to do. We've also just recently introduced a next-day delivery option if ordered before 1pm, so we keep an eye on whether we need to do any last-minute jobs. We used to just charge the same amount for a next-day service if requested by the customer, so it's very good now to be charging extra and adding money to the bottom line.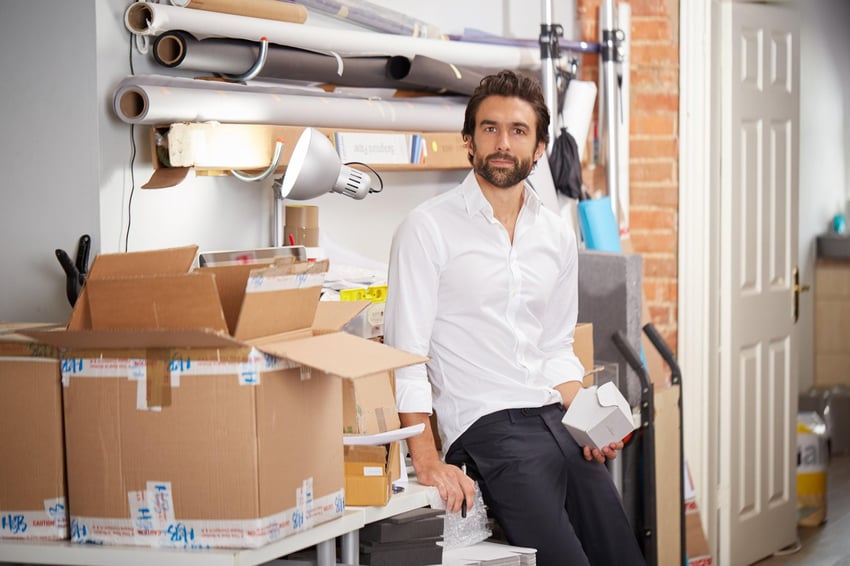 In workshop
3pm
Our courier collection arrives about this time, so there'll be no more engraving after this. It's also a chance to eat a proper lunch. I'll either nip back to where I'm staying or heat up some food at the workshop.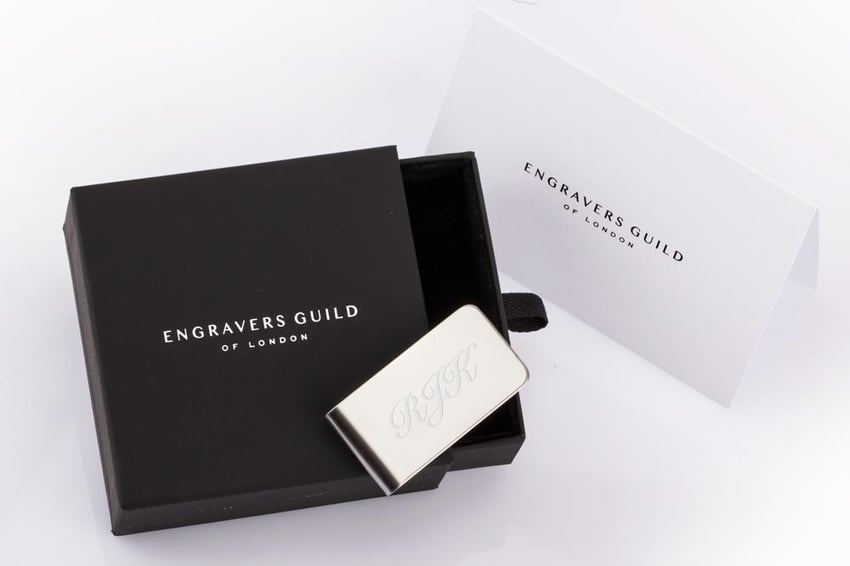 Engraved silver money clip and Engravers Guild presentation box
4pm
In a sense, this is when my real day starts. For the rest of the day I can focus on growing the business, and it starts with a call at 4pm. I arrange all my scheduled calls for this time, and will have one every day whether it be with my web agency, marketing agency, suppliers or new service providers.
4.45-6pm
I'll tend to be the only one in the workshop by now, so it's a chance for me to get my head down and crack on with more substantial bits of work.
A focus for the business at the moment is to build more product collections. Depending on what we're sourcing will influence how we go about finding the suppliers.
We source our packaging from China, and we started by reaching out to companies through Alibaba. We typically contact about a dozen companies for a quote, and whittle it down to four based on price and the quality of their responses. Then we commission samples from the shortlisted companies. This sets you back by about $200 a time and the costs can build quite quickly. However, it invariably takes a number of weeks to receive the sample and, if you don't strike lucky with your first supplier, then you can easily run into months just to find the right quality of product you want. So if you can commission four at once, the extra money you spend should return in time saved.
For European products, things aren't often as simple as Alibaba. You can start by looking at the trade fairs for your target industry, checking who attended the previous year and contacting the ones that look most relevant. Many, though, don't bother with trade fairs now, so we're increasingly reaching out to Trade Associations.
Some are able to help you source suppliers free of charge. Others may require you to become a member, typically charging between $200-400. If you come to a dead-end elsewhere, this may be your only option; but finding the right supplier is money well spent. And you may be able to make more of your membership fee by placing a link on their site.
Trade bodies usually have really high domain authority, and some let you post blogs every month adding further SEO points to your business. If this route still doesn't work, check the social media accounts of your competitors and they often tag their location when visiting their supplier factories. You'll need to employ further detective skills, from there, but you'll know you're pushing in the right direction.
6pm
Quick trip back home for some food.
7pm
Of course, my absolute priority is to build a business. It would be very easy, therefore, to just focus entirely on that. But, one of the reasons I gave up my job in the City was to pursue some of my other interests outside of the office. Each evening I either go to the gym, train with my local hockey team or rehearse for the next play I'm doing with a theatre company.
When I was younger, I never had the discipline to pull myself away from complete attention on an important task (for example, revising for exams)... but, the older I get, the more I feel that that approach was to my real detriment. I would say that it's important to remove your mind entirely from your business for at least a couple of hours every day as otherwise your thinking becomes sluggish and your ideas become flat.
10pm
By this time I'm back home, and I reserve the next couple of hours for business tasks that require an uninterrupted run of attention. At the moment this mainly involves creating a new brief for my web agency, writing articles to place online with a view to boost SEO, and launching new product collections.
I also try to work on new business ideas. I think that relying on a single business is inherently risky, and all it takes it for a tweak in a Google algorithm or an update on an Amazon policy for a business like mine to be totally wiped out the market (not to mention the fast changing consumer preferences). So, I'm always looking at how I can broaden my exposure.
As such, I've started two other businesses: Lox Lockets and NursesFobWatches.com. These are designed to be complementary to Engravers Guild, utilising my same asset base, but re-working it to provide a slightly differentiated offer. That said, I appreciate I have to be careful, as a common mistake of founders is to get distracted by other ideas and so fail to give any of them the attention they need.
12am
Wind-down. Maybe read a book, maybe watch some TV.
1am
Bed
-
Elliot Bishton, Founder of Engravers Guild
Engravers Guild has provided an update on their business!
About 2 years ago, we followed up with Engravers Guild to see how they've been doing since we published this article.
11 months ago, we followed up with Engravers Guild to see how they've been doing since we published this article.
About 1 month ago, we followed up with Engravers Guild to see how they've been doing since we published this article.
Want to start your own business?
Hey! 👋I'm Pat Walls, the founder of Starter Story.
We interview successful business owners and share the stories behind their business. By sharing these stories, we want to help you get started.
Interested in starting your own business? Join Starter Story Premium to get the greatest companion to starting and growing your business:
Connect + get advice from successful entrepreneurs
Step by step guides on how to start and grow
Exclusive and early access to the best case studies on the web
And much more!
If You Don't Rank In Google, You Don't Exist.
In order to be successful, you need to be visible online. If you're not, then your competitors might be stealing customers from you.
Semrush lets you quickly create content that ranks, and compete with the biggest brands in your niche.
Try Semrush Free Today ➜