Berlin's 15 Best Startup Accelerators & Incubators [2021]
•
Updated: May 30th, 2021
Learn how thousands of people are earning up to $2.5M/month online.
Berlin's 15 Best Startup Accelerators & Incubators [2021]
Are you looking for an accelerator program in Berlin city?
With approximately 40K business registrations per year, Berlin is known as Germany's founder capital.
If you're starting a business in Berlin, you might be wondering what startup accelerators or incubators exist in the area. Here's the full list:
Startup Accelerators & Business Incubators In Berlin
1. Startupbootcamp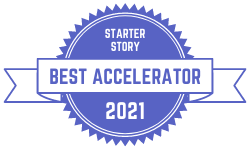 Location: Berlin,Melbourne,Milan,Amsterdam,Dubai, and more.

Industry: Smart Transportation and Energy

Investment Size: $500K

Program: 3 Months
Startupbootcamp is a global accelerator program that helps startup firms related to various industries like finance, insurance, fashion, transportation, food, cleantech, etc. The branch of this program in Berlin helps startups in the field of smart transportation and energy. This three-month program provides mentorship, funds, offline space, extensive support, and access to the global network of corporates, and investors to the startups. It focuses on the energy, logistics, information, transportation, and mobility of services and goods.
Apply to Startupbootcamp, or learn more ➜
2. Techstars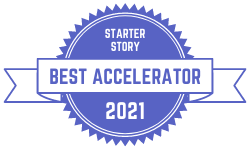 Location: Global
Industry: All Industries
Investment Size: $20K
Program: 3 months
Equity Taken: Not Disclosed
Techstars runs a three-month accelerator program in which they provide mentorship and raise funding for the startups of any industry. At Techstars, they have a powerful team of mentors, corporate partners, and investors who will provide startups with workshops, innumerable experiences, curated resources, fundraising opportunities, and build a successful company.
Apply to Techstars, or learn more ➜
3. Axel Springer Plug&Play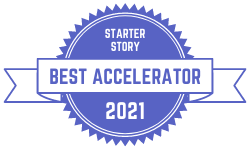 Location: Berlin

Industry: Digital Industry

Investment Size: $25K

Program: 3.5 Months
Axel Springer Plug and Play Accelerator is a home for digital entrepreneurs. It is a joint venture between Axel Springer SE and Plug and Play Tech Center. They invest in early-stage startup companies and provide them mentors, business networks, workshops, co-working space, and other amenities. They create working opportunities from Berlin to Silicon Valley and to date they have accelerated over 100 companies globally.
Apply to Axel Springer Plug&Play, or learn more ➜
4. German Tech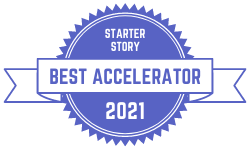 Location: Berlin

Industry: Technology Industry

Investment Size: 35K EUR

Program: 3 Months
German Tech is an accelerator program that enables innovation and entrepreneurship for a sustainable future. They nurture the entrepreneurs for tomorrow by offering services and solving challenges. They follow an innovation value chain i.e. inspire, build and grow. They inspire new ideas by mentoring and educating entrepreneurs, launch and build the business through extensive operational support, and grow the same by creating an environment to meet, connect and learn from peers and mentors.
Apply to German Tech, or learn more ➜
5. Rocket Internet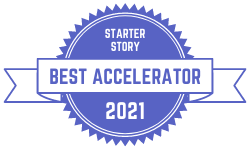 Location: Berlin

Industry: Technology&Internet

Investment Size: Not Disclosed

Program: Not Disclosed
Rocket Internet is a startup incubator and venture capital firm that invests in internet and technology startups. They support entrepreneurs globally and help them build market-leading businesses. Rocket Internet enables entrepreneurship by incubating technology startups, investing in their success, and providing them a unique blend of extensive operational support and capital for their growth.
Apply to Rocket Internet, or learn more ➜
6. Next Big Thing
Location: Berlin

Industry: Machine Economy

Investment Size: Not Disclosed

Program: Not Disclosed
Next Big Thing (NBT) is a venture studio for machine economy startups. Here at NBT, the future is not just imagined, it is created by supporting novel technologies, ideas, and processing the life-cycle of new business ventures that aim to create a sustainable, democratized, and prosperous world in the future. They have a mission to help entrepreneurs and startups through an inspiring network of mentors, leaders, and experts, sharing business knowledge, hosting events with top-level industry officials and founders, and other strategic and educational content.
Apply to Next Big Thing, or learn more ➜
7. EIT Climate-KIC
Location: Berlin,London,Paris,Brussels, and more.

Industry: Climate-Tech

Investment Size: $20K

Program: 18 Months
Climate-KIC is an initiative of the European Institute of Innovation and Technology, working towards accelerating the transition to a zero-carbon economy. This accelerator program focuses on building healthy&clean cities, resilient regions, climate-friendly food systems and diet, circular regenerative economies, and zero-emission maritime hubs. Its accelerator program accelerates and scales climate tech startup businesses to reach new heights through ideation support, resources, finance, business skills, and mentorship&networking opportunities.
Apply to EIT Climate-KIC, or learn more ➜
8. LeAD Sports and Healthtech Partners
Location: Berlin/Lake Nona

Industry: Sports and Healthtech

Investment Size: $75K

Program: 12 Weeks
LeAD is one of the hottest startup accelerators in the world that helps sports and health tech startups to grow from seed to profitable business ventures. Participating startups will be provided with high-intensity training, learning experiences from industry experts and corporates, access to capital, tailored programs, product testing opportunity, gain customers, and connections with investors. The program is designed to provide lots of knowledge to startups and how to implement the same in practice to boost the business. Through their weekly coaching sessions, they also cover topics like; business finance, sales, marketing, accounting, administration, product &startegies.
Apply to LeAD Sports and Healthtech Partners, or learn more ➜
9. Sap. io
Location: Global
Industry: Technology Industry
Investment Size: $250K
Program: 3 Months
Equity Taken: Not Disclosed
SAP.iO is a strategic business unit that incubates, accelerates, and scales up startup business firms. They have a skilled team of members who provides sales, marketing, and technical resources to the participating entrepreneurs and startups. This global accelerator program provides many go-to-market benefits, technical benefits, and exclusive perks to the startups through their tailored accelerator program according to the market and regional needs.
Apply to Sap. io, or learn more ➜
10. Metro Accelerator
Location: Berlin

Industry: Hospitality and Retail-Tech Startups

Investment Size: $100K

Program: 24 Months
Metro Accelerator runs an xcelentrepreneurs program where they help startups in the hospitality and retail-tech sector. They focus on bringing innovation while working with entrepreneurs and startups through various pilot programs. To date, they have helped more than 70 companies to grow into a profitable business and have raised more than 265M EUR as funding for them. Some of its portfolio companies are; MY Catering, Heura, CB4, Untie Nots, Afresh, Hotelhero, Easy Way, and many more.
Apply to Metro Accelerator, or learn more ➜
11. Go Silicon Valley
Location: Berlin/Los Gatos

Industry: Innovation and Technology

Investment Size: Not Disclosed

Program: 3 Months
Go Silicon Valley helps startups and entrepreneurs to breakthrough innovations through the suitable framework and the right mindset. They provide startups with methods and know-how of the innovative startup ecosystem through x-meetings, accelerator programs, startup scouting, innovative networks, and workshops. Here at Go Silicon Valley, established companies collaborate with startups and help them in their growth and development.
Apply to Go Silicon Valley , or learn more ➜
12. Startup Incubator Berlin
Location: Berlin

Industry: Technology Industry

Investment Size: Not Disclosed

Program: 9 Months
Startup Incubator Berlin is a part of the Berlin School of Economics and Law. This program helps and supports entrepreneurs and startups with working space, mentorship, coaching, workshops, prototyping lab, AR&VR lab, design thinking lab, and more. They run a Jump Start program where they help entrepreneurs to turn their early-stage business idea into prototypes. They enable and support creative innovations and development in the ecosystem of Berlin.
Apply to Startup Incubator Berlin, or learn more ➜
13. G4A
Location: Berlin

Industry: Health Technoplogy

Investment Size: Not Disclosed

Program: 2 Months
G4A formerly known as Grants4Apps is an initiative of Bayer, founded in the year 2014. This program works passionately with digital healthcare startups and technology companies to deliver digital health solutions to the world and give them a whole new experience of health. Participating startup firms are supported by a team of mentors and healthcare experts and are also provided with strategic partnership and fundraising opportunities that will help them grow their business. To date, they have helped 87+ startups and have raised more than $1B of funding.
14. APX
Location: Berlin

Industry: All Industries

Investment Size: 500K EUR

Program: 3 Months
APX backed by Axel Springer and Porsche is an early-stage investment firm, which supports early-stage entrepreneurs and business startups who work on a digital business model. They invest up to EUR 500K in the startups and provide them with top mentors and experts, who specialize in a specific field and help entrepreneurs to face specific challenges. They provide a tailor-made program and hands-on approach to the startups according to their need and type of business.
Want to start your own business?
Hey! 👋I'm Pat Walls, the founder of Starter Story.
We interview successful business owners and share the stories behind their business. By sharing these stories, we want to help you get started.
Interested in starting your own business? Join Starter Story Premium to get the greatest companion to starting and growing your business:
Connect + get advice from successful entrepreneurs
Step by step guides on how to start and grow
Exclusive and early access to the best case studies on the web
And much more!
PROMOTED
Did you know that brands using Klaviyo average a 95x ROI?
Email, SMS, and more — Klaviyo brings your marketing all together, fueling growth without burning through time and resources.
Deliver more relevant email and text messages — powered by your data. Klaviyo helps you turn one-time buyers into repeat customers with all the power of an enterprise solution and none of the complexity.
Join Brumate, Beardbrand, and the 265,000 other businesses using Klaviyo to grow their online sales.
Wanna see 52 business ideas you can start with less than $1,000?
Join our free weekly newsletter and get them right now.