On Starting An Allergy Friendly Desserts Business
On Starting An Allergy Friendly Desserts Business
Hi! My name is Julie Butcher and I am the founder and owner of The Vegan Knife. I created The Vegan Knife to serve people that have food allergies and the vegan community. We currently have a line of baking mixes that include: chocolate cupcake/cake mix, birthday cupcake/cake mix, vanilla spice cupcake/cake mix, and cinnamon sugar donut mix. All of our products are gluten-free, soy-free, nut-free, egg-free, dairy-free, and vegan!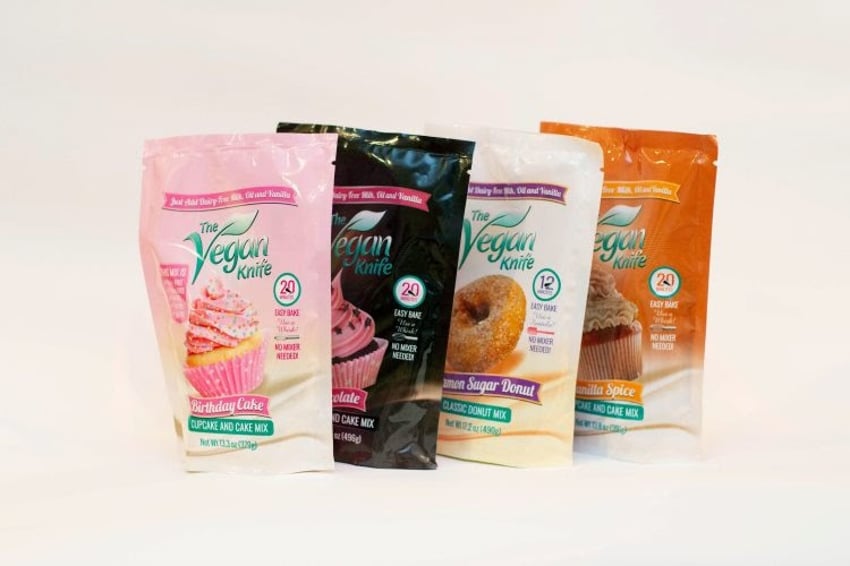 Our products are not only allergy-friendly but super easy to make. The customer only has to add the non-dairy milk, oil, and vanilla to our baking mix and whisk until the mix is combined! Our company has come such a long way and we are continuously developing new products!
What's your backstory and how did you get into entrepreneurship?
I am an attorney by trade and practiced law for 7 years but I was unhappy and unfulfilled with my career. I decided to accept a job in the corporate world but about 6 months after I started working at that job I was told that I needed to have surgery for a strange brain condition. About 4 weeks after I had the surgery I was told I needed a second surgery. The rehabilitation process for these surgeries was brutal. I had to relearn how to walk and relearn basic skills.
A business owner needs to decide what is best for their business but should take all these things into consideration.
In the midst of this, I was diagnosed with food allergies. I didn't know how to navigate the food world with my newly diagnosed food allergies. I would go to my doctor and tell her that it was very hard to find items in the supermarket that I could eat, especially desserts. My doctor told me that I just needed to create my own. That was exactly what I did. I started to create different recipes and I would take my doctor some samples. My doctor was really impressed and one day she told me that I should quit my job and start my own food business. In the beginning, I thought my doctor was being nice by suggesting that I start my own food business but she was actually being serious. She was extremely encouraging and supportive and offered to refer her patients to me. That's the moment that I decided to open The Vegan Knife.
Take us through your entrepreneurial journey. How did you go from day 1 to today?
The Vegan Knife started out as a gluten-free and vegan weekly meal delivery service. We had good customers and we were growing. However, I realized that this business model would be hard to scale. I decided to rebrand our company and focus solely on allergy-friendly desserts.
We started out at the local farmer's market. We would sell ready to eat cupcakes and donuts. I wanted to use this venue as a test market to see if people liked our products. We learned so much from our experience at the farmer's market. This experience gave us the opportunity to refine our recipes based on customer feedback. For example, I didn't realize how many people were allergic to almonds so I switched from almond milk in the cupcakes to coconut milk and that helped us expand our customer base. We also noticed that customers wanted to bake cupcakes at home so we started to think that this might be an opportunity to expand. After several months of being at the farmer's market, we felt that we had refined our recipes and our products were accepted in a local natural grocery store.
This was a great opportunity for growth. We continued to learn valuable lessons regarding our products. Our cupcakes and donuts were getting rave reviews and people started to inquire about us shipping our products out of state. We tried to figure out this piece of the puzzle but the shipping portion of it was making it cost-prohibitive. We remembered how many people wanted us to ship our products when we were at the farmer's market and realized that if we wanted to grow this company nationally we needed to convert our recipes into dry mixes that were easy for the consumer to use. We started that project and it was not easy. I believe I spent around eight months working on the recipes and conversions. After those were finalized we started working on the labels and the graphic work. Honestly, I felt that this project was never going to end! The labels were eventually completed and then it was time to start selling the mixes!
When we started to sell the mixes, I was doing all of our production manually in our commercial kitchen. I soon discovered that it was impossible to grow if I was doing this labor-intensive job manually. So, the search for a co-packer began. If you are thinking about taking a product National, this will be the most difficult step along the way. You have to find a co-packer that will essentially replace you in the kitchen and that was not an easy task.
The first co-packer we had charged by the day and there was no guarantee as to how many units they could produce in one day. If a co-packer offers you this option you should run as fast as you can! I wish I would have run away but I learned a lot about what can go wrong when I had to work with this co-packer so I see it as a lesson learned that I can now share with you. By working with a co-packer we were able to get into a couple of grocery stores and shortly thereafter we were approved by Amazon!
It's probably not a surprise that our relationship with the first co-packer did not last long. We quickly secured a second co-packer. The second co-packer had its own set of challenges. Their lead time for a production run was between four and six weeks. They also had their own private line of baking mixes and they started to see us as a competitor instead of a client. Things went downhill very quickly and we now have a new co-packer and things are looking promising.
In the midst of switching co-packers, we also switched from using labels to full-color pre-printed pouches. This project was very time consuming and labor-intensive but it was all worth it because our new pouches look great!
How are you doing today and what does the future look like?
Our company has grown and evolved so much since its inception. Our online sales have grown dramatically since we launched our baking mixes. We also have some bakeries that use our mixes to make their allergy-friendly and vegan cupcakes and donuts. We never thought of bakeries using our products but it has turned out to be a great area of expansion. We plan to continue to grow this area of our business.
Starting our online business on Amazon was challenging. One of the challenges that we experienced was that no one knew our company. Additionally, since you can't demo a product online we had to find a creative way to spread the word that our products were good. We started approaching bloggers and social media influencers to see if we could send them our product in exchange for a review. This approach really helped us grow our company. Our goal is to continue to grow, have strong brand recognition and become a national brand.
My strength is in product development, so we continue to experiment with different products. We will soon be launching a sugar-free version of our most popular product, our birthday cupcake/cake mix. I would like to develop a pancake mix and some cookie mixes as well. My long-term goal is to develop a line of ready to eat snacks that are allergy-friendly, vegan and tasty!
Through starting the business, have you learned anything particularly helpful or advantageous?
Starting a business is not for the faint of heart! I have learned a lot of lessons along the way but the number one business lesson that I learned was to be flexible with your business plan. When I started I had a very specific vision of what I wanted my business to look like. As I started to learn the business and execute my business plan I realized that if I wanted to grow my business nationally I would have to modify my business plan. In the beginning, I felt that modifying my business plan meant that I had failed but I was being short-sided; modifying my plan was the smartest thing I did.
Each business has its own set of challenges. The important thing is how you as a business owner and entrepreneur will deal with those challenges. A lot of entrepreneurs will quit when faced with setbacks. However, you must remember that this journey is not a sprint; it's a marathon that will have some detours along the way and it is up to you to get back on the main road and cross the finish line!
What platform/tools do you use for your business?
It can be a daunting task to pick the perfect platform for your business. Currently, most of our online sales are done through Amazon. We have our own website as well and we use Woocommerce and Wordpress as our platform.
After extensive research, we felt that Woocommerce offered the features we were looking for including the Amazon fulfillment plugin and the ability to be able to integrate the shipping feature with Shipstation.
What have been the most influential books, podcasts, or other resources?
The most influential resource that I have had has been the advice of marketing experts and people in the food business. Of course, you always have to sift through the information that people give you. However, I have found that if you establish a good relationship with the persons in charge of your wholesale accounts, ask questions and let them know that you want to grow your company and succeed they will be your help and guide you.
Advice for other entrepreneurs who want to get started or are just starting out?
My first piece of advice for entrepreneurs that are starting their business is to be realistic with their expectations. A lot of entrepreneurs think that they will start a business and instantly start making money. Unfortunately, this is rarely the case. Most businesses will take at least several years to start making money and it's usually longer than that for it to be profitable. In the first couple of years, you will be spending money building the business so it's important to keep this in mind before you open the doors to your new business.
My second piece of advice is to be careful who you choose as your investors and how much equity you give up. Personally, I have chosen not to have any investors yet. A lot of times business owners get investors because they need capital and they give up a lot of equity in their business; this is one of the worst things you could do. Please remember that under no circumstances you should give up control of your business. When I was a practicing attorney, I saw firsthand what can happen when business owners have the wrong investors and they give up too much equity. At the end of the day, a business owner needs to decide what is best for their business but should take all these things into consideration.
Where can we go to learn more?
Please be sure to check us out on our website. We also are part of Amazon Prime so take advantage of that and place your orders on Amazon! And, be sure to follow us on Instagram and Facebook.
-
Julie Butcher, Founder of The Vegan Knife
Want to start your own business?
Hey! 👋I'm Pat Walls, the founder of Starter Story.
We interview successful business owners and share the stories behind their business. By sharing these stories, we want to help you get started.
Interested in starting your own business? Join Starter Story Premium to get the greatest companion to starting and growing your business:
Connect + get advice from successful entrepreneurs
Step by step guides on how to start and grow
Exclusive and early access to the best case studies on the web
And much more!
Together With Food Foundry
Do you want $75k in funding to grow your startup?
Food Foundry is an accelerator program built by Relish Works & Gordon Food Service for early-stage startups disrupting the foodservice industry. Applications are open now through October 23rd! Apply today if you're looking for:
$75K in funding
Specialized early-stage curriculum and resources
Dedicated mentorship from investors and foodservice experts
Highly supportive community to help grow your business
Food Foundry's 2023 cohort will kick off in January in Chicago and end with a final invite-only showcase for companies to pitch to investors and the broader Food Foundry community.
Apply NOW [It only takes 10 minutes!]