Thank you Klaviyo for sponsoring Starter Story ❤️
Turn one-time buyers into repeat customers. Try the platform loved by 265,000 brands
120 Creative Abandonded Cart Email Subject Lines (+ Full Guide!)
•
Updated: May 13th, 2021
120 Creative Abandonded Cart Email Subject Lines (+ Full Guide!)
If you're looking to boost your email open rates and increase sales, your email subject line is the first (and most important) step in achieving those goals.
Did you know that 33% of email recipients open emails because of an engaging subject line?
That's why it's critical to craft a catchy email subject line that will get you the traffic and conversions you deserve.
We've put together a list of 120 creative abandonded cart email subject lines (+ full guide!).
Some are proven examples from other successful campaigns, and some are creative ideas to inspire you.
Creative Email Subject Line Ideas
The Horse: Complete Your Purchase
Vinomofo: Wine abandonment cry for help
Ready to buy? Complete your order now
Would X% off your cart seal the deal?
Ooops, get what you forgot
Something in your cart has a promotion.
Complete the purchase and get X% off.
You Left Something in Your Cart
[Product] is going going: Complete your checkout now
Still thinking it over? Maybe this discount will help you…
Thanks for visiting. We noticed you left an item in your cart.
Hey [Name], come back and get a discount.
Going fast: grab the treasures in your cart before they go poof (Food52).
Your item's status (Framebridge).
Hey, [Name], where did you go?
We might be unable to hold on to your cart, final call!
Your cart is sobering up (Whisky Loot).
Fanchest: LAST CHANCE – Take 15% off your Cart
Herman Miller: You've Got an Eye for Design
Friendly reminder: There's something in your cart
Only [Number] [Product] left in stock
JRINK: Uh oh, your cart is about to sell out.
Check out NOW to receive 15% off your order!
Sweaty Betty: Something caught your eye?
Bobbi Brown: You know you want them.
Man Crates: You've left something epic in your Man Crates cart!
Framebridge: Don't miss 10% off your entire cart.
Fab: Enjoy this discount on your next order with Fab!
Come back and save big. Discount inside!
AllSaints: There's still time!
Crate and Barrel: We saved this for you.
X% off something in your basket.
Bonobos: Forget something? Will 20% off jog your memory?
Are you still interested in buying [Product]?
OUAI Haircare: YOU FORGOT SOMETHING
Something in your cart has a promotion, order now to get it by Christmas.
We have [$X] just for you!
Choose or lose! Your cart expires soon.
Hurry! Your cart is about to expire.
You've come so far, [Name], don't give up!
Take X% off your cart before it's gone.
Everlane: Eyeing Something?
[Product] is still in your cart.
[Product] in your cart: only [Number] left in stock
Out Of Sight But Still On Your Mind?
Do you still want to buy [Product]?
Your Cart just Got Lighter! (ESQUIDO).
[Product] is still waiting in your cart at [Brand].
Your cart is ready for check out
We saved your shopping cart for you.
ASICS Tiger: Get it before it's gone…
Last Chance to get [Product]
Clock's ticking…. Say the last goodbye to [Product].
Framebridge: Let's get it on your wall.
Your cart is expiring
You forced your cart to send this reminder.
Michael Kors: You've Got Great Taste, Don't Leave It In Your Basket!
[Percentage] Discount off on [Product]
Pandora: You forgot something…
Your Pretty Purple Boxes Are Waiting! (Stuart Weitzman).
[Name], [Discount] just for you
The cart is expired (Products might still be available).
Your cart is about to expire.
[Days] left to get this [Product]
Your shopping cart is still waiting for you at [Business name].
MAC Cosmetics: View Your Cart Now Before It Expires!
Get [Product name] while it's still available.
Shinesty: You left your stuff at our place…
[Name], we heard you were interested in [Product name].
Brooklinen: unlock a dreamy deal
Your cart misses you like crazy 😭
[Name], free shipping for your cart items!
Prose: Your Prose is ready to order
Get back here to complete your checkout
Forgetting something? Come back for your shoes
Your [Product] is waiting for you at [Brand name].
Bean Box: 20% off sitewide today — Your freshly roasted cart expires soon
[Product] Almost sold out!
Don't miss out on these items!
[Hours] left to get [Product]
Fabletics: [Name], item(s) in your cart are selling fast!
Complete your order now to save 10%!
[Name], don't get [Product] get away from you.
Design Within Reach: An item you liked is on sale for one more day.
Crate and Barrel: We've held your cart for a limited time only.
Your shopping cart is still full.
Looks like you forgot something, complete your purchase
Bath & Body Works: Trust your instincts.
Cart expiring in 10…9…8…
Birchbox: Nudge Nudge
Cold feet? Here's something extra for your cart items (this could be a discount or free shipping).
Free shipping, just for you [Name]
Take 20% off your cart before it's gone forever.
X% off my shopping cart? Yes, please!
Say goodbye to [Product name].
Don't let free shipping go to waste (Rudy's).
Does this cart belong to you, [Name]?
Get your [Product name] before it sells out.
Old Navy: The style(s) in your cart just went on sale!
[Name], should we hold [Product name] for you?
This is the final reminder about [Product name].
Save [Percentage] when you Checkout
Sweaty Betty: Don't miss out!
Lavish Alice: Treat yourself, 10 off for 48 hours
Prose: Ready when you are
Your cart has a hard time letting go (Shop Runner).
Huckberry: Just a couple left…
10% off | We miss you…and so does your cart
[name] Get Free Shipping on [Product] Today
[Days] left: save your shopping cart now.
Complete your purchase from Sneaker Standard (Sneaker Standard).
AllSaints: Seray, we'd look good together
[Name], your cart needs you badly.
AYR: Just lookin out for you 🙂
Your cart expires soon! Get your wines before they're gone.
Did You Forget Something?
Your cart was saved for you
American Apparel: Forget something?
You left some stuff in your [Brand name] shopping cart.
Psst. You left something in your cart.
Did you forget to checkout [Product]
Abercrombie & Fitch: You've got this one in the bag (literally)
GUIDE: How To Write A Great Subject Line
As we mentioned above, crafting a catchy subject line is critical to the performance of your email campaign.
While just a few words may seem like a small piece of your overall message, this is the first impression your audience will have before they decide whether to open your email.
If your subject line isn't engaging or appealing enough, there's a chance it could get buried in your reader's inbox.
Let's go over the proven tips on how to craft a subject line that boosts engagement:
What makes a great subject line?
First, let's discuss the fundamentals of creating a great subject line:
Spark interest and curiosity
A clear and urgent call to action
An offer/intriguing discount
Personalization (this can be done by sending out different versions of emails to subscribers based on their preferences)
Relevance - make sure your subject line covers the current trends and topics within your industry
5 Tips To Crafting a Great Subject Line
Now, let's dive into the specifics of how to create a great subject line for your next campaign:
1. Use a familiar sender name
Although this may seem obvious, it's a piece many marketers miss the ball on.
Your readers want to feel like your email is coming from a human and not a corporation or automated system.
One of the easiest and most effective ways to do this is by changing the sender's name to YOUR name or someone in the company that is well known.
Here's a great example of this from Marketing Examples

Pro Tip
Avoid the "no-reply" sender name at all costs. This makes your email feel unfamiliar, unapproachable, and less personable.
2. Keep your subject short and to the point
If your subject line is too long, it will get cut off, which could impact your reader's chances of opening your email.
The rule of thumb (for both mobile and desktop) is to keep your subject line under 50 characters.
3. Add personal touches to your subject line
If you have access to information about your subscriber (ie. name, location, etc), you can use this to benefit your subject line and catch your readers attention.
It's important not to go overboard here, but adding even the simplest touch such as their name can build trust and rapport.
Here's a great example of a personalized email + offer I received from BarkBox with my dog's name in the subject line: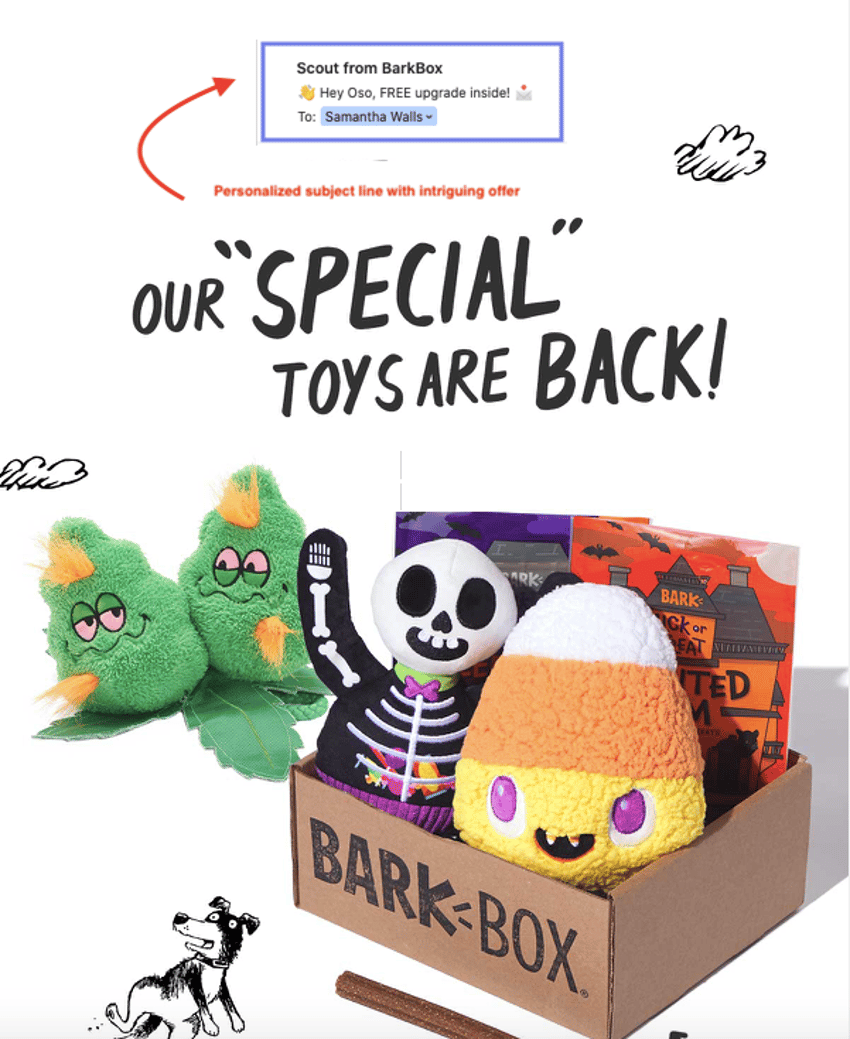 4. Avoid making any false promises
Your subject line makes a commitment to your reader, so it's important you don't stretch the truth just to simply get more opens and clicks.
In the grand scheme of things, making false promises will end up hurting your open rate as your readers will lose trust in you.
5. Give them a sneak peek of what's inside
Telling your subscriber what is inside helps with open and clicks.
For example, if you're providing your reader with a free guide or e-book, consider making your subject line something along the lines of:
"Your FREE marketing e-book awaits!"
Conclusion
If you want your email campaign to perform well, it all starts with your subject line.
Think about the emails you receive in your inbox and what makes you click vs what gets buried - odds are, the same habits go for your customer.
We hope you enjoyed our guide + list of 120 creative abandonded cart email subject lines (+ full guide!).
Want to start your own business?
Hey! 👋I'm Pat Walls, the founder of Starter Story.
We interview successful business owners and share the stories behind their business. By sharing these stories, we want to help you get started.
Interested in starting your own business? Join Starter Story Premium to get the greatest companion to starting and growing your business:
Connect + get advice from successful entrepreneurs
Step by step guides on how to start and grow
Exclusive and early access to the best case studies on the web
And much more!
PROMOTED
Did you know that brands using Klaviyo average a 95x ROI?
Email, SMS, and more — Klaviyo brings your marketing all together, fueling growth without burning through time and resources.
Deliver more relevant email and text messages — powered by your data. Klaviyo helps you turn one-time buyers into repeat customers with all the power of an enterprise solution and none of the complexity.
Join Brumate, Beardbrand, and the 265,000 other businesses using Klaviyo to grow their online sales.
Companies using Klaviyo see a 95x ROI (yes, 95x)
Use Klaviyo to turn hard-earned customer data into hard-working emails and texts.
Try the platform that 265,000 brands use to grow their business.
Try it now (it's free) ➜