Thank you Klaviyo for sponsoring Starter Story ❤️
Turn one-time buyers into repeat customers. Try the platform loved by 265,000 brands
How I Created "The Netflix Of WordPress" Themes And Plugins [ do not publish ]
Start A Wordpress Plugin Business
Hello! Who are you and what business did you start?
Hey! I am Martin but if you go and ask my clients about me, they would say - Martin.
Who?
People like to call me Festinger, their WordPress Guy who runs the world's biggest and the most reliable WordPress vault at FestingerVault.
Festinger Vault is like Themeforest except that it's 10x better and way cheaper. In short, you get access to 5000+ premium themes and plugins for just $9/month.
We currently have 2700+ happy members and new people joining our elite club every day!

What's your backstory and how did you come up with the idea?
Just another guy trying to read people's minds (aka psychologist) during the day and building crappy sites at night as premium themes and plugins were sh-t expensive back then.
Even before you start the business, you will find people criticising the idea, then your company name, then the website, then the customers and this will go on until you actually have made it and are seeing great results.
After developing a few sites though, I realized there has to be some way my sites can look better and fancier at an affordable price and that's how the Festinger Vault was born.
From a small idea to an entire vault, it wasn't easy. Acquiring the items initially would make a hole in my wallet and take away my savings while there weren't a lot of members getting added to the vault but as they say - Tough times don't last, tough people, do.
It has been more than 4 years since the vault started and till today, I have bought 5000+ items directly from the developers and shared them with my club members so that they can build their beautiful sites affordably without facing the problems that I faced when starting out.
People are happy because they get all their favorite plugins for the price of a Starbucks coffee, I am happy because the Internet is looking prettier with beautiful sites, what else can you possibly ask for?
(Go check it out and sign yourself up before we stop the registrations!)/shameless plug.
Rewind four years from today, there weren't a lot of WordPress developers who were building custom themes and plugins, barely a handful of marketplaces apart from ThemeForest, and the good-looking themes and plugins that were actually useful costed a bomb. There was no other way to acquire them but to pay the full price.
I remember the first plugin that I bought cost me $89. Then while browsing my favorite forums, one of the guys started a thread asking if buying such an expensive plugin is worth their money as he was low on cash.
That's exactly when I popped in and sent him all my plugin files and the guy couldn't have been happier! I forgot the count of thanks he sent me and we're still great friends.
Then it hit me, Aha!
Imagine if one plugin could make someone so happy, how can I resist myself from compounding this happiness to thousands of people? That small little thought didn't let me sleep for days and weeks.
My job was taking up most of the time but I realized everyone has 24 hours in their day but everyone is busy. Nobody has any time, you have to make it. With that spirit, I started building the first block of the vault, it took several weeks to develop, plenty of sleepless nights and tens of nights sleeping on the couch (because my wife would kick me out often for working too much) but a few years later, I am happy that I did.
Today, I still get emails from people saying, thanks to the vault, I can now download all my favorite themes for the price of 1/10 of a single theme.
And that gets my eyes teary sometimes but yeah, they bring a smile to my face and are my favorite part of the day! On the other side, some developers send emails cursing me left, right, and center but come on, who cares?
Robinhood has been my inspiration and I would like to keep it that way!
Take us through the process of designing, prototyping, and manufacturing
I have come a long way from having just a locked page that was paid to access to having an open vault with a subscription to converting the whole vault into a WordPress plugin that sits in your WP dashboard and allows you to download all your favorite plugins and themes with just one click.
The goal was to make it the fastest and the most secure WordPress items store and we have finally achieved that! Any item you choose will take less time to install and activate on the vault even compared to Themeforest.
This is what we looked like back in 2019: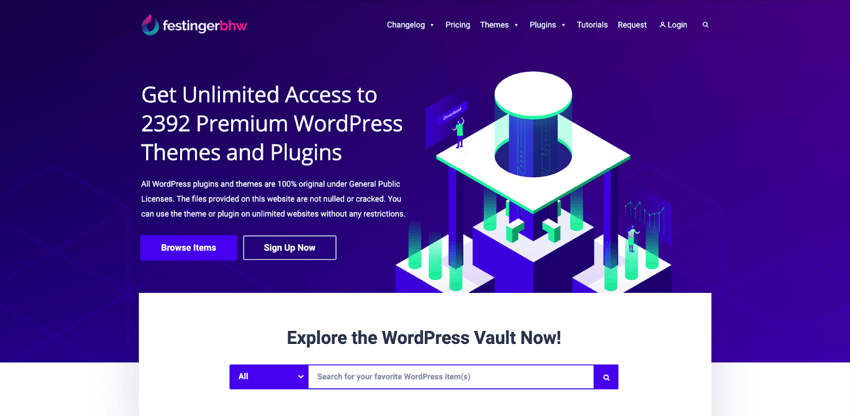 And this is how far we have come:
People call us the 'Netflix of WordPress' and we can't lie, that's been our design inspiration. When I share the new look in the next interview, you would see.
Describe the process of launching the business.
Being a Robinhood in 2021 is no joke and comes with a very unique set of problems.
Several of the hosts that agreed to host the website backed out at the last moment causing us a lot of downtime and frequent outages but then one after another, our research continued and we're finally on a robust server that's always online and offers a seamless experience to our customers.
And offering one-of-a-kind service, taking the Kickstarter route, or raising funds from YCombinator has never been on our timeline. Everything is bootstrapped with my own savings, 100% of it and I plan to keep it the same way with zero debts.
Marketing the vault has been another critical issue as getting the traffic can make or break any product/service. But with unique products come unique strategies that we that keep trying. As they say, being creative never goes out of style!
Since launch, what has worked to attract and retain customers?
"Only if you believe in your product is when your customers will believe in it."
I was so confident about the idea that I have offered more than a hundred sample copies and trials to serious people who were really curious about the project and have tons of websites to manage.
One of those users reached out to me last week saying he calculated the total price of the plugins and themes he has downloaded and the total value was MORE THAN $100,000!
That's an insane amount of money he has saved by paying a few dollars every month.
Your customers become your ambassadors if you have a kick-ass product and that's what I have always aimed at. But this is just a little percentage of what I actually have in my mind, with a lot more new features being worked on the backend as we discuss this so things are only going to get more exciting in the future.
I can't share everything but if people from Themeforest are reading, you gotta be prepared! FESTINGER IS COMING.
How are you doing today and what does the future look like?
When you stop doing is when you stop growing so there's no stopping and it's still the same attitude as I had on day one. That's how you grow your startup!
And the profit has never been the end goal and the objective has always been to make the vault bigger and bigger and a little bigger every week! That's why we keep adding new items almost every other day.
But you do need to see some revenue coming to keep the business going smoothly and luckily, people have shown a lot of love to the vault so it's doing well but the majority of the profits that arrive are invested back into the business to grow it further and make it better!
The long-term goal of Festinger Vault is to promote open-source culture, take WordPress to the next level by ensuring developing beautiful sites using WP is easy and fun. Then we take on some other open-source platforms but more on that later!
Through starting the business, have you learned anything particularly helpful or advantageous?
Even before you start the business, you will find people criticising the idea, then your company name, then the website, then the customers and this will go on until you actually have made it and are seeing great results.
Ironically, these same people will come again and pat your back appreciating your work!
The lesson is people will always have something to say, hear less and do more should be your success formula to achieve great things in life.
One mistake I made, not really a mistake but more of a not-so-wise decision that I took in the beginning was including a forum's initials in my domain which led to a lot of confusion when people arrived from different sources and wondered what that really meant. We then moved on to a new domain a few months ago but a suggestion would be to always think twice before deciding the final domain name.
What platform/tools do you use for your business?
WordPress is really all you need to start and maintain a business. Being open-source, it has limitless potential to integrate customer support, shipping, fulfillment, emailers, testimonials all within the same platform.
What have been the most influential books, podcasts, or other resources?
One of my favorite reads recently was Ikigai: The Japanese secret to a long and happy life that truly helps you understand yourself and what kind of goals you should aim for in life. Read between the lines and you will be amazed to see the knowledge that you can acquire from the book!
And when it comes to podcasts, Joe Rogan can be a great inspiration with some really influential people sharing their life and business secrets.
Advice for other entrepreneurs who want to get started or are just starting?
Imagine a house being built - there are carpenters, plumbers, labourers, and electricians doing all the hard work of lifting the heavy objects, doing the majority of the tedious work and build the entire house by themselves.
Then there's the project manager who walks in randomly once a week to check in the progress and update the owner with the details.
But who makes more money?
The former set of people are working the hardest and spending hours everyday but still make the least amount of money while the project manager sits on a pile of cash just for checking in.
Lesson? Working hard won't cut it in 2021. Work smart and see the cash rolling in!
Are you looking to hire for certain positions right now?
I have a team of developers, virtual assistants, copywriters, and business consultants working with Festinger Vault and the team is killing it right now! (in a good way obviously).
But we do have plans of expansion in the next quarter once we acquire 10k+ customers on the vault.
Where can we go to learn more?
Want to build your next big website without spending a fortune?
If you have any questions or comments, drop a comment below!
-
Festinger, Founder of Festinger Vault
Want to start your own business?
Hey! 👋I'm Pat Walls, the founder of Starter Story.
We interview successful business owners and share the stories behind their business. By sharing these stories, we want to help you get started.
Interested in starting your own business? Join Starter Story Premium to get the greatest companion to starting and growing your business:
Connect + get advice from successful entrepreneurs
Step by step guides on how to start and grow
Exclusive and early access to the best case studies on the web
And much more!
PROMOTED
Did you know that brands using Klaviyo average a 95x ROI?
Email, SMS, and more — Klaviyo brings your marketing all together, fueling growth without burning through time and resources.
Deliver more relevant email and text messages — powered by your data. Klaviyo helps you turn one-time buyers into repeat customers with all the power of an enterprise solution and none of the complexity.
Join Brumate, Beardbrand, and the 265,000 other businesses using Klaviyo to grow their online sales.
Together With Klaviyo
Companies using Klaviyo see a 95x ROI (yes, 95x)
Use Klaviyo to turn hard-earned customer data into hard-working emails and texts.
Try the platform that 265,000 brands use to grow their business.
Try it now (it's free) ➜