Video Production Price Calculator: How To Price Your Video Production?
Learn how thousands of people are earning up to $2.5M/month online.
Video Production Price Calculator: How To Price Your Video Production?
Thank you Klaviyo for sponsoring Starter Story ❤️
Turn one-time buyers into repeat customers. Try the platform loved by 265,000 brands
How to Determine The Price For Your Business/Service:
Our price calculator is designed to be simple and easy to use. It covers everything you need to price your video production company
We hope this calculator helps you make more money for your business.
Please input below:
How To Price Your Video Production
One of the most challenging aspects to starting a video production company is determining how much to charge for your video production.
When businesses under-price their product, this can be extremely detrimental to their bottom line and reputation.
Often times, businesses under-price their products to drive demand and volume, but that last thing you want is for customers to view your product/service as "cheap." Additionally, this can have a big impact on the type of customer you attract, which can be difficult to recover from.
On the other hand, when businesses over-price, this tends to be just as damaging to the business.
When customers buy, it's likely that they will explore the internet and look at other competitors to ensure they're getting the best value + deal. This is why it's so important that you research your competition and understand where you land in the marketplace.
Here are some factors to consider when pricing your product:
Understand your customer
It's important that out of the gates, you identify the type of customer you want to attract and how much they're willing to pay for your service. One great way to do this is by surveying your customers. Here are some important items you'll want to takeaway:
Customer demographic: Age, gender, location, etc.
Buying habits of your customer: What they buy + when they buy
Level of price sensitivity with your customer
All of these segments will help you identify the type of customer you're attracting and how to price your product accordingly.
Understand your costs
When pricing your video production, it's critical that you first identify all of your costs and consequently mark up your video production so you can factor in a profit.
The actual cost of your video production may include things like:
The actual cost to make the product (ie. raw materials, supplies, manufacturer).
Shipping + overhead fees
Rent
Operating costs to run your business
You may want to consider creating a spreadsheet with every single expense involved in operating/owning your business. This will give you an idea as to what you need to generate in order to at the very least, break-even and will help you price your products to factor in a profit.
Create revenue goals
When determining the price of your video production, you'll want to create goals for revenue + how much profit you want your video production company to make.
This process is simpler than you may think:
Think about your breakeven cost (by completing the above step).
Create a revenue goal based on your break-even cost
Evaluate the # of items you plan to sell in a given period (make sure this is a realistic number)
Divide your revenue goal by the number of items you plan to sell
This figure will help determine your estimated price per product in order to meet your revenue goals.
Evaluate your competition
The last piece in determining how to price your video production is by simply looking at your competition.
The best way to do this is by finding like-minded businesses that offer product(s) with similar perceived value. Then, you can compare prices of the different businesses and determine where your video production fits best in the marketplace.
All of these factors play an equal part in pricing your video production, so it's important you evaluate each one individually to come up with an accurate price that will help optimize your business from the start.
More Tips On Pricing Your Video Production
Lauren Costanza, founder of Bluminary provides us with a detailed spreadsheet of all of her costs associated with running her business:
I knew this would be a self-funded adventure, and I set aside $3,000. During the first three months, I had a detailed spreadsheet where I tracked where the money was going and what was going toward products versus researching and developing new products.
The spreadsheets involved columns and rows of numbers to craft a budget and gain an understanding of how much would need to be invested at each stage of the process - from gathering supplies to building a website, and shipping materials.
-
Lauren Costanza, on starting Bluminary ($500/month)
full story ➜
--
Thanks for reading. We wish you success in your business endeavors.
Examples of a successful video production company
Luminous ($1.99M/year)
Henry Finn from San Francisco, California, USA started Luminous almost 8 years ago, a video production company.
Revenue: $166,000/ month
Founders: 2
Employees: 4
Location: San Francisco, California, USA
Hi, I'm Henryand I'm a real live human being. I run a few different businesses on the surface, but they are all essentially the same business of storytelling through video and content marketing (in creative direction, producing, and consulting roles).
The bulk of my work for big brands is commercial producing and creative direction but I also do full-stack brand development for startups (these clients are usually CEOs, CMOs, or marketing directors of startups, series A, B, and above).
With Luminous US I mostly service produce commercials for giant global brands like Samsung, Kia, Walmart, etc. In this role, I work with agencies around the world as a contractor or as a white-labeled done-for-you that allows agencies to retain their clients by servicing them "in-house."
Increasingly, creative agencies and marketers need to be able to offer high-quality video production to win jobs or retain clients but the learning curve of producing a $100,000 commercial or pitch a $1M campaign is so steep that white-labeling is essential to their survival.
And that's where I come in. As a producer, my job is to know what it takes to get the job done a the intersection of good, fast, & cheap. The more I save the more you make. As a consultant, my job is to help CEOs, CMOs, and Marketing Directors understand how to make video work for their sales & marketing plans. With video being the most important form of marketing today, it is more crucial than ever to know how to use it effectively, but it is one of the hardest forms of marketing to master.
-
Henry Finn, on starting Luminous ($166,000/month)
full story ➜
D-MAK Productions ($360K/year)
Joe Forte from Phoenix, Arizona, USA started D-MAK Productions over 10 years ago, a video production company.
Revenue: $30,000/ month
Founders: 2
Employees: 2
Location: Phoenix, Arizona, USA
Hi everyone! My name is Joe Forte and I am one of the owners and producers at D-MAK Productions, a content agency specializing in Phoenix video production. Our clients include many Fortune 500 companies that you may have heard of such as Intel, Amazon, Apple, Denny's, Cold Stone Creamery, and HP.
We primarily work on corporate, commercial, branded, and digital media productions and have been in business since 2011. We've averaged $350k a year in sales for the past 5 years or roughly $30k/month.
-
Joe Forte, on starting D-MAK Productions ($30,000/month)
full story ➜
Arizona Filmworks ($144K/year)
Ken Brantingham from Phoenix, AZ, USA started Arizona Filmworks ago, a video production company.
Revenue: $12,000/ month
Founders: 1
Employees: 1
Location: Phoenix, AZ, USA
My name is Ken Brantingham and my business is Arizona Filmworks. We are a premier video production and digital marketing company in Phoenix, Arizona, USA. I started in 2011 doing all kinds of video projects including TV commercials, music videos, training videos, Kickstarter videos, and tons of Web videos promoting businesses and people.
A lot of clients wanted videos and professional photos to use in their marketing efforts. When doing a video to showcase a business, messaging is critical. This meant talking to clients about their messaging, branding, and marketing goals. The business evolved into offering more marketing services like website design, SEO, content creation, PR, and campaign management. It also produced a critical step in revenue generation: subscriptions. Instead of just doing a video here and there for a set price, I partnered with small businesses to manage all aspects of their digital marketing for a recurring fee. This is how I managed to generate revenues over $12,000/month.
-
Ken Brantingham, on starting Arizona Filmworks ($12,000/month)
full story ➜
Snackable Studios ($138K/year)
Kiran Shahbaz from Toronto, Ontario, Canada started Snackable Studios over 5 years ago, a video production company.
Revenue: $11,500/ month
Founders: 2
Employees: 1
Location: Toronto, Ontario, Canada
Hi! My name is Kiran and I am one of the founders of Snackable, OverHead Pro, and Snackable Studios. We help video creators, create, grow and monetize their content.
We started with an e-commerce store 2 years ago which earned $1000 within the first month.
I spoke (and continue to speak) with my customers to understand their challenges, and offered additional services to help them.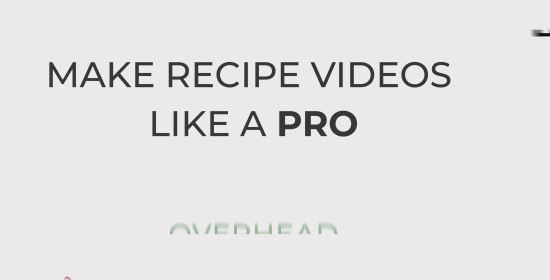 -
Kiran Shahbaz, on starting Snackable Studios ($11,500/month)
full story ➜
CFF Media ($120K/year)
Joe Rollins from Atlanta, GA, USA started CFF Media about 5 years ago, a video production company.
Revenue: $10,000/ month
Founders: 3
Employees: 1
Location: Atlanta, GA, USA
We are CFF Media, a video production company located out of Atlanta, GA. We create video content (About Us, Testimonials, Promotional, Drone videos) for the Greater Atlanta area with a primary focus on videos representing other companies and what they stand for, but we love the opportunity to try other avenues of video production!
We started just four and half years ago, working out of our house and trying to understand how we could make our way into the industry. I look around now and cannot believe the progress that we have made and every day I'm still shocked to find myself walking into an office with our very own studio. These moments make me look back and really appreciate just how far our company has come in such a short amount of time.
-
Joe Rollins , on starting CFF Media ($10,000/month)
full story ➜
Want to start your own business?
Hey! 👋I'm Pat Walls, the founder of Starter Story.
We interview successful business owners and share the stories behind their business. By sharing these stories, we want to help you get started.
Interested in starting your own business? Join Starter Story Premium to get the greatest companion to starting and growing your business:
Connect + get advice from successful entrepreneurs
Step by step guides on how to start and grow
Exclusive and early access to the best case studies on the web
And much more!
PROMOTED
Did you know that brands using Klaviyo average a 95x ROI?
Email, SMS, and more — Klaviyo brings your marketing all together, fueling growth without burning through time and resources.
Deliver more relevant email and text messages — powered by your data. Klaviyo helps you turn one-time buyers into repeat customers with all the power of an enterprise solution and none of the complexity.
Join Brumate, Beardbrand, and the 265,000 other businesses using Klaviyo to grow their online sales.
Free
How To Start A Video Production Company
If you're starting a video production company, or looking to grow, this free 25 page guide is for you. Join our free weekly newsletter and get it right now.