Thank you Klaviyo for sponsoring Starter Story ❤️
Turn one-time buyers into repeat customers. Try the platform loved by 265,000 brands
12 Trending Fitness Products To Dropship In 2022
•
Updated: March 17th, 2022
12 Trending Fitness Products To Dropship In 2022
Fitness is a popular evergreen niche that focuses on products related to exercise and wellness. Starting an online fitness store can be highly profitable and rewarding if you are enthusiastic about fitness.
However, it is important to identify trending products in demand so you can be successful and reach the right audience.
In this article, we will detail the top 12 in-demand fitness items to sell in your online store in 2021.
1. Hip Resistance Bands
Resistance bands allow users to strengthen their glutes without going to the gym. This fitness product is perfect for the current pandemic.
Resistance band workouts have been more popular when people began working out from home owing to coronavirus lockdowns. Exercisers have resorted to easy and space-saving ways of staying fit and healthy at home since many gyms and fitness centers have remained closed.
Compound Annual Growth Rate (CAGR): 12.4%
Global Market Size: $1.74B
Average Sale Price: $10-$40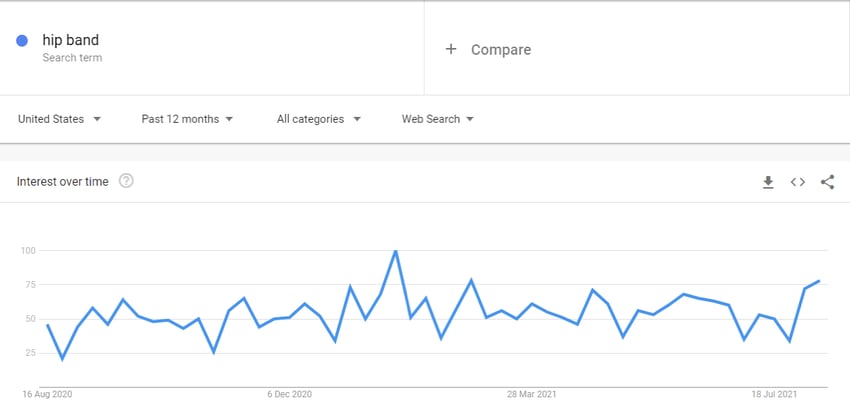 2. Yoga/Exercise Mats
Although yoga mats may seem an obvious product to sell in the fitness niche, they are a must-have for anyone who exercises regularly, whether at home or a gym.
Due to the current work-from-home trend, we're likely to see a rise in yoga mats. Many companies are creating their own at-home gyms, and they'll need an exercise or yoga mat to complete their gyms.
Compound Annual Growth Rate (CAGR): 7.9%
Global Market Size: $11.67B
Average Sale Price: $16-$100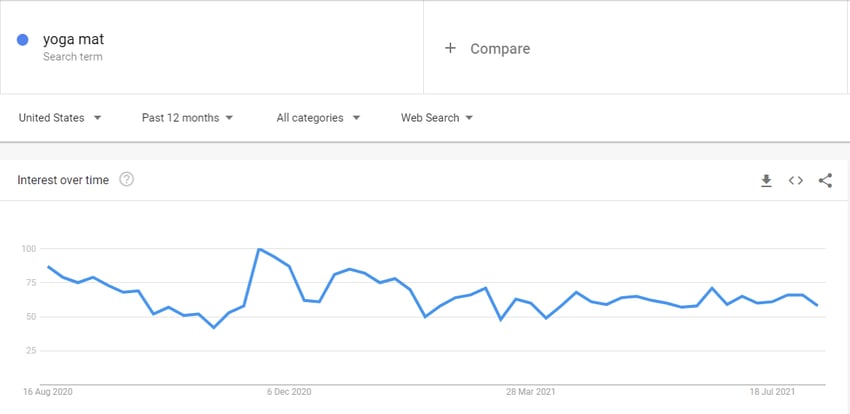 3. Battle Ropes
The next item is for cardio enthusiasts! This fitness rope for strength training is ideal for beginners and intermediate trainees and can be used indoors or outdoors.
Battle ropes have quickly become a must-have item for fitness buffs, as they provide a slew of advantages that enhance body composition and performance in sports, fitness, and everyday life.
Compound Annual Growth Rate (CAGR): 11%
Global Market Size: $492M
Average Sale Price: $35-$150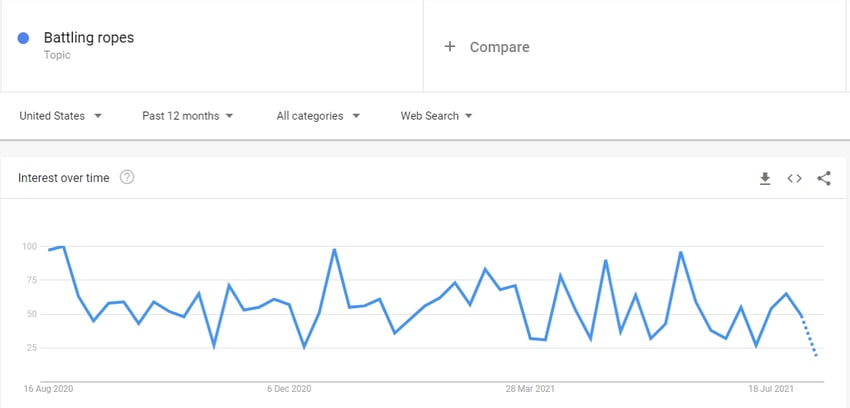 4. Pull Up Bars/ Chin Up Bars
This exercise bar has been popular for years and is still a top seller in this category. This has unquestionably shown to be an evergreen product. You can do a number of upper body strengthening exercises using home gym bars.
Our upper body muscles, such as the pectoral or chest muscles, and the trapezius muscles in our back and shoulders, may have deteriorated during the lockdown. Pull-ups can help to strengthen the upper body and improve shoulder joint stability.
Average Sale Price: $22-$280
5. Bike Pedal Exercisers
Bike pedal exercisers are a popular and well-liked exercise machine that can be used at home. This is simply a mini version of the gym peddlers to have at home, just like the gym peddlers. Arm and leg movements are performed on the seated pedal exerciser to improve blood circulation and alleviate tension.
Pedal exercisers are trending right now since they are compact and easily fit on a table, making them suitable as cardio equipment for people with paraplegia.
Compound Annual Growth Rate (CAGR): 8.7%
Global Market Size: $1.2B
Average Sale Price: $35-$200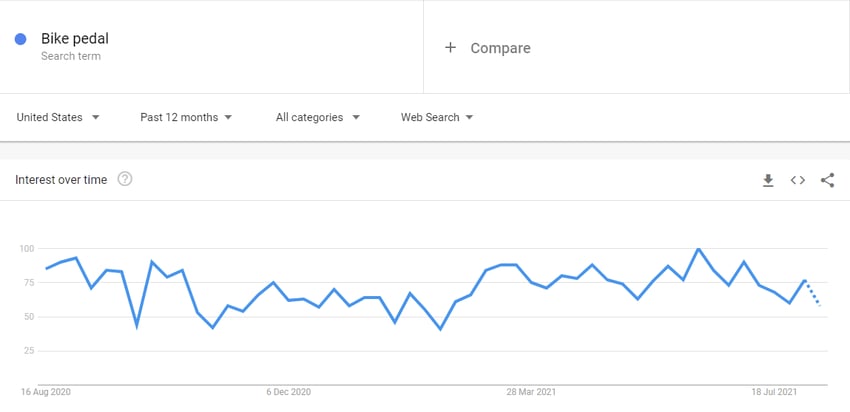 6. Vibration Plates
The next item is about the other side of fitness, physical recovery. Anyone who exercises understands the importance of giving your body time to relax and recover. This full-body vibration machine allows you to enjoy a rehabilitation session from the comfort of your own home.
They've grown in popularity for two reasons: they make training fun, and they provide results when combined with a healthy diet and other workouts.
Average Sale Price: $100-$500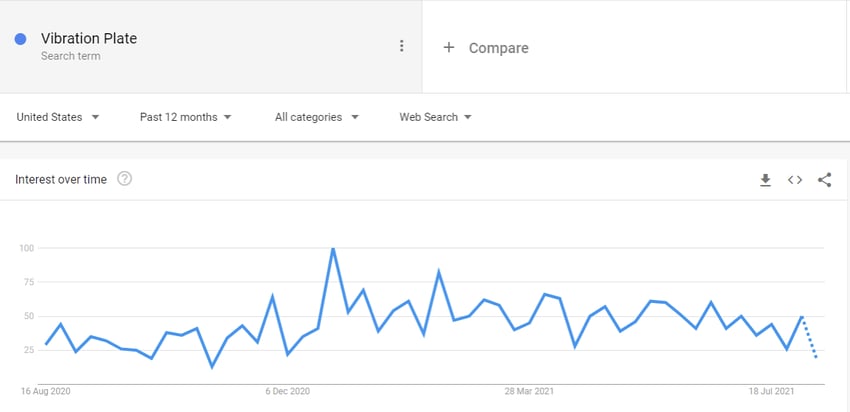 7. Dumbbells
A complete list of home exercise equipment must include one or two sets of dumbbells for fitness enthusiasts. Dumbbells with easy-to-grip neoprene-coated compartments are popular, and most dumbbells weigh between 2 and 15 pounds.
Dumbbells are one of those items that were very popular during the pandemic while also being quite difficult to come by. People are spending more and more time at home, and they're buying things they didn't think they needed or desired before.
Compound Annual Growth Rate (CAGR): 3%
Global Market Size: $270M
Average Sale Price: $30-$250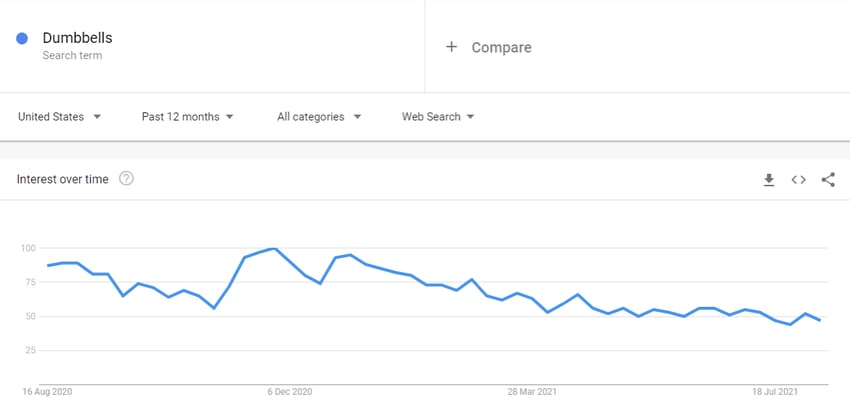 8. Jump Ropes
Aerobic exercise does not have to be violent or boring. Skipping is a great way to get your heart rate up and running.
New populations got interested in jump ropes as a result of social distancing orders and gym closures, viewing them as a safe, handy, and effective training tool.
Compound Annual Growth Rate (CAGR): 3.4%
Global Market Size: $1.82B
Average Sale Price: $10-$150
9. Yoga Balls
The yoga ball is popular workout equipment for stretching and improving balance. It can also help you with a variety of weight-bearing workouts. It is constructed of high-quality PVC and is strong enough to accommodate people of different weights.
People are looking to exercise their postural muscles during the lockdown; thus, dropshipping yoga balls are an excellent addition to your e-commerce store. It can also save you money and provide you a profit margin since it is one of the low-cost fitness items.
Compound Annual Growth Rate (CAGR): 5.8%
Global Market Size: $11.6B
Average Sale Price: $10-$80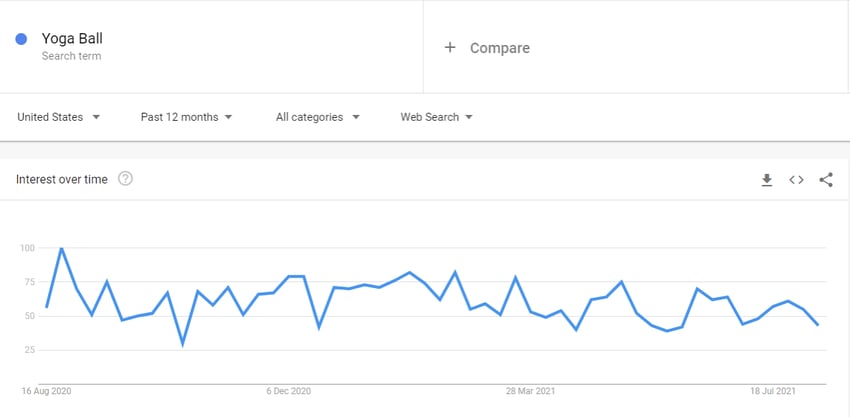 10. Kettlebells
Kettlebells are a type of fitness product that many fitness enthusiasts love and hate. Kettlebells differ from dumbbells in that they are better suited to explosive training and have higher physical stability needs.
Kettlebells are now popular because they are appealingly simple—just a mass of iron with a grip that can be used to work out your whole body.
Average Sale Price: $20-$170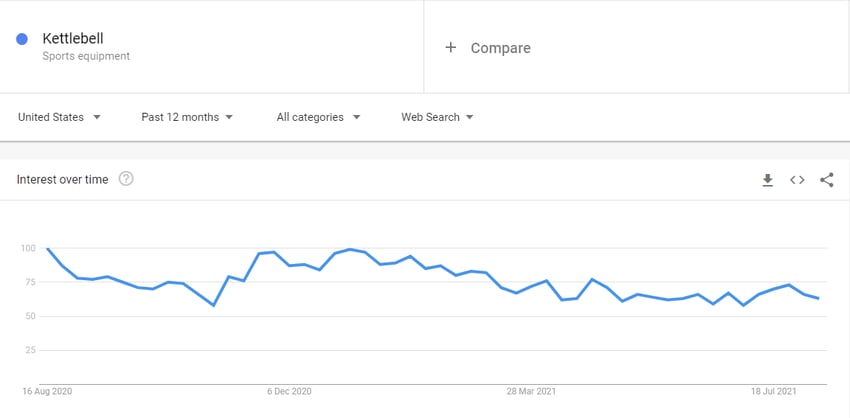 11. Shaker Bottles
Most fitness enthusiasts create their own drinks, such as healthy protein shakes or smoothies, to supplement daily protein. However, most blenders are time-consuming and difficult to use. With shaker bottles, people can easily create their favorite beverages.
People have started to put a greater emphasis on fitness over the last year, which has resulted in a rise in the demand for shaker bottles.
Compound Annual Growth Rate (CAGR): 3%
Global Market Size: $32M
Average Sale Price: $8-$50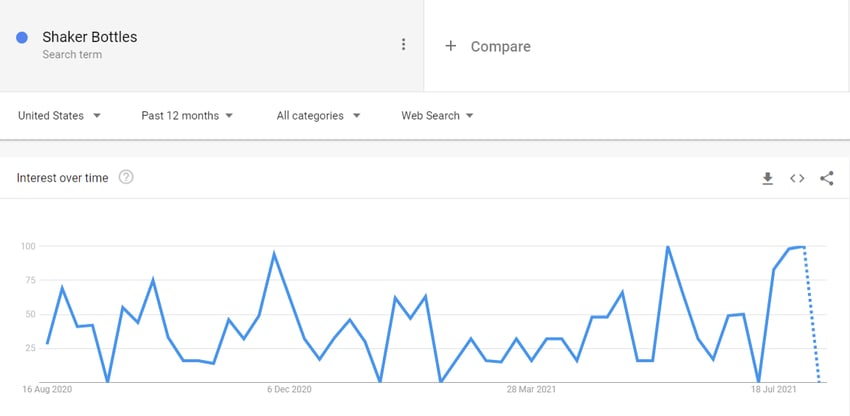 12. Steppers
Steps were very popular in the 1980s and are so now. Steppers supplement aerobic exercise, and exercisers can do low- or high-intensity aerobic exercise, depending on their needs.
Steppers are selling well these days, as many people think that being able to use a stepper at home for easy but effective cardio means they'll have no excuse to skip cardio.
Average Sale Price: $30-$250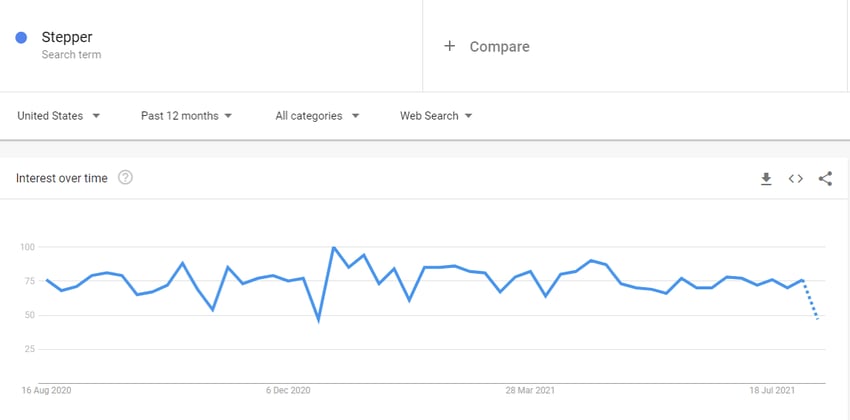 Want to start your own business?
Hey! 👋I'm Pat Walls, the founder of Starter Story.
We interview successful business owners and share the stories behind their business. By sharing these stories, we want to help you get started.
Interested in starting your own business? Join Starter Story Premium to get the greatest companion to starting and growing your business:
Connect + get advice from successful entrepreneurs
Step by step guides on how to start and grow
Exclusive and early access to the best case studies on the web
And much more!
PROMOTED
Did you know that brands using Klaviyo average a 95x ROI?
Email, SMS, and more — Klaviyo brings your marketing all together, fueling growth without burning through time and resources.
Deliver more relevant email and text messages — powered by your data. Klaviyo helps you turn one-time buyers into repeat customers with all the power of an enterprise solution and none of the complexity.
Join Brumate, Beardbrand, and the 265,000 other businesses using Klaviyo to grow their online sales.
Starter Story
Wanna see 52 business ideas you can start with less than $1,000?
Join our free weekly newsletter and get them right now.