Thank you Klaviyo for sponsoring Starter Story ❤️
Turn one-time buyers into repeat customers. Try the platform loved by 265,000 brands
How I Built 7 Figure Online Businesses While Traveling The World
Start A Lifestyle Products Business
I'm Jo, a 40 something, globe-trotting, lifestyle entrepreneur!
For the last 11 years, I've been traversing the globe with my family (husband and teenage daughter), chasing the sun around the world, while building six and seven-figure businesses online, giving me the freedom to work from anywhere in the world.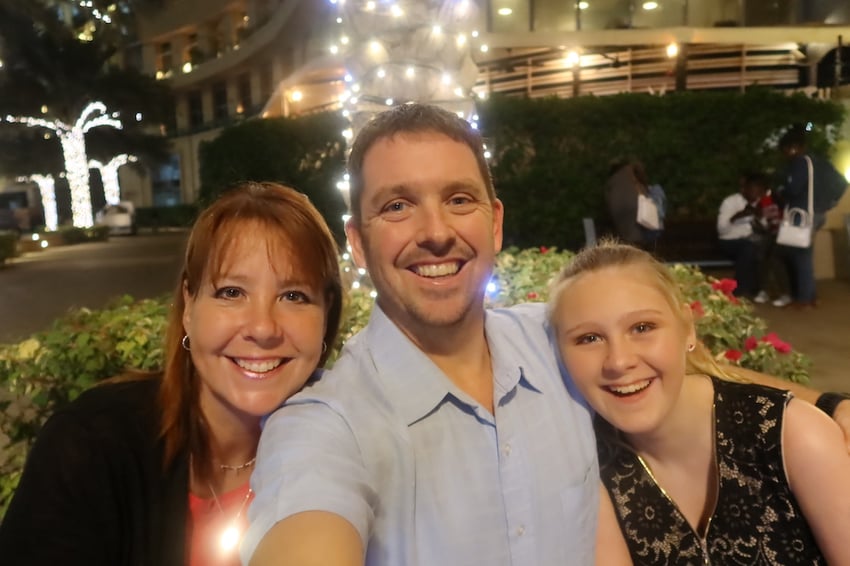 New Year 2019 in Dubai
Currently based in Phuket, Thailand, seeing out the final throes of the pandemic and my daughter's last year of high school, I can't wait to don a backpack and head out again come July!
My current business is an amalgamation of all my years on the road wrapped up in a tight little bow on my blog 'Your Lifestyle Business'.
Having built a six-figure membership site, a six-figure online course site, a six-figure affiliate marketing business, and a seven-figure Amazon eCommerce business over the last 11 years, in recent months my husband and I have both bought and sold stand-alone eCommerce businesses and now my main focus is on building my website into a one-stop-shop for solopreneurs and digital nomads who want to build online businesses on the road.
I started focusing on the site in the second half of 2020 but was pulled away for a family emergency for over half the year in 2021, so the real work only began in late 2021.
Focusing mainly on SEO for growth and longevity I know I have a lengthy process ahead, however with a lot of hustle and grind, I'm already at a Moz domain authority of 33, and traffic and income are rising steadily month on month.
More importantly, I'm ranking on page 1 for some of my biggest search terms and helping budding solopreneurs build the life of their dreams!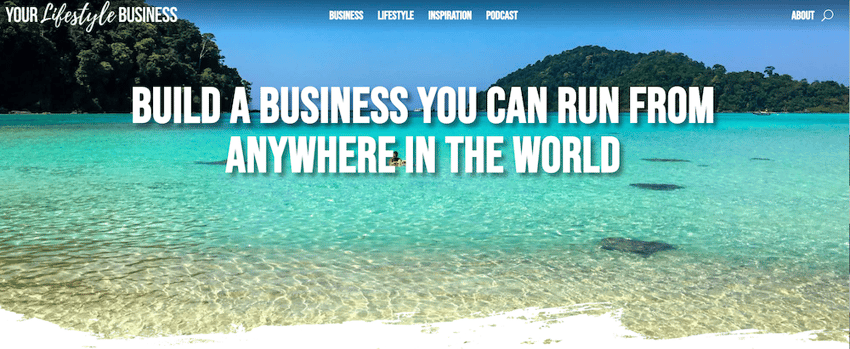 What's your backstory and how did you get into entrepreneurship?
I started my working career as a Redcoat at Bognor Butlins.
For those not familiar with UK seaside holiday camps, Butlins is a low-cost, family-friendly resort, offering shows, entertainment, shopping, bars, restaurants, etc.
As a redcoat, I danced & sang my way around the resort frequently dressing up as Disney characters & high-fiving holidaymakers in the street.
You get the picture.
A lifestyle business is about turning your passions into profits, doing something you love every day, and generating a monthly income that gives you the freedom to work from anywhere.
For ten years through my 20's I worked in senior management within an entertainment company running theatres & concert venues and turned my hand to entrepreneurship in my early 30's, after reading Robert Kiyosaki's 'Rich Dad, Poor Dad' and immersing myself in Tony Robbins training.
I wasn't (and still am not) a natural entrepreneur. The whole risk-taking side, investing in premises, taking on staff, managing the finances, working with accountants and banks, etc. None of it resonated with my naturally disorganized, flamboyant, slightly ADD personality.
Hence why, when my partner (now husband) & I, visited a friend in Cyprus who was running an online business, which looked to me like 90% content creation and networking online, I leaped at the opportunity!
Selling everything we owned at the drop of a hat (literally within one week), renting out our house, and scooping up our 4-year-old, we jumped on a plane to Cyprus to start our new online adventure and haven't looked back since!
Some 11 years and 30+ countries later, we haven't even scratched the surface of exploring the world but that's the beauty of an online lifestyle business. It gives you complete freedom to go where you want, when you want, with whom you want!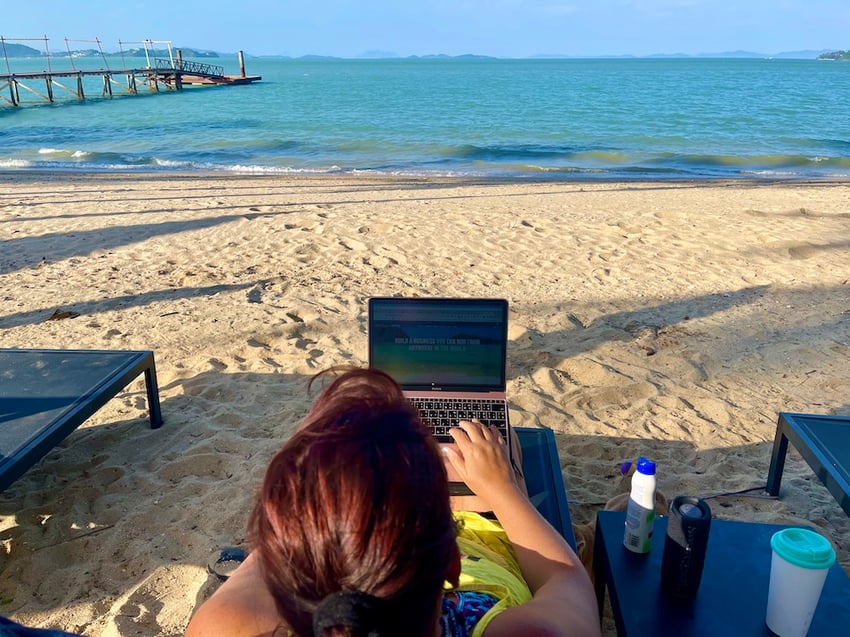 Blogging on the beach at Coconut Island, Phuket, Thailand
Take us through your entrepreneurial journey. How did you go from day 1 to today?
Knowing nothing about working online, the entire process was a massively steep learning curve.
I remember in the very early days trying to work out why some code wasn't working on a site I was playing with and a chap from the Warrior Forum (a big online marketing forum back in the day), politely explained how a URL address always starts with http://, not www.
Bearing in mind I was trying to get an internet business off the ground, I truly needed to understand the basics! But that's how you learn. Just jump in the weeds and swim through!
The first 6 months were torture. I knew nothing about the internet, social media, coding, building websites, videos, etc. And it wasn't like today where software has been built specifically to make the user's life easier.
These days you can get a fully-fledged eCommerce business up, running, and selling within a day.
When I started, tools & sites like Shopify, Leadpages, Thinkific, OptinMonster, etc didn't exist. I completely coded my first lead generation page by hand.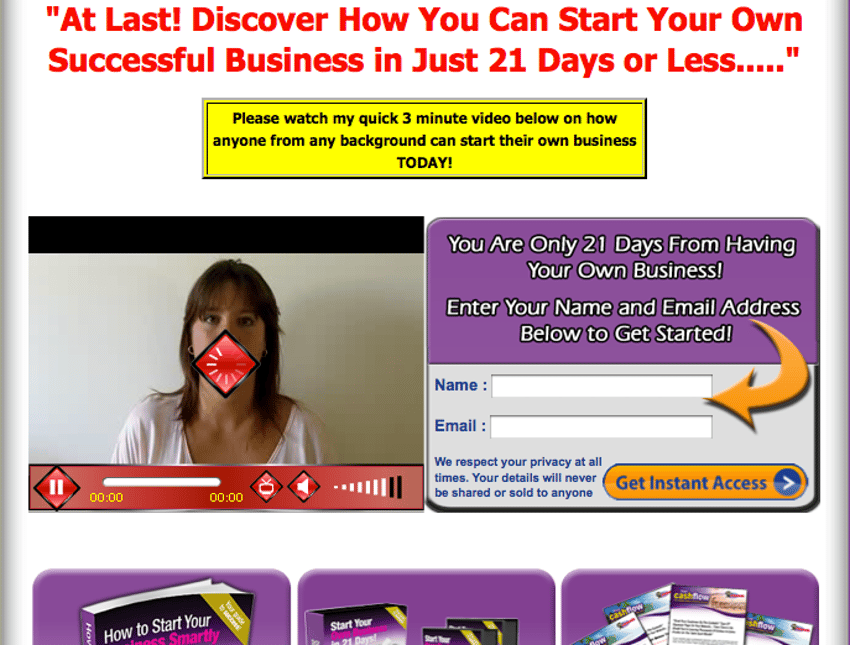 Very cheesy, typical 2010 style internet marketing lead generation page
However, a few months in, I learned about the power of what was called 'Facebook fan pages', now business pages. Back then you could build a lead generation page right within a fan page.
I paid $100 to a programmer in the US to create a cool piece of code that made making lead gen pages on Facebook a cinch and gave the code away for free as my email lead generation offer.
I started to make videos all about my journey and everything I was learning and posted them on Facebook. Gradually over about 8 months, my organic audience grew and my email list was in the thousands.
I learned how to create an online course and made all of $27 from my first attempt!
My second attempt was more successful and I sold around $30,000 worth of courses.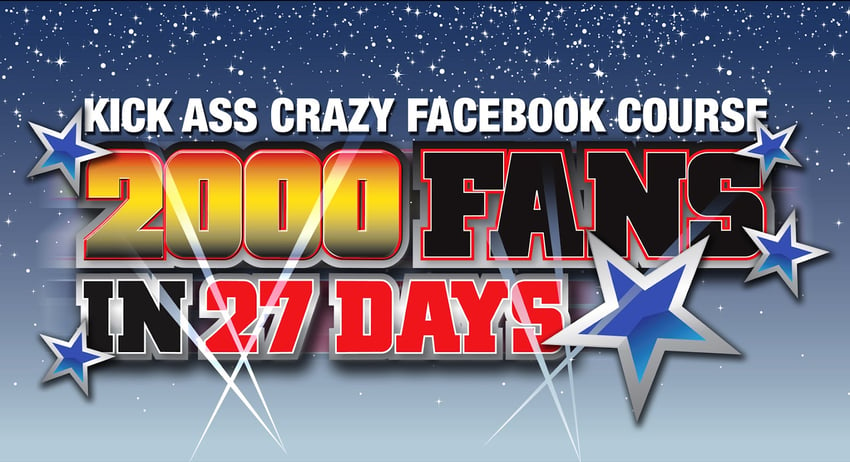 My first big course - 2000 Fans in 27 Days
A few months later I launched a membership site around Facebook and social media and generated $117,000 in just 7 days.
The following few years were a blur of membership site updates and sales, new online courses, affiliate sales, some coaching, sponsorship deals, etc.
We were generating anywhere between $100k - $300k a year, giving us the freedom to travel and explore the world.
Then came Amazon.
We started our Amazon business as an experiment to teach my current members and subscribers how to go about selling on Amazon.
We sold just one product and I made videos of our progress as we grew. Within a year we had sold over 80,000 units of a $15 product on Amazon. It was our first 7 figure year and it was mind-blowing!

Our first year of Amazon sales
Not only was it life-changing for us, but some of my members and subscribers have also gone on to create extremely successful businesses, one sold his business for $2 million a couple of years back and another has become a great friend and is traveling around Thailand as we speak.
We grew the business to over $3 million in revenues and sold it in early 2020 to take a bit of a rest!
Since then we bought and sold a couple of small eCommerce businesses, but my passion project is now my site Your Lifestyle Business.
I have experienced the freedom running an online lifestyle business gives and I want to share that knowledge and experience with the world!
How are you doing today and what does the future look like?
As a natural content creator, traveler, and master of curiosity, I love the online world.
There's always something new to learn and grasp. You're connected with people from all around the globe and life is changing more rapidly than people care to mention.
Staying ahead of what's coming and how to use that knowledge to generate a monthly income and live your best life is the goal of my website.
Today, I spend the bulk of my time writing posts about various lifestyle business models, researching new ways to take advantage of new and old platforms, and networking and chatting with people already living their dreams.
I'm currently starting to monetize the site via affiliate links, recommending quality software systems and online courses.
I'm also rebuilding my email list, as even now, in today's instant messaging world, your email list is your greatest asset.
I plan to create some evergreen online courses I'll offer on the site and via my email list and also to start publishing books.
Books about building an online business, traveling the world, and living your best life.
In July we start our travels again, and I can't wait to flood my social media with pictures & videos of the amazing places we explore, inspiring people to visit my website to learn more about how they too can create financial freedom and live their dreams.
Through starting the business, have you learned anything particularly helpful or advantageous?
As much as it sounds amazing, it hasn't been all champagne and roses throughout the journey.
There have been extremely tough times.
In the very early days as my audience and reputation online were growing, we were out of cash.
We'd spent any savings we'd had, which hadn't been much, had maxed out our credit cards, and had moved to Australia to live with my partner's parents in their basement.
It wasn't much fun (although as someone from the UK, living in Oz was pretty exciting), and we almost packed up to stop the whole online thing and get jobs.
But a trusty Tony Robbins podcast put me back on track, we kept forging forward on nothing but caffeine and deep faith. A few short months later we hit six figures.
I think the biggest lesson I've learned throughout my journey online is that tenacity trumps talent every time.
If you have both, then you have a massive advantage. But you don't need to be the best, or the most unique, or the newest, the first, the only, etc.
You just need to consistently show up.
Be the person who publishes every day or contacts a client every day or hustles for a sale every day.
If you consistently take action every single day, though it may take longer than you want it to, you will achieve your goals.
What platform/tools do you use for your business?
Throughout my online career, the tools I have used the most and which I highly recommend are;
Wordpress (for content websites)
Shopify (for eCommerce websites)
WPX Hosting (fastest hosting on the net)
OptinMonster (for lead gen pop ups)
Flodesk (my current email provider of choice)
Plannthat (for social media scheduling)
Ahrefs (for SEO)
SurferSEO (for SEO)
Dropbox (productivity)
Evernote (productivity)
Trello (productivity)
Upwork (for all my contract hires)
Canva (for templates, images, logos, etc)
I also use lots of image and video apps to showcase travel photos and videos. My favorites are;
Snapseed & Lightroom (for image editing)
Typorama & Quotes Creator (for text over image)
VN Video Editor, InShot & Magisto (for video editing)
What have been the most influential books, podcasts, or other resources?
The first two entrepreneurial books I read which spurred me into entrepreneurship were Rich Dad, Poor Dad by Robert Kiyosaki, and Awaken the Giant Within by Tony Robbins.
However, it was the Four Hour Workweek that inspired my online adventures, and Essentialism by Greg McKeown, followed by Atomic Habits by James Clear has helped me to become far more focused and productive in my business and life.
Advice for other entrepreneurs who want to get started or are just starting out?
Most importantly stop thinking and start doing.
Sure, there are some incredibly talented, clever, innovative, forward-thinking entrepreneurs who always seem to have their finger on the pulse and be ahead of everybody else.
However, 90% of the success stories you don't read about are simply people out there taking action.
The only differentiating factor between successful business owners and dreamers is action!
Even if you get it wrong a few times, you're learning what to do and what not to do.
So stop just dreaming and take action.
Then once you start don't stop.
Be consistent, show up, don't worry about what others think, and always remember, no one cares about you or your business, only what you can do for them.
Put your customers and target audience first. Be curious about what they want and need from you and find every way you can to add value!
Lastly, understand that you don't need to be a millionaire to live the life of your dreams.
Most things cost far less than you think they do if you're willing to give up the status symbols just to compare to Mr & Mrs Jones.
There are cheap flights everywhere across the globe, cheap accommodation, cheap food, drinks, clothes, transport, and cheap but amazing experiences!
A lifestyle business is about turning your passions into profits, doing something you love every day and generating a monthly income that gives you the freedom to work from anywhere.
There are more opportunities to turn ideas into income than ever before, so make it happen my friend, and all the best with your journey!
Are you looking to hire for certain positions right now?
We are not looking to hire right now, but I'm always interested in talking to solopreneurs, entrepreneurs, and digital nomads who are following their passions and living their dreams.
You never know how we can add value to each other, so feel free to reach out.
Where can we go to learn more?
-
Jo Barnes, Founder of Your Lifestyle Business
Want to start your own business?
Hey! 👋I'm Pat Walls, the founder of Starter Story.
We interview successful business owners and share the stories behind their business. By sharing these stories, we want to help you get started.
Interested in starting your own business? Join Starter Story Premium to get the greatest companion to starting and growing your business:
Connect + get advice from successful entrepreneurs
Step by step guides on how to start and grow
Exclusive and early access to the best case studies on the web
And much more!
PROMOTED
Did you know that brands using Klaviyo average a 95x ROI?
Email, SMS, and more — Klaviyo brings your marketing all together, fueling growth without burning through time and resources.
Deliver more relevant email and text messages — powered by your data. Klaviyo helps you turn one-time buyers into repeat customers with all the power of an enterprise solution and none of the complexity.
Join Brumate, Beardbrand, and the 265,000 other businesses using Klaviyo to grow their online sales.
Starter Story
Wanna see 52 business ideas you can start with less than $1,000?
Join our free weekly newsletter and get them right now.