Thank you Klaviyo for sponsoring Starter Story ❤️
Turn one-time buyers into repeat customers. Try the platform loved by 265,000 brands
How A Subreddit Motivated Me To Create A Chewing Gum That Improves Your Jawline [$9K/Month]
How A Subreddit Motivated Me To Create A Chewing Gum That Improves Your Jawline [$9K/Month]
Hello! Who are you and what business did you start?
Ahoy! My name is Matt Phelps and I'm a YouTuber and the founder of STEEL – Jawline Gum. It's a hard chewing gum that's effective as a jawline exerciser.
There's a big interest in improving your jawline these days. Just look at Google Trends or the popularity of the #jawlinecheck hashtag on TikTok. My customers find me organically through Google and my YouTube channel at the moment. So I'm only acquiring those customers that are actively searching for a way to improve their jawline.
I did 9k in revenue last month. And my YouTube channel is at 27k subscribers despite me having only posted 13 videos.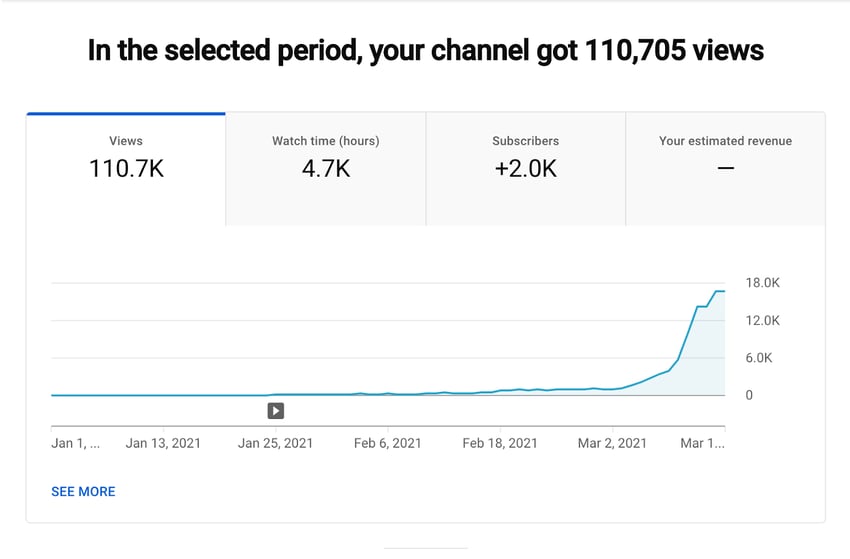 My YouTube channel took off with just 1 video posted
What's your backstory and how did you come up with the idea?
I started in late 2020 when I found something I'd been searching for 12 years for – an effective jawline exerciser. I must have been a particularly vain 14-year-old boy to spend his money on squash balls, chewing caps, and pieces of dried leather. Yes, that's right, I tried chewing these in an attempt to work out my face and jaw haha.
Fast forward to 2020 and I read about mastic gum in a very niche subreddit. I immediately bought some (which wasn't easy at the time), got started chewing, and saw visible changes to my masseter muscles in a few weeks. Of all the crazy contraptions I bought or created through the years, it was a humbling experience to find out the most effective thing was tree sap. That's all mastic gum is dried sap from the Mastic tree found on the Greek Island of Chios. It's been a valuable commodity that Meditteraneans have been chewing for over 3000 years. It was even more valuable than gold at one stage and a war or two has been fought over it.
So I chew this stuff for a few weeks and one night my friend's girlfriend tilts her head to the side and asks me:
"Have you had work done on your face??"
I figured I was late for the party. Hard chewing gum for your jawline sounded like such an intuitive product to me, surely there were a whole bunch of brands already? I couldn't find any. Maybe I'm just an oddball and there wasn't a demand for it? Enter Google Keyword Planner. It's the most underrated tool for finding product ideas. People are asking Google for something they want and you can see what they write and how many searches there are a month for that thing.
That was my "aha" moment:
"Jawline gum" – 2k searches a month
"Chewing gum for your jawline" – 7k searches a month
"Mastic gum jawline" – 1k searches a month
Thousands of people search for this product every month, and the product didn't exist yet? That was all I needed to know before diving in.
At the time I worked full-time as a Product Analyst. The way I usually describe the role is "the data guy on the product team". The company itself was a publicly-listed scale-up with an international product, and I was in charge of experimentation, validation, and providing quantitative insights. It was a challenging job but I still had plenty of energy outside of work hours to work on STEEL. For me at least, it's very easy to summon motivation/discipline when you know that something is going to work.
Take us through the process of designing, prototyping, and manufacturing your first product.
I'd read this great article a few months earlier about validating a physical product idea without even having the product. You launch a store without actually having the product and run ads to it. If the reception is good, go make the product. If not, back to square one.
I liked the idea. But I couldn't do it haha. I was too excited. I went out to the world wide web and found every farmer and supplier of Chios mastic gum. I learned that mastic gum comes in different sizes of "tears". The large tears are a good chewing gum-sized piece, so I ordered small quantities as samples.
While waiting for them to arrive I started designing the packaging. In Sweden where I'm based, tobacco pouches (Snus) are a common nicotine product. And they come in these cylindrical containers (called dosor) that are the perfect shape and size for the gum. I bought a few dozen of these from a wholesale distributor that I found online in 10 minutes and slapped a label on that I had someone on Fiverr design for me. The designer had added the word "SPEARMINT" on the packaging, which was not the flavor of mastic gum. But I was too lazy to ask for a revision: "it will do I guess".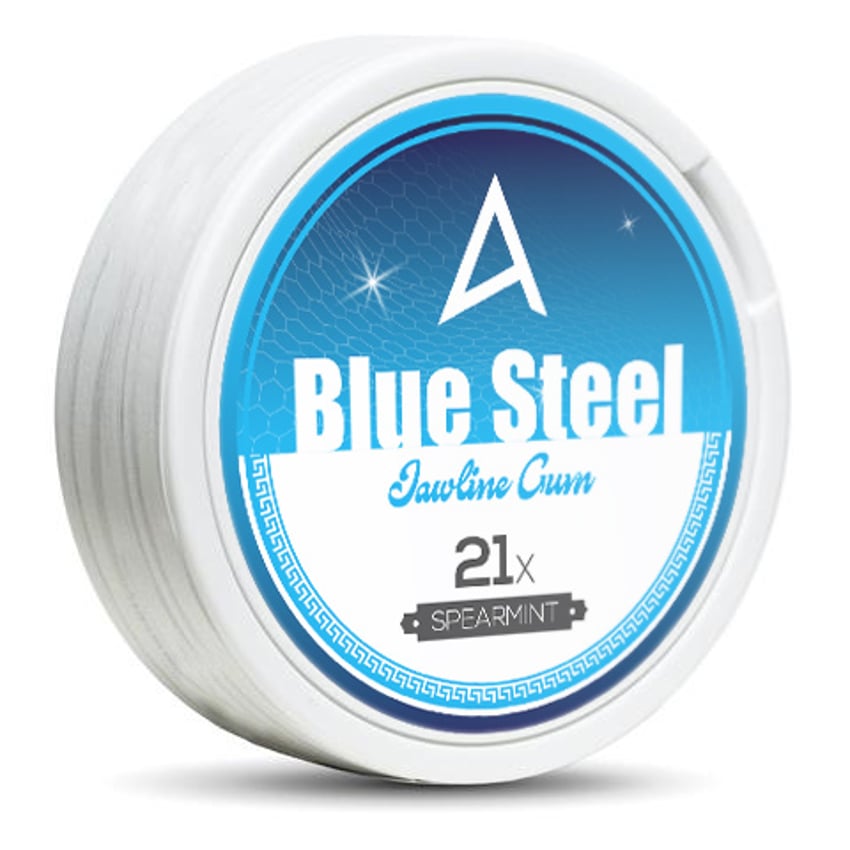 The first version of STEEL – Jawline Gum
Describe the process of launching the business.
I tweaked the website way more than was needed to run a test. Up until that point I'd spent around $190 and about 20 days to get ready. Now I needed some qualified traffic to see if anyone wanted what I had to sell. So I spent $50 on Google ads over a weekend and waited to see the results. BTW: I had no idea how to run paid ads at the time. I still don't actually, but I at least know now not to optimize the campaign for traffic!
I logged into the Shopify dashboard on Monday morning. 400 visitors. 0 sales. WTF?? I didn't get too discouraged though. I figured it was the bad design and shady-looking website that turned people off. Plus I'd had hundreds of failed ideas over the years so failure had become the norm I spent the day improving the product photos, simplifying the site, and writing a more detailed description of the product.
That night, sitting on the couch with my girlfriend, I heard the famous Shopify "Ka-ching!" Weirdly enough, it was an organic visitor from Morocco that bought 3 packs. From then on I knew that SEO would work well for me. I started getting customers through Google despite not even ranking at all for my main keywords.
After that, it was game one. I took $1,000 of savings and bought inventory. I did some keyword research and wrote articles. I started with keywords that had over 10,000 searches a month but under 100 allintitle search results. What allintitle does is tell you how many web pages there are on the entire internet that has that exact keyword in the title. Simply Google searches "allintitle: keyword" and count the number of results. It's a good measure of how many people have tried to target that specific keyword. The lower the number, the easier it is to rank.
And I started a YouTube channel that took off after posting a few videos. Over 2021 I poured a total of $5,000 into the business and have just been reinvesting the profits.
Since launch, what has worked to attract and retain customers?
Since starting, I've tried almost everything to bring traffic to the site. But SEO accounts for 85% of my traffic and YouTube (Direct and Indirect) accounts for the rest. Traffic is just on autopilot for me. If I want to increase the traffic and sales, I just produce more evergreen content that ranks highly in search engines. SEO experts are impressed at how much traffic I get relative to the number of blog posts I've published. There's not a lot of quality writing in the niche and my SEO strategy is working splendidly. Here's how I do it:
I use Google Keyword Planner or Ahrefs to get a long list of keywords with over 100 searches a month. I'll use the Alphabet soup method, analyze competitors, look in forums- do whatever to get a long list and put it in excel. Then I'll use my version of this AllInTitle search technique to rank them by the level of competition. I pick the easiest, most relevant, keywords and then write the best article on the internet about it. I try to always publish it with a SurferSEO score above 75. Doing this ensures that I'll at least be on page 1 of the SERPS. I'd hate to waste time on an article that doesn't rank well.

Organic Google traffic grows steadily with each article I publish
I knew Amazon would be important for STEEL. It's a great product, with a killer marketing angle, and there are thousands of people searching for it every month. But it was SO HARD for me to get an Amazon account. I was an Australian citizen living in Sweden and applying for a US account. Which looked shady. And I'd also messed around on Amazon a few years earlier and didn't have any goodwill left with them. It took me 8 months to get an Amazon account that I could sell through!
On the first day, the product was listed, I sold 5 packs. On the second day 10 packs. It was as easy as that. I was even visible in search and I hadn't optimized my listing at all. But it still took off. You should probably get on Amazon FBA sooner than you were thinking. It's easy money because you don't have to acquire the customer or handle fulfillment. But it's a harsher game, and your product needs to be reviewed well or else it's toast. I put my gum on Amazon and it accounted for 40% of all sales after 1 week… that's not unusual.
My overall experience with Amazon has been great. If you follow their rules, they sell your product. It's really easy. But be careful not to do both Shopify and Amazon too early- that's what I did. It adds a layer of complexity (headache) to the business and if I could do it again, I'd scale up one operation further before adding the other.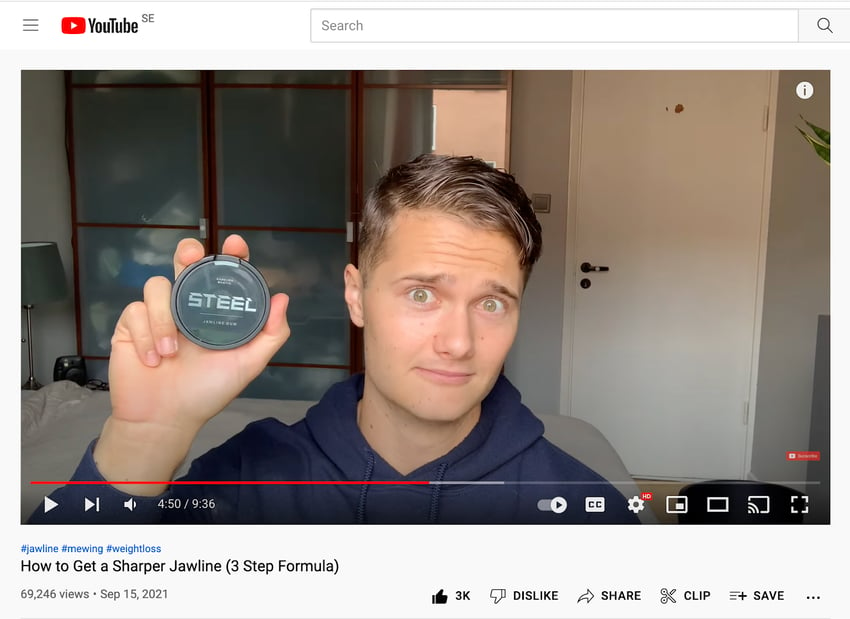 YouTube is my favorite place for content marketing. I provide information and tutorials for my subscribers and some of them buy my gum (yes that's my bedroom)
How are you doing today and what does the future look like?
The business is profitable with 55% gross margins. Chios Mastic gum is a natural good, harvested on only one island in the entire world- that's why it is expensive. The gum and the shipping make up almost all the cost of the business. Everything else is either cheap software or my labor. Which I'm currently paying myself $0 for.
Customer acquisition costs are zero. Which is good for margins, but you can't reach scale as easily as with paid ads. Customer Lifetime value is around $60 at this point, so I'm not sure if I'll be able to get them to work. The next big challenge!
Resist the urge to innovate everything. Have one main part of your product or distribution that is unique and then do everything else by the book. You can't afford to spend your time on small details, that will come later.
My YouTube channel has 26k subscribers and passively makes me $550 a month from the Ad revenue. And that's with a pretty low CPM of $5.70. YouTube is the easiest money I've ever made. But I'm in a niche with high demand and a low supply of videos. Oh, and did I mention this is the 4th channel I have created? Yes, that's right. I had horrendous failures on YouTube a few years before getting this channel to fly. So I certainly had to wax the car a few times before they let me drive it.
Ultimately, my goal is to build the jawline destination of the internet. The one-stop-shop for anyone interested in improving their jawline. I'll continue providing free content and tutorials, and if people want to buy what I'm selling, they'll know where to find me.
I get great feedback and emails from men explaining how I've helped build their confidence. I've found this work fulfilling and I'll be doing this for a while to come!
Through starting the business, have you learned anything particularly helpful or advantageous?
I've learned that the product is only one part of the customer experience. The ease of purchasing. Having helpful content on the site. The shipping times. The product packaging. The follow-up email sequences. All of those things combine to shape the experience the customer has. I've seen companies win (in other markets) because they nail those things despite having an inferior product. So I put as much effort into those things as the product itself.
E-commerce is a lot more work than I expected. Before STEEL, I built software side-projects and worked at Software companies. I didn't know anything about managing inventory and fulfillment. I don't enjoy that whole side of things and I think I've let the company suffer at times because of that. I've put off tasks for weeks or months that really would have only taken a few hours if I had just sat down and done them. Now I obsess over "the main thing". Every day there is one main thing that I need to get done. And nothing else matters until I do.
Take a new angle. Slice off a vertical for a specific demographic. Improve the product. Make it simpler.
I have another productivity "trick" that I discovered last month. I plan my week on Sunday evening and write down all the important things I need to get done that week. Then, come Monday, I try to do as many of those things as possible. Here's what it does:
Nobody interrupts you on a Monday. There's rarely an after work and people are usually reluctant to jump into work in the morning. Monday is the most distraction-free day of the week
It sets the tone for the week. Get more done on Monday than most people do in their whole week- that's how you'll get ahead. You'll feel productive and that will lead to actual productivity.
What platform/tools do you use for your business?
I can't even imagine what it would be like running an Ecom store without Shopify and its app store. Can you imagine if you had to build all this yourself? Ugh! Gives me the shivers.
Here's my stack:
Shopify – best-supported store builder and founder run.
ShipBob – it's seamless to expand internationally with ShipBob which is crucial for my store because my traffic is organic and comes from all over the world
Trustpilot – your Trustpilot rating is your real rating. Customers trust it because it is BY FAR the hardest to cheat or write fake reviews on.
Gorgias – makes managing customers and socials easy
Notion – my company's Wikipedia. I love having everything documented and all in one place
Klaviyo – I thought email marketing was technical until I tried Klaviyo
Shift – this is all your Gmail accounts with a Slack UI. It's easy to switch between accounts and do what you need to.
CartHook – is the best post-order upsells app I've used yet
Ahrefs – I don't even know the name of an Ahrefs competitor- they cover everything.
Fiverr – for small tasks like touching up a product image or customized theme code
Google Analytics – I used this a lot in my day job, so I'm kind of an expert. For Ecommerce stores, GA is a no-brainer. You get so much valuable data just from adding the code snippet, let alone custom tracking.
Zapier – for automating small tasks like emailing invoices to my accountant or slacking me when inventory gets low
What have been the most influential books, podcasts, or other resources?
I try to limit my reading and content consumption these days. I love learning for learning's sake, which I think has inhibited my success. Most of the time, you know everything you need to know. You're smart enough. What you need is repeated action in one direction. At least that's the case for me. So now I try to produce at least as much as I consume.
My top "life-hack", that I suggest to everybody, is to study copywriting. You spend all day selling and trying to persuade in different forms; emails, customer service, producing content, hiring, pitching, etc. Persuasion is one of the big 2 modern superpowers- the other one is coding. My favorite books on Copywriting and Persuasion are:
For E-commerce founders, watch Davie Fogarty on YouTube. I've watched all of his videos at least 3 times each. He's running almost a dozen successful brands (heard of the Oodie?) that are grown via paid acquisition and he is only 27 years old. For some crazy reason, he shares all his knowledge and tips for free. The scale he's operating at after such a short period has inspired me to expand my vision.
Advice for other entrepreneurs who want to get started or are just starting out?
First-time founder? Haven't created a successful product or service that does decent revenue? Then do something that's already being done. Likewise, don't be put off when you find that somebody already built your idea- that's great news! Somebody already validated your product for you. They've taken most of the risk. Now go and do it better. Take a new angle. Slice off a vertical for a specific demographic. Improve the product. Make it simpler. There are thousands of different types and brands of bread. And bread isn't a winner-takes-all-market, neither is yours.
Resist the urge to innovate everything. Have one main part of your product or distribution that is unique and then do everything else by the book. You can't afford to spend your time on small details, that will come later. You have to pick which fires to fight and put out the others when you've got time. The truth is, you've got plenty of time. If you were purely productive, you could nail your backlog in a few weeks. But we only have a certain amount of energy each day– calculate the return you're getting on it.
For E-commerce store owners, pick ONE country and don't start selling internationally until you're bigger and more profitable. It's hard with taxes, logistics, and margins when you're selling internationally. If your store is small, these things can overwhelm and kill the business before it gets anywhere.
I feel like I'm on a rant here now, but one more thing: when you strike gold, become a gold miner. When you've got a product that's working, double down on it, and become a specialist in that product or problem. I guarantee you the market is much larger than you think at first. I'm guilty of always scouting new ideas and wishing I had started in another market. Eventually, I realized that shiny object syndrome was the reason I hadn't had the success I was after. Stay focused and go deep. Depth is where the gold is.
Are you looking to hire for certain positions right now?
STEEL is currently a one-man show and I'm looking for freelancers to help me publish more articles and videos. If you're a Content Writer that's interested in my mission and the content I create, reach out to me at [email protected].
I'd also love to get in touch with anyone building anything in the men's beauty space. OR building an SEO-powered Ecom store.
Where can we go to learn more?
If you have any questions or comments, drop a comment below!
-
Matt Phelps, Founder of STEEL – Jawline Gum
Want to start your own business?
Hey! 👋I'm Pat Walls, the founder of Starter Story.
We interview successful business owners and share the stories behind their business. By sharing these stories, we want to help you get started.
Interested in starting your own business? Join Starter Story Premium to get the greatest companion to starting and growing your business:
Connect + get advice from successful entrepreneurs
Step by step guides on how to start and grow
Exclusive and early access to the best case studies on the web
And much more!
PROMOTED
Did you know that brands using Klaviyo average a 95x ROI?
Email, SMS, and more — Klaviyo brings your marketing all together, fueling growth without burning through time and resources.
Deliver more relevant email and text messages — powered by your data. Klaviyo helps you turn one-time buyers into repeat customers with all the power of an enterprise solution and none of the complexity.
Join Brumate, Beardbrand, and the 265,000 other businesses using Klaviyo to grow their online sales.
Starter Story
Wanna see 52 business ideas you can start with less than $1,000?
Join our free weekly newsletter and get them right now.