Thank you Klaviyo for sponsoring Starter Story ❤️
Turn one-time buyers into repeat customers. Try the platform loved by 265,000 brands
How I Increased Traffic And Sales By Sending More Email Newsletters [100K/Year]
Start A White Label Fitness Apparel Business
This is a follow up story for Infinite Elgintensity Gym Apparel. If you're interested in reading how they got started, published over 2 years ago, check it out here.
---
Hello again! Remind us who you are and what business you started.
I'm Infinite Elgintensity, a YouTube roaster who sells gym apparel and online coaching. My main products are custom strength programs and T-shirts, tank tops, and hoodies with logos that make fitness references through video game imagery.
My customers are lifters and gamers who enjoy poking fun at fitness industry nonsense.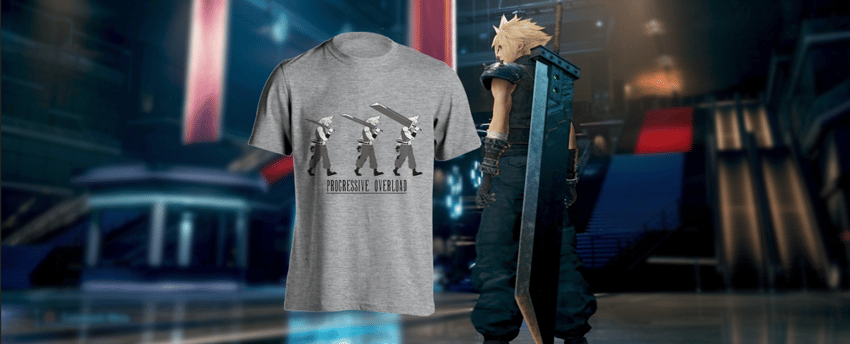 Tell us about what you've been up to. Has the business been growing?
The pandemic and hyperinflation hurt sales, but the upticks in sales around stimmy check mailings, my video uploads, and holidays helped undo the damage. The swings in-store traffic and purchases were new to me, but business has been good enough for me to set up a storage area for my inventory as well as an office to process orders.
I increased traffic and sales by sending more email newsletters and push notifications because more people than ever were sitting at home in front of their computers or on their phones. I also changed my store images to reflect the #stayathome lifestyle: models in the gym were now showing off my apparel while sitting on the couch.
When you sell apparel, you're selling a lifestyle, which was, for most people, one of leisure. Finally, I upgraded my Shopify theme, which obviated the need for various plug-ins and improved my store's load times. The faster and easier to use a website is, the easier it is to capture sales.
I started selling masks because everybody needed to stock up on them; some of them might as well be mine. I also released a Ninja Turtle-themed pandemic design called "COVID-19 Age Mutant Ninja Turtles," which sold incredibly well from 2020 to 2022 when I discontinued them after states started lifting mask mandates. Finally, I partnered with Hydra Cup on a line of shaker bottles with some of my designs on them. The shaker cups didn't do so well, but I spent no money on inventory and learned that my customers weren't interested in shaker bottles.
I keep my customers coming back by continuing to make videos on my YouTube channel. Entertaining people is one of the best ways to get them to buy anything from you. My videos not only keep my brand relevant but promote my store via watermark and description box links.
What have been your biggest challenges in the last year?
Managing inventory was more complex than ever because of, you guessed it, the pandemic. Sales were erratic, so I couldn't order the same amount of clothing or other products every month as I used to do. At the beginning of the lockdown, I ordered less inventory than usual because it's hard to sell gym clothes when the gyms are closed, and many are out of work.
Most of my customers are American, so another big challenge has been inflation. I started selling liquid chalk because gyms opened up in the US, and an $8 bottle of chalk that you have to replenish after a month or so is more accessible than a $24 T-shirt. So far, my plan has worked well: I've sold hundreds of dollars worth of chalk, including dozens of repurchases.
What have been your biggest lessons learned in the last year?
More people than ever seemed to start selling apparel in the last year, probably because it takes an hour to open a shop and link to a dropshipper. Many of them copied popular designs rather than think of their own, so copyright infringement seemed to be at an all-time high.
I filed twice as many DMCA claims as usual, all against products that undercut mine, so I figured that I should look for knockoffs twice as often going forward. When the world falls apart, so do people's morals, so set up fraud alerts and learn to fight bogus chargebacks. I've prevailed on every DMCA that I've filed because vendors who don't comply immediately will get shut down once their web hosts learn about the claims.
Rather than focusing on selling more of what you already offer, look for new products and services to sell. One way to do so is to offer goods and services at various price points.
I learned the importance of adapting goods and services to customers' needs. So many people worked from home in T-shirts, so I thought of shirt bundles that would appeal to them. People went from fully-equipped gyms to limited home gyms, so my coaches and I adapted our training programs accordingly. Whatever is popular at your store might still be popular with tweaks.
What's in the plans for the upcoming year, and the next 5 years?
I'm going to sell my best-selling designs on women's T-shirts and racerback tanks. I've also been testing leggings. That way, my mostly-male customer base can buy clothing for their significant others.
Sometimes the price is the only thing keeping someone from becoming a customer. Look for complementary goods and services as well.
I plan to expand my coaching offerings as well. So many people gained weight during the lockdown, so my coaches and I might start writing diets for people who now have to return to the office and want to look good again in their old work clothes.
What's the best thing you read in the last year?
I've read a lot of articles about typography and watched videos about T-shirt design to help me improve my logos.
I'm not an artist by trade, so these resources helped me understand why certain logos looked good to everyone, which will sell better than logos that just look good to me because of a hunch.
I also read Shopify's articles about Facebook ads, as I plan to fine-tune my campaigns this Christmas season.
Advice for other entrepreneurs who might be struggling to grow their business?
Eliminate or reduce your business costs as much as you can. My apparel costs less to make in part because I no longer pay to have each item wrapped in plastic; it's better for the environment, too. I used to buy packaging tape and bubble wrap at retail; now, I buy them cheaper from eBay. I even reuse unmarked cardboard boxes for large orders. The money you've wasted can be spent on expanding your business.
Rather than focusing on selling more of what you already offer, look for new products and services to sell. One way to do so is to offer goods and services at various price points. My cheapest items used to be my T-shirts ($25), but now anybody who wants to support my brand can buy liquid chalk ($8) and sticker packs ($6). Sometimes the price is the only thing keeping someone from becoming a customer. Look for complementary goods and services as well. I told countless coaching clients to use lifting chalk for heavier deadlifts before offering liquid chalk of my own to sell them. I waited years before having the big brain realization to sell sweatpants and shorts to my customers who bought tops. There's always something to add to an order. Figure out what that is.
Where can we go to learn more?
If you have any questions or comments, drop a comment below!
Want to start your own business?
Hey! 👋I'm Pat Walls, the founder of Starter Story.
We interview successful business owners and share the stories behind their business. By sharing these stories, we want to help you get started.
Interested in starting your own business? Join Starter Story Premium to get the greatest companion to starting and growing your business:
Connect + get advice from successful entrepreneurs
Step by step guides on how to start and grow
Exclusive and early access to the best case studies on the web
And much more!
PROMOTED
Did you know that brands using Klaviyo average a 95x ROI?
Email, SMS, and more — Klaviyo brings your marketing all together, fueling growth without burning through time and resources.
Deliver more relevant email and text messages — powered by your data. Klaviyo helps you turn one-time buyers into repeat customers with all the power of an enterprise solution and none of the complexity.
Join Brumate, Beardbrand, and the 265,000 other businesses using Klaviyo to grow their online sales.
Starter Story
Wanna see 52 business ideas you can start with less than $1,000?
Join our free weekly newsletter and get them right now.