Thank you Klaviyo for sponsoring Starter Story ❤️
Turn one-time buyers into repeat customers. Try the platform loved by 265,000 brands
I Bought A Dying Used Machinery Marketplace And Grew It To 1.7M$/Year
Start An Oil And Gas Machines And Equipment Manufacturing Business
Hello! Who are you and what business did you start?
Hello, my name is Thomas Bordier and with a few partners, we took over a dying B2B marketplace in 2003: Exapro. Today, our business is booming and we even acquired a competitor a couple of years back: Kitmondo.
We help buyers and sellers of used industrial machines worldwide to connect through our services similarly as a real estate agency, both promoting offers and supporting transactions.
The second part of our business is to efficiently promote industrial auctions throughout our network for all the main specialized auctioneers around the globe.
We have different types of clients, factories selling some assets, factories acquiring, specialized dealers, and auctioneers. Our customer-centric approach implies that we try creating added value for all stakeholders of the industrial equipment resale market.
In short, we promote over 300 auctions a year, assist buyers and sellers in about 600 transactions of machinery a year for a total asset value of over 25M$. Our turnover is over 1.7M$ a year.
Our purpose is to connect the Industrial World to optimize Manufacturing. This drives us to systematically consider new possible services in our sector. Today, we are working on a new project called Valorexo to help the market value better the prices of used machines.

What's your backstory and how did you come up with the idea?
After my studies in the UK and Canada, I became an expert in digital marketing and worked on several projects in Canada. An entrepreneur at heart, I then moved back to my native country France to take over the executive management of Exapro. It was actually a failed startup at the time, planning to close. So I was offered to reboot the business by one of the shareholders.
Beginnings are always tough and it took me two years to break even and start paying myself better. I was convinced from the start that the business was international and I decided to move our activity to the Czech Republic where it was easier to attract efficient young expats from all over Europe. Our business is Worldwide, Exapro focusing on the European market and Kitmondo the American and Asian markets. In the team, we have 8 nationalities and speak 12 languages.
I have launched several other businesses since and I still advise many major French businesses on their Web strategy. One of my main areas of expertise remains Search Engine Optimization.
Uncertainty is inevitable when you launch a new activity. Your hypotheses are pure fantasy or just plain wishful thinking. However, this is an exciting journey where you learn every day, sometimes in pain, some other times through small victories.
I firmly believe that the Internet should help the manufacturing sector connect more effectively and fluidify the trade of production means. The Industry is lacking tech solutions, always left behind on Web services compared to the service sector.
I am always eager to learn new skills and I am fascinated by what big data and machine learning can offer to the World. I foresee that most boring tasks will soon be passed onto bots and that individuals will focus on what matters and fulfills them.
Take us through the process of designing, prototyping, and manufacturing your first product.
The original Website developed in 1999 was already obsolete when I joined in 2004, its database decaying and traffic dropping soon into oblivion (trying to build a sound business model with 1200 monthly visitors was tough even in 2004). Every operation was manual, time-consuming, and slowed down further by some bugs which I could not fix. The programmers were long gone and I had to patch everything up myself.
I managed to learn the business, reconnect with the market, develop new partnerships and stimulate the traffic over some time. But one of the biggest challenges was to rebuild a new Website and workflow on top of generating a minimum stream of revenue.
Uncertainty is inevitable when you launch a new activity. Your hypotheses are pure fantasy or just plain wishful thinking. However, this is an exciting journey where you learn every day, sometimes in pain, some other times through small victories (never expect big leaps forward though). You have to enjoy it no matter what life throws at you.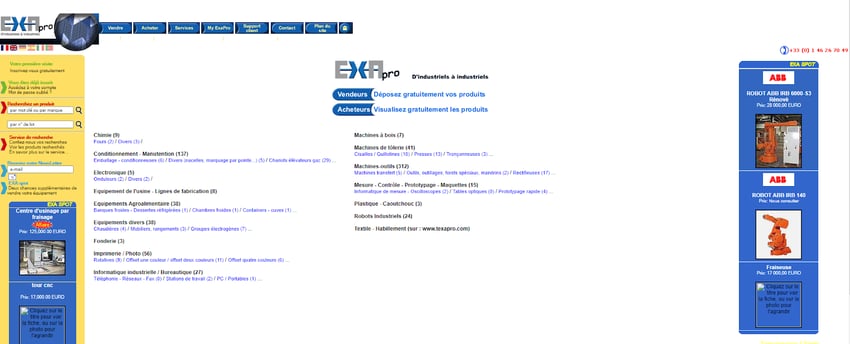 Our spooky website in 2003
Describe the process of launching the business.
My goal was to rebuild a fresh front-end with a better UX (the term "UX" was not trendy at the time…) and optimize products for the search engines (ooh, Google was not the only one back then). But there was even more work in the back-end to make sure we would end up with an efficient workflow.
Our business is naturally relying on some volume of offers and without external help, I had to make sure I could update the database and refresh our offer continuously. With one part-time programmer, we managed to revamp the client's management, their offers attached and a ticketing system to manage incoming requests. That process was made without proper project management, jumping from one burning matter to the other but relying on a clear vision.
Entrepreneurship is all about resilience and agility.
Today, we have rebuilt both our Front and our tailored CRM multiple times and are working with a full internal and external team. What a relief!
Since launch, what has worked to attract and retain customers?
Coming from an SEO background, we always focused on organic traffic to attract both buyers and sellers of machinery. This still represents 4 out of 5 visits today.
We know which borderline practices not to use and thus do not take any risks with quick-wins SEO solutions. Of course, there have been cases where Google penalized some genuine websites but this is overall very unlikely to happen unless you use some "grey" or black hat techniques.
SEO relies on clean Web structure and original content. Before going into lengthy efforts, start from this: a good Website where you tell about your expertise and journey.
Naturally, with a growing reputation and sellers coming regularly to their accounts, we developed our direct traffic significantly.
We work on newslettering with a selection of attractive machines along with automatic emails to support our sellers in the resale trade.
Concerning paid traffic, we never really reached a PPC ROI for our business model. We still run highly targeted campaigns but we never fell into the pitfall of blasting the Web aimlessly burning our budget and killing our margins.
We also collaborate with specialized marketplaces as affiliates. We avoided eBay, Alibaba, or Amazon as they have strict conditions along with a high toll.
While present on social media, our customers are strictly professionals and rarely LinkedIn users (I discard Facebook, Instagram, and other support which only creates noise in the Industry).
Overall, our customers' satisfaction is the best drive to grow our business. We thank them for their trust but even more, for the word-of-mouth, they bring to us.
How are you doing today and what does the future look like?
We are 21 in the Team, for most, Agents helping complex international deals though we have 2 persons in Marketing, 2 Developers and data Masters and 2 in Office Support.
We are happy to count on 350.000 visitors each month visiting 37.000 offers from 8.000 sellers. Our database has grown to nearly half a million contacts allowing us to regularly reach our market.
This led us to create our marketing services for auctions in 2014 and should boost our upcoming valuation service Valorexo.
Today, we are confirming new partnerships with major players to sustain healthy growth.
Through starting the business, have you learned anything particularly helpful or advantageous?
I believe that entrepreneurship is all about resilience and agility. Of course, the business concept is important and you need to make sure your idea is smart and has a market (customer-centric!) but once that is settled, you have to accept that market trust takes time and that nothing ever goes according to plan. Be hard-working, smart, and ready to accept failure to readjust your strategy.
One more important aspect is to build a strong Team, one you can rely on as much as it relies on you. Again, this takes time and failure to achieve but pays off eventually.
What platform/tools do you use for your business?
We developed our own CRM, fitting our exact need and evolutive. That was a complex choice to make involving important time and money investments but that allowed us to serve our market better.
Otherwise, we love our combo Google Suite (email, calendar, Drive), Slack,Basecamp(for all projects).
Personally, I also enjoy working with Todoist and Toggl.
What have been the most influential books, podcasts, or other resources?
Mmh, a lot to say here. Difficult choice. Ok, I will try a few: LinkedIn for your business sense (please filter properly what you need to read), Moz and Screaming Frog for SEO, Steve Krug's book "Don't make me think", Jay Shetty's podcast for personal balance, Wim Hof's method to energize yourself.
3 rules about the way we use the Web explained by Steve Krug:
We don't read pages, we scan them
We don't make optimal choices. We satisfice
We don't figure out how things work. We muddle through
And from Wim Hof: "Fear does not go away by itself. You have to confront your fear, mold it, then learn to control it in its own irrational reality." which I believe can be applied in life as much as in entrepreneurship.
Advice for other entrepreneurs who want to get started or are just starting out?
On top of my previous advice about being resilient and agile, I would recommend managing your stamina for the marathon you are about to run. This is not a sprint even though it feels like one. Manage your horse(power)!
And my personal motto: be strong, harmonious, and inspiring for your team, clients, partners...your stakeholders in general.
Are you looking to hire for certain positions right now?
We are always looking for committed, fun, and skillful people to join our team. Right now, we are preparing our recruiting plan for Valorexo.
Where can we go to learn more?
If you have any questions or comments, drop a comment below!
-
Thomas Bordier, Founder of Exapro
Want to start your own business?
Hey! 👋I'm Pat Walls, the founder of Starter Story.
We interview successful business owners and share the stories behind their business. By sharing these stories, we want to help you get started.
Interested in starting your own business? Join Starter Story Premium to get the greatest companion to starting and growing your business:
Connect + get advice from successful entrepreneurs
Step by step guides on how to start and grow
Exclusive and early access to the best case studies on the web
And much more!
PROMOTED
Did you know that brands using Klaviyo average a 95x ROI?
Email, SMS, and more — Klaviyo brings your marketing all together, fueling growth without burning through time and resources.
Deliver more relevant email and text messages — powered by your data. Klaviyo helps you turn one-time buyers into repeat customers with all the power of an enterprise solution and none of the complexity.
Join Brumate, Beardbrand, and the 265,000 other businesses using Klaviyo to grow their online sales.
Starter Story
Wanna see 52 business ideas you can start with less than $1,000?
Join our free weekly newsletter and get them right now.