Thank you Klaviyo for sponsoring Starter Story ❤️
Turn one-time buyers into repeat customers. Try the platform loved by 265,000 brands
How I Built A $50K/Month E-Commerce Store With Zero Experience
Start An E Bikes Business
Hello! Who are you and what business did you start?
Hi, I'm Claire Carpenter and I am the founder of Easi-Fit Ebike Kits. We are an online store that sells kits that convert a push bike into an ebike.
We are based in the UK and our market is almost exclusively in the UK, although we have plans to expand into other countries.
There are plenty of ebike conversion kits on the market but what makes ours stand out is how easy it is to install on your bike. There are essentially 3 parts to the kit and it takes less than an hour to install the kit. (One of our customers did it in 15 minutes). If you can change a tire on your bike, you can install our kit. We wanted that simplicity to come across very quickly, which is the reason we called our business Easi-Fit Ebike Kits.
One of the most common questions our customers ask is: what is the range, i.e. how many miles will I get out of the battery? We sell 3 kits: The first and most popular is a bottle battery kit with a range of around 30-40 miles. Then we have a saddle bag battery kit, with a range of 40-60 miles, and finally a rear rack battery kit with a range of 70+ miles.
Our customers are a mixed bunch. We get a lot of older customers who have loved cycling all their lives but now need a bit of extra help on the hills. We have commuters who want to ditch the car and find a greener and cheaper way to get to work. We have some who are rehabilitating after an accident or illness and the kit helps them introduce gentle exercise back into their lives.
Some customers rediscovered a love of cycling during the pandemic lockdowns when the roads were clear of traffic and want to carry on cycling now life is normal-ish again. Others love the idea of an ebike but already have a perfectly good bike in their garage and our kit is perfect for them.
The business has gone well and we are now regularly generating $50k a month in sales, more in the peak spring and summer months.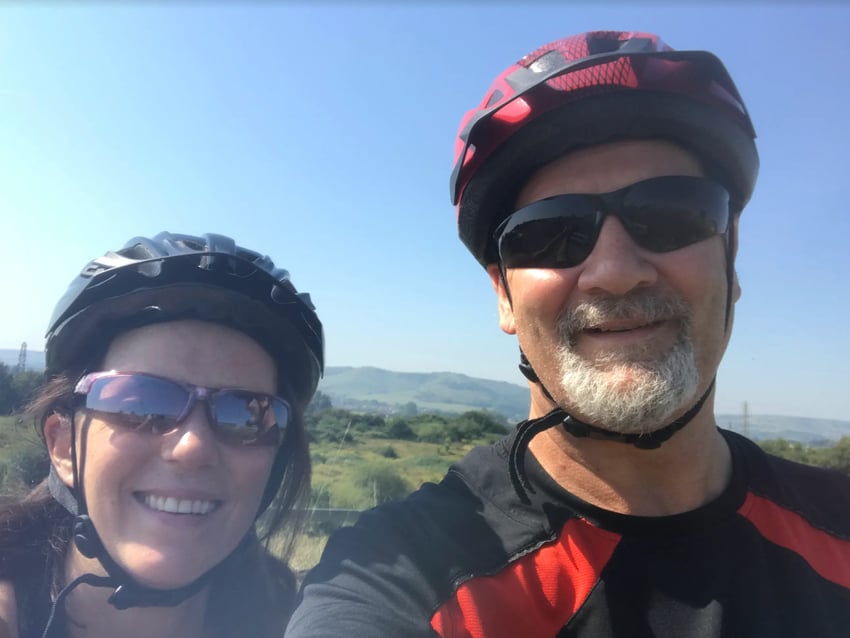 What's your backstory and how did you come up with the idea?
I had no experience with eCommerce before I started this business.
Like many people during the pandemic I also had a long think about what I wanted from work and how I wanted to earn my living. I wanted a better work/life balance. I didn't want to commute anymore.
I was a speechwriter, employed by a government agency 3 days a week, and 2 days freelance. Then the pandemic hit and in March 2020 the UK went into lockdown. There is no use for a speechwriter when there are no live events. My freelance work disappeared overnight. And although I still had my part-time job I was worried I would be made redundant in the near future. So I had to think of something else - quick.
Like many people during the pandemic, I also had a long think about what I wanted from work and how I wanted to earn my living. I wanted a better work/life balance. I didn't want to commute anymore. I didn't want rigid work hours. I wanted something I could scale.
Ecommerce seemed like a good option although I knew nothing about how to start. But it appealed to me as I thought it would give me the flexibility I was looking for and the ability to grow the business as I became more experienced.
I took an online course on how to set up an eCommerce store, (mywifequitherjob.com) which was a gamble as I spent a month's wages on the course, knowing that there may not be many more wages to come! The course was excellent though and taught everything from scratch - how to find the right product, how to research the market, how to analyze the competition, the mechanics of setting up the website, and finding customers.
The hardest thing was to decide on what product to sell. It consumed me for weeks. I thought of nothing else, I poured over the internet looking at trends and new products and every night at the dinner table my family debated various ideas. Then one day I saw an ebike conversion kit on Amazon and I felt a jolt of energy rush through me - it was an aha moment. It's difficult to explain why I thought it was the perfect product for me, just that it felt right. It seemed like such a cool idea. I have always loved cycling and I LOVED the idea of converting my bike to electric. I knew I'd be able to sell these kits. And I had been reading all over the press about the boom in cycling and ebikes.
I started researching the ebike conversion kit market and although there were some great, established products on the market, two themes were emerging. One - the products were complicated to install, and two - the customer service was often atrocious.
So these were the two things I wanted to focus on:
Provide a kit that anyone could install.

Provide fantastic customer service.
Take us through the process of designing, prototyping, and manufacturing your first product.
We spent several weeks researching kit manufacturers, keeping our focus on "quality" and "easy to install".
My partner Clive got involved at this point and he spoke to lots of manufacturers in China, negotiating lead times and minimum orders, and so on. We settled on one that had a fantastic product that fit our needs and did not require us to place a large order. This was important because we had no money to buy big batches. We planned to sell the products first and use the income to purchase the first batch of kits. Not quite drop-shipping but not far off it.
Clive is very much a people person and he warmed to one particular manufacturer. They seemed open and honest and the way they did business was how we wanted to run our business.
Meanwhile, I outsourced our web development to PeoplePerHour and got a website built for about $500. It was super simple to begin with, just one product and checkout and our story.
I spent some time on the story because I love a story and stories sell. I wanted ours to be good. I wanted it to be a really honest and personal and approachable site.
I have found quite a few customers respond well to our story. I think they like the fact there are real people they can relate to. It builds trust, and as a result, it adds value to the brand. It doesn't have to be a big dramatic life-changing story, just something personal and genuine which resonates with customers.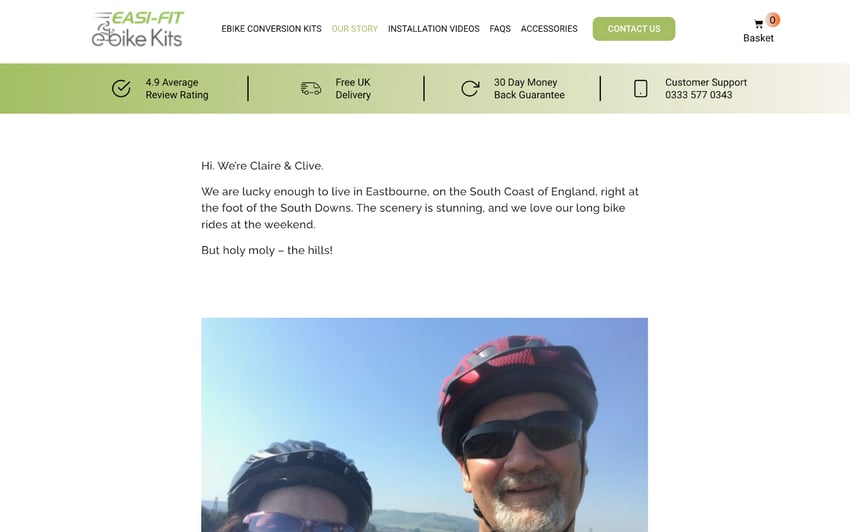 We had our phone number plastered all over it and told everyone we were here to help. And we genuinely did want to be there to help. I wanted to provide good customer service because I like to receive good customer service myself. And I also knew my competitors weren't providing it.
Describe the process of launching the business.
Once our website was ready, we decided to launch straight away. We felt a real sense of urgency given that our income had shrunk significantly since the beginning of the lockdown. The launch was exciting but also a bit of an anti-climax. We had no email list, no social media presence, and no customers ready and waiting, we just created a Google Text Ad and switched it on. Then we sat at our kitchen table with a cup of tea and waited.
Without a doubt our focus on delivering great customer service generates trust and drives sales. We have hundreds of 5\ reviews and many of them mention us by name. Many of our customers buy from us simply because they can pick up the phone and talk to us.
Ten minutes later the phone rang and we had our first sales call. Since our product is quite expensive (around $700) it's not an impulse buy and customers do their research. So we took some calls and talked about the product and explained that delivery would be 8 weeks. We offered a discount to compensate for the long wait. The fact that Clive has a background in engineering and also sales helped a lot. The engineering helped with the technical questions about the product and the sales because, well, sales.
Our first sale was exhilarating. We took a couple more sales. Then a miracle - the UK government announced a "bounce back loan" to help businesses get back on their feet during the pandemic and since I had a business already (my freelance speechwriting) I was eligible for the loan. It was around $20,000 and it allowed us to buy our first batch of kits. We sold them all before they arrived in the UK and bought more from the revenue that was coming in.
Since then we just kept going, more sales led to more revenue led to more stock.
Since launch, what has worked to attract and retain customers?
Without a doubt, our focus on delivering great customer service generates trust and drives sales. We have hundreds of 5\ reviews and many of them mention us by name. Many of our customers buy from us simply because they can pick up the phone and talk to us.
Our primary advertising channel is Google Ads - text and shopping. We quickly realized there was a science and art to maximizing return on ad spend so when we were approached by an agency to manage our ads we went with it. I think it's the right thing for us to do while the brand is still relatively new and we rely so heavily on Google ads.
After a year we started advertising on Facebook. Neither I nor my partner who works in the business is very good at organic social media. Clive is old school and hates social media ("anti-social media more like"), so we agreed to pay for social media ads. The return is pretty good.
Email marketing also works well for us. We use Klaviyo to capture and market to prospects. Looking at our benchmark figures on Klaviyo, we have a very high open rate and conversions. Again, I think it's because we present a very personal angle. Our customers like us and we like them.
We only sell through our website. We don't sell on Amazon or eBay or any other channel because their fees would make it uneconomical for us.
Current monthly advertising budget:
Google Shopping: $4,000
Google text: $1,300
Facebook: $1,000
Email (Klaviyo subscription): $64
One of the reasons our google ads work so well is that our product is very specific. That means the keywords we use are very well defined and therefore the CTR and conversions are good.
How are you doing today and what does the future look like?
We've now been going for nearly two years and have learned a lot. We do all our fulfillment (after a brief and unsuccessful spell with a 3rd party fulfillment company). Our sales are strong and our biggest problem, as a new company, is getting enough funding for new stock. Banks tend to want 2 years accounts and as we are coming up to 2 years, we plan to borrow and expand into other English-speaking countries - America, South Africa, and Australia.
In our first year, we were profitable, and by the end of the second year, we will have grown around 20%.
We've built an email list of around 4000, we have 1300 followers on Facebook, and we've expanded our product range and hope to expand geographically in the next year.
Almost all of our profit goes back into the business, buying more stock.
Through starting the business, have you learned anything particularly helpful or advantageous?
The last two years have been a humbling but also empowering experience. Since I knew nothing about eCommerce when I started I have had to stumble my way through and learn a lot - fast. There are some things I will never get to grips with. For example, the technical issues I have with my site - too many to name all, but bugs, software glitches, and plugins not working drive me crazy. If that's you too - get a developer you can trust and OUTSOURCE to keep sane!
I think one of the best decisions we made was to provide a personal service, even though we are an online store. We talk on the phone to our customers a lot and that gives you great insight into the product - how it's working, what the flaws are, and what the customers would like.
There is a lot of advice out there on how you can automate your business, but I think it's important to remember that people like buying from people. If you are a new brand, talk to your customers. It takes time but it's worth it.
I think the greatest thing about my business is that it's given me the flexibility and life balance I was looking for. That means the world to me. I can be with my kids when they need me, I can have a day off when I want to, and I can play a game of tennis whenever I need to de-stress. These things don't show on the balance sheet but they mean so much.
What platform/tools do you use for your business?
What have been the most influential books, podcasts, or other resources?
Course: mywifequitherjob.com This got me started and has changed my life.
Podcast: Bootstrapped Business Podcast. Mixture of expert interviews, personal thoughts from Steve Chou, and student success stories from the above course
Podcast: Ecom Crew. Tons of inspiring stories and interviews from people who are ahead of me.
Advice for other entrepreneurs who want to get started or are just starting out?
Expect problems. Lots of problems. Every day, all day, there will be problems that need solving. I no longer think of myself as someone who sells ebike conversion kits, I see myself as someone who has to solve problems.
Some days it can be fun and creative and rewarding to come up with ingenious solutions, other days it's a little more painful. But either way, if you accept they are coming at you every day, you are less likely to be blindsided.
Also, switch off. The problems don't all have to be solved right now, this minute.
Where can we go to learn more?
If you have any questions or comments, drop a comment below!
-
Claire Carpenter, Founder of Easi-Fit Ebike Kits
Want to start your own business?
Hey! 👋I'm Pat Walls, the founder of Starter Story.
We interview successful business owners and share the stories behind their business. By sharing these stories, we want to help you get started.
Interested in starting your own business? Join Starter Story Premium to get the greatest companion to starting and growing your business:
Connect + get advice from successful entrepreneurs
Step by step guides on how to start and grow
Exclusive and early access to the best case studies on the web
And much more!
PROMOTED
Did you know that brands using Klaviyo average a 95x ROI?
Email, SMS, and more — Klaviyo brings your marketing all together, fueling growth without burning through time and resources.
Deliver more relevant email and text messages — powered by your data. Klaviyo helps you turn one-time buyers into repeat customers with all the power of an enterprise solution and none of the complexity.
Join Brumate, Beardbrand, and the 265,000 other businesses using Klaviyo to grow their online sales.
Starter Story
Wanna see 52 business ideas you can start with less than $1,000?
Join our free weekly newsletter and get them right now.