Tim Talley
---
---
Tim Talley is an American entrepreneur. Tim started U-Lace No-Tie Sneaker Laces in 2009 and is based in Rochester, NY.[1]
| | |
| --- | --- |
| Company | |
| Twitter | |
| Instagram | |
Career
Early Career
No early career info added yet...
U-Lace No-Tie Sneaker Laces
Tim started U-Lace No-Tie Sneaker Laces in 2009. They detail the beginnings of their company in their Starter Story interview: [1]
Q: How did you get started on U-Lace No-Tie Sneaker Laces?
I've been an entrepreneur since long before I knew what an entrepreneur was. I started my first money-making business - Tim-ting Buttons - as a sophomore in high school.
There are no guarantees of success, but the harder you work and deeper you dig and the smarter you get along the way improves those chances.
Between that venture and U-Lace, I ran successful businesses in College, Grad School, and Post Grad School. I have also been an 'intrapreneur'; a guy working in an entrepreneurial fashion within a corporate environment, having as an MBA intern created a new candy line for Nestle Chocolate and creating massive growth and new business lines during my time at New Era Cap.
It was at New Era where I realized that I possessed the vision to truly 'see' what products and designs our consumers would really love and adopt. This led to me not only running the Urban Fashion 59FIFTY business but also becoming the companies Global Trend Spotter and Global Trend Liason. I was paid to leave the country and travel the globe absorbing the sites and filtering out the oncoming trends. As a result of that experience and all of my previous experiences, I came up with the concept for U-Lace while on a trip specifically taken to 'spot' something that could be my own.
On my first day in Tokyo, I spotted a sneaker in a shop window that was laced up in 6 colors at the same time. I thought it was so cool that I ran into the store for a closer look. Disappointment followed as the remaining length of standard 45" laces poured out of the sneakers. It was just a merchandising ploy, eye candy to draw you into the store. It was not something I could just buy and wear. Or could I? Deciding to find that answer to the "or could I?" question was the beginning of the development of U-Lace No-Tie Sneaker Laces.
Being a trained engineer and having run several other production companies in the past I did all of the initial drawings and development work for U-Lace on my own. I have never been one for design by committee or one for focus groups. I have worked and been very successful in my career by operating on gut feel, so the development of U-Lace progressed with just myself doing all of the work. Having been the guy who poured $60million of single-year growth into New Era's Fashion 59FIFTY business - a business that had been growing by $4 million per year prior - I was also fairly well compensated and possessed the resources to self-fund the development and launch of U-Lace.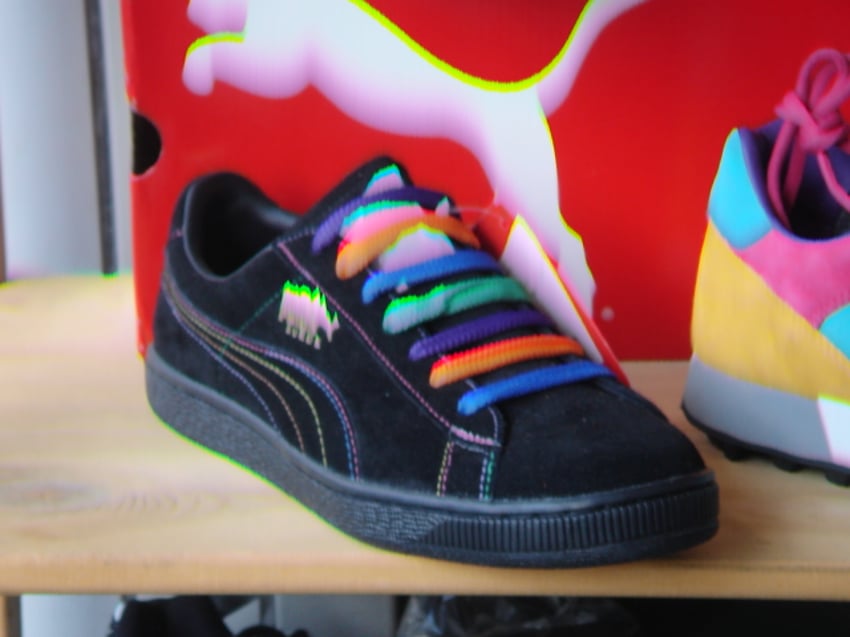 The 'harajuku shoe' as photographed from the outside the store in Tokyo. The original inspiration for U-Lace
Source [1]
References
Contributors
Contributors to this article:
Pat Walls, Founder @ Starter Story
Wiki Updater