Thank you Klaviyo for sponsoring Starter Story ❤️
Turn one-time buyers into repeat customers. Try the platform loved by 265,000 brands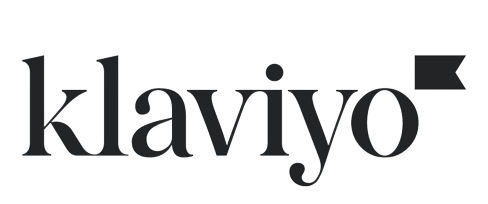 How To Start A Video Streaming App
Start A Video Streaming App
Are you looking to start a video streaming app?
If you talk to any entrepreneur, getting started is one of the hardest parts of launching your own business.
There are many things to consider, such as:
Validating your business idea
Setting up your business structure
Launch ideas for your business
Determining your marketing strategy
And much more!
In this detailed guide, we lay out all the steps to help you get started and run your business successfully.
💡 Introduction To Starting A Video Streaming App
Is Starting A Video Streaming App Right For You?
There are many factors to consider when starting a video streaming app.
We put together the main pros and cons for you here:
Pros of starting a video streaming app
• Flexibility
You can put as much time into the business as you'd like. If you like the work and have some initial experience, you can start small and manage all aspects of the business on your own.
• Ability to start your business from home
It's not necessary to have a physical storefront or office space to get your business started. You can do everything from the comfort of your own home, at least in the beginning!
• Rewarding work
Starting a video streaming app can be really rewarding work. After all, you are solving an immediate issue for your customer and you're working on something you truly care about.
• Scalable
With businesses and processes changing daily, there will always be demand for new features, products and services for your business. Additionally, there are several different business models and pricing tiers you can implement that will allow you to reach all types of customers.
• No overhead costs
To get your video streaming app started, there are no costs associated with overhead, storage, packaging, etc. This will save you a lot of time and money!
• High customer retention rates
Once a customer invests in your product, they've invested their time and energy to utilize your product/service which is highly valuable to them. Typically, your product or service becomes indispensable to your customer.
• High margins
The gross margins for your video streaming app are typically around 83%, which is considerably high and allows you to grow your business and manage costs easily.
• Control of workload
With starting a video streaming app, you have the unique ability to choose how little or how much you want to work. You also have the freedom to decide which projects you want to work on, and can turn down the ones that do not interest you.
• Unlimited income potential
With starting a video streaming app there is no cap as to how much income you can make. The stronger your business skills and the more energy/time you put into your career, the more you'll make.
• You are your own boss!
With starting a video streaming app, you are the one to make decisions for almost all of the operations. Calling the shots can be empowering and liberating!
• Predictable income stream
Your businesses income stream tends to be predictable based on the number of customers you have signed up. This makes financial planning and outlooks much more seamless!
• More convenient user experience using an app
The smartphone market is continually growing, and many consumers prefer to use an app over a website. Bonus points if your app is accessible to users without WiFi!
• You can generate revenue through your app!
Although it can be pricey to develop an app, there are various different ways to generate revenue. You can make it so that customers pay a small fee to download your app and you can generate revenue through ads + sponsors.
• App store allows you to reach a wide audience
If your app is listed in the app store, you are easily accessible to users that frequently visit the app store. App store listings also show as separate entries on Google's search rankings, which allows for more users to see your business!
• You can work from anywhere!
Not only can you start your video streaming app from home, you can also run your business from anywhere in the world. This is the entrepreneur dream.
• Strong Demand & Relatively Recession Proof
The demand for video streaming app is increasing year over year and the business is known to be relatively recession proof.
• Various different ways to make money
With starting a video streaming app, there is not just one business model to choose from. This field is amazing in that there are various different ways to make money. Although this may complicate things, it's great to have different options and sources of revenue.
• Make money while you sleep
The advantage of starting a video streaming app is that you have the ability to have passive income and make money while you sleep. This is the dream for many entrepreneurs.
• Results and revenue happen quickly!
Unlike other businesses, it can be relatively quick to start seeing results and revenue. As long as you follow all the steps to validate your idea before launch, you are likely to see quick results and ROI.
Cons of starting a video streaming app
• Crowded Space
Competition is high when it comes to your video streaming app, so it's important that you spend a good amount of time analyzing the market and understanding where the demand lies.
• Security Issues
With any Saas business, data loss and security issues may arise throughout your process of building your product. It's critical that you understand exactly what you're responsible for and how to avoid potential issues down the road.
• Lack of benefits
With a video streaming app, you are typically self-employed and responsible for finding your own insurance, which can be quite costly and time-consuming.
• Isolation
Often times, as a video streaming app, you typically work alone and do not have much face-to-face interaction with other team members.
• Taxes
As a video streaming app, you typically pay self-employment taxes which can be quite high. It's important to understand what you will be paying in taxes each year so you can determine if the work you're taking on is worth it.
• No safety net
Typically, as a video streaming app, you do not receive a consistent pay-check and instead earn money based on your transactions each month. During the slow periods, you typically take away less since the job is based on commission. It's important to budget accordingly for the slow times.
• Stressful work
This line of work can be stressful for both you and your clients. This type of transaction is a significant financial decision for your client, so expectations are very high for you. Although this career path can be very rewarding, it also comes with its challenges and stressful moments.
• Churn
In this business, customers can cancel their membership or subscription for your services - which can make revenue forecasting challenging and unpredictable. It's important to focus on your churn rates and trends so that you can prevent this as much as possible.
• Difficult to build trust with your customer
With starting a video streaming app, there can be minimal face-to-face interaction, which means it can be a lot more difficult to establish trust with your customers. You'll need to go the extra mile with your customer to grab their attention and business.
• Complex development process.
The development process for a video streaming app can be quite complex, which may cause delays and challenges when launching and growing your product.
• Profit-sharing with the app store
If you are using your app to drive revenue, either through paid downloads or through purchases of your services through the app, then be aware that app stores get a substantial cut (around 30%) of revenue on top of sales tax!
• Complex maintenance
Your video streaming app will require a long-term investment due to the need for updates, bug fixes, and security vulnerabilities. It's important that you (or someone on your team) stays on top of this at all times.
• You might struggle financially (at first)!
If you bootstrap your business or choose not to pay yourself (or pay yourself less than you were making at your corporate job), this can be financially taxing. It's important to adjust your lifestyle and set a plan for yourself so you don't find yourself in a stressful situation.
• Minimal physical activity
A big part of starting a video streaming app is sitting at a desk for the majority of the day starting at your computer. Some may enjoy this, but others may struggle with sitting for the majority of your day without much physical activity.
• Learning Curve
When you start your own business, you no longer have upper management to provide you with a playbook for your roles and responsibilities. You should know the ins and outs of every aspect of your business, as every decision will come down to you.
Players
Big Players
Small Players
Search Interest
Let's take a look at the search trends for over the last year:
How To Name Your Video Streaming App
It's important to find a catchy name for your video streaming app so that you can stand out in your space.
Here are some general tips to consider when naming your video streaming app
Avoid hard to spell names: you want something easy to remember and easy to spell for your customers
Conduct a search to see if others in the space have the same name
Try not to pick a name that limits growth opportunities for your business (ie. if you decide to expand into other product lines)
As soon as you have an idea (or ideas) of a few names that you love, register the domain name(s) as soon as possible!
Why is naming your video streaming app so important?
The name of your business will forever play a role in:
Your customers first impression
Your businesses identity
The power behind the type of customer your brand attracts
If you're memorable or not
It's important to verify that the domain name is available for your video streaming app.
You can search domain availability here:
Find a domain starting at $0.88
Although .com names are the most common and easiest to remember, there are other options if your .com domain name is not available. Depending on your audience, it may not matter as much as you think.
It's also important to thoroughly check if social media handles are available.
As soon as you resonate with a name (or names), secure the domain and SM handles as soon as possible to ensure they don't get taken.
Here's some inspiration for naming your video streaming app:
Incoming Clip Co

check availability

Motion Clip Spot

check availability

Hour Television Co

check availability

BasedVideo

check availability

Experimental Clip Pro

check availability

The Full

check availability

Excellent Picture Place

check availability

Composite

check availability

TimeVideo

check availability

Motion

check availability

Television Collective

check availability

FinishedVideo

check availability

The Conventional Pictures

check availability

Animated

check availability

The Digital Tv

check availability

EducationalVideo

check availability

Live

check availability

Integrated Telecasting Co

check availability

Short Tape

check availability

Digital

check availability

Conventional Telecasting Trading Co

check availability

Favorite

check availability

Corporate Picture Place

check availability

The Documentary Picture

check availability

Tape Place

check availability

Dvd Tape

check availability

ComponentVideo

check availability

The Promotional Footage

check availability

CompositeVideo

check availability

DigitalVideo

check availability

Professional Camera

check availability

Introductory

check availability

The Corporate Footage

check availability

Full Tape Trading Co

check availability

Integrated

check availability

Way Pictures Place

check availability

Conventional Videotape Trading Co

check availability

FavoriteVideo

check availability

Minute

check availability

The Sound Tape

check availability

The Way

check availability

The Motion Pictures

check availability

Standard Television Pro

check availability

Promotional Videotaped Co

check availability

The Motion Tape

check availability

The Definition Footage

check availability

Entire

check availability

Introductory Footage Spot

check availability

Based Pictures Co

check availability

Servidio Video

check availability

The Online Videotaped

check availability

Mineo Video

check availability

Speed

check availability

Time Footage Collective

check availability

Time Footage Pro

check availability

The Based Telecasting

check availability
How To Create A Slogan For Your Video Streaming App:
Slogans are a critical piece of your marketing and advertising strategy.
The role of your slogan is to help your customer understand the benefits of your product/service - so it's important to find a catchy and effective slogan name.
Often times, your slogan can even be more important than the name of your brand.
Here are 6 tips for creating a catchy slogan for your video streaming app:
1. Keep it short, simple and avoid difficult words
A great rule of thumb is that your slogan should be under 10 words. This will make it easy for your customer to understand and remember.
2. Tell what you do and focus on what makes you different
There are a few different ways you can incorporate what makes your business special in your slogan:
Explain the target customer you are catering your services towards
What problem do you solve?
How do you make other people, clients, or your employer look good?
Do you make people more successful? How?
3. Be consistent
Chances are, if you're coming up with a slogan, you may already have your business name, logo, mission, branding etc.
It's important to create a slogan that is consistent with all of the above.
4. Ensure the longevity of your slogan
Times are changing quickly, and so are businesses.
When coming up with your slogan, you may want to consider creating something that is timeless and won't just fade with new trends.
5. Consider your audience
When finding a catchy slogan name, you'll want to make sure that this resonates across your entire audience.
It's possible that your slogan could make complete sense to your audience in Europe, but may not resonate with your US audience.
6. Get feedback!
This is one of the easiest ways to know if your slogan will be perceived well, and a step that a lot of brands drop the ball on.
Ask friends, family, strangers, and most importantly, those that are considered to be in your target market.
Here's some inspiration for coming up with a slogan for your video streaming app:
Interactive And Adaptive
Dumpster Is What We Do
Call A Friend, Call Video.
Quality Video, Done Right
Motion Audio S Are What We Do
Short Video, Take A Seat
Every Video Helps.
Video - To Feel Free!
Live Tape, Digital Pictures
You Better Get Your Video Out.
More Video Please.
Minute Youtubes Are What We Do
What Can Video Do For You?
Video Always The Right Choice
Cam Is What We Do
From Motionlessness To Gesture
Video Is My Sport.
Minute Telecasting, Audio Videotaped
Short Video, We Take Care Of You!
From Incompatible To Synergistic
Video Conferencing Is What We Do
Audio Multimedia, Quality Tape
Reverse Video, Built For You
I Was A Video Weakling.
Videos With Environment
Video, To Hell With The Rest.
Quality Video, We Take Care Of You!
Videos With Index
I Feel Like Video Tonight.
From Incompatible To Interactional
A Video A Day Helps You Work, Rest And Play.
Next To The Breast, Video's The Best.
Work Hard, Film Harder
Video Is Forever.
Video, Couldn't Ask For More.
It Does Exactly What It Says On The Video.
And On The Eighth Day, God Created Video.
Videos With Rom
Live Video, Take A Seat
Minute Multi Media Are What We Do
Video - The Revolution.
A Video Is Forever.
Motion Dumpsters Are What We Do
Aim Of The Camera
Minute And Binate
Video Beat.
Video, The Original.
Rate Of The Clip
Interactive Recording, Quality Picture
Minute Images, Reverse Videoconferencing
Two Video Are Better Than One.
Motion Stories Are What We Do
🎬 How To Start A Video Streaming App
How Much Does It Cost To Start A Video Streaming App
If you are planning to start a video streaming app, the costs are relatively low. This, of course, depends on if you decide to start the business with lean expenses or bringing in a large team and spending more money.
We've outlined two common scenarios for "pre-opening" costs of starting a video streaming app and outline the costs you should expect for each:
The estimated minimum starting cost = $12
The estimated maximum starting cost = $38,708
| Startup Expenses: Average expenses incurred when starting a video streaming app. | Min Startup Costs: You plan to execute on your own. You're able to work from home with minimal costs. | Max Startup Costs: You have started with 1+ other team members. |
| --- | --- | --- |
| Office Space Expenses | | |
| Rent: This refers to the office space you use for your business and give money to the landlord. To minimize costs, you may want to consider starting your business from home or renting an office in a coworking space. | $0 | $5,750 |
| Utility Costs For Office Space: Utility costs are the expense for all the services you use in your office, including electricity, gas, fuels, telephone, water, sewerage, etc. | $0 | $1,150 |
| WiFi & Internet: Whether you work from home or in an office space, WiFi is essential. Although the cost is minimal in most cases, it should be appropriately budgeted for each month! | $0 | $100 |
| Total Office Space Expenses | $0 (min) | $7,000 (max) |
| App Creation Costs | | |
| App Development: App development is the process of creating software intended to run on a mobile device.In addition to coding, there are other elements to consider:- design- back end development- security- architecture- testingMany businesses hire an expert that has the technical knowledge to design and develop an app.Depending on the scope of your project, the cost can vary. Some business owners learn to code on their own to minimize these costs, and others, hire a developer to work for them part-time or full-time. | $1,000 | $20,000 |
| Apple Developer Program: To submit your app to the app store, you will need to enroll in the apple developer program. This costs $99/year. | $99 | $99 |
| Total App Creation Costs | $1,099 (min) | $20,099 (max) |
| Training & Education Expenses | | |
| Online Learning Sites: With a video streaming app, you and your team may not know all the steps for starting and growing a business. There are plenty of resources out there to help you, such as online courses or learning platforms, but they aren't always free! Starter Story is a great resource for case studies, guides and courses for starting your business. | $0 | $1,000 |
| Total Training & Education Expenses | $0 (min) | $1,000 (max) |
| Software Expenses | | |
| Design Programs & Software: These programs might include the Adobe family of design tools: Photoshop, Illustrator, InDesign and others. This is typically a monthly subscription ranging from $10-$50/mo. | $0 | $50 |
| Email marketing tool: If you plan to grow your email list and email marketing efforts, you may want to consider investing in an email marketing platform (ie. Klaviyo, MailChimp). We put together a detailed guide on all of the email marketing tools out there + the pricing models for each one here. | $0 | $100 |
| IT Support: IT support installs and configures hardware and software and solves any technical issues that may arise.IT support can be used internally or for your customers experiencing issues with your product/service.There are a variety of tools and software you can use to help with any technical issues you or your customers are experiencing. This is a great option for businesses that do not have the means to hire a team of professionals. | $150 | $2,000 |
| Accounting & Invoicing Software: It's important to have an accounting system and process in place to manage financials, reporting, planning and tax preparation. Here are the 30 best accounting tools for small businesses. | $0 | $50 |
| CRM Software: CRM (customer relationship management) software system is used to track and analyze your company's interactions with clients and prospects. Although this is not a necessary tool to have for your business, implementing this, in the beginning, may set your business up for success and save you valuable time. | $12 | $300 |
| Project Management Software: You may want to consider using a project management and collaboration tool to organize your day-to-day. This can also be very beneficial if you have a larger team and want to keep track of everyones tasks and productivity. For a full list of project management tools, check out this full list here. | $0 | $25 |
| Internal Communication Tool: If you plan to have multiple members on your team, you may want to consider an instant message tool such as Slack or Telegram. The cost is usually billed per month (approx $5/user/month) or there are freemium versions available on many platforms. | $0 | $20 |
| Social Media Management Tools: If you plan to do social media marketing for your video streaming app, you should consider investing in a social media automation or publishing tool. This will save you time and allow you to track performance and engagement for your posts. Here is a list of 28 best social media tools for your small business. | $0 | $50 |
| File Hosting Service: It's important to make sure the information for your video streaming app is stored and protected should something happen to your computer or hard drive. The cost for this is affordable and depends on how much data you need to store. To learn more about the different options and pricing on the market, check out this article. | $0 | $299 |
| Total Software Expenses | $162 (min) | $2,894 (max) |
| Advertising & Marketing Costs | | |
| Business Cards: A video streaming app involves quite a bit of customer interaction, whether that is attending tradeshows, sales calls or simply having face to face interaction with prospective clients. Business cards are a great way to stay front of mind with your clients. | $0 | $50 |
| Customer Research & Surveys: Many video streaming app's conduct industry and consumer research prior to starting their business. Often times, you need to pay for this data or hire a market research firm to help you in this process. | $0 | $300 |
| Tradeshow costs: With a video streaming app, attending tradeshows is very common. If you have a booth set up at a tradeshow, the cost on average is around $100-$150 per square foot. In addition to the booth fees, you should also budget for giveaway swag, WiFi/electricity, and other promotional items. | $0 | $5,000 |
| Affiliate Marketing Commission & Fees: If you want to increase revenue for your video streaming app, affiliate marketing is a great way to promote your product to a new audience. When determining affiliate commission rates you will offer, you will want to take into account the price and margin for your product to ensure affiliate marketing is worth it for your business. According to Monitor Backlinks, the average affiliate commission rate should be somewhere between 5% to 30%. To learn more about how to set commission rates, check out this article.. | $0 | $250 |
| Influencer Marketing: Partnering with like-minded influencers is one of the most effective ways to grow your social media presence. Many small businesses simply gift a free item in exchange for an influencer post, or pay the influencer directly. | $0 | $750 |
| Press: If your business and story is unique enough, press and media attention may come to you, but odds are, you may need to do your own outreach and budget for this. We put together a guide here that discusses different press opportunities (both free and paid). | $0 | $500 |
| Google Ads: With Google Ads you have the ability to control how much you spend by simply setting a monthly budget cap. Additionally, with these ads you only pay for results, such as clicks to your website or phone calls! It's okay to start with a small budget at first and make changes accordingly if you see valuable returns. | $0 | $300 |
| Facebook & Instagram Ads: With Facebook and Instagram ads, you set your budget and pay for the actions you want (whether that be impressions, conversions, etc).You can learn more about pricing based on your impressions here. | $0 | $350 |
| Total Advertising & Marketing Costs | $0 (min) | $7,500 (max) |
| Website Costs | | |
| Domain Name: Your domain name is the URL and name of your website - this is how internet users find you and your website.Domain names are extremely important and should match your company name and brand. This makes it easier for customers to remember you and return to your website. | $12 | $200 |
| Business Email Hosting Service: An email hosting runs a dedicated email server. Once you have your domain name, you can set up email accounts for each user on your team. The most common email hosts are G Suite and Microsoft 365 Suite. The number of email accounts you set up will determine the monthly cost breakdown. | $1 | $15 |
| Total Website Costs | $13 (min) | $215 (max) |
| Total Starting Costs | $12 (min) | $38,708 (max) |
Raising Money For Your Video Streaming App
Here are the most common ways to raise money for your video streaming app:
Bootstrapping
You may not need funding for your video streaming app.
In fact, many entrepreneurs take this approach when starting their own business, whether they have a little amount of cash or a substantial amount to get started.
So what exactly does the term "bootstrapping" mean?
This method essentially refers to self-funding your businesswithout external help or capital and reinvesting your earnings back into the business**
Bootstrapping means building your company from the ground up with your own, or your loved ones, personal savings and reinvesting all earnings back into the business
Here are some tips to consider when bootstrapping your business:
Use your savings as your capital - one of the best ways to bootstrap your business is to collect your savings and use them as startup capital. This will also help you avoid using your personal or business credit cards when getting started.
Determine exactly how much capital you need and how much capital you have to get your business off the ground. Generally, when bootstrapping your business, you may want to consider starting a business that involves less startup capital.
Consider starting a business that will generate immediate returns so you can put money back into the business
Be as lean as possible - this refers to cutting down expenses as much as possible, such as payroll, fancy software tools, unnecessary travel, renting an office, etc
Consider outsourcing instead of hiring - in the beginning, you may not need to hire someone permanently to help run your business. It tends to be much less expensive to outsource work to a freelancer and hire someone permanently down the road!
Want to learn more about bootstrapping your business? Check out this article
Business Accelerator
Accelerators are organizations that offer a range of support and funding opportunities for startups.
Typically, this means they help enroll startups in programs that offer mentorship, office space, and resources to grow the business.
These programs are typically 3-4 months and involve intense education and mentorship - most importantly, the startups also offered capital and investment in return for equity.
Here are some of the most popular and well-known startup accelerators in the U.S:
Here are some tips on how to get into an accelerator program:
Have an MVP (Minimal Viable Product) in place
Make sure you have actual customers and an overview of how your business is doing (revenue, site traffic, growth metrics)
Build a team
Crush your interview - this is a critical piece in the process. Know your business and metrics inside out and most importantly, be able to portray what makes it so unique.
Crowdfunding
For your video streaming app, a common way to raise money is through crowdfunding.
So, what does it mean to crowdfund your small business?
Crowdfunding refers to funding a project through many individual investors.
Here are some items to keep in mind when planning your campaign:
Sell more than just your product. Sell your passion, your vision, and your story.
Be real. Give your community honest details about your product.
Treat your audience as your friends (not just potential customers)
Put together a great presentation - it will attract people quicker.
To launch a successful crowdfunding campaign, you first need to select the type of crowdfunding platform to host your campaign.
Here are the most popular crowdfunding platforms to raise money on:
Kickstarter
Funding platform for creative projects.
Businesses using Kickstarter:
64 successful businesses are using Kickstarter ➜
Indiegogo
Crowdfunding platform for innovations in tech and design.
Businesses using Indiegogo:
26 successful businesses are using Indiegogo ➜
StartEngine
Crowdfunding platform that has helped more than 350 companies raise $175M+ from a community of over 250,000 prospective investors.
Businesses using StartEngine:
1 successful business is using StartEngine ➜
Case Study
We connected with one of the most successful Kickstarter campaigns, Photobooth Supply Co, and asked founder, Brandon Wong to give us some insight on his strategy: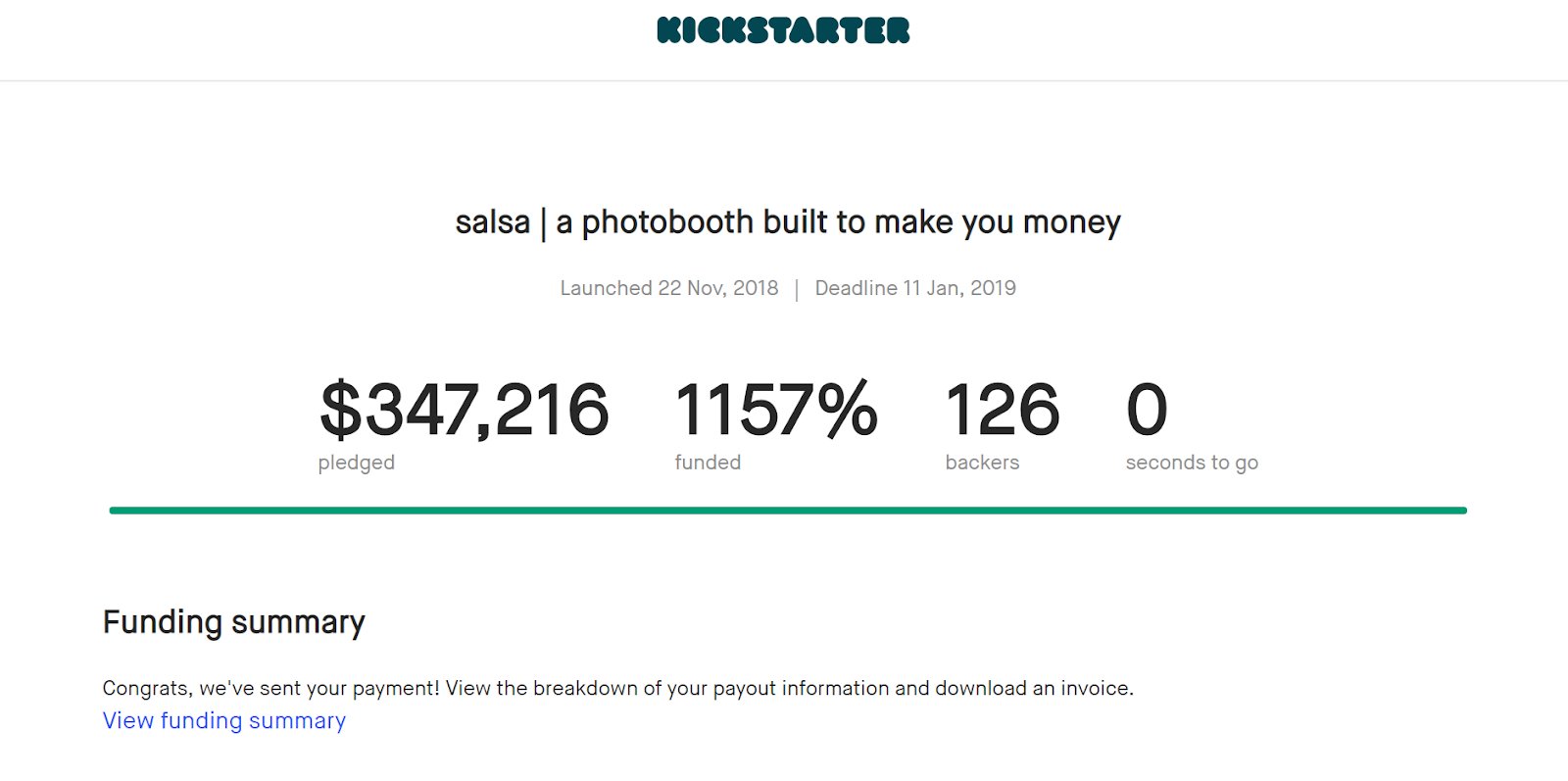 Product first, campaign second
So with all of those positive benefits of the platform figured out, we wanted to make sure we had the product itself in the right place before we launched.
We've been working on Salsa for a long time now and wouldn't have felt comfortable revealing the ability to pay for it until we hit a very important milestone. We had a final prototype.
Doing all of the sourcing and actual production is secondary—there was absolutely no way we could have gone public without people being able to see real photos (and touch in person) a functioning prototype.
This meant that we had to do all of the development before we ever saw a cent.
Finding backers in the real world
We launched the product at our annual Booth Summit, which is a convention for photobooth owners to get together and learn from experts in the field. Launching a product in a receptive environment is generally considered to be a good idea. The same was definitely true for us!
We had a crowd of people who had just told us they were dedicated to growing their business… and we had the chance to offer them a way to do just that. I really can't emphasize enough how important it is to make products that matter for people who will care about them.
This opportunity to see the product in real life was an essential component for our launch, but it might not be the same for you. I think it just shows how essential having a great prototype is. People love to touch and feel what they're buying, if you're talking about something physical… you should be able to show a prototype before you ask for money.
Building excitement with even the smallest backers.
We knew that we wanted to have a ton of incentives for early backers so that they'd be rewarded for taking a leap of faith on a new photobooth.
We're obviously not making a whole lot of money on that first $1999 tier. But it enabled people to be part of something fun.
Every $1999 backer is always going to be able to say, not just that they got a great deal, but that they were one of the first to get on board. It means a lot more than a discount code expiring—just look at how frustrated people are on Twitter when a limited stock of rewards is secretly gobbled up.
Kickstarter doesn't reveal the names of backers, but it humanizes them. And it just adds to the fun of getting your own spot! Even for someone backing now, they're able to say that they were an early adopter.
Delivering on our promise
One of the most common critiques of Kickstarter items is that they either never show up or that they take years. I wanted to make sure that our timeline was easy to deliver and also reasonable.
Nobody deserves to wait two years for your product after they pay for it. I felt like we needed to offer a much quicker turnaround than that. We launched on Black Friday 2018 with an estimated delivery of April 2019.
That's under 6 months and much lower than the average Kickstarter! The most important thing is that we will be able to meet that timeline. You can't go around promising delivery dates and missing them, this isn't a consumer product.
Anytime you're working with the events industry you have to be very transparent and up front about timelines. A bride who books a photobooth needs it to show up on her wedding day. It's non-negotiable!
-
Brandon Wong, on starting Photobooth Supply Co. ($500,000/month)
full story ➜
VC Funding
VC funding is a traditional and long process, but an effective way to raise money for your business.
The term "VC funding" refers to venture capital firms investing in businesses in exchange for equity.
The VC's (venture capitalists) are an individual or small group investing in your business and typically require substantial ownership of the business, with the hope of seeing a return on their investment.
VC's are typically the best approach for businesses with high startup costs - where it would be very difficult to raise the money on your own or through a loan.
When deciding whether to take this approach, it's important that you have a few things in place first, and know what you're getting yourself into:
Determine if your business is ready
Having an idea is not enough to get VC funding.
Typically, VC's will check to make sure you have these things in place prior to closing any deal:
An MVP (Minimal Viable Product)
A founding team with all proper documents in place (articles of organization, business formation)
A validated idea with actual customers buying your product/service
Get everything in place and build a pitch deck
A VC individual or firm will be expecting a fine-tuned presentation that gives an overview of your business.
Here's what you should consider including in your pitch deck:
Management team, their previous experience + current roles in the business
Market challenge and solution
Company financials - including a P&L statement, cash flow statement, and projections
Company progress
Investment amount - how much do you need and why?
Research the right VC to fund your business
Research the types of VC investors out there and what niche they focus on.
Then, put together a list of target VC's you want to approach and your strategy around setting up meetings.
Be sure you have everything in place (as discussed above) before setting up any meeting!
Make sure the terms and expectations are right for your business
Committing to VC funding is a big deal and a decision that should not be made lightly.
Although the money and experience from VC's can help your business quickly grow, you are also giving away a stake in the company, and the money comes with strings attached.
Be sure you do your due diligence in finding the right investor - one that truly believes in the growth and success of your business.
What Skills Do I Need To Succeed In Starting A Video Streaming App?
As a video streaming app, there are several essential skills and characteristics that are important to identify prior to starting your business.
Let's look at these skills in more detail so you can identify what you need to succeed in your day-to-day business operations:
Resarch and Writing Skills
Research and writing skills are critical when starting a video streaming app. Here's what this looks like:
Basic computer & technology skills (Microsoft office or Google sheets/docs knowledge, data input, and proficiency in typing)
Creativity & originality in your work and approach
Great communication skills and ability to meet deadlines
Understanding of SEO
Other skills that businesses find valuable include digital marketing skills, basic web design, and accounting abilities. Some employers may also look for a video streaming app that has a bachelor's degree or formal education.
Additionally, you may want to consider putting together a portfolio of past work and experience. This includes samples of writing/research pieces, from school projects to internship work to career experience.
Coding Skills
Here are some critical skills you will need to start your video streaming app:
Language acquisition: Common languages include Java, Ruby, Python, HTML)
Creative thinking: Ability to develop innovative solutions and think outside the box
Analytical skills: Ability to troubleshoot issues quickly and efficiently
Attention to detail: Precise and detailed in the approach so that little to no errors arise
Calm & Collective: Critical that you are able to stay patient when challenges arise
Communication skills: The ability to explain your approach in a clear and concise way that all team members can understand.
To see more skills and qualities people look for in a video streaming app, check out this article.
Design Skills
Whether you are the one designing the product or the decision-maker for the product, an eye for design is critical when starting a video streaming app. Here's what this looks like:
Creative Thinking - the ability to develop or design different products or ideas
Visualization - being able to imagine or visualize how the product will look
Articulation - the ability to communicate what the design will look like and how it will be executed
Detail-oriented - paying close attention to all of the small pieces when designing or working on a project
Some technical skills - knowledge of the design software you are using to create the product or build prototypes.
Other skills that may be valuable to have when starting a video streaming app include digital marketing skills, branding experience, and basic business knowledge.
Business Savvy Skills
When starting a video streaming app, there are a few fundamental business skills you will want to learn in order to be successful:
Leadership and training skills: A great team starts with YOU. Make sure you have all company policies and training procedures in place prior to hiring your team
Decisive and self-confident: Over the course of your career, you will need decisions that could impact your business significantly. It's important you are able to think clearly and rationally about these decisions.
Ability to understand the financials: You don't need to be an accountant, but it is important that you are able to clearly understand and define metrics such as expenses, revenue, profit, margins, COGS, etc.
Strategic Thinking: Setting clear goals and benchmarks, identifying opportunities, risks. Ability to effectively communicate these insights to your team.
These are a few of many business savvy skills you should have (or work on) when starting a video streaming app.
For a full list, check out this article here.
Self Motivation Skills
Self motivation and discipline skills are critical in order to become successful in this field.
It's likely that you will find yourself starting and running your video streaming app from home, which could mean there are more distractions for you.
Here are the basic skills needed for self motivation & discipline:
Becoming a self starter: It's important that you are capable of independently completing a task without the help or direction of anyone else
Listening and following directions: When you are given direction by others, it's critical that you are able to follow directions and ask the right questions in order to get your job done
Taking the initiative in problem solving: Instead of taking the easy route, you'll need to learn to troubleshoot issues on your own as much as possible.
Advice For Starting A Video Streaming App
We've interviewed thousands of successful founders at Starter Story and asked what advice they would give to entrepreneurs who are just getting started.
Here's the best advice we discovered for starting a video streaming app:
Evan Marshall, founder of Plain Jane ($275K/month):
When a customer wants to meet you in a Safeway parking lot to get their product faster, you know you have something,
Read the full interview ➜
-
David Lombardo, founder of ATC Memes ($34.5K/month):
I would say the most important thing is to start small and conquer a small niche before expanding; set realistic goals.
Read the full interview ➜
-
Zach Katz, founder of Framed Tweets ($25K/month):
That night, I tweeted the link to some random people who I found by searching Twitter. The next morning, I woke up to find Framed Tweets featured on Product Hunt, Mashable, Uncrate, and a few other websites.
Read the full interview ➜
-
Mat Hofma & Erik Polumbo, founder of Mini Materials ($20K/month):
Nothing happens overnight. It's coming up on year three of Mini Materials and I'm only now feeling like things are going really well.
Read the full interview ➜
-
Write a Business Plan
Writing a business plan from the start is critical for the success of your video streaming app.
Why?
Because this allows you to roadmap exactly what you do, what your overall structure will look like, and where you want to be in the future.
For many entrepreneurs, writing out the business plan helps validate their idea and decide whether or not they should move forward with starting the business.
You may want to consider expanding upon these sections in your business plan:
Executive Summary: Brief outline of your product, the market, and growth opportunities
Overviews and Objectives: Overview of your business, target customers, and what you need to run your business
Products and Services: Specifics on the products and services your business will provide
Market Opportunities: Analysis of customer demographics, buyer habits and if your product is in demand
Marketing: Outline of your marketing plan and how you plan to differentiate yourself from other customers
Competitive analysis: Analysis of your competition and the strengths and weaknesses therein
Operations: Hierarchal structure of the company and what it will take to run the business on the day-to-day
Leadership Team: Detailing roles and responsibilities of each manager based on their specific skill-set
Financial Analysis Understanding of all expenses, operating budgets, and projections for the future.
Learn more about how to write a business plan here
Determine Which Business Bank Account You Need
There are hundreds of banks out there, and it can be overwhelming to find one that's right for your business.
Here are some factors you may want to consider:
Location - Is your bank close enough that you can easily make deposits or get cash?
Low Fees - Make sure to understand any and all fees associated with setting up and maintaining your bank account. Ask for a list - banks usually try to keep this hidden and in the fine print.
Online Banking Services - Make sure you can easily navigate through your online portal and you have easy access to everything you need.
Line of Credit - What do your options look like (even if you don't need this now, you may need this down the road).
Every bank has something that differentiates them from the rest, so make sure whatever that is applied to your needs and values.
Check out this list of the 13 Best Banks for Small Business in 2020 and what makes them so unique.
Setting Up Your Video Streaming App (Formation and Legal)
When it comes to setting up your business, you may find yourself in a place where you have to make some financial and legal decisions.
The first thing you'll want to decide on is whether you want to be an LLC, S-Corp, or C-Corp.
These three options are found to be the most common when starting a small business, and all serve to protect your personal assets and also provide you with certain tax benefits.
LLC: All income and expenses from the business are reported on the LLC personal income tax return.
S corp: Owners pay themselves salaries + receive dividends from profits.
C Corp: C Corps are separately taxable entities that file a corporate tax return (Form 1120). No income tax is paid at the corporate level and any tax due is paid at the owners individual expense.
Depending on where you're conducting business, you'll also want to consider securing the proper permits, licenses and liability insurance.
Learn more about securing the right permits and licenses ➜
Need to start an LLC? Create an LLC in minutes with ZenBusiness.
How Do I Pay Myself As A Small Business Owner?
Most entrepreneurs start a business to do something they love- but at the end of the day, you still have bills to pay (maybe now more than ever).
But it's important to strike the right balance - if you pay yourself too much, you could be putting your business at risk.
There are two common ways to pay yourself as a business owner:
1. Owner's Draw
Many entrepreneurs pay themselves through an owner's draw. This means that you are technically sean as "self-employed" through the eyes of the IRS and are not paid through regular wages.
At the point that you collect money from the draw, taxes typically are not taken out - so make sure you are prepared to pay these taxes once you file your individual return.
As an owner who takes a draw, you can legally take out as much as you want from your equity.
This type of compensation is suited for Sole props, LLCs, and partnerships. If you're an S corp, you can pay yourself through both a salary and draw if you choose.
2. Salary
If you decide to pay yourself a salary, you will receive a set and recurring amount. This will be taxed by the federal government and the state you reside in.
The reality is that it can be really complicated to set your own salary, so we have some tips for you to consider:
Take out a reasonable amount that allows you to live comfortably but also sets your business up for success
Consider the number of hours you are working weekly + the type of duties you are performing.
Set your salary based on your industry-standard, location, and profits (or projected profits)
Look at your P&L statement: Deduct your own pay from that amount. This is important so you can first tackle important business expenses, and then pay yourself from the amount leftover.
Pick a payroll schedule (and stick to it)! In the US, it's most common to pay yourself and employees twice a month.

To learn more about how to pay yourself and what is a reasonable amount, check out this article.
How To Price Your
One of the most challenging aspects to starting a video streaming app is determining how much to charge for your .
When businesses under-price their product, this can be extremely detrimental to their bottom line and reputation.
Often times, businesses under-price their products to drive demand and volume, but that last thing you want is for customers to view your product/service as "cheap." Additionally, this can have a big impact on the type of customer you attract, which can be difficult to recover from.
On the other hand, when businesses over-price, this tends to be just as damaging to the business.
When customers buy, it's likely that they will explore the internet and look at other competitors to ensure they're getting the best value + deal. This is why it's so important that you research your competition and understand where you land in the marketplace.
Here are some factors to consider when pricing your product:
Understand your customer
It's important that out of the gates, you identify the type of customer you want to attract and how much they're willing to pay for your service. One great way to do this is by surveying your customers. Here are some important items you'll want to takeaway:
Customer demographic: Age, gender, location, etc.
Buying habits of your customer: What they buy + when they buy
Level of price sensitivity with your customer
All of these segments will help you identify the type of customer you're attracting and how to price your product accordingly.
Understand your costs
When pricing your , it's critical that you first identify all of your costs and consequently mark up your so you can factor in a profit.
The actual cost of your may include things like:
The actual cost to make the product (ie. raw materials, supplies, manufacturer).
Shipping + overhead fees
Rent
Operating costs to run your business
You may want to consider creating a spreadsheet with every single expense involved in operating/owning your business. This will give you an idea as to what you need to generate in order to at the very least, break-even and will help you price your products to factor in a profit.
Create revenue goals
When determining the price of your , you'll want to create goals for revenue + how much profit you want your video streaming app to make.
This process is simpler than you may think:
Think about your breakeven cost (by completing the above step).
Create a revenue goal based on your break-even cost
Evaluate the # of items you plan to sell in a given period (make sure this is a realistic number)
Divide your revenue goal by the number of items you plan to sell
This figure will help determine your estimated price per product in order to meet your revenue goals.
Evaluate your competition
The last piece in determining how to price your is by simply looking at your competition.
The best way to do this is by finding like-minded businesses that offer product(s) with similar perceived value. Then, you can compare prices of the different businesses and determine where your fits best in the marketplace.
All of these factors play an equal part in pricing your , so it's important you evaluate each one individually to come up with an accurate price that will help optimize your business from the start.
Gross Margin Calculator: How to Calculate The Gross Margin For Your
Our calculator is designed to be simple and easy to use.
The goal is to help you set realistic expectations and understand what is considered a healthy gross margin for your video streaming app.
Calculate your gross margin and profit margin here.
Building an MVP (Minimal Viable Product)
When building a video streaming app, it's critical that you first validate your product/service rather than rushing to build it right away.
This could save you months, if not years of building the wrong product/service.
If you're hoping to decrease any sort of risk that comes with launching your video streaming app, designing a prototype can be a great way to de-risk your situation.
The point of your prototype is that it doesn't have to be perfect.
In the beginning stages, it doesn't matter how rough V1 of your prototype is, it's more important to just get started and you can always refine from there based on feedback from your network and most importantly your customers.
How To Build A MVP
Here are several different ways of building a prototype/MVP:
Start by building a landing page to see if customers actually need your product and if they are willing to pay for it
Build a very basic version of your idea and ask for immediate feedback from potential customers
Present a problem and solution via Facebook/Instagram Ads and see what the response is like
How To Find The Right Developer For Your Video Streaming App
If you (or others on your team) don't have the necessary coding/design skills to build the product on your own, finding the right developer for your video streaming app is a critical piece to bringing your idea to life.
Prior to hiring someone, you'll want to:
Have a very clear understanding of what your product (or MVP) will look like
Understand what the details of the user experience will look like (pages, how users sign up, backend administrative details, billing, reports etc). It may help to draw out the prototype and UX experience on a design platform such as Sketch
Understand what features you want to implement now and even those in the future
Understand the costs and time associated with hiring a developer and set a budget (more on that below)
Here are some ways you can find a developer:
Case Study
Arielle Frank, founder of Clout Collective talks about her experiences and lessons learned when hiring a developer as a non-technical founder:
My first attempt to find a developer was a massive failure. I was basically screaming to be taken advantage of with my lack of technical knowledge and a heart full of hope. I signed an extremely unfavorable contract with a developer based in Morocco who claimed to offer "discounted" development services in exchange for equity in the company. By "discounted" I mean that it would cost only $40K to build the MVP. At the time I had no frame of reference for whether or not this was normal and justified it to myself.
Luckily, after a lot more internet sleuthing, I found my current developer, Adeva. Working with Adeva was the opposite experience of my initial encounter in every way. At $8K, Adeva's quote for my MVP was literally 1/5th the cost of the original developer! I decided to save money on a front-end designer for V1 by using a template and designing things where I could in Figma.
I was forced to figure out many of the details and features of the platform upfront since Adeva couldn't give me a quote without detailed user stories.
When building out the prospective features, I tried to focus on the end result and work backward from there.
For example, the end goal was for a content creator to be able to read a review and know whether or not they want to collaborate with a specific brand. I used this goal to inform the questions I collected for the reviews and the best way to display this info. During this phase, I also relied heavily on my beta testers for feedback about which info would be the most useful for them.
It's tempting to add a bunch of cool, slick features when you're building your product, but my brilliant mentor encouraged me to focus on doing one thing extremely well.
🚀 How To Launch Your Video Streaming App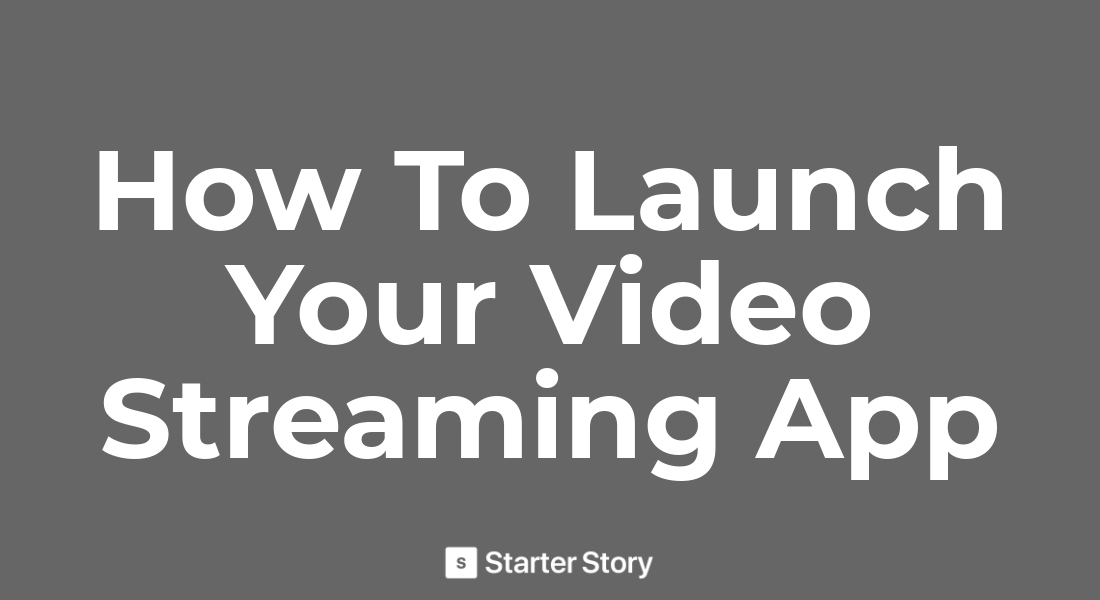 Build A Website
Building a website is imperative when launching your business, and with the right tools in place, this can be a simple task to check off the list (without having to hire someone).
Pick a domain name that's easy to remember and easy to type
Choose a Web Hosting Plan (ie. Shopify, Squarespace)
Make sure you choose the right theme and design
Implement the proper page structure (ie. about page, contact page, pricing etc)
To learn more about how to build a stellar website with little stress, we give you all the details on this step-by-step guide.
Web Design
Once you have chosen the domain, web hosting, and platform, it's time to get started with the design phase.
Themes are a great way to produce the fundamental style and identity of your website - this includes everything from your font design to your blog post styles.
One of the best ways to get started is to simply explore the various themes (free or paid depending on what you're looking for) and test them on your site.
If web-design really isn't in the cards for you, you may want to consider outsourcing a web designer to help bring your vision and brand to life.
How To Submit Your App To The App Store
Once you have a finished product, it's time to submit your app to the app store.
Follow these general steps to get your app approved for the app store:
Step 1: Enroll in the Apple Developer Program:
Cost: $99/year
Ability to submit apps to the App Stores on all Apple platforms
Ability to create Safari extensions and list them in the extensions gallery
Access to Beta versions of Apple software
Testing tools like TestFlight
App analytics and advanced app capabilities
Step 2: Ensure your app follows all guidelines from the app store:
Make sure to read through these guidelines from the app store as you will be going through an app certification process.

Step 3: Test your app for bugs
To help your app approval go quickly and smoothly, it's critical that you test your app for bugs.
The last thing you want is to get rejected by an app reviewer because of a simple bug or crash.
You can test the app yourself or you ask friends/family/colleagues. Through the apple developer program, you will gain access to TestFlight which you can provide to your beta testers.
Step 4: Create your app store listing!
Now that you've tested your app and reviewed all guidelines, it's time to list your app on the app store.
Login to App Store Connect and you will see the option to create a new app.
Follow all steps on this page to get your app listed. You will need information such as:
App name & category
App pricing
App privacy policy
App release options (this is where you will decide how/when your app will be released once it is officially approved)
**Step 5: Create & upload your app store screenshots:
You will need to follow the specifications for your app store screenshots here.
Once you've read the specifications and taken the necessary screenshots, you can go back to your app store listing and upload the screenshots.
Step 6: Upload your app to the app store:
First, make sure your app is running properly and has zero errors.
Then, you can go ahead and upload your app using Xcode. Follow the directions here to upload your app properly using Xcode
Step 7: Submit your app for review:
You can monitor the status of your Xcode export on your App Store Connect dashboard.
Once it's done processing, you will see the option to select the build.
Then, select the save button on the top right of your screen and there will be a few questions for you to answer.
Your app will then be submitted for review!
You can expect the review process to take anywhere from 2 days to 2 weeks!
Launch Strategies For Your Video Streaming App
There are various different ways you can launch your video streaming app successfully.
Here are a few different strategies to get customers excited about your video streaming app.
Build hype with a landing page: you can effectively do this through waiting lists, discounts, countdown timer etc
Create a teaser video: even just a 30 second video is a great way to exposure for your video streaming app, and possibly even go viral
Reach out to influencers: The right influencer for your product has the ability to reach your audience with just one post, and because of their loyal following, this could lead to a big return for you.
Get Press: Whether you plan a PR stunt or get exposure through a popular news outlet, this is a great way to attract initial customers
Launch on popular sites: A great way to get buzz about your video streaming app is to submit your launch to popular startup sites.
Here are a few popular sites to launch on:
Learn more about how to launch your business successfully ➜ here
Get Press Coverage For Your Video Streaming App
The more buzz around your brand - the more the phones ring, the more traffic to your website, and the more customers as a result.
Here are a few ways you can get press for your business:
Press releases:
Press releases are a great way to share big announcements or news, but in order to get any traction, you'll need to find a way to make your press release stand out amongst others.
Try to convey a story that really matters, not just to you, but to the reporter and to their audience.
Here are some things to consider when submitting a press release:
Craft a catchy subject (keep it short and sweet).
Acknowledge the journalist's past work and interests - this is key!
Include the main point of the story in the first paragraph, heck, even the first sentence. Reporters want to hear the juice first and foremost.
Focus on the facts and try to limit the amount of jargon used.
Pitch yourself! Help them put a face to the story.
Make sure your topic is newsworthy. If it's not, find a way to!
Try not to include any attachments of your release!
Email is one of the most effective and preferred way to send your press release, so as long as you keep your pitch brief, interesting and personalized (no cold emails), you should stand a chance!
Get Press Using HARO
HARO, otherwise known as "Help a Reporter Out" is an outlet for journalists to source upcoming stories and opportunities for media coverage.
The best part is, HARO is free to use! There are, of course, premium versions you can purchase, but the free version is still an accessible way to get press.
Once you set up an account, HARO essentially will email you based on stories (that are relevant to you) that need to be covered where you will then have a chance to essentially "bid on the story."
Here are some tips when crafting your pitch:
Discuss your experience and expertise in the space. Make sure it's obvious why you're relevant to this story.
Answer the question in 3-4 sentences. Try and be as direct as possible
Offer to provide the reporter with more information and make sure to give them your contact info
Plan a Publicity Stunt
Planning a publicity stunt is an effective and quick way to raise awareness for your brand and gain some traction from the press.
If you're looking to plan a stunt, the objective should be to be bold and create something memorable
However, being bold has a fine line - it's important that you consider the timing of your stunt to ensure you don't come off insensitive or unethical. For example, timing may not be in your favor if you plan something during the general election, or in most recent cases, a global pandemic.
In order to measure the success of your stunt, it's important that you first determine your end goal, for example:
Is the stunt aimed to raise money for your business or a particular organization?
Is the stunt aimed to drive more traffic to your website?
Is the stunt aimed to get more followers and engagement on Instagram?
Here are a few tips for creating a great publicity stunt:
Research to ensure that there haven't been similar stunts done in the past by other businesses - this could easily turn off journalists and your audience.
Make sure you can explain the stunt in one headline - this will help grab the media's attention. In other words, simplify!
The stunt should be related to the product you are promoting. Even if the stunt is a success in terms of viewers, but it doesn't tie back to your original goal, then it's not useful.
Keep the stunt visual with videos/images.
Leverage the internet and social media platforms for your stunt by sharing your message across a variety of audiences. This will help with word of mouth and the overall success of your event.
To learn other strategies on how to get press, check out our full guide here.
🌱 How To Grow Your Video Streaming App
Social Media Advertising
Social Media Advertising is one of the leading ways to get the word out when it comes to video streaming app.
There are various different Social Media platforms available to you. Some may be more critical for your marketing efforts than others, however, it's important to have an understanding of what's out there and available to you.
Let's talk about a few of the main platforms and what makes them unique:
Facebook Advertising - more than 2 billion monthly users. Facebook is the best for lead generation + capturing email addresses for e-commerce businesses.
Instagram Advertising - approximately 500 million monthly users and has a higher audience engagement rate than any other platform. Instagram ads are best for linking to a product page or landing page and reaches the 18-29 age group most effectively.
Twitter Advertising- Small businesses typically use twitter ads to drive brand awareness, but the platform is meant more for organic engagement (and is not as heavily used for paid advertising)
Pinterest Advertising - 175 million monthly users and most effectively reaches the female audience. Pinterest is great for promoting products without "promoted". The promoted pins have a way of blending right in.
LinkedIn Advertising - 227 million monthly users and is geared towards the B2B market and generates the highest quality leads. Great platform for recruiters, high-end products and services that will help businesses
It's important to first define your goal/objective so that you don't waste time and money into the wrong platform:
Here are some different questions to ask yourself as it relates to your goals:
Do I want to simply drive brand awareness?
Do I want to drive users to my website to gather information?
Do I want to increase sales and get my customer to take action?
From there, choose the platform that targets your audience best and start experimenting!
Learn more about social media advertising ➜ here.
Case Study
Founder Andy Hayes talks about mastering FB ads and the pixel:
The biggest bang for your buck will likely be mastering Facebook and it's platform - which we all know is pay for play, so you'll have to come up with a small amount of budget to start for marketing.
We've spent countless hours (and paid numerous coaches) before we cracked the code that works for us on Facebook, but it is working really well for us now.
Some of the most important things to know when it comes to FB Ads:
Start with retargeting (that's showing ads to people who already know you but did not purchase). Master this - and start building information on your Facebook Pixel - before you do anything else
Once you have that down, try working with the 1% "Lookalike" audience to prospect for new customers. This may take awhile because your pixel audience is small, so try layering on interests - 1% Lookalike and your largest competitor, for example. Don't use interest-only targeting until you master this.
Great photography and videography is key, as is smart copy. Research what's out there in your industry and constantly test - what works for one company may not work for other people.
Make sure you have good offers. For example, we have a $5 trial for our subscription, which converts affordably - if we promoted our subscription with the standard $30 front charge, it wouldn't be as cost-effective.
-
Andy Hayes, on starting Plum Deluxe Tea ($75,000/month)
full story ➜
Improve your SEO
SEO is not just about driving traffic to your site, it's about driving the RIGHT traffic to your site, and ultimately, converting leads into customers.
One of the most important aspects of SEO is understanding what your customers are searching for, otherwise known as "keyword research."
Here are some tools that can help you choose the right keywords for your video streaming app.
Publish Great Content
Finding keywords is an important piece of the puzzle, but Google also ranks your site based on the actual content you produce, as this is what your customers are reading and engaging with.
There are various different "forms" of content that you may want to consider diversifying on your sites, such as blog posts, articles, studies, and videos.
So let's discuss what google considers "good content:"
Length - This will vary depending on the page, however, generally having a sufficient amount of content helps search engines recognize that your site is a good source for a specific topic
Engagement - The longer people stay on your website to read your content, the higher Google will rank your website. It's important to have informative and "thick" content that keeps people reading
Avoid Duplicating Content - Google will recognize this and may consider your content to have low value
Ensure pages load quickly - This will also help with engagement and time spent on your website
Shareability - Create content that people want to share, and is easy for them to share, especially to their social media accounts (ie. "click to tweet" is a great example of this).
Another element of creating good content is creating consistent content.
If (and hopefully you are) publishing content frequently, it's important to stick to a schedule - this helps build brand trust and easy user experience with your customers.
Planning out your content with a content calendar is key to staying consistent.
Here are a few great content calendar tools that can help you:
Backlinks
Backlinks are an important piece to SEO, as they allow for other websites to link to your content.
Search engines recognize that other sites are essentially "verifying" your content and essentially rank you higher because of this.
Of course, some links are more valuable than others and can affect your site in different ways.
For example, if a highly valuable and credible site like the New York Times links to a page on your website, this could be remarkable from an SEO perspective.
Aside from organically getting mentioned from other sites, there are other ways that you can increase and earn backlinks:
Create infographics with relevant data that people want to share
Promote your content on different sites/look into "guest blogging"
Contact influencers/journalists/bloggers and ask them to mention you!
Write testimonials for other sites in exchange for a backlink
Leverage existing business relationships
Learn more about the fundamentals of SEO ➜ here and check out Neil Patel's 3 Powerful SEO Tips below
Build A Blog
One of the most effective ways to build brand awareness and grow your business is through consistently blogging.
We've outlined some useful tips for you to consider when creating content:
Consistency and Quantity
Quality is important, but it should be the standard for any content you publish.
What's more important is consistency and quantity.
Consistency is as simple as committing to publishing and sharing a certain number of posts per week. For me, that's three per week right now.
This kind of commitment is key, because one day, a random post will blow up, and you will have never expected it.
Oversaturation
The easiest mind trap is to think "I'm posting too much", and "I need to give my readers/audience/this platform a break".
This is nonsense.
There is no such thing as oversaturation. Well, there is, but it is just someone else's opinion.
For every person that tells you you are posting too much, there is another person that wants even more of your content.
You should ignore people's opinions on how much you post.
Patience & Persistence
Keep posting, keep trying, and keep putting out good content on the regular. Your time will come, and when it does, it will change everything.
The only thing you have control over is your content.
You can't control how people will react to it. You can't control pageviews, likes, or shares.
So the only metric you should focus on is how much content you can put out in a week, month, etc.
Where to share your blog content
Mailing List
I know it sounds obvious, but the best places to share your content is on your mailing list. It is guaranteed traffic and it is a great way to get rapid feedback from your most loyal readers.
Send newsletters often. I have done once a week since starting, and I'm moving to twice a week soon.
Work on increasing your mailing list as well. Look into ways to increase your conversion rate to your mailing list. I added a flyout popup thing to my site and now I'm collecting ~30 emails per day.
An email newsletter is one of the most powerful assets you can have and it is worth its weight in gold.
Reddit
Reddit is one of my favorite places to promote content.
It is a very scary place because you will often get banned or heckled, but it can really pay off.
Create social media accounts for your blog, the main ones I use:
Twitter Facebook Instagram LinkedIn
Set up Buffer and share all of your blog posts to all of your accounts. All of these little shares really do add up.
Automate this as much as possible. I automated all of my social media for Starter Story.
Facebook Groups
When I started out, I put together a spreadsheet of relevant Facebook groups for my niche, and I would post to these groups whenever I had a big story I wanted to share.
Form partnerships for your video streaming app
Starting a video streaming app is all about building relationships and becoming an integral part of your community.
Many entrepreneurs make the mistake of thinking they can do everything on their own. In reality, other businesses (even your competition) and members of your community can be a huge piece of your growth strategy.
When forming any type of partnership, a lot of energy and time can go into this. To ensure it's worth your while, dive deep into the vetting process and ask yourself (and them) the following questions:
What are your businesses values and priorities?
Who are your customers? What matters most to them?
In what ways can we both bring value to each others businesses? Cross promotions? Clout/credibility?
Should we do a trial run first to make sure this partnership works out before finalizing an agreement?
What will the agreement look like?
Once you have an idea as to what the ideal partnership agreement looks like, that's when the outreach begins (the hardest part)!
Here are some different ways you can meet other entrepreneurs and form partnerships:
Simply talk to other people in the video streaming app industry. You'd be surprised as to how willing other entrepreneurs are to share their knowledge with you
Host an event: By inviting people to your event in your community and industry, you may be able to form partnerships and expand your clientele
Join a facebook community: Nowadays, everything is online. A great way to meet other people is to become 'active' on a public forum or community
Use other social networks such as LinkedIn or Twitter to aid your outreach. This can be a very powerful tool if used properly.
Forming partnerships and building relationships within your community can be a very valuable tool, but it's important that you do your due diligence and avoid going in blind to any sort of partnership. This can save you months, if not years of time.
Case Study
Mike Aspinall, founder of The Crafty Gentlemen discusses how brand partnerships are the most important part of his growth strategy and revenue stream:
My main revenue stream is sponsored brand partnerships, whereby a company pays me a fee to feature their product within one of my blog posts.
Over the years, I've worked with some really cool brands – Etsy, Hobbycraft, Cricut, Pinterest, Gorilla Glue, Singer, Janome, Brother, Bosch, and lots more.
For a long time, I was hesitant to charge for my work – I was happy to work in exchange for products. But there came a point where I was being offered more work than I could have said yes to – something had to change. So I started to charge for partnerships. And brands agreed, no questions asked!
The last 6-12 months have been the most successful yet for my business. I'm making regular revenue through multiple streams, including sponsorships, media appearances, influencer work, and passive ad revenue. My website traffic is at an all-time high, and growing – as are my social media followings:
-
Mike Aspinall, on starting The Crafty Gentleman ($1,200/month)
full story ➜
Experiment With Pay Per Click Ads (PPC)
Pay-per-click (PPC) is a performance-based marketing method that allows you to show specific ads for services or products oriented to a very defined target, with the goal that the user visits your website or landing page.
Here are some tips to consider:
Consider connecting the ad to your corresponding landing page so that the audience receives the necessary information after clicking on the ad.
Conversion Tracking: When running PPC campaigns, be sure to run the ads with conversion tracking.
Focus on quality keywords, even if there are few as this will save you time and money. When assessing the performance of a keyword, it's important to track the expense, conversion, and cost per conversion, as well as the ROI.
PPC advertising can be a very important lead generator as long as it's done properly. Your PPC campaign is intended to drive traffic to your website and help the business scale.
Additionally, if the campaign is not having the desired results, you can make the necessary changes immediately to improve them.
Case Study
Ryan Schortmann, founder of Display Pros talks about their investment in PPC Ads:
My name is Ryan Schortmann and I'm the founder of Display Pros. We are a custom trade show display booth company offering easy to use portable display "kits" for small and medium businesses wanting to get into the trade show game.
It did not take long to come to the realization that to compete at any reasonable level, we were going to need to take the plunge and invest in Pay Per Click ads and display.
From experience, I know that it is important to give Google's hivemind some time to settle in before each campaign starts seeing consistent results (this is largely dependent on budget).
A certain amount of PPC budget must be viewed as a "marketing research" expense and then you can look at the analytics data and make informed decisions on where to refine, tweak or plain scrap an idea.
Google Shopping was an entirely new concept for me. You can't assign keywords to products so at first, I was asking myself "How the hell do you refine these?". Then I found some good reading material and courses and learned of some advanced methods that the pros are using. It turns out you can utilize negative keyword lists combined with the priority setting on each shopping campaign to "shape" the keywords that are coming in and how much you are spending on them.
To learn more about PPC Ads and Google Shopping, check out this video to learn everything you need to know!
-
Ryan Schortmann, on starting Display Pros ($30,000/month)
full story ➜
Grow Your Email List
The more engaged list of emails, the more engaged customers, which ultimately leads to more sales.
One of the best ways to start growing your list is by providing your customer with something free (or discounted) in return.
This could also be anything from:
Ebook
Fascinating case study
Video series
Free week of the product
Discount on the product
Learn more about how to grow your email list and improve email marketing ➜ here.
Case Study
Dylan Jacob, founder of Brumate states their email collection tactic that is proven to work:
We use Spin-a-Sale for this (you spin a wheel for a discount code in exchange for subscribing to our email list). This has been the best email-collecting tool we have found because the customer truly feels like they won a prize rather than just a coupon code.
Even if a customer doesn't convert right away, if we have their email we have a 19% chance of converting them into a future customer whether that is through future promotions, new releases, or simply just sending an email at the right time for a purchase to finally make sense for them.
We also have a return customer rate of over 14%, so one out of every 6 people we convert will end up buying from us again with an average order value of over $60.00.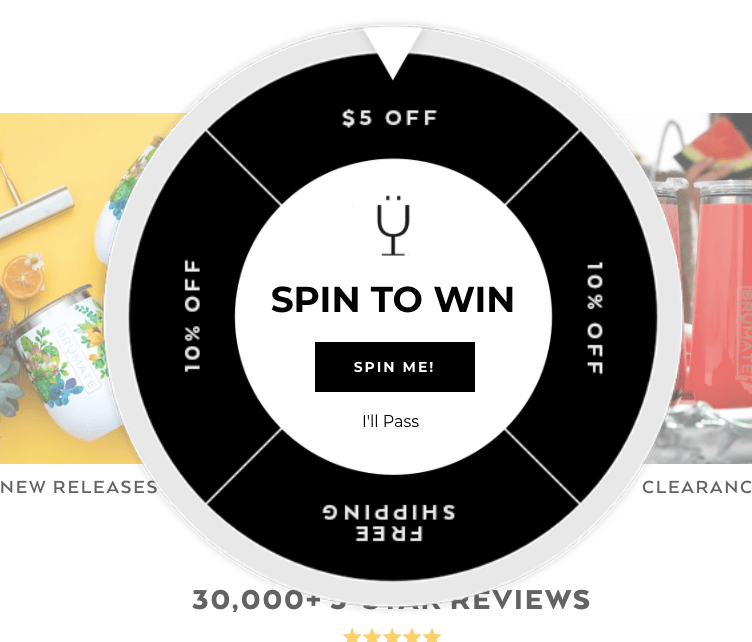 -
Dylan Jacob, on starting BrüMate ($1,000,000/month)
full story ➜
Add an exit-intent popup to your online store
A great way to double, or even triple, your email opt-in rate and to grow your list is to add an exit-intent popup to your site, and offering a discount or content upgrade for subscribers.
Here's an example of what that might look like:
Case Study
One thing that I spent years NOT doing, that I now kick myself about, is adding an "exit intent pop-up" to our site, which lets people enter a sweepstakes to win a Xero Shoes gift certificate.
That one idea has added over 100,000 subscribers to our email list, which is one of our most effective marketing channels.
-
Steven Sashen, on starting Xero Shoes ($1,500,000/month)
full story ➜
Improve Your Email Marketing
Different types of emails
Here are the most common types of email campaigns you can send to your customers and their benefits:
Welcome emails - the perfect way to provide information from the start with a clear CTA. Make sure to tell your customer everything they need to know about your product or service.
Newsletters - a great way to give customers updates or send out your latest content
Product launch emails - the quickest (and easiest) way to increase sales is by selling to current customers. Make sure they're the first on the list to know about your new product
Promotional emails - promote discounts, deals coupons etc. Try and make this feel exclusive and for a limited time only
Abandoned cart emails - give your customers a reason to complete their purchase!
Here's a great resource for finding curated email designs, for all types of email campaigns!
Abandonded Cart Flow
The abandoned cart workflow is one of the most effective strategies for turning your lead into a customer, and a powerful tool to have if you're an e-commerce business.
Think about all the times that you went on a shopping frenzy only to add items to your cart and then either forget or realize nows not the right time to pull the trigger.
Then, minutes later you receive an email saying "Hurry up! Your cart is waiting - and we want to provide you with 20% off your order."
Maybe that's the special touch (and discount) you needed to pull that trigger.
Implementing this workflow can automatically trigger this for your business every time a customer abandons their cart.
Here's a great example of an abandoned cart email from Brooklinen:

Things they do well:
Showcase 5-star reviews from other customers
Offer a small discount + free shipping
Great design + clear call to actions!
🏃🏼‍♀️ How To Run Your Video Streaming App
How To Retain Customers For Your Video Streaming App
Retaining customers is one of the most effective ways to grow your video streaming app.
Oftentimes, it's easy to find yourself focusing on generating new customers, vs retaining your current ones.
Look at it this way - you are 60-70% more likely to sell a new product to an existing customer than you are a new customer.
That's not to say that finding new customers and revenue streams is not important, however, the easiest (and most inexpensive) source of new revenue is right there in front of you.
Here are some ways you can retain customers for your video streaming app:
Responding to comments on social media
Send discounts (or freebies) to loyal customers
Provide valuable content, for free
Write a hand written thank you note
Provide awesome customer service and build relationships with customers
To find out more tips and tricks on retaining customers, check out this article ➜ here
Diversify Your Product Line
Adding new products to your business is a great way to expand into new markets and grow your business.
It's important to note that adding new products and diversifying may not be in the cards for you right this moment, and that's okay. You can always consider it down the road.
Here are some reasons you may want to considering adding/diversifying your product
Meeting the needs of your customers
Establish yourself as a top provider in your industry and stay ahead of the game with competition
Resistance to downturns/trends fading
Create new revenue streams
Word of Mouth
The most tried and true way to grow a video streaming app is through word of mouth - some entrepreneurs would say it's more important than all social media.
Why you should focus on word of mouth:
Consumers trust word of mouth above all other forms of marketing
92% of consumers believe recommendations from friends and family over all forms of advertising
64% of marketing executives indicated that they believe it is the most effective form of marketing
Learn more about word of mouth in our guide: 30 Ways Founders Grow Their Business ➜
Outsourcing
If you can afford to hire someone to help support your video streaming app, outsourcing is a great way to save you time and energy.
Most importantly, outsourcing can help you focus on the core growth of your business, versus spending your time on day to day tasks that other people can do just as well!
If you do plan to outsource your work, it's important to be hyper-familiar with the actual work involved.
Why is it important to be hyper-familiar with the work?
So you can understand how long it takes
So you understand the full process, edge cases, things that can go wrong.
So you can explain it in detail to your employee.
So you can make sure it actually works (for example - how do you know cold email works for your business if you're not on the ground floor trying it out?)
Understanding the tasks at a deep level will save you a lot of time and money.
Build a Referral Program
Word of mouth is one of the best ways to get the word out about your business and acquire new customers. Especially when you are starting out, it's important to build a solid referral program to encourage existing customers to help you find new ones.
A great way to do that is by offering a reward (ie. credit on your service or cash) to customers that refer you to their friends and family.
A fantastic referral program will help with clout, credibility, and establishing yourself in the space.
Resources
We put together the best resources on the internet to help you start your video streaming app.
Tools
Books
Web Resources
Videos
Case Studies
Discover the best strategies of successful business owners
Join our newsletter and receive our handcrafted recap with the best insights shared by founders in Starter Story each week.
Useful, convenient, and free:
PROMOTED
Did you know that brands using Klaviyo average a 95x ROI?
Email, SMS, and more — Klaviyo brings your marketing all together, fueling growth without burning through time and resources.
Deliver more relevant email and text messages — powered by your data. Klaviyo helps you turn one-time buyers into repeat customers with all the power of an enterprise solution and none of the complexity.
Join Brumate, Beardbrand, and the 265,000 other businesses using Klaviyo to grow their online sales.
Starter Story
Wanna see 52 business ideas you can start with less than $1,000?
Join our free weekly newsletter and get them right now.