Thank you Klaviyo for sponsoring Starter Story ❤️
Turn one-time buyers into repeat customers. Try the platform loved by 265,000 brands
140 Best Fashion Hashtags For Instagram That You Can Copy & Paste (2022)
Pat Walls
•
Updated: May 5th, 2022
140 Best Fashion Hashtags For Instagram That You Can Copy & Paste (2022)
Looking for the best fashion hashtags?
Hashtags can help you identify what's trending in your industry, and most importantly, help you stay up to date with other competitors in the space.
We provide you with a list of fashion hashtags every blogger and fashion brand can use in 2022.
Most Popular Fashion Hashtags
Here's a list of the most popular fashion hashtags to use in 2022
#closettjunkie #fashion #dress #photoshoot #livelovebeauty #styleblogger #life #ltkunder50 #ltkshoecrush #clothingrequest #likes #followers #wiwt #shopping #fashionaddictx0 #wiw #bhfyp #classyandfashionable #ltkstyletip #lookbook #momstyle #whatimwearing #followforfollowback #thefashionforce #aboutalook #selfie #kissinfashion #outfitoftheday #instagram #look
Copied to clipboard!
Fashion Hashtags For Instagram Reels
Here are the second most popular fashion hashtags to use in 2022
#ontheblog #photographer #ltkhome #stylegram #fashiondiaries #instadaily #fashiongram #model #myself # beauty #streetwear #realoutfitgram #currentlywearing #smile #photooftheday #instafashion #girl #instastyle #ootdshare #instalike #fashionpost #photography #outfitpost #lookoftheday #styleblog #likeforlikes #summer #summerstyle #outfit #igfashion
Copied to clipboard!
Popular Outfit Hashtags
Here are the 3rd most popular hashtags:
#onlineshopping #likeforfollow #menswear #ootd # jewellery #ootn #nsale #followback #followforfollow #ootdmagazine #fallstyle #fashiaddict #styleinspo #fashionstyle #follow #beauty #like land #comment #love #me #happy #alice angle #americanstyle #beautiful #ltksalealert #clothesmybff #whatiwore #hairsandstyles #stylediaries #dailylook
Copied to clipboard!
More Popular Hashtags:
#instagood #fashionfury #art #fashifeen #look #whatiwore #nature #followme #nordstrom #wiw #fblogger #picoftheday #cute #photo #potd #liketkit #fblogger #fun #fashionblogger #dressmyfashion #fashionblog #makeup #ootdfash #moda #styleblogger #bhfyp #fashionlivesonootd #menstyle #streetfashion #igstyle
Copied to clipboard!
Guide: How To Choose The Right Fashion Hashtags
What is a hashtag?
Hashtags are a way to connect your content to a specific theme, community, topic or conversation.
Hashtags make it easier for users to discover your content and allow you to reach a much larger audience.
Here are some fundamentals to keep in mind when using hashtags:
If you want to use hashtags to enhance your social strategy, make sure your account is public
Keep your hashtags brief and easy to remember. Try not to put too many words together on the same hashtag
Limit the amount of hashtags you use on one specific post - most of the time, quality > quantity (we will get into the details of this later in the guide)
Make sure you do not use any punctuation, spaces or symbols in the hashtag (other than the # at the beginning of the word)
Why are hashtags important?
The truth is, the hashtags you use on your posts can either make or break your strategy.
Some businesses make the mistake of slapping together words that looks and sounds good - when in reality, this could do more harm then good to your strategy.
The main reason hashtags are so critical to your overall strategy is because they have the ability to expand your audience, and boost engagement through likes, shares, and comments. Here's how this works:
When you use a hashtag, your post will be public to anyone viewing that hashtag
Users can actually follow hashtags, which means you could show up on the users feed even if they do not follow you
Using hashtags on "stories" also makes it possible for your story to show up in the relevant hashtag "story"
Hashtags are also a way to build a community of people, which can enhance your brand and audience.
Example of a great hashtag campaign for the fashion industry
Calvin Klein ran a wildly popular campaign that led millions of people to post pictures in their undergarmets using the hashtag #MyCalvins
Many celebrities and people alike participated in this campaign, which is why it went so viral on Twitter & Instagram: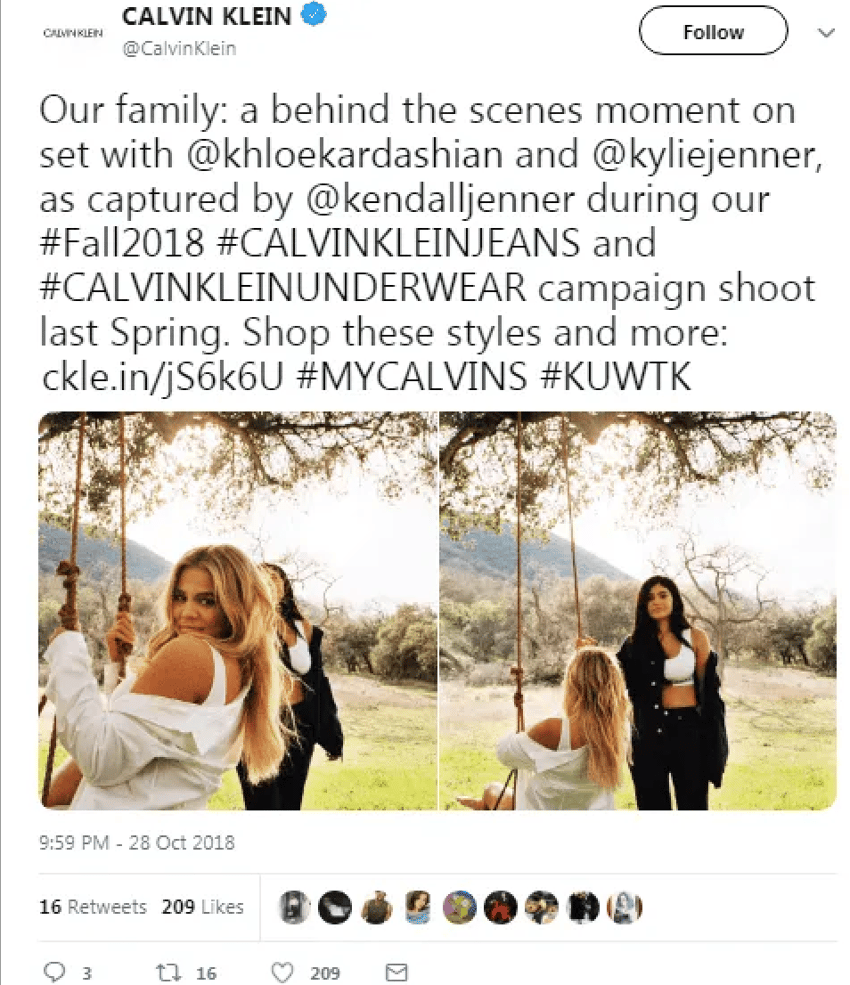 What hashtags should I use?
As we mentioned above, the hashtags you use can either make or break your Instagram strategy.
Here are a few different research methods for finding the right hashtags for your post:
Look at other competitors and social media influencers: Identify how many hashtags they're using in their posts and which hashtags they use consistently
Search specific hashtags on explore page: This will show you how many posts use that hashtag which is an indicator if it's trending or not. Only use the hashtag if it makes sense for your business.
Use tools such as hashtagify.me: This tool allows you to search any hashtag to see how popular it is and if it's trending during the given time period
Use "related" hashtags: On Instagram, related hashtags can be more specific than general hashtags you are using. These are located in the explore section of the Instagram hashtag (see photo below)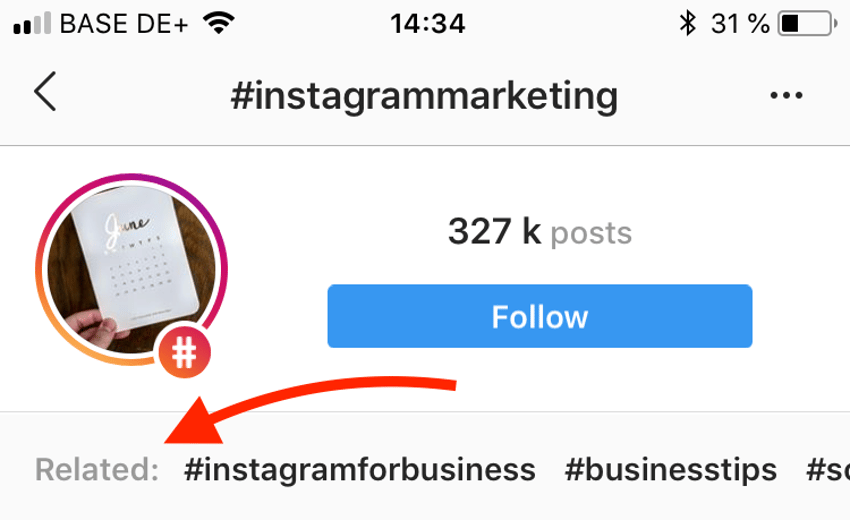 How many hashtags should I use for my post?
Instagram allows you to use up to 30 hashtags per post, but it's recommended that the optimal amount of hashtags you should use is 5-10.
Using too many hashtags can make you look spammy and can do more harm to your social strategy.
Frequently Asked Questions
We put together a list of the most frequently asked questions when it comes to using hashtags for your social strategy:
Why should I use hashtags?
Hashtags give you the ability to extend reach to your audience beyond your social media followers.
Should Instagram hashtags go in the post or comments?
It is recommended that you put the bulk of your hashtags in the first comment of the post. This allows the reader to focus on your caption, avoid looking "spammy" while still allowing your post to be discoverable to non-followers.
A great trick to achieving a clean look is to put the hashtags in a comment, start the comment out with five dots (on their own line break) and add all hashtags in the bottom.
How many hashtags should I use in my post?
Experts state the sweet spot is around 5-10 hashtags to start with.
However, the amount of hashtags you use should be based on what works best for your business and industry. It's best to A/B test a few different methods to see what works for you.
Want to start your own business?
Hey! 👋I'm Pat Walls, the founder of Starter Story.
We interview successful business owners and share the stories behind their business. By sharing these stories, we want to help you get started.
Interested in starting your own business? Join Starter Story Premium to get the greatest companion to starting and growing your business:
Connect + get advice from successful entrepreneurs
Step by step guides on how to start and grow
Exclusive and early access to the best case studies on the web
And much more!
PROMOTED
Did you know that brands using Klaviyo average a 95x ROI?
Email, SMS, and more — Klaviyo brings your marketing all together, fueling growth without burning through time and resources.
Deliver more relevant email and text messages — powered by your data. Klaviyo helps you turn one-time buyers into repeat customers with all the power of an enterprise solution and none of the complexity.
Join Brumate, Beardbrand, and the 265,000 other businesses using Klaviyo to grow their online sales.
If You Don't Rank In Google, You Don't Exist.
In order to be successful, you need to be visible online. If you're not, then your competitors might be stealing customers from you.
Semrush lets you quickly create content that ranks, and compete with the biggest brands in your niche.
Try Semrush Free Today ➜