Handcrafted Soap Price Calculator: How To Price Your Handcrafted Soap?
•
Updated: May 13th, 2021
Get 5 free tips from successful founders every week, directly in your inbox.
Handcrafted Soap Price Calculator: How To Price Your Handcrafted Soap?
Thank you Klaviyo for sponsoring Starter Story ❤️
Turn one-time buyers into repeat customers. Try the platform loved by 265,000 brands
How to Calculate The Price For Your Handcrafted Soap
Our calculator is designed to be simple and easy to use. It covers:
your base costs of time
salary
materials
It also allows you to input a desired profit margin on top.
We hope this calculator helps you make more money for your soap business.
Please input below:
More Tips On Pricing Your Handcrafted Soap
How To Price Your Handcrafted Soap
One of the most challenging aspects to starting a soap business is determining how much to charge for your handcrafted soap.
When businesses under-price their product, this can be extremely detrimental to their bottom line and reputation.
Often times, businesses under-price their products to drive demand and volume, but that last thing you want is for customers to view your product/service as "cheap." Additionally, this can have a big impact on the type of customer you attract, which can be difficult to recover from.
On the other hand, when businesses over-price, this tends to be just as damaging to the business.
When customers buy, it's likely that they will explore the internet and look at other competitors to ensure they're getting the best value + deal. This is why it's so important that you research your competition and understand where you land in the marketplace.
Here are some factors to consider when pricing your product:
Understand your customer
It's important that out of the gates, you identify the type of customer you want to attract and how much they're willing to pay for your service. One great way to do this is by surveying your customers. Here are some important items you'll want to takeaway:
Customer demographic: Age, gender, location, etc.
Buying habits of your customer: What they buy + when they buy
Level of price sensitivity with your customer
All of these segments will help you identify the type of customer you're attracting and how to price your product accordingly.
Understand your costs
When pricing your handcrafted soap, it's critical that you first identify all of your costs and consequently mark up your handcrafted soap so you can factor in a profit.
The actual cost of your handcrafted soap may include things like:
The actual cost to make the product (ie. raw materials, supplies, manufacturer).
Shipping + overhead fees
Rent
Operating costs to run your business
You may want to consider creating a spreadsheet with every single expense involved in operating/owning your business. This will give you an idea as to what you need to generate in order to at the very least, break-even and will help you price your products to factor in a profit.
Create revenue goals
When determining the price of your handcrafted soap, you'll want to create goals for revenue + how much profit you want your soap business to make.
This process is simpler than you may think:
Think about your breakeven cost (by completing the above step).
Create a revenue goal based on your break-even cost
Evaluate the # of items you plan to sell in a given period (make sure this is a realistic number)
Divide your revenue goal by the number of items you plan to sell
This figure will help determine your estimated price per product in order to meet your revenue goals.
Evaluate your competition
The last piece in determining how to price your handcrafted soap is by simply looking at your competition.
The best way to do this is by finding like-minded businesses that offer product(s) with similar perceived value. Then, you can compare prices of the different businesses and determine where your handcrafted soap fits best in the marketplace.
All of these factors play an equal part in pricing your handcrafted soap, so it's important you evaluate each one individually to come up with an accurate price that will help optimize your business from the start.
Lauren Costanza, founder of Bluminary provides us with a detailed spreadsheet of all of her costs associated with running her business:
I knew this would be a self-funded adventure, and I set aside $3,000. During the first three months, I had a detailed spreadsheet where I tracked where the money was going and what was going toward products versus researching and developing new products.
The spreadsheets involved columns and rows of numbers to craft a budget and gain an understanding of how much would need to be invested at each stage of the process - from gathering supplies to building a website, and shipping materials.
-
Lauren Costanza, on starting Bluminary ($500/month)
full story ➜
Examples of a successful soap business
Outlaw ($4.56M/year)
Danielle Vincent from Sparks, NV, USA started Outlaw over 8 years ago, a soap business.
Revenue: $380,000/ month
Founders: 2
Employees: 13
Location: Sparks, NV, USA
Howdy! Thanks for having me here!
Outlaw Soaps was born from a love of adventure trapped in my heart, trapped inside a cubicle. I was working at the Oprah Winfrey Network in Los Angeles, and cubicle life was becoming increasingly difficult for me to maintain. I often got started with my day before dawn, and got home after dark. My life felt like an endless march toward an uncertain and undesirable destination: 401k? Retirement? The joy of going home and never leaving? These things didn't really appeal to me at all.
Instead, my husband Russ and I craved adventure. We were involved in the Burning Man culture, so much of our adventurous pursuits involved heading out to the desert and making big art, then burning it.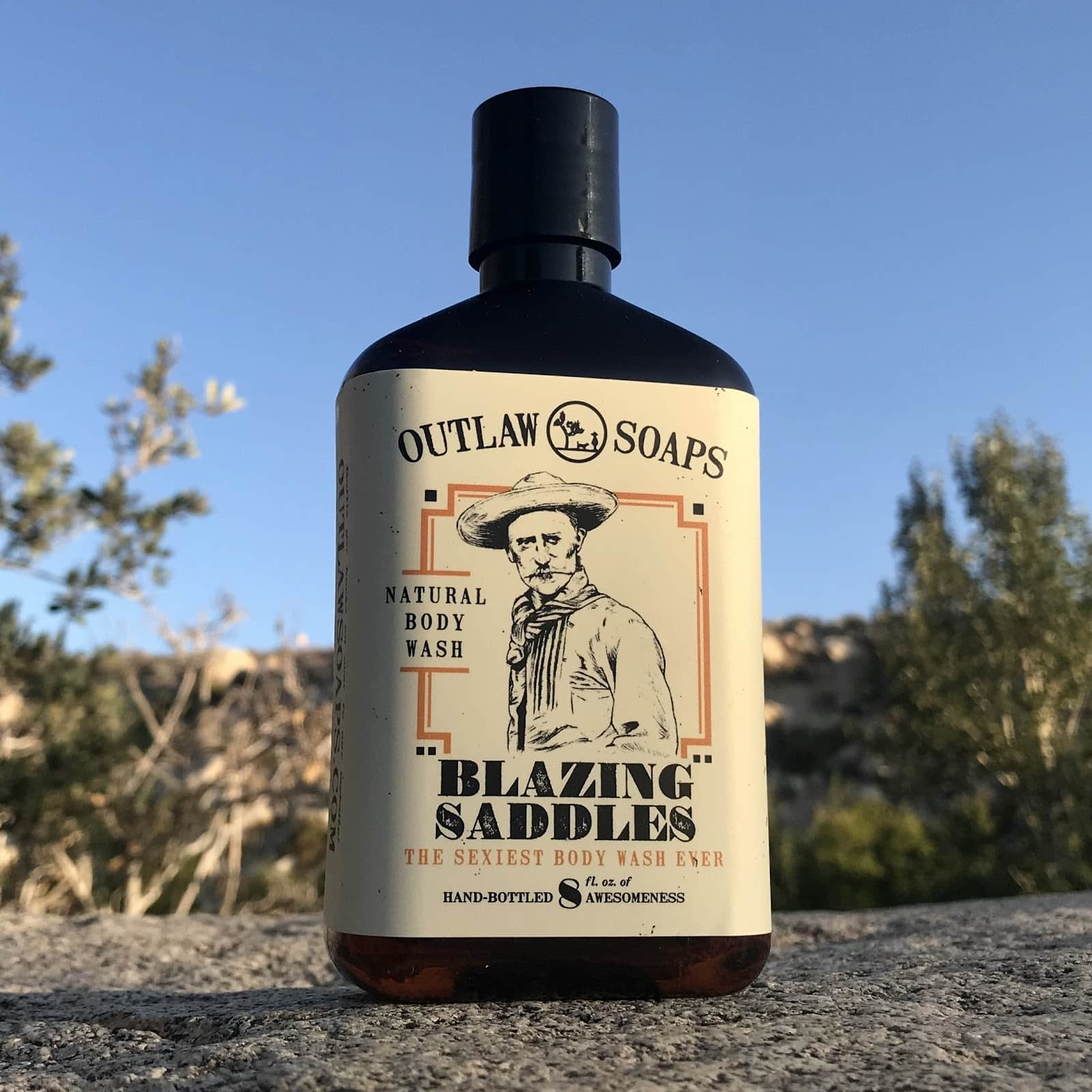 -
Danielle Vincent, on starting Outlaw ($380,000/month)
full story ➜
Alegna Soap ($60K/year)
Angela Carillo from New York, USA started Alegna Soap about 12 years ago, a soap business.
Revenue: $5,000/ month
Founders: 1
Employees: 0
Location: New York, USA
My name is Angela Carillo. I've been a soap maker since 2000, and in 2009 I started Alegna Soap®. In case you haven't figured it out yet, Alegna is Angela backward. Hey, if it worked for Oprah...
In addition to selling soap online, at fairs and events across Long Island, I produce custom private label soaps for other Bath and Beauty companies. I also teach soap making classes and speak at soap conferences all over the country.
-
Angela Carillo, on starting Alegna Soap ($5,000/month)
full story ➜
The Purple Sage ($33.6K/year)
Sandy Engels from Ethel, Missouri, USA started The Purple Sage ago, a soap business.
Revenue: $2,800/ month
Founders: 1
Employees: 0
Location: Ethel, Missouri, USA
Hey, y'all, I am Sandy Engels and I am the owner and artisan of The Purple Sage, a company created to encourage modern midlife women to live and love boldly.
When my youngest child started kindergarten, I started my first business doing medical billing from home. Which I sold a few years later...and went back to being a stay at home Mom.
I've been making soap and bath products since 2002. I got serious about business in 2011. In addition to selling online, I do festivals and events in Louisiana, Mississippi, and Georgia. My average revenue is $2800 a month.
-
Sandy Engels, on starting The Purple Sage ($2,800/month)
full story ➜
Kiss My Crown Essentials ($14.4K/year)
Warnisha Foster from Ocala, Florida, USA started Kiss My Crown Essentials over 1 year ago, a business.
Revenue: $1,200/ month
Founders: 1
Employees: 1
Location: Ocala, Florida, USA
My name Warnisha Foster I am the CEO of Kiss My Crown Essentials. I founded Kiss My Crown Essentials in March of 2020 and I started offering my products a few at a time to see how they would go over with the public. My first product was Strawberry Rose' Champagne Soap. The idea for this soap came from looking at my life as a single mom of four I started to feel burned out. I needed something to make me feel feminine, Make me feel like a woman, Grown and sexy. This did the trick.
The first month I introduced my products to the public it took off before my eyes. I sold over 500 of these soaps independently working in my kitchen. It was amazing and rewarding. I began to see that they were other people out there that were feeling just like me.
Our mission here a KMCE is to let mothers like myself know that we are seen, we are beautiful and we are a necessity.
-
Warnisha Foster, on starting Kiss My Crown Essentials ($1,200/month)
full story ➜
Discover the best strategies of successful business owners
Join our newsletter and receive our handcrafted recap with the best insights shared by founders in Starter Story each week.
Useful, convenient, and free:
PROMOTED
Did you know that brands using Klaviyo average a 95x ROI?
Email, SMS, and more — Klaviyo brings your marketing all together, fueling growth without burning through time and resources.
Deliver more relevant email and text messages — powered by your data. Klaviyo helps you turn one-time buyers into repeat customers with all the power of an enterprise solution and none of the complexity.
Join Brumate, Beardbrand, and the 265,000 other businesses using Klaviyo to grow their online sales.
Free
How To Start A Soap Business
If you're starting a soap business, or looking to grow, this free 25 page guide is for you. Join our free weekly newsletter and get it right now.