How I Started A $18K/Month Digital Consulting Firm Specialized In Customer Acquisition
Hello! Who are you and what business did you start?
Hey everyone ! My name is Alex Albarran and I'm the founder of Dream Client Academy . We're a consulting & marketing firm based in Hollywood, Florida. I launched the company when I was 19 years old and working on my undergraduate degree.
Dream Client Academy is company dedicated to unlocking rapid growth for client-businesses. We do this through consulting, training and marketing services
In October 2019 when we published this article initially, we were at $18k/month in revenue -- At the time of this writing ( February 2020 ) we've grown to doing $31k/month in revenue.
We've generated a positive ROI for companies across many industries, including accounting services, digital marketing, legal services, consulting, health & wellness, financial services, professional coaching, live events, luxury real estate, + more.
I've been the only full-time member of the company up to this point (with part-time contractors). Moving into 2020, I'll be pushing to scale DCA to high 6-figures in yearly revenue, improve our client-retention, build out our social proof base, while adding full-time members to the team so I can leverage my time and accelerate our growth.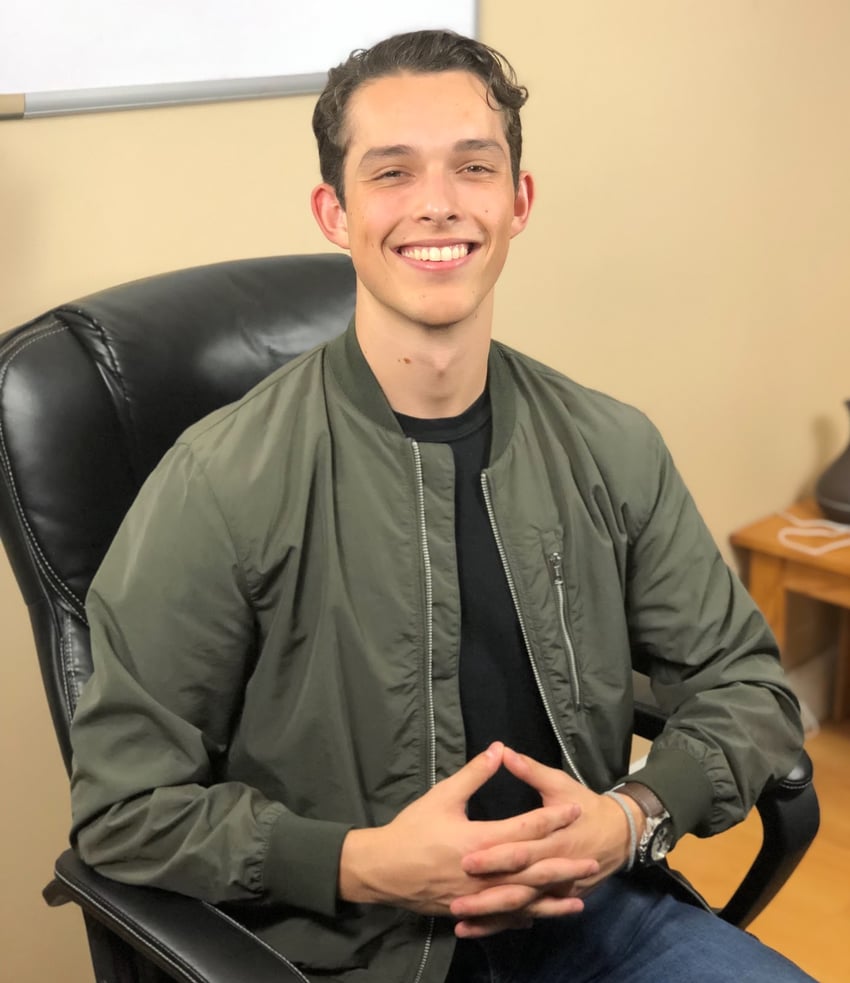 What's your backstory and how did you come up with the idea?
Growing up, I had a natural tendency to be entrepreneurial. I was flipping shoes, strollers, video game consoles, trading cards & anything I could get my hands on all throughout middle & high school. However, this was enabled 100% by my father instilling professionalism, attention to detail and a strong work ethic in me since I was very young.
He made me work for everything I wanted, didn't allow any excuses about ANYTHING, and ultimately helped me develop an inner-drive/hustle that's been the main reason why I've been able to do anything like an entrepreneur. Without him and his approach to my upbringing, there's NO WAY I'd be doing what I'm doing now business-wise.
So thank you dad :)
Take us through the process of designing, prototyping, and manufacturing your first product.
When I graduated high school, I launched a healthy meal delivery/catering company (called "Slim Pickins Meals") from my parent's home kitchen. This was my first "real" business operation where I learned about things like payroll, overhead, COGS, delegation, marketing/sales KPIs + much more.
I eventually moved into a commercial kitchen space as I outgrew my parent's home kitchen (and they wanted their kitchen back on the weekends).
Always be selling! Maintaining a full pipeline of prospects/deals is extremely critical to the growth of your business.
While I was running that company, I started helping other business owners in my network run social media advertising campaigns as I had built up a solid knowledge base from managing advertising campaigns for my own company.
It started out as very part-time but organically grew to the point where my consulting business was generating more profit than my catering company. I then eventually decided to shut down the catering company so I could focus on growing my consulting company full-time.
I came to this decision in part because of the low-overhead business model that the consulting company offered, the improved work/life balance, my strengths as an entrepreneur aligned more with this business, and the fact that the consulting company gave me a better opportunity to scale my income faster.
Describe the process of launching the business.
Once I launched the consulting company full-time, I fully-funded the startup expenses/business account from my personal savings as well as the revenue it was already generating.
I was handling EVERYTHING by myself at first, including sales, business development, client-fulfillment, billing, content marketing, etc… While this limited my ability to grow at first ( as there's only so much one person can do ), it gave me an understanding of how each key sub-system of the business worked which has helped me greatly in terms of being able to clearly communicate what I expect from my team members.
The entire first full-time year of being in business is when I was figuring out all of the foundational aspects of the company. From what verticals/niches we should work with, how to structure our offers, how to generate new business, what services we should offer etc…
Since I didn't have any formal experience working at an agency, I had to learn about all of these different aspects of the business through trial-and-error as well as self-education (podcasts, books, etc…).
We saw success with the service-based business vertical at first, however, we saw the most growth with that sector after developing a high level of clarity on our messaging towards that vertical, our key offer(s), that sectors pain points, and developing a structured outreach campaign towards that audience.
Our initial offers/packages were vastly-underpriced which also limited our growth potential/ceiling. Think about it like this, if you'd like to grow a consulting business to $15k per month in revenue, would you rather have:
Roughly 37-38 Clients @ $400/Per Month Each Client
Roughly 7-8 Clients @ $2,000/Per Month Each Client
Keep in mind that the higher-paying clients are also ( usually ) easier to work with as they don't expect you to deliver unreasonable results instantly.
Once I added more value to our offer and developed more of an "abundance" mindset where I truly felt that our services were worth $1,500+ per month ( therefore I felt comfortable asking for that type of monetary investment from prospects/clients), our growth potential exploded.
My first few clients came from my network & relationships, however finding clients outside of that proved to be difficult for the first few months. This was mainly due to my relative inexperience with selling B2B services, and a non-existent sales/marketing engine.
Slowly but surely I started to figure out the business development side of the company. After our 1st year in business, I started to see the consistent revenue-growth that I was looking for.
Throughout the launch of this business, the most valuable lesson that I learned was that "revenue is more important than likes." I initially spent too much time focusing on our website, logo, content, social media strategy etc… without spending enough time on the business development/sales aspect of the business.
This limited our growth in the beginning, and once I started to focus my energy on building a sales/marketing machine, I saw consistent revenue growth.
Since launch, what has worked to attract and retain customers?
The largest source of qualified leads & revenue for us has been through an application sales funnel.
Here's how our sales funnel is structured:
1. Landing Page: First page of the funnel where visitors can opt-in to download our lead magnet (a free PDF guide). Some prospects won't be ready to purchase our services when they initially opt-in, however since we've captured their email, we can reach them with further communication/promotion of our services via an automated email marketing campaign (we use ConvertKit). This will turn a portion of our landing page leads to future appointments/paying clients.
2. Application Page: After a visitor opts-in and gives us their email address, they are brought to this page. On this page, we've placed a form for the visitor to fill out so they can reserve a free strategy session with us. We also include social proof/client testimonials on this page. Once they fill the form out and submit it, they'll be brought to the scheduling page.
3. Scheduling Page: The visitor will then be taken to our booking page. We've embedded our Calendly calendar into the page so prospects can choose a time/date to speak with us. Once they complete the booking, we automatically receive an email notification and the session is added to my calendar.
Here are the results of our funnel for the month of July:
310 Leads
71 Applications
44 Strategy Calls Booked

This funnel has helped us predictably grow our revenue, as we go into each month knowing that:
If we spend "X" in paid advertising dollars...
We're going to end up with "X" amount of sales calls...
"X" percent of those calls will close...
We'll end up with "X" amount of new clients/revenue...
It's scalable as well since it doesn't require much manual prospecting/follow-up.
We use Facebook & Instagram advertising to drive traffic to the funnel and have been able to significantly lower our cost per lead & cost per appointment by implementing custom/lookalike audiences within Facebook Ads Manager. The "cold" interests that are offered to you inside of Ads Manager haven't been very effective for us in any B2B campaign.
Our clients see averages of 5-9x ROI from Facebook ad spend.
Retaining our current clients is simply done through generating as much of a positive ROI for them as possible, delivering high-quality work, framing the engagement as a long-term partnership, and providing exceptional customer service.
How are you doing today and what does the future look like?
We're seeing consistent growth in key areas such as.
Roughly $100k in new deals for Q1 of 2020.
Return on ad spend is at 7X.
New testimonials/case studies coming from clients multiple times per week.
The macro/long-term vision for the firm is to work with Fortune 500 brands and grow to $2M/month in revenue.
I'll be laying the ground-work for that over the next 7-10 years by establishing our credibility/reputation, retaining clients for the long-term through amazing customer-service & generating undeniable results, growing my personal brand as the head of the company, building an infrastructure to handle clients at the large corporation-level, slowly but surely working with larger & larger clients and ultimately leveling-up as an entrepreneur & business-operator.
Through starting the business, have you learned anything particularly helpful or advantageous?
Always be selling! Maintaining a full pipeline of prospects/deals is extremely critical to the growth of your business. Clients WILL leave unexpectedly, so you don't want to get put in a tough spot if 50% of your clients leave you in the same month and you don't have any new deals in the works.
Also, to be patient and think about the long-term. This will help you eliminate the urge to take shortcuts to achieve short-term goals & help you base your decisions around building a long-lasting business, not a "flash in the pan" success.
What platform/tools do you use for your business?
What have been the most influential books, podcasts, or other resources?
How To Win Friends and Influence People by Dale Carnegie - This book is a classic and it taught me a ton about people. How to effectively interact with them, understand them and lead them.
Ego Is The Enemy by Ryan Holiday - This is a great read, especially for entrepreneurs. It helps you understand the downsides of having an enlarged ego. I read this book every quarter or so to help keep me on track and in the proper state of mind.
The 10X Rule by Grant Cardone- This is a must-read for any entrepreneur. It'll help you get in the "abundance mindset" rather than the "scarcity mindset", and assist you in setting/achieving bigger goals for your business.
Advice for other entrepreneurs who want to get started or are just starting out?
Don't let yourself or others put a limit on your potential.
Always be selling/focusing on increasing revenue ( NOT on getting more followers ).
Think bigger & more patiently.
Protect your reputation.
Don't quit or take shortcuts.
Are you looking to hire for certain positions right now?
Yes, I am! I've listed the open positions below, anyone that's interested can email me their resume and a 60-second introduction video.
Part-Time/Remote - Sales Funnel Specialist
The ideal candidate will be familiar with software like ClickFunnels (or similar platforms). Knowledge of traffic buying, landing pages, email marketing, and/or building and monetizing websites would be a major asset.
Part-Time/Remote - Facebook Advertising Specialist
The ideal candidate will be a highly capable Facebook advertiser with prior experience/case studies.
Where can we go to learn more?
Personal
Business:
-
Alex Albarran, Founder of Dream Client Academy
Want to start your own business?
Hey! 👋I'm Pat Walls, the founder of Starter Story.
We interview successful business owners and share the stories behind their business. By sharing these stories, we want to help you get started.
Interested in starting your own business? Join Starter Story Premium to get the greatest companion to starting and growing your business:
Connect + get advice from successful entrepreneurs
Step by step guides on how to start and grow
Exclusive and early access to the best case studies on the web
And much more!