Thank you Klaviyo for sponsoring Starter Story ❤️
Turn one-time buyers into repeat customers. Try the platform loved by 265,000 brands
12 Trending Coffee Products To Dropship In 2022
•
Updated: March 17th, 2022
12 Trending Coffee Products To Dropship In 2022
Coffee is one of the most widely consumed beverages in the world. According to Statista, the average person consumes almost 40 liters of coffee per year!
According to Report Linker, the global coffee market was worth $102.02 billion in 2020. Furthermore, as more people shop for groceries online, the e-commerce coffee industry has grown at a CAGR of 38.6%, as per Tea & Coffee.
Dropshipping coffee seems to be a promising business venture, based on recent data.
Here are the 12 best coffee products to dropship in 2021:
1. Green Coffee
Green coffee is regular coffee that has not been roasted and is still raw. Many coffee lovers, particularly women, enjoy this kind of coffee because it helps weight loss and lowers the chance of developing certain chronic illnesses.
Green coffee is a trending coffee product as it has been proven to be an effective weight loss supplement.
Compound Annual Growth Rate (CAGR): 10.6%
Global Market Size: $221M
Average Sale Price: $13-$70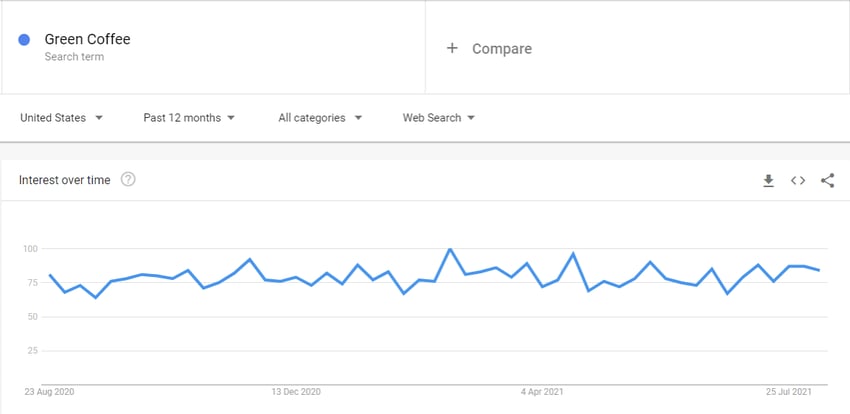 2. Organic Coffee
Organic coffee is coffee that has been grown without the use of synthetic chemicals like pesticides and herbicides.
Organic coffee is popular among most individuals since it is healthier than its regular counterparts. This is because it is cultivated without the use of harmful pesticides, herbicides, or fungicides.
Compound Annual Growth Rate (CAGR): 8.2%
Global Market Size: $12.6B
Average Sale Price: $6-$50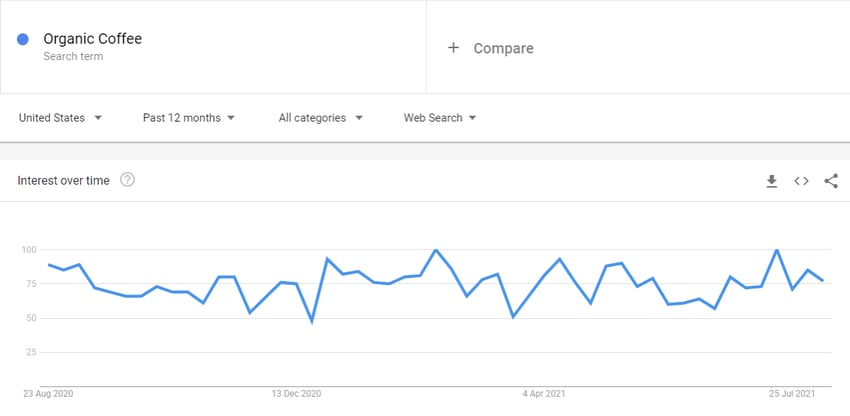 3. Cold Brew Coffee Maker
Although cold brew is growing more popular, most people do not make it at home. This product has a lot of potential to become another reliable kitchen item for many people, and it should be promoted to coffee lovers who are also shoppers.
Cold brew coffee has become one of the most popular beverages among coffee lovers in recent years. According to experts, the cold brew trend is only going to grow.
Compound Annual Growth Rate (CAGR): 32.5%
Global Market Size: $1.74B
Average Sale Price: $15-$250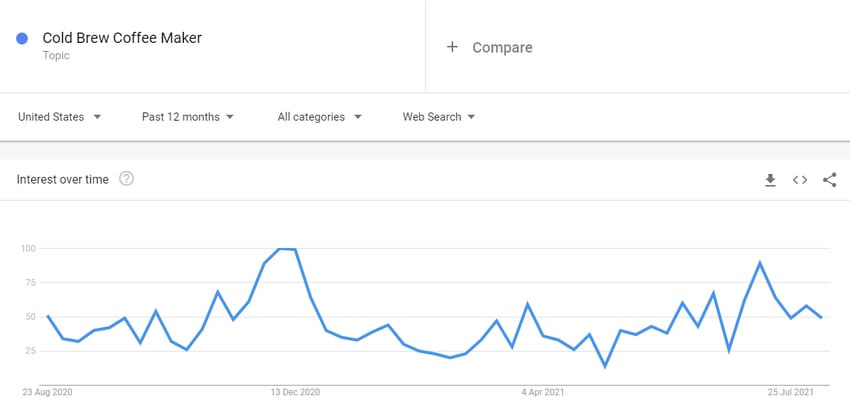 4. Reusable Coffee Pods
Reusable coffee pods and the idea of minimizing waste are very popular among Millenials and Gen X. These pods can be filled with any ground coffee of the user's choice and reused many times.
Compound Annual Growth Rate (CAGR): 18.1%
Global Market Size: $13B
Average Sale Price: $20-$70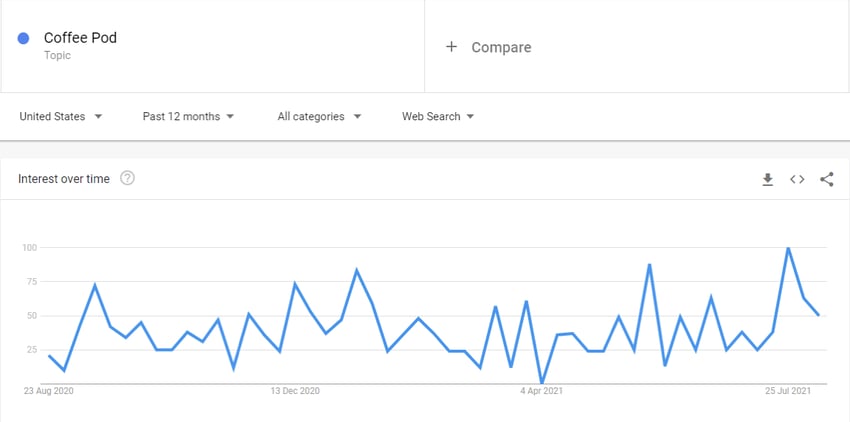 5. Coffee Scale
Professional baristas are aware of how much coffee is required to create a cup of a specific volume. That is why accuracy is crucial in this situation. As a result, coffee drinkers will undoubtedly appreciate a coffee scale.
Coffee scales are becoming more popular since they allow you to precisely measure the quantity of coffee you're about to brew, enabling you to come closer to that perfect cup of coffee.
Average Sale Price: $12-$60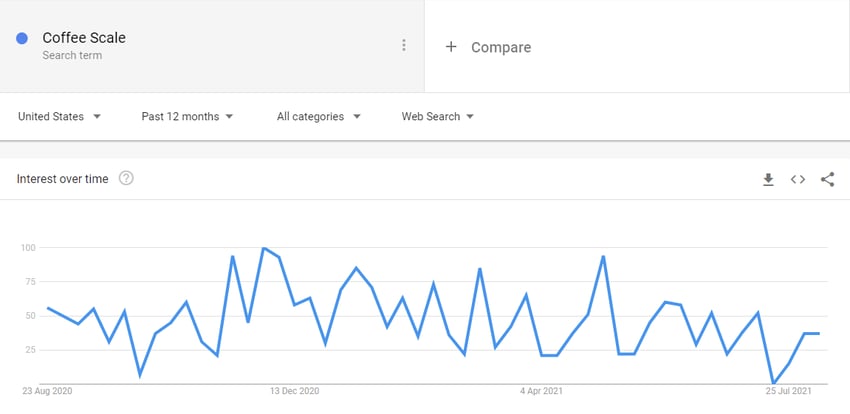 6. Portable Coffee Maker
This is an excellent item for outdoor or adventure lovers who don't have much room for a coffee machine or can't get coffee readily on the road. Promoting this item towards the outdoor and adventure niche might be a fantastic idea.
Portable coffee makers are trending right now as many people, especially adventurers and travelers, love drinking coffee, and portable coffee makers allow them to make it on the go.
Compound Annual Growth Rate (CAGR): 7%
Global Market Size: $2.4B
Average Sale Price: $23-$130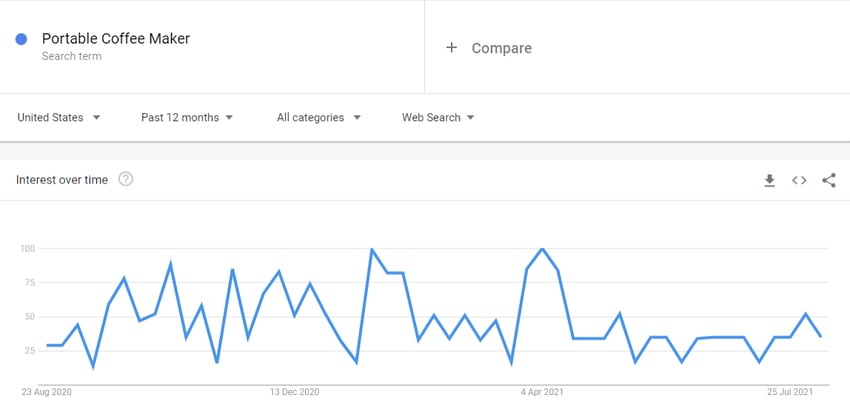 7. Steel Coffee Filters
Steel coffee filters are a fantastic alternative to paper coffee filters, especially as sustainability and long-term usage of products become more popular. This is an excellent upsell item to have in your store to match with other items or as an add-on to a more extensive product to boost your average order value.
Stainless steel filters are popular because they do not block flavorful oils from entering your coffee, resulting in a more rich and aromatic cup.
Average Sale Price: $5-$50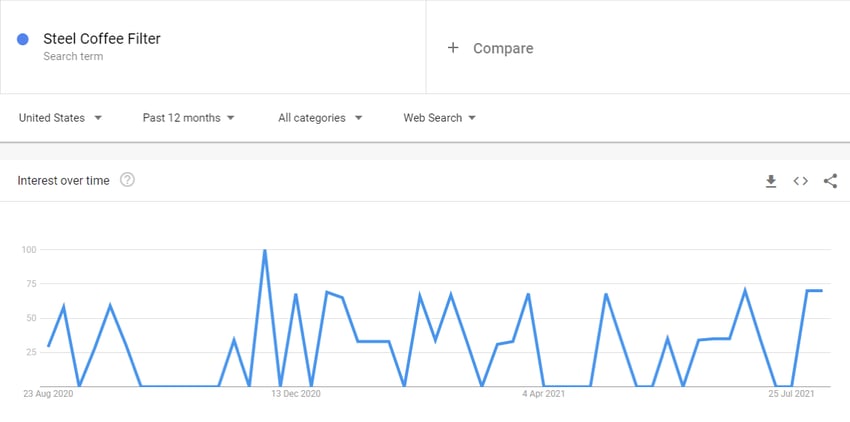 8. Drink/Coffee Coasters
Coasters are used to rest coffee drinks on. We suggest looking for unique and innovative coffee coasters to dropship instead of the usual boring ones. It's simpler to get people's attention and ultimately generate sales.
Average Sale Price: $8-$30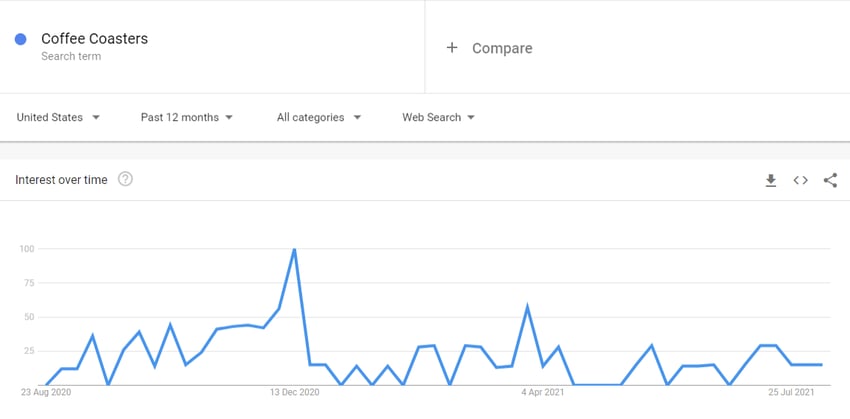 9. Coffee Spoons
Coffee spoons are another remarkable coffee-related drop ship product. These products can also be used as cross-sells or gifts to increase conversion rates.
Nowadays, people love to share their daily experiences on social media. This is the main reason why beautifully designed coffee spoons are trending right now, as they make everyone's cup of coffee appear more Instagram-worthy.
Average Sale Price: $6-$30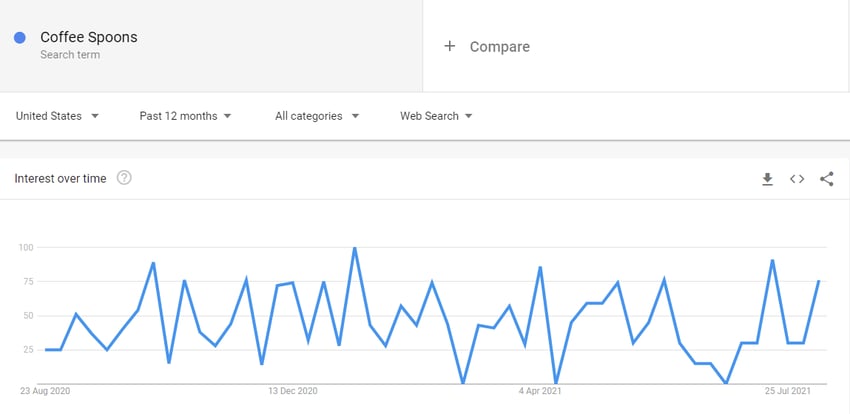 10. Coffee Machines
People like coffee machines, particularly all-in-one models, for their convenience. Coffee machine demand is rising due to increasing coffee consumption in various parts of the world, rising disposable income, a growing youth population, and a growing working class.
Compound Annual Growth Rate (CAGR): 13%
Global Market Size: 5.8B
Average Sale Price: $6-$30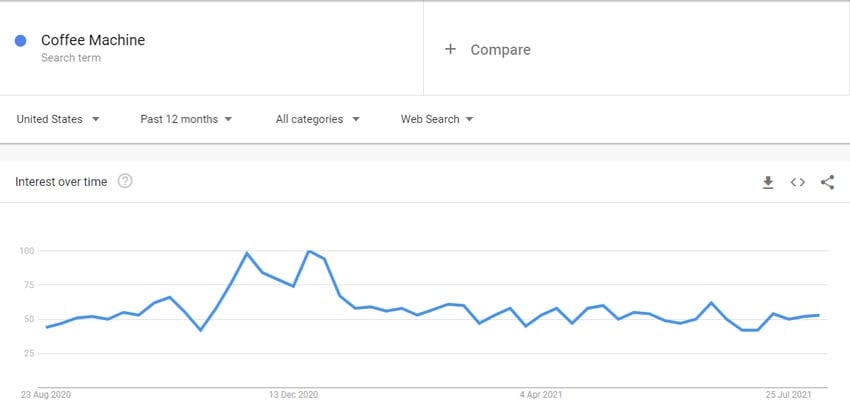 11. Coffee Pitchers
This is another product for your online store if you plan on dropshipping coffee-related products. Pitchers are milk foaming kettles used by baristas. The gooseneck allows you to create latte art by pouring milk into a cup.
Coffee pitchers or frothing pitchers are in high demand right now as most coffee lovers love coffee with a creamy, airy mouthfeel texture, which a pitcher can help achieve.
Average Sale Price: $15-$200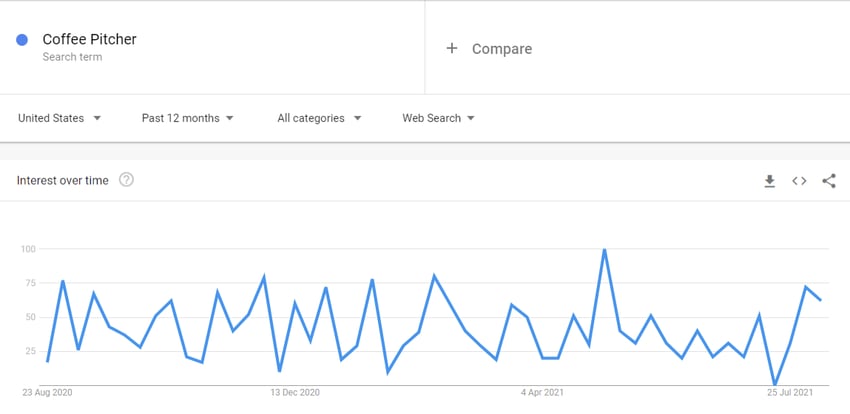 12. Coffee Tampers
Tampers are used for packing ground coffee to make espresso. Although most coffee machines can do it for you, some individuals prefer to press it manually.
Coffee drinkers want a nice espresso with precise extraction, which tampers can provide. Tamping is an essential part of the espresso-making process.
Compound Annual Growth Rate (CAGR): 6.2%
Global Market Size: $2B
Average Sale Price: $15-$200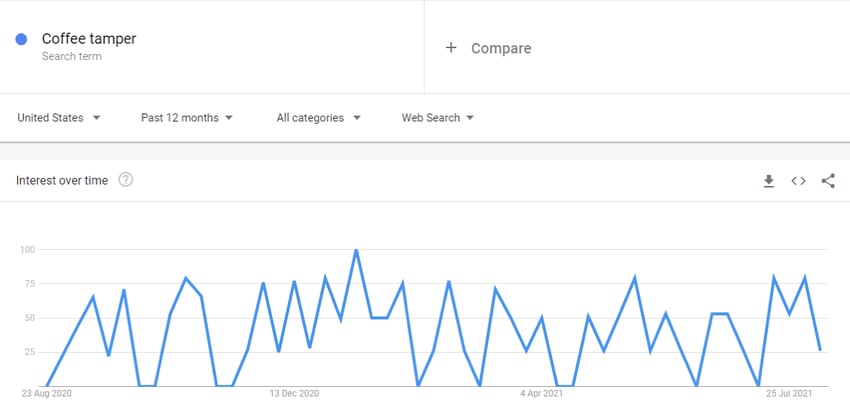 Want to start your own business?
Hey! 👋I'm Pat Walls, the founder of Starter Story.
We interview successful business owners and share the stories behind their business. By sharing these stories, we want to help you get started.
Interested in starting your own business? Join Starter Story Premium to get the greatest companion to starting and growing your business:
Connect + get advice from successful entrepreneurs
Step by step guides on how to start and grow
Exclusive and early access to the best case studies on the web
And much more!
PROMOTED
Did you know that brands using Klaviyo average a 95x ROI?
Email, SMS, and more — Klaviyo brings your marketing all together, fueling growth without burning through time and resources.
Deliver more relevant email and text messages — powered by your data. Klaviyo helps you turn one-time buyers into repeat customers with all the power of an enterprise solution and none of the complexity.
Join Brumate, Beardbrand, and the 265,000 other businesses using Klaviyo to grow their online sales.
Starter Story
Wanna see 52 business ideas you can start with less than $1,000?
Join our free weekly newsletter and get them right now.